This post may contain affiliate links. I may be compensated if you make a purchase through a link on this page.
Best Essential Oils for Energy – Fighting Fatigue without Caffeine or Sugar!

If you want to fight low energy and boost your energy levels naturally without caffeine or sugar, then you should make these essential oils for energy your new best friends.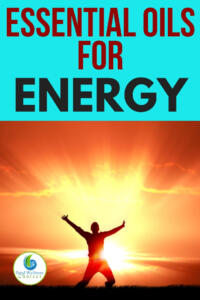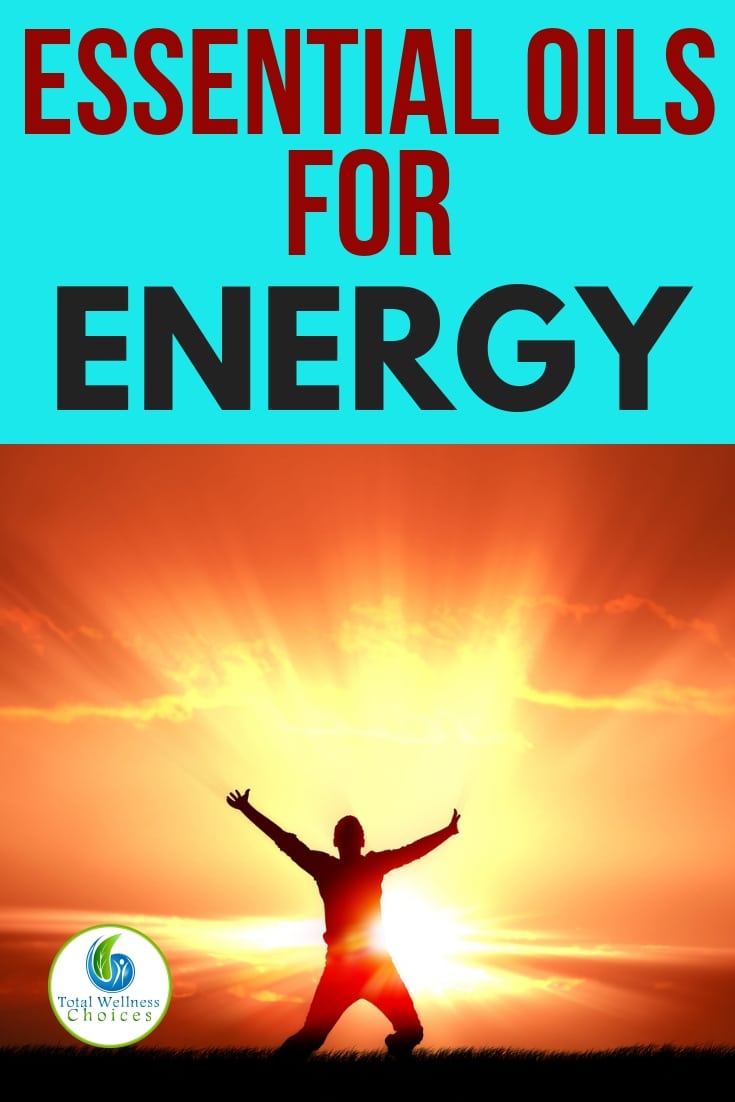 Let's face it, everyone experiences fatigue or tiredness once in a while. This could be due to overwork, lack of sleep, stress, anxiety, adrenal fatigue or chronic fatigue syndrome.
Most people's first choice of energy booster is coffee. Other options are energy drinks and bars.
However, energy drinks are full of caffeine and/or sugar. And energy bars are basically sugar cookies if you asked me.
Yes, caffeine can help with energy, but it can only take you so far. You will need to keep gulping down more caffeine to keep your energy levels up.
This is because, after the "bust of energy" from caffeine comes the "crash".
Moreover, too much caffeine is not good for your health. Caffeine makes you feel jittery, raises heart rate, and can increase your blood pressure.
Although I love its aroma, I stopped taking coffee because it makes me feel hyper and raises my blood pressure.
I also try to AVOID sugar because diabetes runs in my family – both my dad and mom had diabetes!
So I had to find a way to boost my energy levels without caffeine or sugar.
I am into natural health, so I'm always looking for natural ways of boosting my health and wellness.
I started using essential oils a couple of years ago and was happy to learn that there are essential oils for energy.
Yes, essential oils are one of the best energy boosters.
Top 10 Essential Oils for Energy
#1. Peppermint
Plant Therapy Peppermint Organic Essential Oil | 100% Pure, USDA Certified Organic, Undiluted, Therapeutic Grade 10 ml (1/3 ounce)
Peppermint is one of the best energizing and uplifting essential oils available. Its refreshing aroma helps to open up your senses, improving your focus and sharpening your mind.
Its anti-inflammatory and analgesic properties help with pain relief including sore muscles and joints pain.
It also supports digestion, eases nausea, boosts circulation and supports the respiratory system.
Peppermint essential oil is very strong, so it can cause irritation. Avoid using this EO near your eyes, and during pregnancy and while breastfeeding.
NOTE: It is not recommended to be used in children under the age of five. Because it can be neurotoxic to a young child do not apply around, or near the face!
#2. Rosemary
If you are looking for a "wake me up" essential oil, then you will love rosemary. This study shows that rosemary has a stimulating effect on the brain, which can help boost your mood and energy levels.
Its camphor chemotype has energizing effects that can help get your energy flowing in the morning. So you feel more alert and focused, thereby being more productive!
Rosemary is also a great essential oil for respiratory support, sinus congestion, allergies, headache and sore muscles.
Rosemary should not be used around or to the face of children under 5 years old. Also, it is recommended to use with caution for children between 5-10 years old.
#3. Orange
Plant Therapy Sweet Orange Essential Oil | 100% Pure, Undiluted, Natural Aromatherapy, Therapeutic Grade | 10 milliliter (⅓ ounce)
The warm, radiant and citrusy aroma of sweet orange makes you feel relaxed, restored and uplifted.
This is an ideal essential oil of choice if your tiredness or low energy is caused by stress and anxiety. This is because stress is one of the main causes of fatigue.
According to the findings of this study shows that orange essential oil has calming effects, which can help relieve stress and anxiety.
Its comforting and uplifting aroma helps to create a sense of optimism and general wellness.
#4. Lemon
I call lemon EO "sunshine essential oil" because of its bright sparkly aroma that inspires the feeling of happiness and helps you feel energized.
Lemon also boosts focus and concentration, supports the respiratory system, helps fight infections, reduces swelling and soothes sinus congestion.
Note that lemon is phototoxic, so avoid applying to the skin before going out in the sun, else it could cause sunburn.
#5. Lime
Lime Essential Oil. 30 ml (1 oz). 100% Pure, Undiluted, Therapeutic Grade.
Lime is another citrus essential oil for energy. It is great for lethargy, mental exhaustion and chronic fatigue. Inhaling lime EO can help you feel energized and uplifted.
Its antimicrobial properties also make it helpful for keeping infections at bay. Lime is also used for detoxifying, easing nausea, digestive support and respiratory support.
#6. Black Pepper
Black pepper acts as a general nerve tonic, making it one of the best essential oils for energy.
It helps to relieve exhaustion and lethargy, making it especially helpful for convalescence.
It also increases circulation and stimulates the immune system, helping your body fight off infections.
#7. Basil
Plant Therapy Basil (linalool CT) Essential Oil. 100% Pure, Undiluted, Therapeutic Grade. 10 ml (1/3 oz).
Basil is great for both physical and mental exhaustion. It is also an essential oil of choice for when you feel stressed or anxious because not only does it help you relax, it can also help improve your focus.
Other therapeutic benefits of basil include relief for headaches, muscular spasms and digestive problems.
It is important to note that basil may cause irritation for those with highly sensitive skin.
So make sure that you do a patch test first before using basil essential oil topically and never use it undiluted.
Pregnant women and breastfeeding mothers should also avoid using basil.
#8. Eucalyptus
Not only does eucalyptus help boost energy, focus and optimism, but it is also helpful for respiratory support.
Other therapeutic uses of eucalyptus include sore muscles and joints relief, circulation and mental motivation.
Because it is a strong oil, eucalyptus should be avoided if you are pregnant or breastfeeding.
It is also NOT recommended for kids under 10 years old. Also, care must be taken by those with asthma!
#9. Ginger
Ginger has a warm and spicy aroma that is soothing and energizing at the same time. It is an amazing EO to use for chronic fatigue, mental fatigue, anxiety, stress and nervousness.
Ginger is rich in anti-inflammatory properties, which is why it is commonly used for muscles and joints pain relief.
Other uses include circulation and digestive support.
#10. Lemongrass
Lemongrass boosts energy by helping to alleviate mental exhaustion, stress and anxiety. It is also a detoxifier, diuretic, pain reliever and fever reducer.
Lemongrass's antimicrobial and antioxidant properties may also be helpful for fight infections.
Lemongrass is not recommended for children under the age of 10.
Plant Therapy Lemongrass Essential Oil. 10 ml. 100% Pure, Undiluted, Therapeutic Grade.
How to Use Essential Oils for Energy
There are a couple of ways you can use essential oils to increase your energy levels and they include the following:
Essential Oil Recipes for Energy
Essential Oil Diffuser Recipe for Energy
3 drops lemon
3 drops rosemary
2 drop orange
Directions
Add to your diffuser and diffuse for about 30 minutes.
Essential Oil Inhaler Recipe for Energy
I like inhalers because I can easily toss them into my purse and conveniently carry them along wherever I go. This way I can use them anywhere and any time the need arises.
3 drops lemon
3 drops orange
2 drops peppermint
2 drops basil
Directions
Get an empty inhaler like this one from Amazon. Blend the essential oils together in a glass jar or small bowl with the cotton wick.
Use a pair of tweezers to turn the wick in the blend until it soaks up all the oil. Insert the wick in the inhaler tube, snap on the lid, and replace the outer cover. Use as often as you need!
Don't want to make your own blend? Check out the already made energy blend below:
Energy Synergy Essential Oil Blend (Physical Energy). 10 ml. 100% Pure, Undiluted, Therapeal Oil Blend (Peppermint, Rosemary, Lemon and Eucalyptus)
Using Essential Oils for Energy – How to Maximize the Benefits
Essential oils are beneficial, but they most often don't work in isolation. This is why taking a holistic approach is the best way to help boost your health and wellness.
If you want essential oils to help you fight fatigue or tiredness effectively, then, first of all, you need to find out what the root cause of your low energy.
This will help you deal with the problem from the root, thereby giving you a more lasting solution.
For me personally, sleep problems and stress are the main causes of my low energy levels. So I use natural sleep aids and these essential oils to help me sleep. I also use essential oils and other natural methods to help me reduce stress naturally.
I have also found incorporating the right foods such as these and exercise into my routine to be very helpful.
Now that you know the best essential oils for low energy, it's time you started boosting your energy levels without caffeine or sugar.
Safety First When Using Essential Oils
For safety concerns see my sections on essential oil safety:
Do you know of any other essential oils for energy? You can add to the list using the comment form below!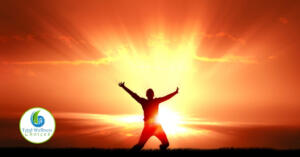 These statements have not been evaluated by the Food and Drug Administration. This article is for educational and informational purposes only and does not intend to diagnose, treat, cure, or prevent any disease or health condition. It is always recommended that you seek the advise of your private medical doctor.