This post may contain affiliate links. I may be compensated if you make a purchase through a link on this page.
Best Essential Oils for Swollen Feet and Ankles!

I guess you are here because you are looking for essential oils for swollen feet and ankles! If that is true, then you are at the right place.
We are going to discuss the essential oils that are used to reduce swelling in the legs and ankles and how to use them in this post! So keep reading!
Swollen feet and or ankles can be painful and discomforting. However, swelling is not really a disease in itself.
Rather it is often a symptom of a disease or an indication that something is NOT functioning properly in your body!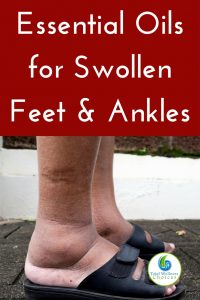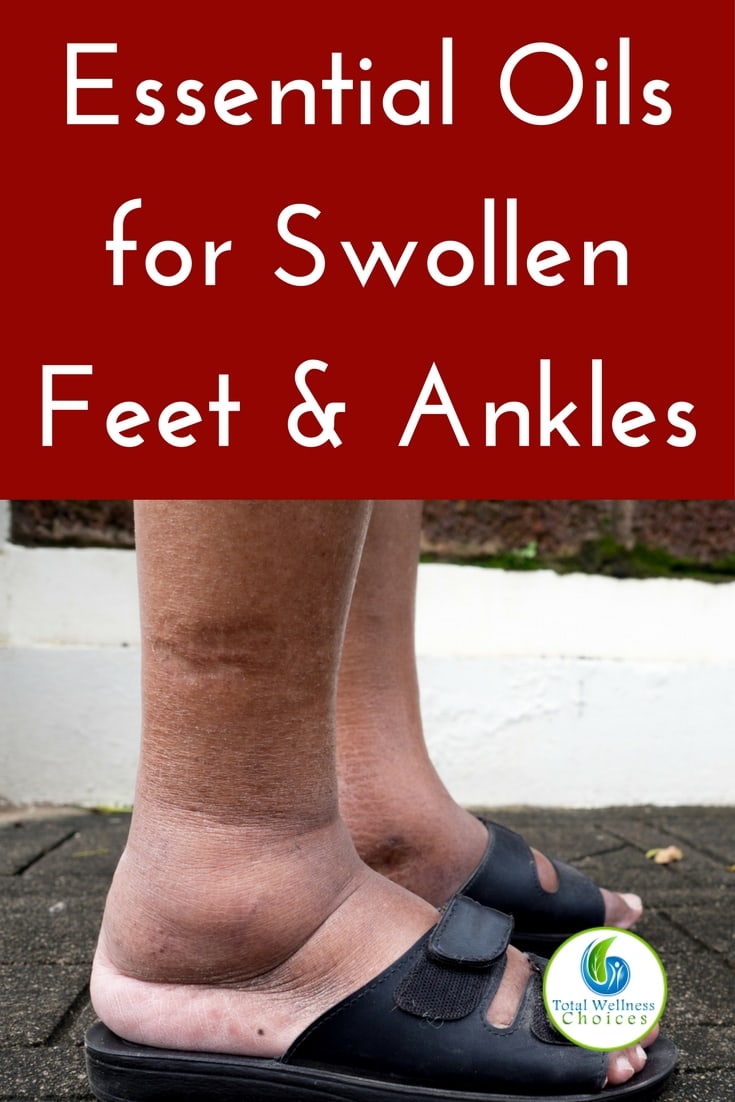 My feet usually swell up when I sit in a confined position for a long period of time… most often when I go on a long journey sitting for hours in an airplane or bus/car.
I have come to realize that my swollen feet are as a result of poor circulation because of limited mobility on board an airplane or bus/car.
Possible Causes of Swollen Feet and Ankles
There are also several reasons why your feet or ankles can swell and they include:
The above list covers just the more common causes for swelling ONLY TO FEET AND ANKLES. It does not cover Lymphedema, Venous insufficiency, and other less common and more serious causes of swelling. This post concentrates on the more common causes of swelling to the feet and ankle area only!
ALWAYS CONSULT WITH YOUR PHYSICIAN FOR ANY NEW OR WORSENING SYMPTOMS BEFORE TRYING ANY NEW OR NATURAL HOME REMEDIES!
5 Best Essential Oils for Swollen Feet and Ankles

#1. Cypress
Cypress is a good essential oil for swollen feet and ankles because it is thought to regulate blood flow. Remember that poor circulation is one of the reasons swelling occurs.
Cypress oil is also used for it's reportedly hemostatic and astringent properties. As an astringent, it is said cypress helps to stimulate the contraction in the muscles and blood vessels, thereby promoting blood flow.
Plant Therapy Cypress Essential Oil. 100% Pure, Undiluted, Therapeutic Grade. 10 ml (1/3 oz).
The astringent and hemostatic properties of cypress oil are thought to work together in synergy to help maintain normal blood flow. This consequently helps to reduce swelling.
This makes it particularly helpful for swellings caused by varicose veins! Making it a popular essential oil by those with varicose veins.
Cypress is also thought to have and is used for its diuretic properties. Having diuretic properties mean it would be helpful for getting rid of excess water and toxins from your body, thereby helping to reduce swelling.
Another attribute that makes cypress helpful for swollen feet and ankles is its reportedly sudorific effect. This simply means that it is thought to help stimulate sweating, which is also helpful in reducing swelling.
Cypress is also used to relieve muscle spasms, which makes it an essential oil used by many for Restless Legs Syndrome as well as leg cramps.
#2. Lavender
The health benefits of lavender essential oil cannot be over-emphasized! In fact, it is one of the most common and versatile EOs because of its many uses and benefits. Lavender has calming and soothing properties that make it ideal for relieving stress, anxiety and pain.
Lavender EO can be used for arthritis pain, muscle aches and pains, backache and many other types of pain. It is one of the best essential oils for swollen feet and ankles because of its believed ability to stimulate blood flow.
#3. Peppermint
Peppermint has an icy-hot cooling sensation that can have a soothing and calming effect on the body, thus making it a popular choice for relieving pains.
It is also a strong penetrating essential oil that is used to reduce inflammation and improve circulation, and is noted by many for being helpful in reducing swelling.
This is why I chose it to be included as a natural treatment for swollen feet and ankles.
Other believed benefits and uses of peppermint include soothing sore muscles and joints, clearing mucus and congestion as well as respiratory support.
Peppermint has been used to relieve fever, support digestion and ease nausea among other benefits.
It is important to keep the dilution percentage low when using peppermint oil. Too strong of dilution can cause burning and pain! 1% to 2% dilution is what I use at the most. Remember more drops doesn't always mean better results!!
Also, very important to keep peppermint essential oil away from young children. It can be neurotoxic to children under the age of five!
Plant Therapy Organic Essential Oil, Peppermint, 0.33 Ounce
#4. Juniper Berry
Juniper Berry is used for it's reportedly antiseptic, anti-spasmodic and anti-inflammatory properties. It is thought to be a natural pain reliever.
It also is thought to be an astringent. It is used to stimulate warmth and boost circulation, thereby to help reduce swelling and I feel works great for cold hands and feet.
Juniper is also used to relieving muscle cramps and other conditions associated with poor circulation such as arthritis. Other benefits that Juniper is thought to help include clearing infections (colds and flu) and respiratory support, especially for congestion.
#5. Helichrysum Italicum
Helichrysum Italicum has cooling and soothing properties that are thought to heal and restore our body from the inside out!
This is because it is felt it heals both emotional and physical wounds. It is used to calm inflammation, soothe skin irritation and calm the mind. Helichrysum is used also to fight inflammation, relieve pain, increase circulation, reduce swelling and soothe sore muscles.
How to Use Essential Oils for Swollen Feet and Ankles
I suggest using the following two steps to help swollen feet and ankles and they are:
Foot Soak
Massage
Foot Soak Blend Recipe
Direction
Dilute the essential oils in a small amount of carrier oil. Pour warm water into a bowl (enough to cover your ankles).
Put a few round small pebbles in the water and add the essential oil blend. Gently roll your soles over the pebbles for a few minutes (this helps to stimulate circulation). Then soak your feet for 10-15 minutes. Dry your feet and use the blend below to massage your feet!
Massage Oil Recipe for Swollen Feet and Ankles
Direction
Blend the carrier oil and essential oils together in a glass bottle. Use a small portion to massage your feet and ankles starting from your feet, to your ankles and up to your knees. Resting with your feet up after the massage will be very helpful!
I have concentrated on using essential oils for foot and ankle swelling in this blog. Other important things to remember to do include elevating your lower extremities, as much as possible, and keep moving.
Exercise, such as walking, can get the blood circulating and help reduce swelling. Check with your physician before starting any exercise program!
You may also consider wearing compression socks because they help to increase circulation and reduce swelling.
Compression Socks for Men & Women, L/XL
7 Pairs Compression Socks For Women and Men, Small / Medium
Safety First When Using Essential Oils
If you have never used a certain essential oil it is important to do a skin patch test prior to topically using! See my sections on topical use and other essential oil safety concerns:
We hope you found the essential oils for swollen feet and ankles and the recipes here helpful. We will love to hear your feedback!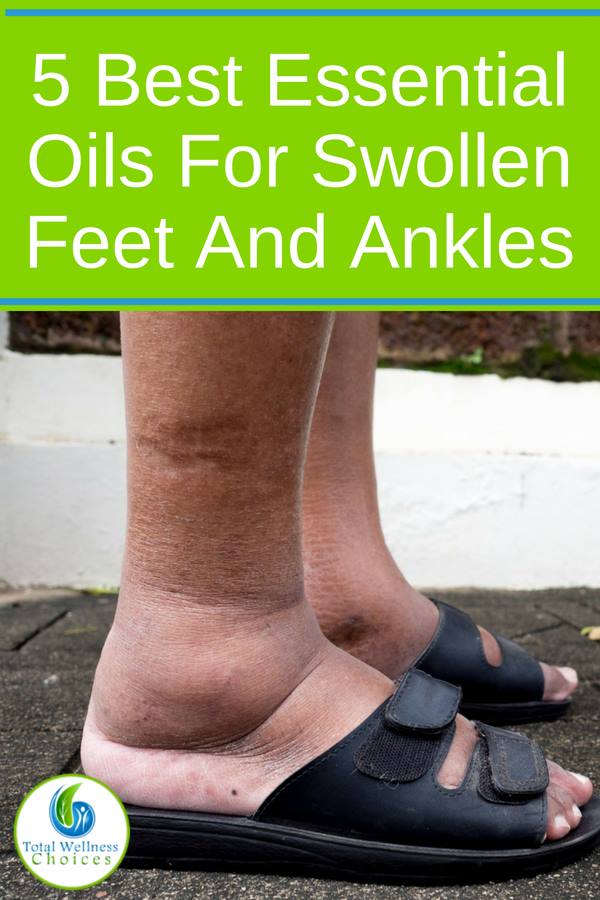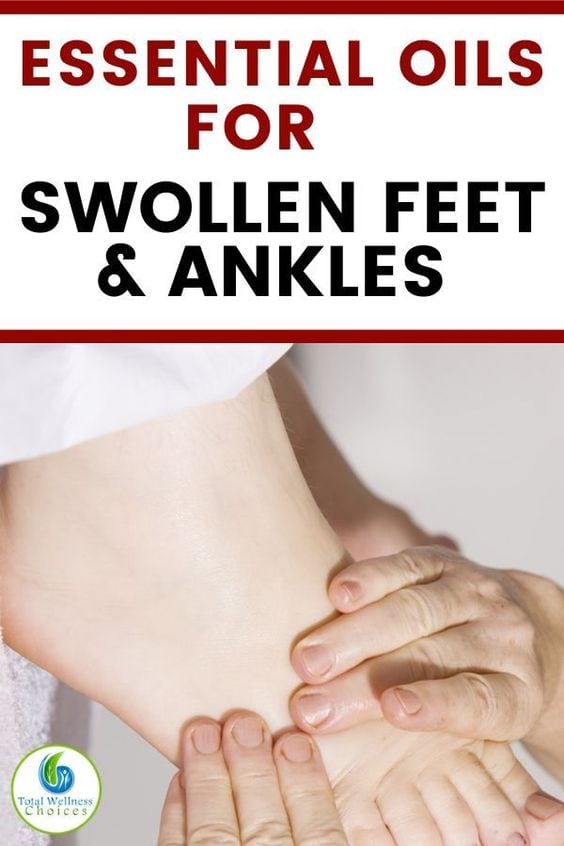 Recipes adapted from The Complete Book of Essential Oils and Aromatherapy by Valerie Ann Worwood.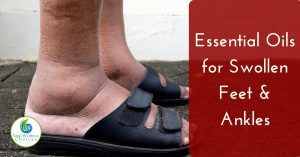 These statements have not been evaluated by the Food and Drug Administration. This article is for educational and informational purposes only and does not intend to diagnose or treat any disease. It is always recommended that you seek the advise of your private medical doctor.