This post may contain affiliate links. I may be compensated if you make a purchase through a link on this page.
Find Out How to Use Essential Oils in a Bath to Avoid Nasty Skin Reactions!
Learning how to safely use essential oils for use in a bath will help you avoid unpleasant side effects that may arise from using them incorrectly in your bath.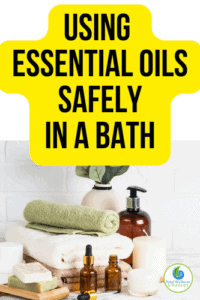 Perhaps you have come across recipes that mix essential oils into salts, or honey, or even full-fat milk before adding to bath water and wonder if these are safe dilutants when adding essential oils to the bath?
My thought is, you should always treat EOs the way you treat medicine. Use it the RIGHT way and you will lessen the chance of having side effects – especially nasty skin ones!
I love using essential oils in my bath water because of their many health benefits, but I also know enough to be cautious with them. Yes, you may get away with no noticable skin problem once or twice, but do you really want to chance it?
A bad skin reaction is not fun – not only can it cause a temporary skin reaction, but sometimes it can cause a long term problem. This might mean you will not able to use that beloved essential oil on your skin ever again!! So why chance it??
So what dilutants should one stay away from when using essential oils for baths? And what are safer dilutants to use? And what about using essential oils in the bath for children?
Safe Dilutants To Use In Baths
Vegetable Oils (AKA Carrier Oils)
One easy to obtain and use safe dilutant is a vegetable or carrier oil. Any vegetable oil will do, including olive, safflower, avocado, grapeseed, sunflower, etc. If you don't like the greasy/oily feel that vegetable oils can give then try a drier, less greasy carrier oil such as jojoba or fractionated coconut oil (FCO).
The downside to using vegetable oils in the bath is that oil causes a greasy feel, plus the tub can be slippery. When using this type of dilutant for essential oils it is imperative to use caution getting in and out of the tub. Also be sure and clean the tub right after you soak so the next family member won't have an accident!!
Also, even though it makes soaking in a bath safer, oil is not a dispersant. This means that even though it safely mixes with the essential oil (s) it will only float and cling to the sides of the tub.
When it comes to mixing essential oils in vagetable oils for a bath, I believe that using smaller amounts of essential oils is best. They are concentrated, potent oils and should be treated as such. For a bath I use a total of 3 to 5 drops of an essential oil or blend in 2 teaspoons (10 ml) to 1 tablespoon (15 ml) of carrier (vegetable) oil. I find this amount effective, so why use more?
You can either mix a one time amount before taking your bath, or you can make up a larger quantity (Such as: In 2 fl oz/60 ml vegetable/carrier oil add up to 20 drops of the essential oil or blend. This will make it handy for later use.
As a side: Be aware that not only essential oils but vegetable/carrier oils have a shelf life. Always make sure to label your mix with a use by date! Storing it in a cool, dry place always helps to decrease problems with spoilage/rancidity.
Liquid Foaming Products
Another easy to obtain dilutant is foaming products that are used in a bath. This includes liquid bath soaps and gels, shampoos, and bubble bath.
With the amount of essential oils that I recommend using in bath water I have not had a problem with these products. As a note: It is possible that these products may not be formulated in such a way that they can dilute essential oils safely.
If you want to be extra cautious you can find products by different companies that sell stock bases which can accommodate a certain percentage of additives such as essential oils. Companies in the U.S.A., such as: Mountain Rose Herbs, Bulk Apothecary and Bramble Berry sell base body wash, liquid hand soap and shampoos that allow for additional ingredients (such as essential oils).
Solubol
Even though this isn't as readily available as vegetable oil or liquid foaming products, it is a great dilutant to use when mixing essential oils safely in water. Solubol is a dispersant that helps mix oils (essential oil) and water (bathwater) safely together.
Not available at Amazon where I live, it is available here at several other reputable sites oneline. One site that I have found to be trustworthy is Aromatics International. You can find Solubol at their site here.
Ingredients for Solubol (INCI): sucrose stearate, Helianthus annus (sunflower oil), cera alba (beeswax), Sterculia urens gum, acacia gum, Propolis cera (bee propolis), glycerin, lecithin, Cocos nucifera (coconut oil), tocopherol, L-ascorbic acid, Rosmarinus officinalis (Rosemary) Leaf extract.
It is important to follow the manufactures recommendation when using this dispersant. Most will say to start with a 1:1 dilution, but I have found 1:4 or greater dilution works better for baths.
For a 1:4 dilution: When using 5 drops of essential oils use 20 drops of Solubol. If you wish to be assured that the two will mix properly in your bath you can use a 1:8 dilution (5 drops essential oils to 40 drops Solubol). Mix both ingredients together and add to bathwater.
Natrasorb Bath: INCI Tapioca Starch
This is a wonderful ingredient to use in the bath; especially when mixing up bath products, such as, bath salts, and dry shampoos.
Natrasorb Bath not only safely disperses essential oils in bath water, it is wonderful at helping to give you a smooth and silky feel after bathing due to its water softening effect.
What is Natrasorb Bath? It is a modified tapioca starch that absorbs and carries large quantities of essential and carrier oils. Because it holds the oils in a solid, powder form it allows the oils to be safely dispersed in water.
How to use: I mix 3 to 5 drops of essential oils with 2 tablespoons of Natrasorb Bath. Be aware that some essential oils may require more Nutrasorb Bath. Follow the manufactures recommendations!
Other Dispersants To Use (At Your Own Discretion)
Polysorbate 20 and Polysorbate 80 are a couple of products one can also use to disperse essential oils in water. They are both considered a surfactant and emulsifier. They are especially great options to use if you want to disperse both an essential oil and a carrier oil in your bath. This is a way of adding an extra moisturizing effect to your water.
Even though EWG lists these as 1-3 (fair), with 1 being low risk (and level 10 the worst risk) it is considered a restricted ingredient thus not considered EWG Verified when used in most products.
Tisserand Institute (Institute founded by Robert Tisserand who co-authored "Essential Oil Safety") feels these products have "unfounded bad reputations". He lists these as being safe substances to use when dispensing essential oils in water. I will leave it up to you to decide whether to use them or not.
Tisserand's recommendation is starting with a 1:1 dilution. One drop essential oil to every drop Polysorbate 20 or Polysorbate 80. You can read more about his recommendations here.
Unsafe Dilutants To Use In Baths
What dilutants should one avoid when mixing essential oils for safe use in bath water?
There are several including: honey, salts, baking soda, cornstarch, glycerin, aloe vera gel or jelly, witch hazel, and full fat milk.
There are reports of nasty skin reactions when using these alone to disperse essential oils in bath water. Why chance it?
Essential Oils to Avoid or Use Caution With in a Bath
No matter what dilutant is chosen, use only skin safe essential oils, and make sure to follow recommendations for maximum safe skin dilution amounts. A reputable essential oil company will include this information on their packaging.
If you need more information on why you should safely dilute essential oils for topical use read more here.
The oils that one needs to avoid when soaking in a bath are often called "hot oils". They include cinnamon bark (Cinnamomum zeylanicum), cassia (Cinnamomum cassia), oregano (Origanum vulgare), and thyme ct. thymol (Thymus vulgaris), camphor (Cinnamomum camphora), clove bud (Syzygium aromaticum), hyssop (Hyssopus officinalis), savory (Satureia montana) and wintergreen (Gaultheria procumbens).
I use the linalool chemotype of thyme at a very low dilution (because it does not contain as much thymol). I leave it up to you whether you wish to use this type, or not.
Another essential oil that some find doesn't work in bath water is peppermint (Mentha x piperita). There are reports of a burning sensation to sensitive parts. I personally have found that a drop or two mixed well with a good dispersant has never caused me any adverse symptoms. Again, I will leave using this essential oil in your bath water at your discretion.
Some more essential oils to use with caution when taking a bath include: black pepper (Piper nigrum), ginger (Zingiber officinale), and cardomom (Elettaria cardamomum).
Another essential oil group to take precautions with when using in bath water is the one high in aldehydes. A couple of familiar ones are lemongrass (Cymbopogon citratus) or melissa (Melissa officinalis). Oils high in aldehydes can be irritating to the skin so use in very low dilution amounts, or not at all!
There are also essential oils which have very overwhelming scents which some people find cause them headaches, nausea etc. For these essential oils which include jasmine (Jasminum officinale), ylang ylang (Cananga odorata) and rose otto (Rosa damascena) it is best to use in very low dilutions. If you have found that diffusing these oils cause any adverse symptoms then it makes sense to avoid them in baths also!
Lastly, I want to mention essential oils that can cause phototoxic skin reactions that you need to avoid or choose safer options for.
First of all what is a "phototoxic" skin reaction? This refers to specific essential oils that when used on the skin prior to sun exposure (or even up to 18 hours before for some of them) can cause significant damage to one's skin, including blistering, discoloration and severe burning.
The essential oils that can be phototoxic include: cold pressed lime, cold pressed lemon, cold pressed grapefruit, cold pressed bergamot, and cold pressed bitter orange.
Safer choices include the steam distilled and FCF types: steam distilled lime (Citrus aurantifolia), steam distilled lemon, bergamot FCF (furanocoumarin-free) (Citrus bergamia), or non-phototoxic citrus oils including: sweet orange (Citrus sinensis), tangerine (Citrus reticulata), and mandarin (Citrus reticulata).
Remember, it is different if one uses some of these oils listed above in shower body scrubs, or products that are rinsed right off. One can sometimes get away with using some of the oils to avoid or use caution with in these products. Everyone is different – what may work for one persion, may not work for another.
As an alternative: you may find diffusing some of these oils works better for you. I use a safely set up diffuser in my bathroom for oils that I like but don't care to use in my bath water.
I am one for researching what I use on my body. I recommend looking up the individual oils you are planning to use to find out if there are any precautions and skin safety concerns prior to putting in your bath.
One great resource is Essential Oil Safety: A Guide for Health Care Professionals 2nd Edition, by Robert Tisserand and Rodney Young. Even though this book is on the pricey side it can be worth it to the person serious about finding out essential oil safety facts from a reputable source. You can also find used copies for half the price at some online bookstores!
You can find out more about diluting essential oils for general topical use here. It covers phototoxic oils (which need to be carefully used on the skin, and more topics.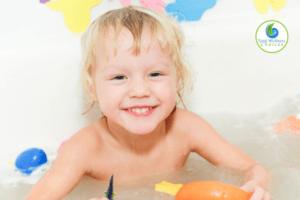 Children and Essential Oils In Bathwater
For children it is especially importand to use caution with essential oils. Children have more sensitive skin than adults, so it is vitally important when using essential oils in a child's bath to know how much and which ones can be used.
For children between 5 and 10 years of age use half the amount of essential oils that are recommended for adults.
Stick with the more tried and try safe essential oils such as lavender (Lavandula angustifolia), Roman chamomile (Anthemis nobilis), and sweet orange (Citrus sinensis). You can find more information regarding essential oils and children here.
Better yet, use hydrosols (hydrolats) in the child's bath. Hydrosols are water soluable (which means you do not need to use dilutants or emulsifiers with them) and do not have the high concentration of constituents that essential oils do. Plus, they can be just as effective for a child.
For the safer hydrosols I have listed 1 teaspoon (5 ml) for every year that child is age-wise up to 8 teaspoons (40 ml) is the generally recommended amount. Lavender hydrosol (hydrolat) is considered one of the gentlest to use, especially if you wish to use for a baby under one year of age.
Be sure and store hydrosols (hydrolats) properly and use within the recommended time frame. (Being water based gives them a shorter shelf life!)
Final Thoughts
In brief, remember that no essential oil is soluble by itself in water! This doesn't mean they can't be used in your bath. Just be sure and disperse them in the right dispersant or emulsifier, and stick with skin safe essential oils to keep your bath a pleasant one!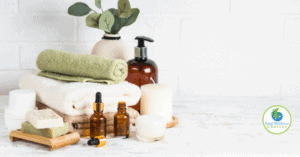 These statements have not been evaluated by the Food and Drug Administration. This article is for educational and informational purposes only and does not intend to diagnose, treat, cure, or prevent any disease or health condition. It is always recommended that you seek the advise of your private medical doctor.