This post may contain affiliate links. I may be compensated if you make a purchase through a link on this page.
Aunt Dee's Homemade Healing Ointment Recipe!
Do you have dry, cracked patches of skin, or have scars, or healing wounds? If yes, then you may find this diy Homemade Healing Ointment Recipe very helpful!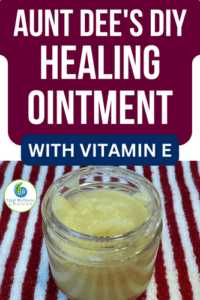 After recent hand surgery, my surgeon recommended I use vitamin e on the healing areas. For awhile I used a quality vitamin e oil on the area, but found it sticky and not easy to use (having only one hand that I could use to apply it with at that time).
That is when I dug through some old family recipes and came across a healing ointment recipe, that a family friend that we knew as Aunt Dee made. With a few updates – changing teaspoons to grams, etc. I made the ointment.
Liking how nicely it worked, along with the fact that it contained no petroleum base to it, I decided to share it with you.
Being a nourishing, moisturizing type ointment it is also wonderful to use on patches of dry skin. I use it on my feet and elbows. I also like to apply it to my hands before bedtime.
This ointment works as an emollient that smoothes rough spots and seals in moisture. It not only moisturizes, but because of its ingredients can be helpful for healing cracked and chapped areas. And the best part – it is made with all natural, non-toxic ingredients!
DIY Healing Ointment – Ingredients
Beeswax
This is the magic ingredient in this healing ointment. It is a waxy substance produced by honeybees. Beeswax creates a protective coating on the skin that is almost like wearing gloves. By so doing, it protects your skin from the elements even as it holds moisture in and prevents dryness.
Better still, unlike most other emollients such as mineral oil, beeswax does not clog your pores. Beeswax also contains anti-inflammatory, antiviral, and antibacterial properties, which helps to repair damaged skin.
Calendula and Lavender Infused Oil
Calendula Flowers (dried)
Calendula has natural anti-inflammatory, antibacterial and antifungal properties. Because it is soothing and healing, calendula is often used for eczema, contact dermatitis, skin wounds, and dry skin. Since calendula is a natural antiseptic, it is used by many to help reduce body acne.
Who shouldn t use calendula? If you're allergic to plants in the Asteraceae/Compositae family you need to avoid using this ingredient!
Lavender Flowers (dried)
Dried Lavender flowers have a multitude of benefits and uses. Lavender is a natural anti-inflammatory. It can help control inflammation from dry or irritated skin. Lavender also helps neutralize the pH balance of your skin. (If your pH balance is off, it can cause itching and dry skin.)
Lavender flowers contain many natural properties, including vitamins, antioxidants and cleansing, which overall can improve skin health.
Sweet Almond Oil
This is a mild hypoallergenic oil that is easily absorbed into the skin. It is great for sensitive skin, an amazing moisturizer and helps protect your skin from the damage caused by UV rays of the sun.
If you have an allergy to nuts it is suggested you use another oil, such as grapeseed or avocado.
Jojoba Oil (AKA wax)
The chemical makeup of jojoba oil is similar to the natural sebum produced by the skin, making it very compatible with the human skin. It is easily absorbed into the skin, and it moisturizes without making the skin oily.
Jojoba oil also has a longer shelf life than most oils (up to 5 years depending on manufacturer), and can help to extend the shelf life of other oils used in a product.
How to Infuse Calendula and Lavender Flowers in Oil
Calendula/Lavender oil is made by infusing dried calendula flowers and lavender flowers in carrier oil (s). This gives the oil the benefits of the calendula, as well as, lavender and makes the oil a beautiful yellow.
I am giving two ways to infuse the dried calendula and lavender flowers. I prefer using the "Slow Infusion Method" when I have time as I feel it gives a better product. However, the "Fast Infusion Method" works when time is limited.
Slow Infusion Method
There are no exact measurements for the infusion. Just make sure that the oil(s) completely covers the flowers.
Put this capped jar in a cool, dry area for four to six weeks.
Gently shake jar every day or two.
Fast Infusion Method
Fill a 16 ounce glass measuring cup with 1/4 cup of dried flowers. (1/8 cup each of calendula and lavender flowers).
Cover the dried flowers with the carrier oil(s). I used 1/3 cup jojoba oil and 1/3 cup sweet almond oil.
Fill a medium sized saucepan with approximately 2 – 3 inches of water. (High enough that it covers the bottom of the measuring cup, yet not so high that the mix splashes water into the dried flower-oil mix)
Place measuring cup with dried flower-oil mix in saucepan with the handle part hanging over the side of the saucepan.
Heat slowly on simmer for 2 to 4 hours. (Start on low-medium and once the water is warm turn the heat down as low as it will go.
After it has infused for 2 to 4 hours remove the pan from the heat source.
Carefully remove the glass measuring cup from the pan.
After Infusing Oil (for both methods)
Using a fine strainer (such as a fine tea strainer), strain and separate the dried flowers from the oil. (I put the strainer over a glass jar and strained small amounts at a time)
Wheat Germ Oil

Wheat germ oil comes from the embryo of the wheat seed, so it's packed nutrients like potassium, selenium, zinc, iron, and phosphorus that your skin needs.
It's also high in vitamin E, which is a powerful antioxidant. It can help fight damage from free radicals and have some anti-aging properties. It also has vitamins A, B, and D to promote skin health.
Wheat germ oil is a wonderful carrier oil for dry skin, but it is a heavy oil.
It can also have a strong odor, so you will usually mix it with another carrier oil to get the benefits of both oils.
Vitamin E Oil
Vitamin e oil is rich in antioxidants that inhibit free radicals that cause aging, hence, it helps to reduce the appearance of wrinkles and makes your skin look youthful. Even though there is no scientifuc proof it heals scars, it helps make the skin healthier.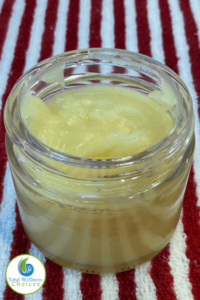 Aunt Dee's Healing Ointment Recipe
This recipe makes a soft salve, that is similar to some vitamin e ointments sold in the store. It is important to weigh the ingredients. This recipe makes approximately 2 ounces/60 ml ointment. Storing in a cool, dry area is best.
What you'll need:
Directions
Put a medium saucepan filled with 2 to 3 inches of water on stove and heat until simmering.
Put beeswax into double boiler pot (over top of the saucepan filled with simmering water) and melt until almost completely liquid.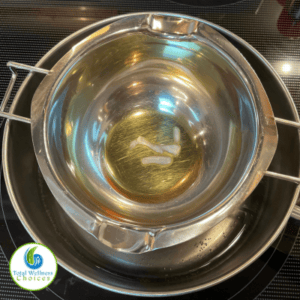 Add the calendula-lavender infused oil to the melted beeswax and stir to incorporate well together.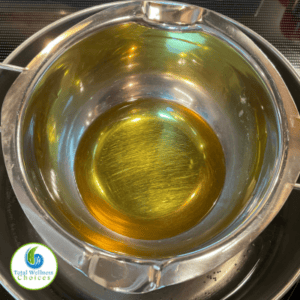 Remove from heat source and allow to cool. (Until 40 celsius/104 fahrenheit or less) Stir in wheat germ oil and vitamin e oil (these are best added at cool down stage to preserve the vitamin e in both).
Stir the mix well togather. It may appear thick already which is fine!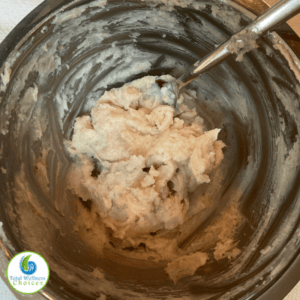 Next, spoon out your mixture into a container (or containers).
This salve has an ointment type consistency. The greasy feeling of the ointment will quickly absorb into your skin as you rub it into area.
Similar Recipes: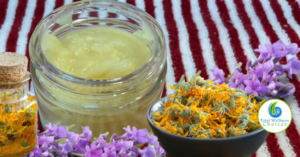 These statements have not been evaluated by the Food and Drug Administration. This article is for educational and informational purposes only and does not intend to diagnose, treat, cure, or prevent any disease or health condition. It is always recommended that you seek the advise of your private medical doctor.