This post may contain affiliate links. I may be compensated if you make a purchase through a link on this page.
Exfoliating Sugar Lip Scrub DIY Recipe In A Tube!
Even though winter temperatures are well known for bringing about chapped dry lips, the sun exposure that comes with warmer temperatures can also cause drying and chapping of lips. To the rescue comes this easy sugar lip scrub DIY recipe for softer and smoother lips right away. This recipe is made in a convenient to use tube. It's easy to make with just a few ingredients, and it works to moisturize your lips long after you rinse it off.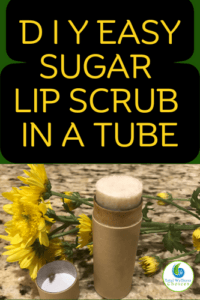 Lip scrubs start working right away by removing dead skin cells for smoother lips. They also can help even out lip discoloration. The nourishing oils used can also keep moisturizing your lips long after you rinse it off .
Related:
Why Bother To Exfoliate Your Lips?
Exfoliating one's skin with a sugar, or salt, scrub to keep it looking and feeling smooth is something many do. However, only a small percentage even consider exfoliating their lips.
Why bother to take the time to use a lip scrub? Just like the skin on your body, your lips can also get dry and accumulate dead skin cells. You'll notice that your lips might feel dry, tight, or even crack from being too dry. When your lips are dry, they look dull.
Lipstick, especially liquid lipstick, won't be smooth and won't look as good on dry lips as it does on smooth, moist lips. At the first sign of dry lips, you probably reach for the lip balm. Usually, that works, but sometimes it's just not enough.
You can exfoliate your lips with this easy lip scrub recipe in a tube. I like this recipe because it's simple, and I have most of the ingredients already in my pantry.
Ingredients for DIY Sugar Lip Scrub In A Tube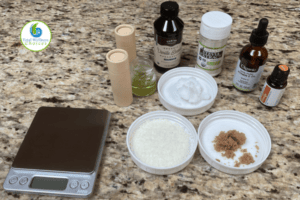 Sugar
You can use either white granulated sugar or brown sugar. White sugar has a larger grain. Brown sugar has a finer grain, so it's gentler on your skin. I use both white and brown sugar, depending on my needs at the time. Just use the same amount of total sugar in the recipe.
Coconut Oil
Coconut oil is wonderful for dry or chapped lips. It is a natural emollient. It helps trap moisture against your lips, so it can help moisturize your lips for hours after you use it. Coconut oil is also said to have some antibiotic properties.
Grapeseed or Avocado Oil
Grapeseed oil is known for its rapid absorption making it a great choice for skin types that do not absorb oils well. It has excellent emolliency and it does not leave a greasy feel.
It is especially suited for use in many types of skin care products including facial creams, body creams, and lip products.
It is rich in omega-6 and Omega-9 fatty acids. Grapeseed oil is known for being slightly astringent. This benefits the skin by improving skin tone and texture without exacerbating acne.
Avocado oil is an emollient, highly permeating oil that is deeply nourishing, and softens dry skin. It contains a good amount of vitamins A and E that together work to improve skin texture.
Its a wonderful choice in skin care recipes for dry, dehydrated and mature skin. Avocado oil helps to prevent chapping, cracks, and stretch marks and is known for its restorative and moisturizing quality.
White (or yellow) Beeswax Pellets (AKA beads)
Beeswax creates a protective coating on the skin. By so doing, it protects your lips from the elements even as it holds moisture in and prevents dryness.
Beeswax also contains anti-inflammatory, antiviral, and antibacterial properties, which helps to repair damaged skin.
Stevia Leaf Powder (Optional)
Adding stevia is optional. It will add a little more sweetness that lasts. I like using a quality stevia leaf powder like the one shown.
Vanilla Bean Powder or Extract
Vanilla bean in either powder form (shown above) or extract adds a wonderful scent (and flavor) that goes great with the coconut and sweet orange essential oil that I used in this recipe.
Sweet Orange Essential Oil
Sweet orange essential oil smells great with the vanilla and coconut ingredients. It's also has antiseptic and anti-inflammatory properties which help heal dry, cracked lips.
How to Exfoliate Your Lips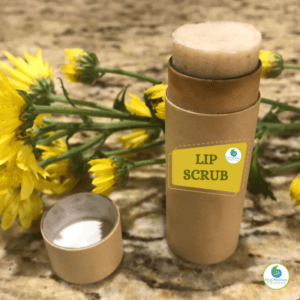 Exfoliating your lips is similar to using a sugar scrub to exfoliate your body. Start with clean lips. Don't use it when you have lipstick on.
Rub it over your lips in a circular motion – like you are putting lip balm on. Gently scrub your lips for a few minutes going a little outside of the lip line area. This will help prevent fine lines and soften that skin so lipstick doesn't bleed.
Let the lip scrub sit for about five minutes so the oils can penetrate the skin for more moisturization. Rinse the scrub off with warm water. The sugar will rinse away, leaving the oils and wax to moisturize your lips for hours.
I recommend waiting a while before using lipstick. If your lipstick is oil based, the oil blend used in this recipe can break down your lipstick and it won't last as long.
If your lips are really dry or chapped, I recommend following this lip scrub with a lip balm. Since lips are more sensitive than the rest of the body, I also recommend using this lip scrub recipe no more than once a week. Using it more often can irritate your lips.
How to Make Sugar Lip Scrub In A Tube
Note: Weighing ingredients is more accurate in most cases. I have found that this type of recipe is more forgiving if one does not accurately measure or weigh incredients. The Tablespoon and teaspoon measurements are US.
I fill Tablespoon/teaspoon to top, but not overflowing. The brown sugar is packed in the measuring spoon(s). I have a ½ Tablespoon measuring spoon, but if you do not just measure 1 teaspoon and ½ teaspoon instead!
I did not weigh the essential oil or Vitamin e oil due to the fact that they are very small amounts making it almost impossible to weight on most home scales.
Ingredients
Tools
Directions
Weigh, or measure, the white and brown sugars, beeswax or candelilla wax, coconut oil, and grapeseed or avocado oil.
Have available nearby the essential oil, Vitamin e oil, vanilla bean powder or extract, and stevia (if using).
Melt the beeswax or candelilla wax in a double boiler until almost completely melted, then add the coconut oil and melt completely.
.
Remove from heat and add the grapeseed or avocado oil. Stir to bring the temperature down.
Add the essential oil, and Vitamin e oil. Stir well.
Add the white and brown sugars, vanilla powder or extract, and stevia if using. Blend all ingredients well together.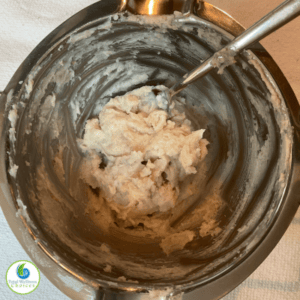 Spoon finished product into a cardboard tube (or jar). I used the narrow handle of a spoon to get into the tube.
You can store this lip scrub up to one month. Since there's no water, you don't need a preservative. Your hands can have germs, so always use clean-dry hands, and apply to clean, lipstick-free lips.
What's your thought this exfoliating sugar lip scrub in a tube DIY recipe? Leave your comment below.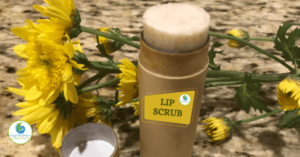 These statements have not been evaluated by the Food and Drug Administration. This article is for educational and informational purposes only and does not intend to diagnose, treat, cure, or prevent any disease or health condition. It is always recommended that you seek the advise of your private medical docto