This post may contain affiliate links. I may be compensated if you make a purchase through a link on this page.
Easy Homemade Christmas Melts Recipe!
This holiday wax melts recipe is easy to make with four basic ingredients. The coconut oil and beeswax is dyed with an easy to use liquid candle wax colorant and then a holiday essential oil scent is added using a blend of choice. These cute Christmas/Holiday wax melts will make a nice addition to your holiday décor.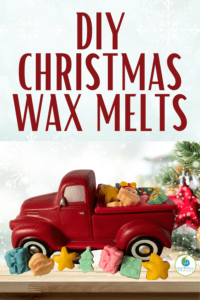 Solid wax melts not only add a decorative touch and a nice scent, but are easy to make and use.
For this recipe I used a non toxic liquid candle colorant. The finished colors in the wax melts came out pastel to medium colors, I thought it may have been because of the amount of coconut oil I used in the recipe, but I read that this was a complaint for liquid candle wax colorant being used in any wax recipe. On a positive note it was easy to use and I was able to mix the dyes to get different colors.
I divided the melted coconut with beeswax into four separate pourable containers so I was able to use different colors. (I used glass containers that were microwavable so I was able to re-melt the coconut-wax mix in each one as needed before adding the dye and finishing each individual batch).
I also used different scents for the different colors I had chosen. If you do this be mindful that you need to use 1/4 of the amount of recommended essential oil blend in each of your containers.
You can also cut the recipe in half or quarter and do each of these batches separately – whichever way works for you.
If you are artistic there are candle wax colorant pens that can be used to add more to your finished product.
There are many wax melt warmers available that you can purchase . Normally I like the types that plug into an outlet. However, for this season I found a lot of cute wax melt warmers that can be used on a tabletop almost anywhere.
FYI: I recommend storing these homemade wax melts in a container because they can get soft or melt in high heat. (When traveling by car I put them in a cooler). You can store container at home in the refrigerator to keep fresh.
Related:
DIY Christmas Wax Melts Main Ingredients
Virgin Coconut Oil
Virgin coconut oil is a great ingredient to use for these wax melts. It's fairly inexpensive, melts easily, has a nice tropical, natural scent, and it takes on the dye color well. However, like with most everything there is a precaution! The finished product contains an oil and should not be used over an open flame. (I know you weren't planning to anyways, right??)
Beeswax
I added beeswax because it's very hard at room temperature. This helps wax melts like these stay solid until they are used. If you don't want to use beeswax you can try a plant sourced wax, such as, candelilla vegan wax instead.
Essential Oils Used For Fragrance
There are many essential oils you can choose for these holiday wax melts. I find it easier to use an already made blend; such as, one of these:
If you have children in the house stick with kid friendly essential oils such as Douglas fir, spearmint, sweet orange, ginger, cardamom, lime, vanilla, and vetiver. You can make some wonderful blends with these single oils.
Here is a kid friendly blend we like: 12 drops sweet orange essential oil, 10 drops vanilla (oleoresin or botanical extract or CO2 variety), and 8 drops Cardamom essential oil. (Adapt as you wish!)
Douglas Fir, sweet orange, and spearmint makes another nice essential oil blend. There are many more options you can make using just the above kid friendly oils.
Also, if you are pregnant, or nursing a baby take care and make sure the essential oils you have chosen are safe ones for you and the baby! If you are not sure consult with a practicing aromatherapist!!
Safety First When Using Essential Oils
You can find out more about using essential oils safely at the following:
How to Make Christmas Wax Melts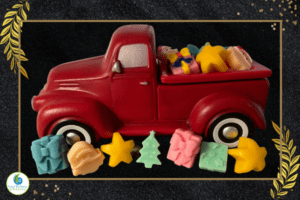 Ingredients
4 oz (112 g) virgin coconut oil
2 oz (56 g) beeswax
candle wax colorant (use as directed by manufacturer)
30-40 drops essential oil blend of choice
Note: If you live in a warm climate, or would like your wax melts harder you can use 3 oz (84 g) each of coconut oil and beeswax.
You can make them even harder with 4 oz (112) beeswax and 2 oz (56 g) virgin coconut oil. Some don't use any coconut oil in their recipe, but I like at least a small amount as it is less expensive than beeswax and it does not seem to affect the finished product.
Directions
1. Weigh both the beeswax and coconut oil and put in a glass measuring cup .
2. Using a double boiler (aka: water bath) method, place the above glass measuring cup (pyrex) inside a small to medium saucepan filled with approximately 2 inches (5 cm) of water.
3. Heat over low until the wax has completely melted.
4. Remove from heat source and allow to cool for a few minutes.
5. Add the candle wax colorant following manufacturers instructions and mix together well.
6. Next add the essential oil or blend of choice.
7. Carefully pour into the Christmas shaped silicone molds. (Make sure and place the silicone mold on a flat surface where it can remain for awhile to set after pouring).
8. Allow the wax melts to set up in the molds for at least 24 hours before removing. Be safe. Whenever, there is hot wax like this there is a need to protect against burns. An adult needs to supervise when wax and oil is melting. Keep kids and pets away! Carefully read the instructions that came with the wax melt warmer you have chosen!
9. Once the wax melts have fully hardened you can decorate them using a candle wax colorant dye pen like this one (optional).
Now, try making this DIY Christmas wax melts recipe and let us know how it goes.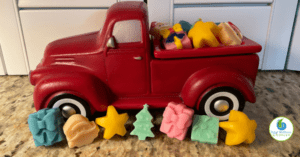 These statements have not been evaluated by the Food and Drug Administration. This article is for educational and informational purposes only and does not intend to diagnose, treat, cure, or prevent any disease or health condition. It is always recommended that you seek the advise of your private medical doctor.