This post may contain affiliate links. I may be compensated if you make a purchase through a link on this page.
Learn How to Make Homemade Flavored Lip Balm!
If you are looking for a homemade flavored lip balm recipe with just a touch of sweetness, you will really like this one because it uses just a few ingredients and is simple and easy for anyone to make.
Winter or summer, if you are like me and fight dry lips no matter the season, then you will like this recipe. Just be sure and make extra tubes or small containers to keep on hand.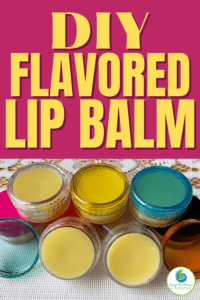 I like making all sorts of body butter and balms because they are so easy to make and save me a bunch of money. Lip balms are one recipe that I really like making. It is easy to adapt recipes – change out some oils for others I like and still have it coming out great!
Not only do I make lip balms for myself, but as gifts for family and friends. They make great little gifts for any time of the year.
I also feel good that I know what is going into my lip balms – that they contain safe ingredients! I chose ingredients that even my youngest grand daughter could use without worry of her licking her lips and ingesting questionable chemicals.
For this recipe I chose to use all edible ingredients. The cocoa butter is one that is food grade: as well as, the coconut oil, the extra virgin olive oil, and the beeswax. The *organic flavoring for lip balm I chose has no questionable chemicals (you can also find natural flavoring for food that are ok to use in lip gloss/balm recipes). I also added a touch of *stevia which came in an easy to blend form (mixed with coconut oil) and was also edible. (*These were found on ETSY.com).
Making your own homemade flavored lip balm is super easy. It only takes 4 base ingredients and 15 minutes.
Note: Some people are allergic to Stevia – this is an optional ingredient. You can also swap out different butters for the cocoa butter – such as shea, or mango. You can also swap out the other oils for whatever you food grade kind you like – such as grapeseed, or avocado.
Homemade Natural Lip Balm Recipe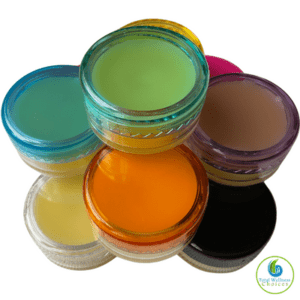 What You Need
Beauticom 12 Piece 20g/20ml USA Acrylic Round Clear Jars with Lids for Lip Balms, Creams, Make Up, Cosmetics, Samples
50 Lip Balm Containers – Empty Tubes – Make Your Own Lip Balm – 3/16 Oz (5.5ml) (50 Tubes, Clear)
*This recipe makes 2 ounces of lip balm
Benefits of the Ingredients
Extra virgin olive oil is moisturizing. It contains vitamin E, anti-oxidants, and other compounds which may help repair skin damage.
Cocoa Butter and coconut oil add bulk and make your lip balm creamy so it "glides" on your lips. They are also natural moisturizers.
Beeswax keeps lip balm solid so it doesn't melt and make a mess in your pocket or purse
Organic or natural food grade flavoring for lip balms adds scent, which gives one the sensation of a slight flavor.
Stevia in coconut oil can add a little sweetness (optional)
Instructions (Via Microwave Oven)
Heat your beeswax until completely melted in a microwave safe container
Add in your cocoa butter and coconut oil and stir until dissolved (you might need to heat for a few seconds)
Next, add in the extra virgin olive oil and stir (heat a few seconds extra if needed)
After your mixture has cooled slightly, add in your organic or natural food grade flavoring for lip balm and stevia (if using) – follow instructions given by companies for amount to use!
Pour into your containers of choice. Tubes and small lip balm containers can be easily found at craft stores and online.
Not only does this recipe help with chapped lips, but it can give your lips a little touch of flavored sweetness with flavor choices outside of the more limited essential oil range. (Think cherry, apple, strawberry, pear, etc).
Related Read: Homemade Natural Lip Balm Recipe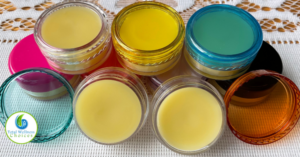 These statements have not been evaluated by the Food and Drug Administration. This article is for educational and informational purposes only and does not intend to diagnose, treat, cure, or prevent any disease or health condition. It is always recommended that you seek the advise of your private medical doctor.