This post may contain affiliate links. I may be compensated if you make a purchase through a link on this page.
An Easy to Make Calendula Soap Nuts Face Wash with All-Natural Ingredients for Normal and/or Acne Prone Skin Types!
If you are looking for an easy to make face wash for normal and/or acne prone skin, then you will find this homemade calendula soap nuts face wash recipe the one for you!
This face wash is uses an oil base that absorbs quickly into the skin without giving a greasy feel to it afterwards. It also includes aloe vera which works wonderfully at cleansing the skin (and can be safely used by most people).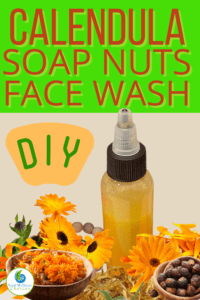 Instead of using castile soap, which though great for most people can still feel a bit heavy, I chose to use a homemade soap nuts concentrate instead. I also used a natural preservative to keep the soap nuts concentrate safe. (If you elect not to preserve this product make 1/2 the amount, keep it refrigerated, and use within 1 to 2 weeks)
I personally like to know that the ingredients in my skin care products are safe and natural. I also like to save money! It is because of these reasons that I prefer to make my own homemade facial cleansers.
Making your own skincare product is great because you control what's in them, using only ingredients that you know don't irritate your skin.
Better yet, making this calendula soap nuts face wash, or another DIY face cleanser recipe that you can find here, is not hard.
Calendula Oil Infusion Ingredients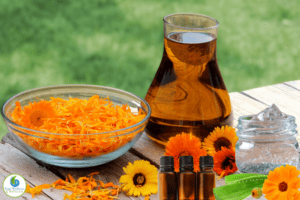 This recipe uses an infused calendula oil. Making an infused oil is not hard to do, yet adds an extra plus to a recipe like this.
Dried Calendula Flowers
Infused Calendula Oil
Calendula oil is made by infusing the dried calendula flowers in a carrier oil. This gives the oil the benefits of the calendula and makes the oil a beautiful deep golden yellow.
Calendula oil is naturally anti-inflammatory and has antibacterial and antifungal properties. Because it is soothing and healing, calendula is often used for eczema, contact dermatitis, skin wounds, and dry skin.
Since calendula is a natural antiseptic, it is used by many to help reduce body acne.
Carrier Oils to Use (Your Choice)
Because it is naturally antibacterial, castor oil can be helpful for those with acne prone skin. It is a heavier oil and thus is best used in small amounts with another carrier oil. It has antioxidants, so it's one of the few oils that's great for mature skin that has acne.
The chemical makeup of jojoba oil is similar to the natural sebum produced by the skin, making it very compatible with the human skin. It is easily absorbed into the skin, and it moisturizes without making the skin oily.
It is important to add that jojoba oil does not easily go rancid. (It is more shelf stable). This is because even though it is often called an oil, it is actually a liquid wax.
Rosehip oil provides a soothing and softening aspect to skin care and is considered a powerhouse oil for skin. It has many therapeutic qualities. Even though it is best known for its ability to reduce the appearance of skin aging and stretch marks, it also happens to work wonders for acne and sensitive skin.
Loaded with several vitamins and antioxidants, hemp seed oil is used to reduce the appearance of acne and eczema.
This lightweight oil works to help heal the skin fast by penetrating the skin efficiently and mimicking the skin's natural sebum. It is also loaded with anti-inflammatory benefits and rich emollient qualities. Using Hemp Seed oil can help give the skin clarity and a radiant appearance.
How to Infuse Dried Calendula Flower in Oil
For this recipe I am using the fast infusion method to infuse the dried calendula flowers. If you wish to infuse using a slow infusion method just follow the instructions included in my homemade whipped hibiscus body butter recipe.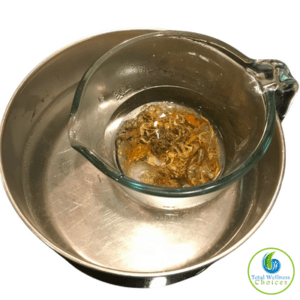 Fast Infusion Method
Fill a 16 ounce glass measuring cup with 1/3 cup of dried calendula flowers.
Cover the dried flowers with carrier oil(s) of choice. (approx 2/3 cup oil).
Fill a medium sized saucepan with approximately 2 – 3 inches of water. (High enough that it covers the bottom of the measuring cup, yet not so high that the mix splashes water into the dried flower-oil mix)
Place measuring cup with dried flower-oil mix in saucepan with the handle part hanging over the side of the saucepan.
Heat slowly on simmer or warm for 2 to 4+ hours. (Start on low-medium and once the water is warm turn the heat down as low as it will go.
After it has infused for 2 to 4+ hours remove the pan from the heat source.
Carefully remove the glass measuring cup from the pan.
Using a fine strainer (such as a fine tea strainer), strain and separate the dried hibiscus flowers from the oil. (I put the strainer over a glass jar and strained small amounts at a time).
Store extra calendula infused oil in the refrigerator for your next batch.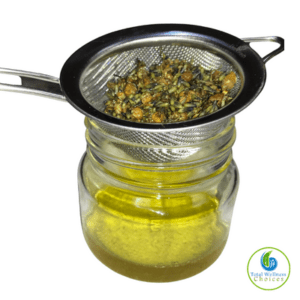 Other Ingredients Used In Recipe
Aloe Vera Gel
The benefits to both skin and hair for aloe vera gel are numerous. One benefit and reason to use in a face wash product, such as this one, is it's moisturizing and healing benefits.
Organic Aloe Vera Gel with 100% Pure Aloe From Freshly Cut Aloe Plant
You can find more about this wonderful ingredient and it's many uses by reading Aloe Vera Benefits For Skin and Hair.
Vegetable Glycerin

Vegetable glycerin (aka glycerine) is a humectant. This means it works by drawing water into the skin and keeping it there. This helps to improve the skin barrier and health in general. It is used for its ability to moisten and soften the skin.
Homemade Liquid Concentrated Soap Nuts (aka Berries)
Soap made from soap nuts is very gentle and mild, so it's safe for most skin types . Using soap nuts in a face cleanser is said to brighten complexion and even out skin tone. This all-natural product is also used to fight acne and soothe eczema.
The best part about liquid soap made from soap nuts is that it is natural and very easy to make!

How to Make Liquid Concentrated Soap Nuts "Soap"
Ingredients for 1 Cup of Liquid Soap
3 to 5 deseeded soap nuts (aka berries)
1 cup of distilled water
Natural preservative of your choice (optional but recommended) – I used 3 ½% Leucidal Complete (Just follow the instructions that come with your natural preservative)
Instructions
1. Add the soap nuts and water to a pan and bring to a boil.
2. Mash the soap nuts some (this helps release more saponins thus gives a distinctive foaming characteristic).
3. Let it boil for 30 minutes, then simmer on low for 30 to 60 minutes (the longer the more concentrated the liquid will be).
4. Allow the solution to cool and strain it through a muslin or nut cloth.
5. Add preservative of your choice, following instructions from bottle or company regarding amount to use. (I recommend a natural full-spectrum type; such as Leucidal Complete or Geogard ECT)
6. Store in a glass jar and refrigerate for further use (amount of time you can store safely depends on the preservative you chose).
Essential Oils (Optional)
Geranium essential oil is used in many skincare products because of it's ability to reduce excess oil or dryness, which is said to occur because of its ability to balance the production of sebum. It is considered to have excellent anti-inflammatory and skin healing properties.
Neroli essential oil is said to have regenerative qualities. It also has antiseptic, antibacterial, anti-inflammatory and pain-relieving properties. Due to these properties it has been found to be useful to treat both pimples and acne and reduce the redness associated with breakouts.
Davana essential oil is used in skincare to rejuvenate and freshen one's complexion. It is is comprised primarily of davanone, a ketone. Ketones tend to be analgesic, anti-viral, and mucolytic and help promote the healing of wounds.
Davana oil is thought to promote the growth of skin cells which helps balance, soften and repair the skin.
Sandalwood Essential Oil is used in skin care products for its skin healing effect. It's anti-inflammatory and antiallergic actions help maintain skin health, and alleviate eczema, dermatitis and acne.
Safety First When Using Essential Oils
If you have never used a certain essential oil, or carrier oil, it is important to do a skin patch test prior to topically using! See my sections on topical use and other essential oil safety concerns:
Homemade Calendula Soap Nuts Face Wash
Ingredients
Directions
1) Pour aloe, soap nuts concentrate, glycerin, and calendula infused oil into 2 fl. oz (60 ml) PET plastic bottle with flip cap or pop up lid.
2) Drop the essential oils (optional) into this mixture.
3) Cap bottle and gently shake to blend together.
Your facial cleanser is now ready to use
Note: I used a higher % of preservative (upper range that was recommended by the product) in my homemade soap recipe made from soap nuts, so I did not add more here.
How To Use
Gently massage over face avoiding eye area.
Using a warm washcloth, gently remove from your face.
Once done, your face should feel slightly tight, and fresh feeling.
Be sure to use this homemade product (if preserved) within time frame the type of preservative you chose recommends. If you choose not to preserve it then I recommend making 1/2 of the recipe, refrigerating between times used and using within 1 to 2 weeks.
There you go, an effective homemade calendula soap nuts face wash recipe that is perfect for normal to acne prone skin. Give it a try and let us know how it goes!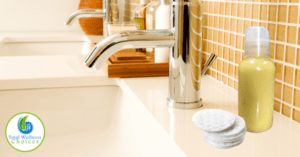 These statements have not been evaluated by the Food and Drug Administration. This article is for educational and informational purposes only and does not intend to diagnose or treat any disease. It is always recommended that you seek the advise of your private medical doctor.