This post may contain affiliate links. I may be compensated if you make a purchase through a link on this page.
Homemade Facial Cleanser Recipes with All-Natural Ingredients for All Skin Types!
It's time you ditched that chemical laden store bought face wash! You can use any of the homemade facial cleanser recipes to DIY a cleanser made with all natural ingredients.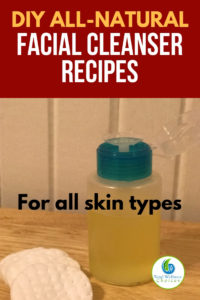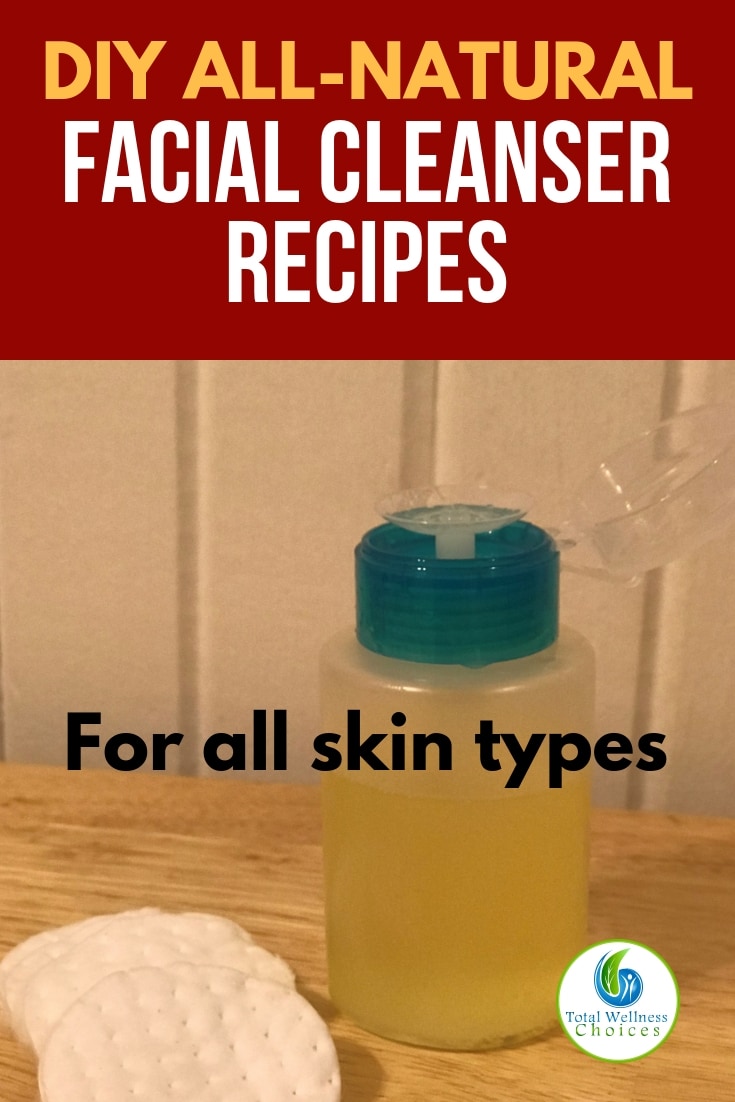 I still have my teenage memories of the face wash commercials where the friends are all hanging out, cleaning their skin until their cheeks are rosy.
But wait, what exactly were they putting on their skin?
Commercially-produced beauty products come packed with artificial colors, fragrances and preservatives that can easily be absorbed through the skin's pores, leaving adverse long-term health effects.
Even though it is not private information what most face washes contain, it is also not shouted from the roof-tops of the side effects that can cause over time.
Well, I for one know first-hand what some of those ingredients can do to the skin.
And it is not all rosy cheeks from fresh-washed faces while giggling with my friends like the commercials.
It is because of those reasons that I prefer to use homemade facial cleansers.
They are great because you control what's in them using only ingredients they don't irritate your skin.
Why Cleansing with Soap May Do More Harm than Good
There is a huge myth that we must use soap to clean our skin when that is not true. In certain situations, soap will cause more problems, even when it's all-natural.
Cleansing with soap often strips your skin of its natural hydrating and protective oils, leaving it vulnerable to irritation from your environment.
When you strip your skin of the natural oils for too long, it has detrimental effects on your skin.
It could lead to pre-mature wrinkles, breakouts, and blackheads, which is opposite of what the commercial cleaners say will happen if you remove the oils.
Good news is, there is a better alternative method of cleansing, and that is by using oils only.
The oil-cleansing method will not only remove dirt, grime, and make-up, the best part is it will not clog your pores, leaving you with smooth and healthy skin.
And most importantly, you may not need to use extra moisturizers in most cases.
The ingredients I use in my homemade natural facial cleanser are castor oil, jojoba oil, fractionated coconut oil and lemongrass essential oil.
It's that simple.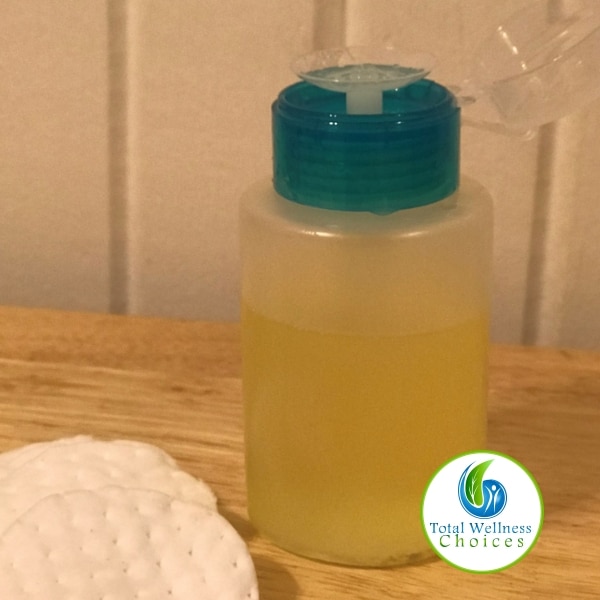 Benefits of the Ingredients
The castor oil is a great antibacterial, which is why it is perfect for a face cleanser. It helps keep the pores clean and clear up acne.
The jojoba oil is a natural skin rejuvenator, while the coconut oil works as a moisturizer.
I also use lemongrass essential oil for two primary reasons. First of all, I use it because of the wonderful smell it leaves on my skin and second of all, for its antimicrobial properties.
Safety First When Using Essential Oils
Lemongrass can irritate the skin (especially for those with eczema) due to many brands having high aldehydes (citral) content.
Lemongrass ct rhodinol – is a form of lemongrass that is high in monoterpenol (rhodinol) instead of aldehydes (citral). This is a gentle form to use on the skin.
If you cannot buy lemongrass ct rhodinol it is important to keep the dilution percentage low!
If you have never used a certain essential oil it is important to do a skin patch test prior to topically using! See my sections on topical use and other essential oil safety concerns:
Depending on your skin type, you will need to adjust your castor oil ratios:
Normal: 1:1 ratio of castor oil to jojoba oil
Oily: 3:1 ratio of castor oil to jojoba oil
Dry: 1:3 ratio of castor oil to jojoba oil
Homemade Facial Cleanser Normal Skin
Ingredients
DIY Facial Cleanser for Oily Skin
Ingredients
2 tbsp castor oil
6 tbsp jojoba oil
1 tsp fractionated coconut oil
8 drops lemongrass essential oil
Homemade Face Cleanser for Dry Skin
Ingredients
6 tbsp castor oil
2 tbsp jojoba oil
1 tbsp fractionated coconut oil
8 drops lemongrass essential oil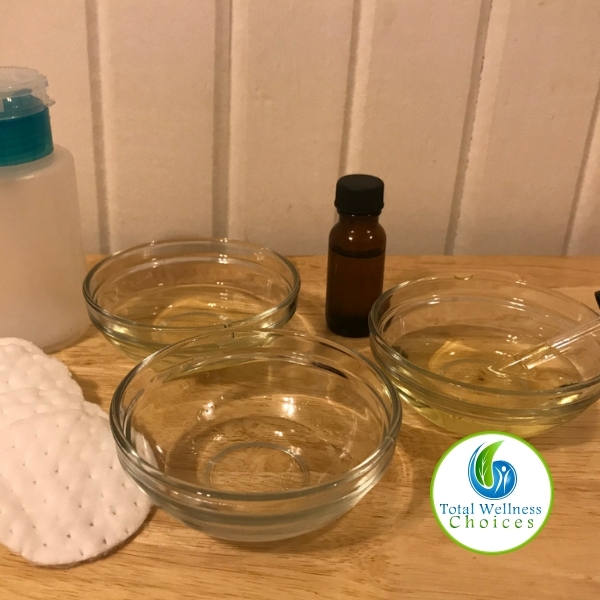 Directions for Making Homemade Face Cleanser
Combine all oils together in a container of your choice. Spray or squirt bottles work best
Stir well to make sure all your oils are combined
Your cleanser is now ready to use
How to Use Your DIY Natural Facial Cleanser
Using a cotton ball or cotton pad to gently massage in the oil for 2-3 minutes to allow the oil to penetrate and nourish deep into the skin, also giving your skin time to soak up the oil.
Using a warm washcloth, gently rub the oil off your face. You may need to repeat this process twice.
Once done, your face should feel renewed and rejuvenated with a natural glow.
There you go, three homemade facial cleanser recipes for the three different skin types. Choose the recipe that suits your skin type, give it a try and let us know how it goes!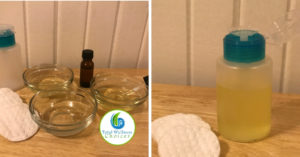 These statements have not been evaluated by the Food and Drug Administration. This article is for educational and informational purposes only and does not intend to diagnose or treat any disease. It is always recommended that you seek the advise of your private medical doctor.