This post may contain affiliate links. I may be compensated if you make a purchase through a link on this page.
Learn How To Make An Easy Homemade Naturally Scented Solid Cologne For That Special Man.
This homemade solid cologne recipe is easy to make with two to three basic ingredients, and a natural fragrance blend made with essential oils. It can be made in less that 15 minutes. It makes the perfect Father's Day, Birthday, or any day gift!
You chose the scents you want to add starting with just one simple essential oil, or by choosing a blend like I have in this recipe. If you like using natural ingredients and making your own products, then this recipe is for you.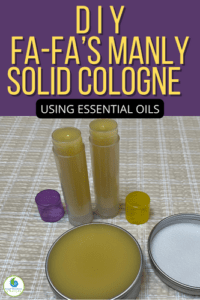 This basic recipe uses candelilla wax, carrier oils, and an essential oil blend (or single oil) of your choice.
It is made in convenient containers, such as, aluminum tin containers, or lip balm tubes (or a combination – like I did). This form makes it easy to carry along if wanted. Not only is it convenient to carry, but it won't break or spill.
If you are wondering about the name – Fa-Fa is what my grandchildren call their grandpa (my husband)!
Carrier Oil
I chose to use a blend of both grapeseed oil and jojoba oil. I chose grapeseed oil because it nourishes and moisturizes the skin, and because it is a light oil which absorbs quickly and thus leaves no sticky feel behind. Also, it can be used by a wide range of skin types, including sensitive or oily.
I chose to include jojoba oil as it has a long shelf life and can help to prolong the shelf life of the combined oils used. Jojoba is similar to the natural oil (sebum) that our body makes. It is known for how easily it is absorbed, without clogging your pores.
Candelilla Wax
I added candelilla wax for two reasons. First, it's great for those who are allergic or sensitive, or just don't care to use, beeswax.
The second reason I like using candelilla wax is how great it works in a product such as this. It not only does a great job of hardening the product, but adds a moisturizing factor without clogging pores!
If you prefer beeswax – it can be used. You need to put a little more in the product. So instead of 0.2 oz candelilla wax, put 0.25-0.3 oz beeswax.
Vitamin E Oil (optional)
Vitamin E is another oil that I like to add to my skin products, because it helps keep the product from becoming rancid.
Essential Oils
I chose to use a cedarwood, balsam fir, and patchouli essential oil blend because this is the blend the men in my family like. However, you can made a blend of your choice.
The essential oils that most men seem to like the best apart from the three I already listed include: Sandalwood, Bay, Cypress, Ginger, Bergamot, Clary Sage, Cardamom, Black Pepper, Neroli, Vanilla, Vetiver, and the citrus oils. Remember this is a partial list. Keep the total drops in your blend for this recipe between 20 to 24 drops.
How to Make Solid Cologne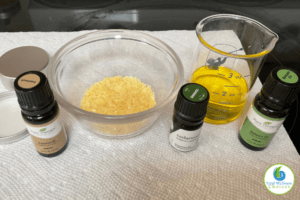 Ingredients
Tools
Lip balm tubes, or aluminum tin containers
Double boiler
Directions
Weigh the carrier oil(s), and candelilla wax (also vitamin E if using gram measurements) and set aside.
Place candelilla wax with carrier oils in a double boiler. I used a stainless steel double boiler like this one over top of a medium sized kettle that was filled with approximately 2 inches of water (just enough to cover the bottom of double boiler).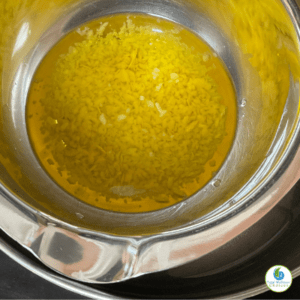 Heat over low until the candelilla wax is totally melted.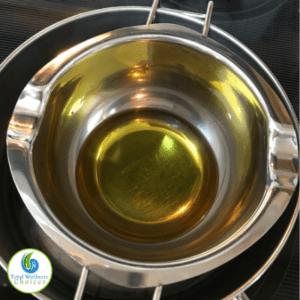 Carefully remove the container from the pan and set on a heat proof surface. Use hot pads because it will be hot.
Stir in the essential oil(s) and vitamin E oil (if using) and continue stirring until totally mixed together.
Carefully pour into the 1 ounce (~30 ml) tin containers. This recipe makes approximately 2 fluid ounces. (2 tin containers). If you want you can use lip balm (~15 ml) tubes.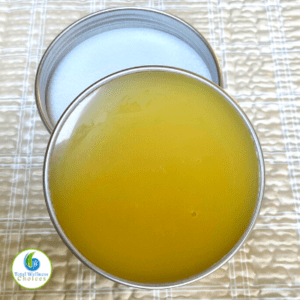 Let cool completely. I let it sit for about an hour undisturbed. Then place lids on them. In 12 to 24 hours they are ready to use.
Now, try making this DIY easy to make solid cologne recipe and let us know how it goes.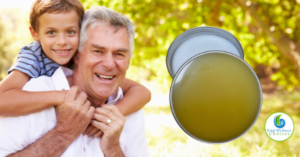 These statements have not been evaluated by the Food and Drug Administration. This article is for educational and informational purposes only and does not intend to diagnose, treat, cure, or prevent any disease or health condition. It is always recommended that you seek the advise of your private medical doctor.