This post may contain affiliate links. I may be compensated if you make a purchase through a link on this page.
Easy Homemade Natural Dyed Rose Wax Melts Recipe!
This naturally dyed rose wax melts recipe is easy to make with three base ingredients. The natural plant based dye infused coconut oil along with beeswax and essential oils, when put into rose silicone molds, makes a cute gift for special times – like Mother's Day!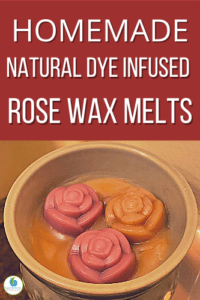 Solid wax melts can not only be decorative, but are convenient to use. There are many wax melt warmer choices that you can make. I like the electrical ones that plug into an outlet. They are great when traveling, and can freshen up the hotel room.
I do recommend storing these homemade wax melts in a container because they can get soft or melt in high heat. (When traveling by car I put them in a cooler).
Related:
Natural Dye Infused Rose Wax Melts Ingredients
Alkanet Root Powder
This DIY natural dye infused rose wax melts recipe is made by first infusing alkanet root powder in coconut oil. This naturally colors the wax melts, and depending on the amount of powder you use the intensity of color can vary in the final product.
If you have time and enough supplies, I suggest experimenting some – by adding varying amounts of the powder you can end up with many different colors!
Another nice natural dye that gives a yellow, peach, or orange color is annatto powder. I also, like to mix it with the alkanet root powder for another nice more neutral color range.
As a side, this is a great spice that you can use in cooking – it has a unique peppermint-nutmeg flavor!
Virgin Coconut Oil
Virgin coconut oil is a great ingredient to use for these wax melts. It's fairly inexpensive, melts easily, has a nice tropical, natural scent, and it takes on the natural dye color well when infused.
However, like with most everything there is a precaution! The finished product contains an oil and should not be used over an open flame. (I know you weren't planning to anyways, right??)
Beeswax
I added beeswax because it's very hard at room temperature. This helps wax melts like these stay solid until they are used.
If you don't want to use beeswax you can try a plant sourced wax, such as, candelilla vegan wax instead.
Essential Oils Used For Fragrance

There are many essential oils you can choose for these wax melts. Remember, some essential oils can be a little over powering. I like rose essential oil, but I would not put 20 drops of it in this recipe.
The same goes for ylang ylang, or jasmine. As much as I like these essential oils I can only tolerate a very small amount; otherwise I get a headache.
Take into consideration if you have children in the house. Keep with kid friendly essential oils such as lavender, cedarwood, and sweet orange.
Also, if you are pregnant, or nursing a baby take care and make sure the essential oils you have chosen are safe for you and the baby!
Safety First When Using Essential Oils
You can find out more about using essential oils safely at the following:

How to Make Natural Dyed Rose Wax Melts
Ingredients
Note: You can use essential oils of your choice! Some other nice scents are citrus: such as, sweet orange, mandarin, pink grapefruit, or lemon. There is a favorite with many, lavender – which also mixes nicely with lemon; or even peppermint, or spearmint. (I like putting lavender together with lemon and peppermint!).
15 to 20 drops total for the essential oil(s) is a suggested amount for this recipe.
How to Infuse Natural Dye Powders In Coconut Oil
Before you make this naturally dyed rose wax melts recipe, you'll need to infuse the natural dye powder in coconut oil over a heat source.
Before starting: Weigh the virgin coconut oil, and measure, or weigh the alkanet root powder. (see amounts needed above).
1. Place coconut oil and alkanet root powder in a double boiler (a glass Pyrex measuring cup, will work placed in a small sized saucepan with approximately 1 to 2 inches (2.5 cm-5 cm) of water in it). (You can put the dye powder in a sealing, heat resistant tea bag then place in the coconut oil when it has partially melted to make it easier to strain).
2. Keep on lowest available heat for at least 1 to 1 ½ hours. (Watch carefully to prevent bubbling and splattering – you don't want water in the final product!)
3. Carefully remove from heat source and from water bath.
4. Immediately pour the mixture through a strainer lined with a coffee filter, or fine cheese cloth, placed over a glass, heat resistant container to remove any dye powder clumps. (I strained into an 8 oz (250 ml) Pyrex glass measuring cup, which I then used for the next step!)
Directions For Putting It All Together
1. Weigh the beeswax and put in the glass measuring cup which you strained the infused dye-coconut oil into.
2. Use a double boiler (aka: water bath) method again by placing this glass measuring cup (now containing both the dye infused coconut oil and beeswax) inside the small saucepan with 1 to 2 inches (2.5 cm-5 cm) of water. (Like you did when infusing the natural dye in the coconut oil).
3. Heat over low heat until the wax has completely melted.
4. Remove from heat source and allow to cool for a few minutes.
5. Add the essential oils and mix together well.
6. Carefully pour into the rose shaped silicone molds. (Make sure and place the silicone mold on a flat surface where it can remain for awhile to set after pouring).

7. Allow the wax melts to set up in the molds for at least 24 hours before removing.
Be safe. Whenever, there is hot wax like this there is a need to protect against burns. An adult needs to supervise when wax and oil is melting. Keep kids and pets away! Carefully read the instructions that came with the wax melt warmer you have chosen!
Now, try making this DIY natural dye rose wax melts recipe and let us know how it goes.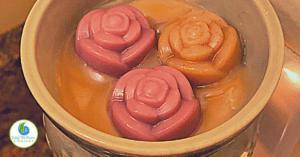 This recipe was adapted from Jan Berry's, The Big Book of Homemade Products For Your Skin, Health & Home. I highly recommend this book, especially to those interested in homemade products using plant based ingredients!
These statements have not been evaluated by the Food and Drug Administration. This article is for educational and informational purposes only and does not intend to diagnose, treat, cure, or prevent any disease or health condition. It is always recommended that you seek the advise of your private medical doctor.