This post may contain affiliate links. I may be compensated if you make a purchase through a link on this page.
Learn How to Make A Bug Bite Balm Stick!
If you are looking for a homemade bug bite balm stick recipe that is simple to make and uses natural ingredients that are healthy for your skin then you will really like this recipe.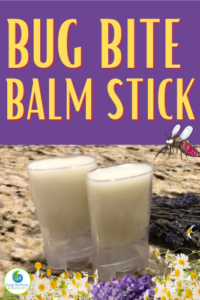 I like to make recipes that everyone in my family can use. This includes the little ones.
Summertime means bug bites. Whether it's from a fly, mosquito, or other bugs, there really isn't a way to avoid getting bit if you spend time outside.
I like being outdoors, but I don't enjoy being around a bunch of biting insects! Does that stop me from going outside? No!
I just plan ahead. I wear clothes that fit the situation: Long pants and long sleeved shirts that cover up those tender parts of skin. I also use a homemade bug repellent spray that you can find here.
When I do get the occasional bug bite it is nice to have something handy that I can use to help take the "sting" out of the bite! This recipe is easy to make and travels with me when I go exploring outside.
Homemade Bug Bite Balm Sticks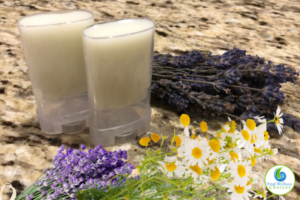 What You Need
Instructions
Melt beeswax, or candelilla wax in a double boiler over low heat on the stove, or in a glass bowl in the microwave until liquid. (10 to 15 second increments recommended in microwave)
Add the lavender/chamomile infused oil to the melted beeswax (candelilla wax) and stir until completely mixed in with the melted wax (reheat on stove, or microwave a few seconds if needed to make sure well incorporated).
Add in the vitamin E oil and essential oils (if using) and stir well until thoroughly mixed.

Slowly pour the mixture into containers of choice, being careful not to splash the hot liquid on yourself.
Let the bug bite balm cool and solidify completely. (it can take up to 24 hours to totally solidify!)
Not only does this homemade bug bite balm have a nice scent, but it is a better solution for your irritated skin after a bug bite.. This make 1 ounce total – it makes 3-4 (15 ml) containers. If you want to make more just double the recipe!
How to Infuse Dried Lavender/Chamomile
What You Need
Fast Method Instructions
Using a double boiler with water filled approximately 2 inches in bottom, heat your dried flowers in the oil on low heat, stirring occasionally for 2 to 3 hours. (stronger if done for longer time).

Strain the oil from the dried flowers and use as directed in above recipe.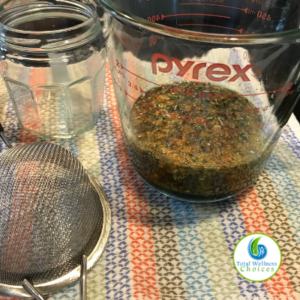 Slow Method Instructions (for better results)
Pour oil over the dried flowers making sure it completely covers the them – if not add more oil.
Place lid securely on jar.
Place in a sunny window for 4 weeks. Shake the contents occasionally.
Strain the oil from the dried flowers and use as directed in above recipe.
Store left over lavender/chamomile infused oil for later uses.
Related Reads: 7 Best Essential Oils for Bug Bites, and 7 Bug Repellent Essential Oils.
Benefits of the Ingredients
Beeswax, or candelilla wax (vegan, and sensitive skin choice) keeps the balm solid so it doesn't melt and make a mess.
Fractionated coconut oil (FCO) stays liquid at room temperature. Moreover, it is very light, odorless and does not stain your clothes. The best part is its moisturizing, healing, and anti-aging properties.
Vitamin E oil is rich in antioxidants. It is used in this product to help keep the balm from going rancid too fast. It is optional, but I highly recommend it!
Dried lavender flowers have natural anti-inflammatory properties that help neutralize the pH balance of your skin. It can help control inflammation from dry or irritated skin, including eczema or psoriasis. Because of its anti-inflammatory actions it helps with bug bite symptoms.
Dried chamomile flowers are high in antioxidants and are naturally anti-inflammatory. Because of its anti-inflammatory properties it is gentle on the skin, thus great for dry skin and eczema. Chamomile has phytochemicals and polyphenols that can also help promote skin healing. These properties help with bug bite symptoms!
Lavender essential oil, and chamomile essential oil, are concentrated forms of the flowers. They have similar properties to the above mentioned dried flower forms. They are optional in this recipe. Because they are so concentrated only a small amount is needed.
Safety First When Using Essential Oils
If you have never used a certain essential oil it is important to do a skin patch test prior to topically using! See my sections on topical use and other essential oil safety concerns: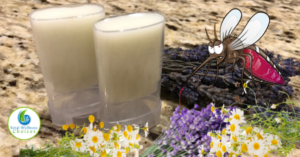 These statements have not been evaluated by the Food and Drug Administration. This article is for educational and informational purposes only and does not intend to diagnose, treat, cure, or prevent any disease or health condition. It is always recommended that you seek the advise of your private medical doctor.