This post may contain affiliate links. I may be compensated if you make a purchase through a link on this page.
Homemade Bug Repellent Spray Recipe with Essential Oils!
Repel bugs and mosquitoes naturally with this homemade bug repellent spray recipe. It has essential oils to naturally repel several types of bugs, and the ingredients won't dry out your skin.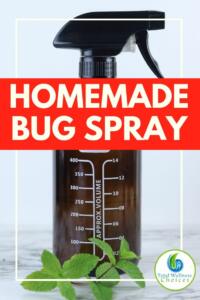 Summer days and nights are supposed to be carefree. It's a relaxed time when families and friends gather to relax and spend time with each other.
Unfortunately, you'll most likely have unwanted guests when you step outside. Bugs.
Flies, gnats, mosquitoes, and ticks can ruin an otherwise perfect evening quickly. Commercial bug sprays are filled with questionable ingredients, and they often stink.
You can use essential oils to repel bugs with this easy to make diy natural bug repellent spray.
Not only does it keep the bugs away, but it also smells better and actually helps your skin feel better after you use it. Depending on which essential oils you use, this can also be kid safe for children two-years-old and older.
Why Homemade Bug Repellent Spray?
When commercial bug sprays became available, we all rejoiced in taking back our backyards without bugs. Now that time has passed, we can see that they may not be so great for our own bodies.
DEET is considered the best bug repellent, and it's found in most bug sprays that you can buy in the store.
According to MedlinePlus, DEET has potential side effects including:
Coughing
Breathing difficulty
Vomiting
Upset stomach
Redness or burning
Disorientation
Seizure
Dizziness
Hives
Skin irritation
DEET is especially dangerous for children, and they can have a reaction with just a small amount of it. This can be caused by inhaling it, swallowing it, or coming into contact with it.
Good news is, you can make a natural bug repellent spray with essential oils. And if you use oils that are safe for children, then it can also be used by children to repel mosquitoes and other insects.
The Ingredients Used in this Homemade Bug Repellent Spray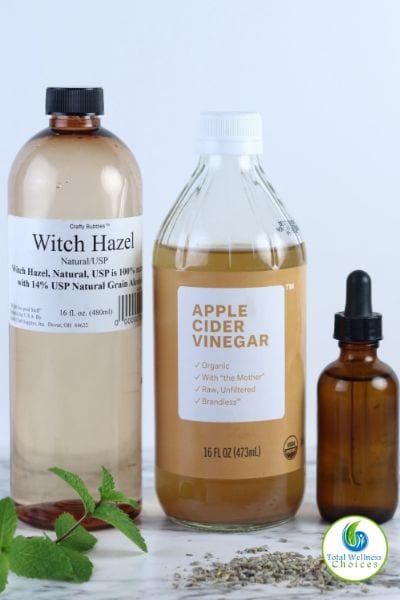 Witch Hazel
The base of this insect repellent spray is witch hazel because it's good for your skin. It's a natural anti-inflammatory, and it helps tone the skin.
It can even help prevent excess sweating, which is important when you'll be outside. Sweating can also cause this bug repellent spray to wear off quickly, so this can help it last longer.
Apple Cider Vinegar
Add apple cider vinegar to help restore your skin's pH balance. This helps protect your skin's top layer and prevent your skin from drying out.
Being outside in the sun and swimming in chlorine can dry out your skin. Using apple cider vinegar can help protect your skin and keep your it soft.
Apple cider vinegar also has beta-carotene to help protect your skin from sun damage.
Apple cider vinegar doesn't smell great, but it fades fairly quickly. Don't worry, you won't smell like a salad dressing for very long after you use this spray.
You can also use peppermint or eucalyptus hydrosol, or even water in place of the apple cider vinegar if you really don't like the smell.
I like using hydrosol's in my mix. I especially like the quality of Mountain Rose Herbs, or Aromatics International brands. They are more pricey, but to me worth the money. If you need to save on expenses infusing the herbs in the next best thing!
Essential Oils
You can either use an already made essential oil blend for this homemade bug repellent blend or make your own bIend.
If you're using this spray on children, make sure that the essential oils that you use are kid safe.
Plant Therapy's Shield Me blend is safe for kids two-years-old and older.
It's a blend of:
Citronella
Grapefruit Pink
Geranium Bourbon
Rosalina
Patchouli
Plant Therapy KidSafe Shield Me Synergy Essential Oil 30 mL 100% Pure, Undiluted, Therapeutic Grade
Plant Therapy also has a blend called Nature Shield that is safe for children over 10-years-old and adults. (It is no longer available on Amazon, but you can buy direct from https://www.planttherapy.com/).
It's a blend of:
Citronella
Geranium Egyptian
Lemongrass
Eucalyptus Globulus
Lavender
Tea Tree
Patchouli
Cedarwood Virginian
Catnip
Plant Therapy Nature Shield Synergy Essential Oil 10 mL 100% Pure, Undiluted, Therapeutic Grade
You can make your own blend with two or more of the following oils:
Citronella
Citronella is a popular bug repellant essential oil, and you could dilute it alone for this spray to protect yourself from mosquitoes.
It works by covering the carbon dioxide that you exhale and the smell of your skin so bugs can't find you.
Lemon Eucalyptus
Although not as popular as citronella, lemon eucalyptus is a very effective essential oil for this homemade bug repellent spray recipe.
It also lasts longer than other oils, so it's a great choice if you make your own blend.
You can use one of the two blends to make your bug repellent spray, or you can use your own oil blend to make it.
Learn more about the 7 best bug repellent essential oils here.
Herbs
There are also herbs that repel mosquitoes and other bugs. You can't add them to the bottle because it would clog the sprayer, but you can infuse the witch hazel and the apple cider vinegar.
Infusing herbs in witch hazel or vinegar gives the liquid the scent of the herbs and properties of the herbs that help your skin, but then you strain out the herbs so they don't make a mess in your final product.
You can use one or more of the following herbs to make an infusion:
Rosemary
Peppermint
Sage
Marjoram
Anise hyssop
To make an infusion, simply place about 4 tablespoons of one or more of the herbs in an 8 ounce mason jar.
Cover the herbs with witch hazel or apple cider vinegar. Put a cap on the jar and let it sit in a cool dark place for seven to 10 days.
Stir or gently shake the jar every day to mix up the herbs and liquid.
Then pour the liquid through cheesecloth or a coffee filter to strain out the herbs.
Discard the herbs because they will have lost their effectiveness.
Save the liquid to make this bug repellent spray.
If you didn't make enough infuse witch hazel or vinegar, then add some regular liquid to make up the difference.
And if you want to infuse both the witch hazel and apple cider vinegar, you can use double the herbs and double the liquid and use a quart sized jar. Save any extra to make this again.
DIY Bug Repellent Spray Recipe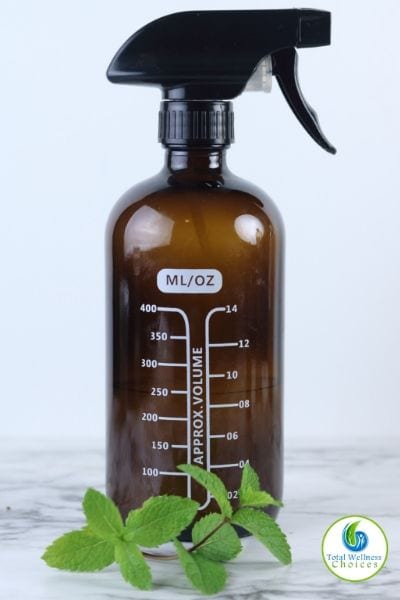 Ingredients
Directions
Combine solubol with the essential oils and mix together well in small bowl. Put the essential oil and solubol mix along with rest of ingredients in an 8 ounce spray bottle. Shake well. Apply to the skin as needed when there are bugs around. Avoid spraying in the eyes, mouth, or mucus membranes.
Conclusion
Most essential oils evaporate in about an hour. Lemon eucalyptus lasts longer, but you should still expect to reapply the bug repellent spray every hour or two hours while you are outside.
Give this homemade bug repellent spray recipe a try and share your feedback in the comment section.
Safety First When Using Essential Oils
If you have never used a certain essential oil it is important to do a skin patch test prior to topically using! See my sections on topical use and other essential oil safety concerns: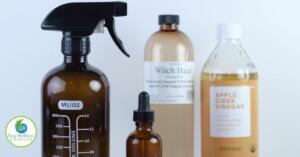 These statements have not been evaluated by the Food and Drug Administration. This article is for educational and informational purposes only and does not intend to diagnose, treat, cure, or prevent any disease or health condition. It is always recommended that you seek the advise of your private medical doctor.