This post may contain affiliate links. I may be compensated if you make a purchase through a link on this page.
Best Essential Oils for Head Lice and How to Use them!
Looking for how to get rid of lice naturally? If yes, then you will find these essential oils for head lice plus several recipes to use at home very helpful.
At the mere thought of head lice, moms everywhere cringe. But head lice isn't anything to be ashamed of. They don't discriminate, and getting head lice has nothing to do with cleanliness or hygiene.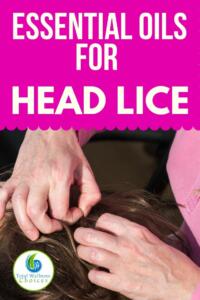 If you have children who are in school or play sports, then you've probably had at least one head lice scare or maybe an infestation or two.
They are easily spread when kids share close quarters at school. They can also be passed in helmets or hats in sports, combs, and by sharing pillows or blankets at a sleepover.
The thought of your child having head lice probably puts you into a panic, but the good news is that lice don't carry diseases.
You'll want to take quick action to keep them from spreading, but you can do it naturally with the best essential oils for head lice.
It's very important to follow proper dilution rates when using essential oils on children. These oils are potent, so don't use more than recommended. (You may want to read this post on how to dilute essential oils for topical use)
What are Head Lice?
Head lice are notoriously hard to get rid of because they are hard to see. They run fast through the hair, and they naturally run from light as you're trying to look for them.
Often, parents and even school nurses are so worried about lice that they will diagnose head lice when it could be dandruff or even a piece of lint in the child's hair.
Before treating lice, make sure that you actually see lice.
Most people immediately purchase a lice shampoo, which has pyrethrins and pyrethroids insecticides to kill lice.
These two ingredients have been linked to higher than normal estrogen level, behavioral disorders, and hyperactivity in children.
Furthermore, these medicated shampoos have been used so often, they are creating super lice that are now immune to the medication.
This is why parents are now turning to natural remedies such as essential oils for head lice.
Use Lice Combs to Look for Lice

One of the ways to look for and to get rid of lice without using any treatments is to use a lice comb. As mentioned, lice are great at hiding in the hair.
If you suspect lice, use a lice comb to comb through the hair to look for lice. If you do find lice, mix hair conditioner and baking soda and spread on the hair.
Then comb through small sections with the lice comb, getting as close to the scalp as possible. Wipe off the comb with a rag after each section of hair.
Top 7 Essential Oils for Head Lice
#1. Tea Tree Oil
Tea tree is an amazing essential oil for lice. Tea tree is a natural antiseptic that helps to repel lice.
At a 1 percent dilution, tea tree killed 100 percent of lice in 30 minutes.
Children are more sensitive to tea tree oil, so always do a spot test to ensure that your child won't have a reaction.
Plant Therapy Tea Tree Oil Organic (Melaleuca Essential Oil) | 100% Pure, Natural, Therapeutic Grade | 10 milliliter (1/3 ounce)
#2. Lavender
Lavender is a gentle oil, so it's generally tolerated well by children. It's not the best essential oil for head lice, but it does have some effectiveness.
Lavender can help repel several types of insects, including lice. It's best to mix this with another essential oil because it's not the best oil to use on its own.
#3. Clove
Clove has eugenol and beta-caryophyllene to naturally repel lice. It should not be used on children under 10 because it is a very hot essential oil.
#4. Rosemary
Rosemary is a natural antiseptic, and it can help kill lice. This is another essential oil that should not be used on children under 10.
It is important to never use Rosemary EO near or around the face of a child under the age of 5!
Plant Therapy Rosemary 1,8-Cineole Organic Essential Oil 10 mL (⅓ oz) 100% Pure, Undiluted, Therapeutic Grade
#5. Eucalyptus
Eucalyptus is one of the best essential oils for head lice.  It can repel lice and is antiseptic. It's very potent and should be well diluted.  
Do not use on children under 10. Use caution with those who have asthma!
#6. Peppermint
Peppermint can repel lice due to its strong smell. It can also help soothe the scalp and reduce itching. Dilute it well with a carrier oil if you use this oil. It should not be used by children under 10.
This is another essential oil to never use near or around the face of a child under the age of 5!
#7. Nutmeg
Nutmeg essential is a natural anti-inflammatory. It can relieve itching on the scalp and reduce redness. It also helps suffocate lice to kill them.
Do not use on children under 10.
Plant Therapy Nutmeg Essential Oil. 100% Pure, Undiluted, Therapeutic Grade. 10 ml (1/3 oz).
How to Use Essential Oils for Head Lice
Get 'Em Gone KidSafe Essential Oil Blend
Plant Therapy has a premade blend just for repelling bugs, and it's safe for children two-years-old and older.
It has:
Palmarosa
Cedarwood Atlas
Citronella
Tea tree oil
Geranium Bourbon
Marjoram sweet
Coriander
Plant Therapy KidSafe Get 'Em Gone Synergy Essential Oil 10 ml (1/3 oz) 100% Pure, Undiluted, Therapeutic Grade
Diluting Essential Oils for Children
It's very important to properly dilute essential oils for your child's age. Do not use essential oils on children under 2-years-old.
Use a 1-2 percent dilution for children ages 2 to 6.  This is equal to 3 to 6 drops of essential oils to 2 teaspoons of shampoo or a carrier oil.
Use a 1.5 – 3 percent dilution for children 6 and older. This is equal to 4 to 9 drops of essential oils to 2 teaspoons of shampoo or a carrier oil.
Essential Oil Lice Shampoo
Perhaps the easiest way to use essential oils for head lice is to make a shampoo with them. Combine your favorite shampoo with one or more of the essential oils listed above and wash as usual.
Hair Mask
Create a hair mask with an oil and essential oil. Simply combine essential oils and olive oil or coconut oil and mix well. Spread evenly on the hair and comb through. Let it sit for several hours or even overnight. Rinse and wash well in the morning.
Vinegar Rinse
Vinegar is also a great natural way to treat lice. Mix vinegar and water in equal parts and add the essential oils mixed with a dispersant such as Solubol.
A dispersant is needed because vinegar is water-based. Add this essential oil-Solubol mix to the rest of the water-based recipe. Use as a rinse.
Note: To properly mix the oils with water base you can add 1 drop of an essential oil to 4 drops of Solubol. (For 5 drops EO you would use 20 drops Solubol, etc).
You may need to increase the amount of Solubol used if you notice the final product is not staying mixed.
Lice Spray
To make a daily spray, combine witch hazel and essential oils that have been dispersed in Solubol. (Follow instructions above regarding Solubol). Spray on the hair daily.
Using Essential Oils for Head Lice – Final Thoughts
Essential oils are one of the best natural remedies for head lice. However, they are potent, so for safety sakes, be sure to dilute properly before use.
Give these essential oils for head lice a try and share your feedback in the comment section.

These statements have not been evaluated by the Food and Drug Administration. This article is for educational and informational purposes only and does not intend to diagnose or treat any disease. It is always recommended that you seek the advise of your private medical doctor.