This post may contain affiliate links. I may be compensated if you make a purchase through a link on this page.
DIY Essential Oil Mouthwash Recipe with All-Natural Ingredients!

This DIY essential oil mouthwash recipe is easy to make and naturally kills bacteria for a fresher mouth.
Good oral hygiene is important for your overall health and wellness. Using a mouthwash daily helps reduce tartar, plaque, and gingivitis.
It's recommended that you use a mouthwash after brushing and flossing.
Even if you brush and floss twice a day, there can still be plaque that lingers in your mouth or food particles in between teeth left behind.
Using a mouthwash disrupts the plaque and any food particles that may be left behind for a cleaner mouth.
Since you swish it around in your mouth, it can get in between the teeth and along the gum line to get rid of food and bacteria where your brush can't reach.
Mouthwash also kills germs that can be left behind after brushing and flossing. These germs can eventually lead to diseases like gingivitis and even gum disease.
Mouthwash can also help reduce bad breath. Bad breath can also be caused by one of several factors, so talk to your doctor or dentist if you have bad breath after using a mouthwash regularly.
Making your own DIY essential oil mouthwash recipe saves you money, and it's not as harsh as commercial mouthwashes.
If you've ever felt stinging from a mouthwash, this is an effective alternative that won't be as harsh on your mouth.
Related: Essential Oils for Gum Disease and Oral Health
Why Make Your Own Mouthwash with Essential Oils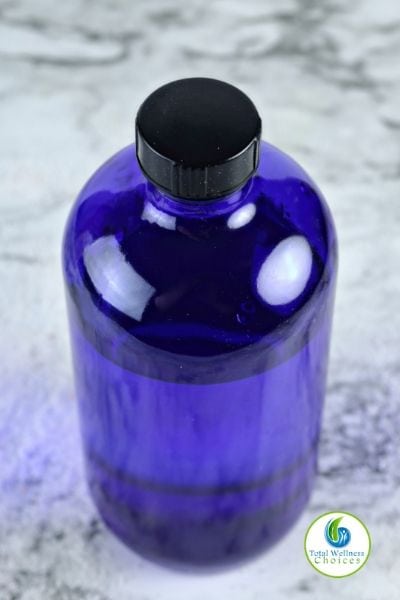 Most mouthwashes use alcohol to kill germs. The alcohol is what causes burning in your mouth.
This DIY natural mouthwash recipe uses essential oils and salt to kill germs, so there is no alcohol.
The alcohol in store-bought mouthwash can dry out your skin inside your mouth, and it may even be linked to higher instances of cancer.
Making your own DIY natural mouthwash with essential oils is also considerably cheaper than buying mouthwash.
Besides the essential oils, the initial investment will be minor with distilled water. You probably already have the salt and baking soda.
Since you can choose your essential oils, you can use the ones that you have. You can also try different essential oils and combinations to find a flavor that you like.
It won't take but a few minutes to mix up this homemade mouthwash recipe. If you create a master blend of essential oils, it will take even less time each time you make it.
Some commercial mouthwashes have chemicals in them that can disrupt hormones. A popular brand has methyl salicylate, which is thought to affect hormones and development.
Whether you are using a homemade mouthwash or one from the store, it's not recommended that you offer it to children under the age of six.
Young children may swallow some, so talk to your child's dentist before giving them mouthwash.
What You Need for this Homemade Essential Oil Mouthwash
Distilled Water
It's recommended that you start with distilled water when you make your DIY natural essential oil mouthwash.
Distilling removes minerals and impurities, which can contaminate your recipe. Even though you'll be adding essential oils that kill germs, it's still recommended that you start with distilled water.
Baking Soda
Baking soda helps provide a mild abrasive for this recipe. When you swish the mouthwash in your mouth, it helps remove tartar, plaque, and debris from your teeth.
It also helps whiten your teeth. While this isn't a true whitening mouthwash, the baking soda will help remove surface stains for whiter teeth.
Pink Himalayan Salt
Add pink Himalayan salt or sea salt to remineralize your teeth. Salt also increases the pH of your mouth, which helps reduce bacterial growth.
Salt water is also mild on your skin, so many dentists recommend using a salt water rinse after dental work.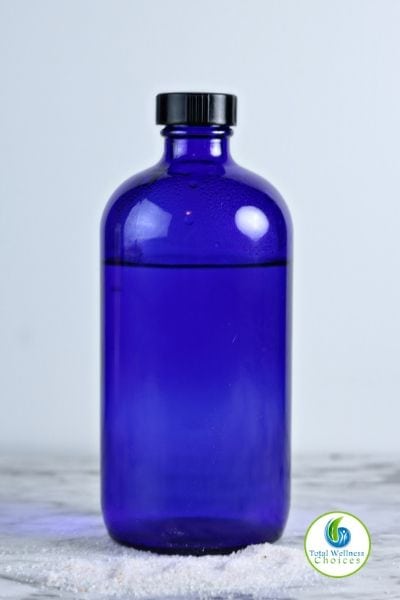 Clove Essential Oil
Cloves and clove EO have been used for oral care for generations. Clove essential oil is naturally antiviral and antibacterial, so it helps kill germs in the mouth.
Peppermint Essential Oil
Peppermint helps you get minty fresh breath. It's also antibacterial to help kill germs.
Spearmint Essential Oil
Spearmint essential oil works the same as peppermint. It freshens breath and gives your DIY natural mouthwash with essential oils and nice flavor. Spearmint can also help fight the germs that cause gingivitis.
Tea Tree Oil
Tea tree oil helps kill bacteria, even the ones that cause gingivitis. It can help reduce inflammation and help your mouth heal.
Related: How to Use Clove Oil for Gum Disease and Toothache
Lemon Essential Oil
Add lemon EO for its whitening properties. If you add lemon, use 1-2 drops in this recipe and combine it with other essential oils.
Cinnamon Essential Oil
Cinnamon is very effective at killing the bacteria that cause gum diseases. It also gives this mouthwash a great flavor.
Note: You don't have to use all the essential oils listed above. You can use only one or a combination of two or three or more.
Liquid Stevia
If you like a sweeter mouthwash, add one or two drops of liquid stevia.
DIY Essential Oil Mouthwash Recipe
Ingredients
Directions
Step #1
Combine all ingredients in a mason jar or other a glass bottle like this one. Shake well.
3 Pack Glass Spray Bottles for Essential Oils, Cleaning Solutions, DIY Aromatherapy 16oz
To use, pour 2 to 3 teaspoons into a small cup. Swish in your mouth for 20 to 30 seconds and spit out. Do not swallow your mouthwash even though it's all natural.
Use twice a day after brushing and flossing to freshen breath and kill bacteria.
Shake before using. The baking soda and salt will settle to the bottom in between uses.
Store in a dark place or in the fridge.
You can use any combination of these oils up to 10 drops per batch. If you use lemon essential oil, it's recommended that you use only a few drops with other oils.
Even though the essential oils in this mouthwash recipe are known for killing bacteria, it is still a water based product and should be used within one week of making it.
You can, however, create a master blend in an empty essential oil bottle and add 10 drops of oils when you make this recipe to save time.
Give this diy essential oil mouthwash recipe a try and feel free to leave your feedback in the comment section.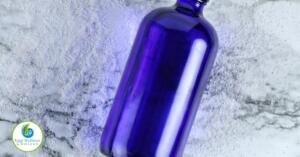 These statements have not been evaluated by the Food and Drug Administration. This article is for educational and informational purposes only and does not intend to diagnose, treat, cure, or prevent any disease or health condition. It is always recommended that you seek the advise of your private medical doctor.