This post may contain affiliate links. I may be compensated if you make a purchase through a link on this page.
Best Essential Oils for Hot Flashes and Night Sweats Relief!
If you are sick and tired of menopausal caused hot flashes and night sweats, then you will find these essential oils for hot flashes very helpful.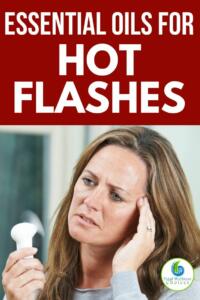 Menopause is when women go 12 consecutive months without their monthly period. Menopause can start in women as early as their 30s, but most women don't experience many symptoms until their 40s or 50s.
Menopause can bring many symptoms as hormones fluctuate, namely mood swings, fatigue, and hot flashes.
Up to 75 percent of women will experience hot flashes, so it is a very common symptom of menopause and one that you're likely to experience.
Hot flashes and other symptoms of menopause are inevitable for women of a certain age, and unfortunately, you are likely to experience some symptoms as you age.
Luckily, there are natural ways to relieve the symptoms of menopause, including using essential oils for hot flashes.
Dealing with Hot Flashes
When you start experiencing hot flashes, it's important to talk to your doctor about using essential oils and alternative remedies. Essential oils may offer some support for your health during this time of transition.
There have been a few studies about using essential oils during menopause, but the conclusion is inconsistent.
What works for some women may not work for you, so you may have to try a few different oils before you find ones that work for you.
Traditionally, hormone replacement is often recommended by doctors to treat hot flashes.
Unfortunately, hormone replacement has a lot of negative side effects, including an increased risk of cancer.
Essential oils have fewer side effects, but there still could be some. When used topically, some essential oils can cause irritation or a rash.
Always use them as recommended and dilute them in a carrier oil before using. (Read this article to learn how to dilute essential oils for topical use)
What are Hot Flashes?
Hot flashes are a feeling of heat that comes on suddenly. They can cause your face and neck to get red or flushed and may cause you to start sweating.
We don't know exactly what causes hot flashes, but it could be related to circulation inconsistencies during menopause.
A hot flash starts when the blood vessels near the surface of your skin get bigger and cool off. This can cause your body to break out into a sweat.
It might also cause you to then be chilled after the hot flash or have a faster heart rate than you normally do.
Hot flashes can happen during the day or while you are sleeping. When they happen at night, it can affect your sleep.
Top 6 Essential Oils for Hot Flashes
#1. Clary Sage
Clary sage essential oil is said to balance hormones in women. Specifically, it helps balance estrogen production, which can help balance hormones and reduce the frequency of hot flashes.
Clary sage is said to both reduce the number of hot flashes and the severity of them. It can also promote mental clarity and relaxation, which is also important during menopause.
Plant Therapy Clary Sage Essential Oil | 100% Pure, Undiluted, Therapeutic Grade | 10 Milliliter
#2. Peppermint
Peppermint is naturally cooling thanks to the menthol content. When applied topically, it can cool your body and reduce the discomfort of hot flashes.
Peppermint essential oil can also reduce cramping during menopause. Some women experience cramping that feels like PMS or period cramping, and using peppermint for aromatherapy can help.
Using peppermint in aromatherapy can help boost your mood and help with clarity.
If you haven't been sleeping well, it can help you get through the day easier.
#3. Lavender
Lavender is probably best known for being a relaxing essential oil, so it makes sense that it made the list for best essential oils for hot flashes.
If hot flashes are disrupting your sleep, try diffusing lavender or using it in a roll on before bed to promote better sleep.
#4. Basil
Basil is a great essential oil to use in aromatherapy during menopause. Like clary sage, it can balance estrogen levels, which can improve your mood and reduce hot flashes.
Basil essential oil can help reduce the frequency and intensity of hot flashes because it balances hormones.
Use this in a diffuser or in a roller bottle during the day to reduce hot flashes.
Plant Therapy Basil Linalool Essential Oil 10 mL (1/3 oz) 100% Pure, Undiluted, Therapeutic Grade
#5. Sage

Sage EO works much like clary sage to balance hormones. It has estrogenic compounds that can help balance hormones. In a study, sage was proven to reduce both the intensity and the frequency of hot flashes.
#6. Cypress

Like peppermint, cypress essential oil can also provide cooling relief, so it's a great oil to use topically during a hot flash. Cypress can also help balance hormones and your mood, so it's also helpful when it's diffused and used in aromatherapy.
Plant Therapy Cypress Essential Oil | 100% Pure, Undiluted, Therapeutic Grade | 10 Milliliter
How to Use Essential Oils for Hot Flashes
All of these essential oils can be used in aromatherapy by diffusing them at intervals during the day or night.
You can also make a personal inhaler or roll on to use your oils.
To make a roller bottle, add 10-12 drops of essential oil to a 10 ml bottle and fill with fractionated coconut oil to make a diluted blend.
Hot Flash Massage Oil Blend Recipe
You can also use essential oils in a massage oil formula like the one below.
Ingredients
Directions
Combine all ingredients in a small bottle. Dilute 4-5 drops of the blend in a tablespoon of either the grapeseed oil or apricot oil. You can apply this over your abdomen and lower back or on the back of your neck or your feet for hot flash relief.
Essential Oil Cooling Mist for Hot Flashes and Night Sweats

Use the recipe below to make a cooling mist you can use on your face or on your body to get a quick cooling sensation.
Ingredients
Directions
Combine all ingredients in an 8 ounce bottle. Shake to combine. Spray on your face or neck when you have a hot flash, avoiding the eye area.
Hot Flash Milk Bath
Relax and reduce hot flashes with this milk bath recipe.
Ingredients
Directions
Combine essential oils with jojoba oil. Then mix with milk. Pour into a full bath. The essential oils work as aromatherapy to balance hormones and improve your mood while the milk hydrates your skin while you relax in the tub.
Note: Remember to take care getting out of the tub afterwards as it will be slippery. Wash tub out so next family member does not have a fall!
Safety First When Using Essential Oils
If you have never used a certain essential oil it is important to do a skin patch test prior to topically using! See my sections on topical use and other essential oil safety concerns:
Using Essential Oils for Hot Flashes – Final Thoughts
You can see that there are several essential oils you can use to relieve hot flashes. However, it is important to remember that these are not "magic potions" and what works for one person, may not work for another. So, you need to be a bit patient, try out the oils and choose the ones that work best for you.
Which essential oils for hot flashes do you like best? Leave your feedback in the comment section.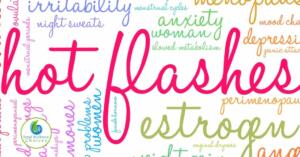 These statements have not been evaluated by the Food and Drug Administration. This article is for educational and informational purposes only and does not intend to diagnose, treat, cure, or prevent any disease or health condition. It is always recommended that you seek the advise of your private medical doctor.