This post may contain affiliate links. I may be compensated if you make a purchase through a link on this page.
Best Essential Oils for Hormone Balance You can Start Using Today!
If you are looking for the best essential oils for hormone balance, then you are in the right place.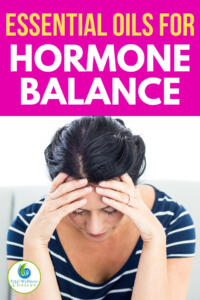 Being a woman means that your hormones are at different levels almost every day of the month.
Between progesterone, estrogen, and the stress hormone cortisol fluctuating, we never know what to expect each day.
To make it even more confusing, hormone levels change as we get older. Just when we think that we have it figured out, one hormone raises while another one drops, making us start back at the beginning.
There are several essential oils for hormone balance that can be used to balance hormones, lower stress levels, and boost your mood.
These essential oils can be used separately by themselves, or you can combine them to get the benefits of each oil.
One major benefit to using essential oils to balance your hormones is that they don't have negative side effects if used the right way.
Often, the medication used to treat hormonal problems in women can have undesirable side effects that you may wish to avoid.
There are studies out there that have proven the effectiveness of most of these oils. However, you should always talk to your doctor before treating a possible hormone imbalance by yourself.
How Essential Oils for Hormone Balance Work
Before we talk about the best essential oils to balance hormones, let's talk about how essential oils affect your body when used in aromatherapy.
The hypothalamus in the brain is the control center of the brain. It's what helps your body regulate itself, and it's responsible for controlling temperature, hunger, thirst, sleep, and other functions of the autonomic nervous system.
The hypothalamus also controls hormones and is closely connected to the endocrine system.
Essential oils for hormone balance can a positive effect on the hypothalamus, which can then help regulate several parts of the body, including sleep, stress levels, and hunger.
When the hypothalamus releases hormones into the body, they enter the bloodstream and find their targeted area of the body so they can work. They can also be excreted from the body if they aren't needed.
An additional factor that can cause hormone imbalance is stress. Both good and bad stress from everyday life can affect our entire bodies.
Our adrenal glands produce cortisol when our bodies are exposed to stress. When cortisol levels are high, we may feel tired all the time, nervous, and crave food in between meals.
Top 6 Essential Oils for Hormone Balance in Women

#1  Clary Sage

Clary sage is the most popular of the essential oils for hormone balance for women. It can help reduce pain levels, reduce stress, and balance hormones, so it's great for any time of the month.
Clary sage can help reduce cortisol levels up to 36% through aromatherapy and works like an anti-depressant for some women.
It's thought that clary sage can help balance estrogen production. It's been proven to help reduce PMS symptoms when used in a massage oil.
Plant Therapy Clary Sage Essential Oil | 100% Pure, Undiluted, Natural Aromatherapy, Therapeutic Grade | 10 Milliliter (1/3 Ounce)
#2 Thyme

Thyme may not be a popular oil, but it is one of the best essential oils for hormone balance. In a study, thyme was shown to balance progesterone.
Progesterone is an important hormone for women during their monthly cycle, and balancing it can help balance hormones in women.
Low progesterone can lead to hot flashes, weight gain, mood swings, and insomnia.
#3 Lavender

Lavender is one of the most versatile essential oils, so it's no wonder that it made this list of essential oils for hormone balance as well. It has the ability to reduce stress and help you keep your emotions balanced.
Lavender may also help promote better sleep, which is important for overall health and hormone balance.
Research also shows that it can help reduce PMS symptoms in women, so it's a great oil to use just before the end of your cycle.
#4 Ylang-Ylang

Ylang ylang works by relieving stress and calming the mind and body. It's said to have an almost sedative effect on the body when used in aromatherapy, which can help the body and mind relax and rest.
While ylang ylang doesn't actually help balance hormones directly, it can help relieve stress, which can indirectly help the body balance hormones.
Plant Therapy Ylang Ylang Complete Essential Oil. 100% Pure, Undiluted, Therapeutic Grade. 10 ml
#5  German Chamomile
German chamomile EO can help reduce cortisol hormones. It's said to work better than lavender essential oil at reducing stress and cortisol levels in the body. This essential oil also helps lower anxiety and anger, which can help improve your mood.
#6  Bergamot Essential Oil
Bergamot essential oil is another oil that helps reduce stress and lowers your blood pressure and heart rate. Using this oil helps balance cortisol levels and boosts the circulatory system.
Bergamot is a citrus essential oil, so it can make your skin sensitive to the sun. Do not use topically and spend time outside without protecting your skin from the sun.
Plant Therapy Bergamot Essential Oil | 100% Pure, Undiluted, Natural Aromatherapy, Therapeutic Grade | 10 milliliter (1/3 ounce)
Safety First When Using Essential Oils
If you have never used a certain essential oil it is important to do a skin patch test prior to topically using! See my sections on topical use and other essential oil safety concerns:
How to Use Essential Oils for Balancing Hormones

These are several ways you can use these essential oils to balance hormones. You can diffuse them alone or in a blend. You can also make a personal inhaler or apply them with a roller bottle after you dilute them with a carrier oil.
PMS Bath Salts
You can reduce symptoms of PMS and relax with this easy to make bath salt recipe.
Ingredients
Directions
Combine all ingredients in a pint mason jar or any other container. Stir well. Add ½ cup to 1 cup of the mixture to a bath.
Take care getting out of the tub as it can be slippery. Be sure and clean tub afterwards.
Balancing Hormones Blend
Diffuser Directions
For a 100 ml diffuser, add 3 to 5 drops of above blend.
For a 200 ml diffuser, add 6 to 10 drops of above blend.
Use your diffuser for only 30 to 60 minutes at a time. You can use an essential oil diffuser two or three times a day in short intervals.
Be mindful of pets and others that may be around. This blend is for adults. Always read safety information regarding essential oils you are using. Don't use if you are pregnant or nursing.
Roller Directions
In a 30 ml roller bottle, combine 10 to 15 drops of the above mentioned essential oil blend (or for 10 ml bottle use 3 to 5 drops of blend). Fill the roller bottle with fractionated coconut oil or sweet almond oil. Roll between your hands to combine.
Rub over your neck, wrists, or your abdomen twice a day to balance hormones.
Hormone Balancing Massage Oil
Ingredients
Directions
Combine all ingredients in a bottle or jar. Use as a massage oil all over the body or on the abdomen as needed.
Essential Oils for Female Hormone Balance – Final Thoughts
You can see that essential oils are one of the best natural remedies for hormone balance. They can help balance your hormones naturally if used the right way. So give them a try and let us know how it goes.
Did I miss any other essential oils for hormone balance? Feel free to add to the list in the comment section.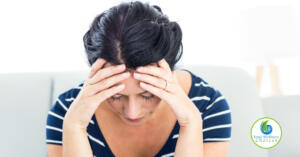 These statements have not been evaluated by the Food and Drug Administration. This article is for educational and informational purposes only and does not intend to diagnose or treat any disease. It is always recommended that you seek the advise of your private medical doctor.