This post may contain affiliate links. I may be compensated if you make a purchase through a link on this page.
Best Bug Repellent Essential Oils to Keep Bugs at Bay this Warmer Summer Season!

Warmer weather = bugs! So it's time to get your bug repellent essential oils ready.
There are few things in life more relaxing than sitting outside on a warm summer evening, listening to the sounds of nature while spending time with friends and family or perhaps reading a book.
Unfortunately, mosquitoes, flies, gnats, and other bugs can ruin the moment in an instant.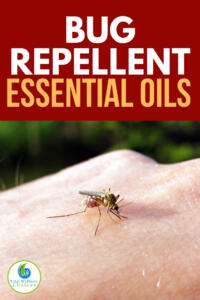 There are products in the stores that repel insects, but most of them contain chemicals that you may not want to breathe in or apply to your skin.
The most common insect repellent, DEET, is considered safe when sprayed on the body, but some people could still have a reaction like rash, swelling, redness, or irritation on the skin.
In high concentrations, DEET can enter fresh water sources and kill fish.
If you're looking for a natural way to protect yourself and your family, try using one or more of these best essential oils for repelling bugs.
Related: Top 7 Essential Oils for Bug Bites
List of the 7 Best Essential Oils for Repelling Bugs
#1. Citronella

Citronella is probably the most popular essential oil that is used to repel insects. It is an effective oil, so it's a good one to use alone or in a blend with other oils.
While other essential oils have a scent that repels bugs, citronella works by covering up the scents that bugs are attracted to.
Plant Therapy Citronella Organic Essential Oil | 100% Pure, USDA Certified Organic, Undiluted, Therapeutic Grade | 30 milliliter (1 ounce)
#2. Lemon Eucalyptus

Although not as well known as citronella, lemon eucalyptus is perhaps one of the best essential oils for repelling bugs.
You can use it by itself or with other oils in a blend. Most essential oils evaporate quickly, usually in less than an hour, but lemon eucalyptus works as a natural insect repellent for several hours.
#3. Peppermint

Peppermint EO is used to repel many types of pests, including mice and spiders.
It's cooling on the skin, so it's a good oil to use mixed with other oils for an insect repellent spray.
The effects of peppermint will only last about 45 minutes, so it's not a long lasting essential oil when used topically.
#4. Lavender

Lavender essential oil is better known for its calming abilities, but it's also great at keeping the bugs away. You can apply it topically or diffuser it to repel insects naturally.
Plant Therapy Lavender Essential Oil. 100% Pure, Undiluted, Therapeutic Grade. 10 ml (1/3 oz).
#5. Basil

Basil is a strong essential oil, so it's often mixed with other oils in a blend. It helps naturally repel mosquitoes.
It can also help kill insect larva if you apply it to an area that is prone to an insect infestation.
#6. Cedarwood

Cedarwood EO is better suited to repelling crawling insects, and it also offers some protection against ticks since it can repel those too.
Unlike most other essential oils that evaporate in about an hour, cedar essential oil can last up to three hours.
#7. Vetiver

Vetiver isn't a popular oil, but it has a lot of uses. It's a calming oil, so it's a good oil to add to a blend for repelling bugs if you'll be relaxing while you are outside. It naturally deters mosquitoes when diffused or applied topically.
Plant Therapy Vetiver Essential Oil | 100% Pure, Undiluted, Natural Aromatherapy, Therapeutic Grade | 10 milliliter (1/3 ounce)
How to Use Essential Oils for Repelling Bugs
You can use these essential oils by themselves or together as a blend to repel bugs. When you combine them, you get the benefits of each oil.
For example, if you combine an oil that evaporates quickly, like peppermint, with an oil that lasts longer, like cedar, you get longer benefits.
You can also use a fixative like pure vanilla to help essential oils last longer on your skin before they evaporate.
To repel insects in a large area, you can use a diffuser. This is beneficial in that it covers a large area and it helps the oils last longer before you need to reapply them.
You can also use the essential oils to make a wax melt or candle to cover a large area.
If you want to apply the oils topically, you have to dilute them with a carrier oil first.
It's recommended to use no more than 6 drops of essential oils for each tablespoon of carrier oils.
You can use any carrier oil to dilute your essential oils, but sweet almond oil and fractionated coconut oil are inexpensive and work well.
Bug Repellent Roller Blend Recipe
An easy way to apply essential oils topically is to make a roller bottle.
You can dilute them with a carrier oil and have them ready to use without needing to blend the essential oils and carrier oil just before you apply them.
Fractionated coconut oil and sweet almond oil are great oils to make roller bottles with, but you can use any carrier oil except normal coconut oil because it is a solid at room temperature.
Ingredients
20 drops of any of the bug repelling essential oils or a combination of oils
1 oz fractionated coconut oil or any other carrier oil
Directions
Remove the roller ball from the bottle. Add the essential oils directly to the bottle. Fill the bottle with the carrier oil. Replace the lid. Roll it in your hands to combine the oils.
Roll the diluted essential oils on your wrists or other areas of your body to repel bugs.
Bug Repellent Spray Recipe

Use a spray if the bugs are bad or you want to protect larger areas of your body.
This recipe has pure vanilla as a fixative to help the essential oils last longer, but be ready to reapply every hour. The vinegar helps restore your skin's pH balance.
The amount of essential oils that you add depends on who's using it and how strong your oils are. Start with 50 and then add more as needed.
Ingredients
Directions
Combine all ingredients in an 8-ounce spray bottle. Spray on your skin, but be careful not to spray on the face.
Even with a fixative, a bug spray made with essential oils will only last about an hour and sometimes longer. Plan to reapply if you will be outside for a long time.
Essential Oils that Repel Bugs – Conclusion
You can see that there are several bug repellent essential oils you can use to keep all those bugs at bay. These EOs have their own unique properties and last different amounts of time, but you can blend them to get the benefits of each oil and increase the staying power.
Give these bug repellent essential oils a try and let us know how it goes using the comment section.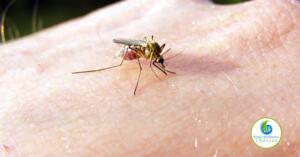 These statements have not been evaluated by the Food and Drug Administration. This article is for educational and informational purposes only and does not intend to diagnose, treat, cure, or prevent any disease or health condition. It is always recommended that you seek the advise of your private medical doctor.