This post may contain affiliate links. I may be compensated if you make a purchase through a link on this page.
Learn How to Make a Homemade Natural Lip Gloss in a Pot!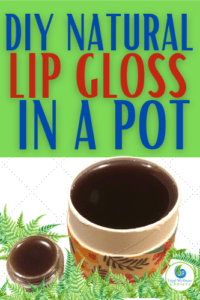 If you are looking for a homemade lip gloss in a pot recipe that is simple to make (and fun!) and uses natural ingredients that are nurturing for your lips then you will really like this recipe.
I like to make recipes where I can dabble with the ingredients to make it pretty, as well as, functional. This is one such recipe.
This is one of those recipes that comes in handy for gift giving. You can make it for anyone just by changing some of the ingredients!
If you like to do more than just follow a recipe then this is for you! You can change the lip gloss colors, or scents, or even the base oils! Want it natural, or unscented? No problem – just leave out the natural dyes or scent!
The color choices are endless. You can use matcha green tea for a pretty green lip gloss, or by mixing it in with annatto powder can have a brownish color, or a darker/burnt orange color depending on how much green tea is added.
Or, if you want the annatto powder or alkanet to look darker in color, then add in some cocoa powder to darken it. (plus it adds a little cocoa scent to it!) How about combining the alkanet with the annatto powder – lovely color!
Just remember, it does not take much of these natural dyes to color the lip gloss. Start with just a pinch and add more if needed!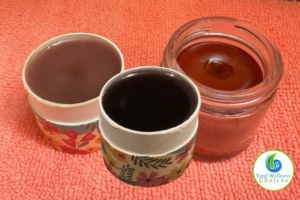 For the scent used in this DIY natural lip gloss recipe you can use your choice of essential oil(s). Just be sure to use skin friendly essential oils, and keep the dilution percentage low.
Stay under 0.5% dilution – 6 drops in 2 ounces (60ml). I used a 0.25% dilution (4 drops) for this recipe and found it strong enough when using peppermint, or spearmint.
No matter the reason for making this recipe I think you will want to keep it handy. Not only is it made with natural and nourishing ingredients, but it adds a nice glossy look to your lips. (With a tinted color if you like!)
You can read further about why I like to make my own natural lip balms here: Homemade Natural Lip Balm Recipe
Making this peppermint, or calendula infused lip balm is super easy. The longest wait time is infusing the herbal oil, but there is little hands on involvement to that part.
Benefits of the Ingredients
Candelilla wax is a great substitute for beeswax in products like this. It helps to keep the product more solid. This wax comes from a natural plant. It seems to work well for most who have sensitive skin, or allergies to bee products. This is my choice.
Beeswax is a natural product made in the bee's hive by the Western honey bees. It helps to moisture the skin by locking in moisture. It also helps to keep lip balms/glosses more on a solid side. Sadly, due to disease and pests the western honey bees existence is being threatened.
Grapeseed oil is a light, odorless and moisturizing oil. It contains numerous fatty acids. Great for all skin types, and known for not clogging pores or causing breakouts! It is a wonderful oil for sensitive skin. It is one of my favorite oils! (You can use this oil, or a carrier oil of your choice!)
Dried peppermint leaves add scent, slight flavor, and some skin-healing properties.
Dried calendula flowers are another great herb to use in a skin care product due to anti-inflammatory, anti-microbial, and skin benefiting properties.
If you are allergic to peppermint or calendula plants don't despair! Just use plain grapeseed, sweet almond, apricot oil, or another carrier oil of your choice!
Castor oil is extracted from the seeds of the Ricinus communis plant by cold pressing. It is rich in the monounsaturated fatty acid, ricinoleic acid, which is a humectant. It is this humectant quality that prevents water loss through your outer skin layers, thus helping the skin retain moisture!
Even though it is a rare occurrence some people are allergic to castor oil. I always recommend doing a skin test for any new ingredient or product you may use!
Vitamin E oil is a moisturizing and healing carrier oil. It is considered great for aging skin. It is also an antioxidant which means it helps prevent oxidation of oils. Preventing oxidation helps keep the oil from becoming rancid as fast.
Natural dyes from plant sources are what I am using in this recipe. I chose to use alkanet and annatto powder, along with a little cocoa powder from my kitchen! There are other choices available. One I mentioned earlier is matcha green tea.
Essential oils were used to naturally scent this lip gloss. Some ideas for lip friendly essential oils include: peppermint, spearmint, frankincense carterii, sweet orange, tangerine, mandarin, neroli, lavender, or geranium.
Safety First When Using Essential Oils
If you have never used a certain essential oil, or any new skin product ingredient, it is important to do a skin patch test prior to topically using! See my sections on topical use and other essential oil safety concerns:

Homemade Natural Lip Gloss In A Pot Recipe
What You Need
Instructions

Make the peppermint, or calendula infused oil using one of the methods below before starting on the rest of this recipe.
Using a kitchen scale, weigh ingredients in separate bowls and set aside.
Melt candelilla wax, or beeswax, in a double boiler over low heat on the stove, or in a glass bowl in the microwave until liquid. (10 to 15 second increments recommended in microwave)
Remove from heat. Add the infused herb oil and castor oil to the melted wax and stir until completely mixed. (reheat on stove, or microwave a few seconds if needed to make sure all melted).
Add in the vitamin E oil, essential oil, and natural dye and stir until thoroughly mixed.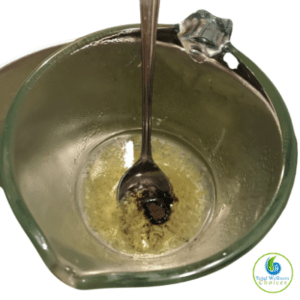 Slowly pour the mixture into your containers of choice, being careful not to splash the hot liquid on yourself.
Let your lip gloss cool and solidify completely before using.
This makes 2 ounces (60 ml) total – it makes 3-4 (1/2 oz/15ml), or 6-8 (1/4 oz/7.5ml) pots.
Use as needed to keep lips moisturized and to add a nice glossy look (a little natural tint of color also if you use a dye!).
How to Infuse Dried Peppermint/Calendula
What You Need
Fast Method Instructions
Using a double boiler with water filled approximately 2 inches in bottom, heat your dried peppermint leaves, or calendula flowers in the grapeseed oil on low heat stirring occasionally for 2 to 4 hours.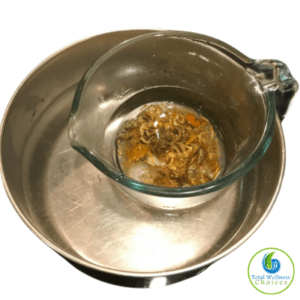 Strain the oil from the herbs and use as directed in above recipe.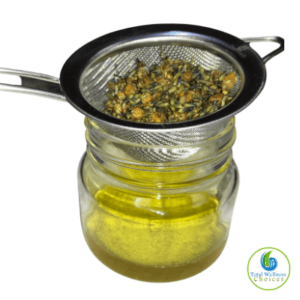 Slow Method Instructions (for better results)
Crush your dried peppermint, or calendula flowers if needed using pestle, or your hands, and put in an 8 oz/240 ml glass jar (I used a mason jar).
Pour oil over the dried herbs making sure herbs are completely covered – if not add more oil.
Seal the jar.
Place in a dark cupboard or closet for 4 to 5 weeks Shake the contents occasionally.
Strain the oil from the herbs and use as directed in above recipe.
Store left over herb infused oil in a cool, dry place (dark container is preferred) for later uses. You can add a drop or two of vitamin E oil to decrease rate of oxidation.
Other Related Recipes: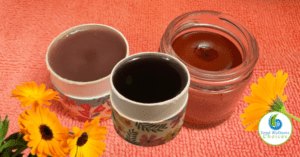 These statements have not been evaluated by the Food and Drug Administration. This article is for educational and informational purposes only and does not intend to diagnose, treat, cure, or prevent any disease or health condition. It is always recommended that you seek the advise of your private medical doctor.