This post may contain affiliate links. I may be compensated if you make a purchase through a link on this page.
Learn How to Make Peppermint Infused Lip Balm!
If you are looking for a homemade lip balm recipe that is simple to make and only uses natural ingredients that are healthy for your lips then you will really like this recipe.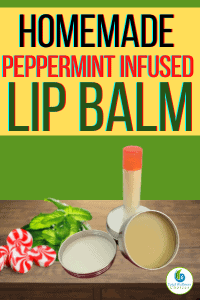 I like to make recipes that everyone in my family can use. The guys, the gals, the little grand kids, etc.
This is one of those recipes that comes in handy for everyone involved. Because I have such a large extended family I usually double the recipe to make enough for one and all. By the way, they make great little gifts for someone!
If you are like me you probably have lip balms of one kind or another hidden all over the place – in your purse, the luggage you may rarely use, the computer case, your desk drawer, the kitchen miscellaneous drawer, etc.
It's easy to put one aside and forget where it is – or perhaps you like them to be convenient so have them stored everywhere?
No matter the reason this is one recipe I think you will want to keep handy. It is made with natural nourishing ingredients for your lips, and has just a hint of peppermint smell from the infused peppermint oil.
I like using infused peppermint oil instead of peppermint essential oil in body products because it gives that lovely minty smell without me having to worry that it may cause a skin reaction.
Now mind you – there are are some people that are allergic to the mint family plants – if you are, just use plain sweet almond oil. You will still like the unscented version!
You can read further about why I like to make my own natural lip balms here: Homemade Natural Lip Balm Recipe
Making your own peppermint infused lip balm is super easy. The longest wait time is infusing the peppermint oil, but there is little hands on involvement to that part. The recipe only takes 5 ingredients and 5 to 10 minutes.
Homemade Peppermint Infused Lip Balm Recipe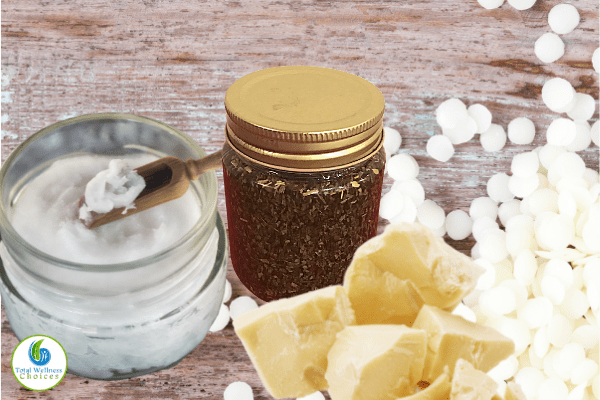 What You Need
Beauticom 12 Piece 20g/20ml USA Acrylic Round Clear Jars with Lids for Lip Balms, Creams, Make Up, Cosmetics, Samples
50 Lip Balm Containers – Empty Tubes – Make Your Own Lip Balm – 3/16 Oz (5.5ml) (50 Tubes, Clear)
*This recipe makes 2 ounces of lip balm
Benefits of the Ingredients
Beeswax keeps lip balm solid so it doesn't melt and make a mess in your pocket or purse
Cocoa Butter is an excellent moisturizer that hydrates the skin and helps heal from inside out due to its great source of natural antioxidants.
Unrefined coconut oil is a moisturizing and healing oil. It also has anti-aging properties.
Sweet almond oil is rich in vitamins and amino acids. It is also light and smooth. It moisturizes and nourishes the skin and is suitable for all skin types, especially dry and sensitive skin.
Dried peppermint leaves add scent, slight flavor, and more skin-healing properties (without being too harsh for sensitive parts of the skin)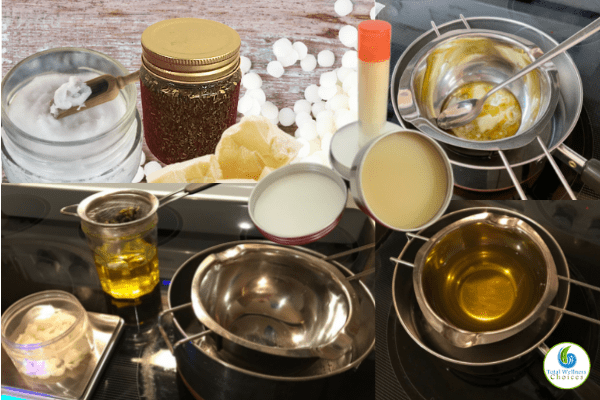 Instructions

Using a kitchen scale, weigh ingredients in separate bowls and set aside
Melt beeswax and cocoa butter in a double boiler over low heat on the stove, or in a glass bowl in the microwave until liquid. (15 second increments recommended in microwave)
Add the solid coconut oil to the melted beeswax and cocoa butter and stir until completely mixed in with the melted beeswax (reheat on stove, or microwave a few seconds if needed to make sure all melted).
Add in the peppermint infused oil, and Vitamin E oil and stir until thoroughly mixed. (Reheat for a few seconds if needed).
Slowly pour the mixture into your containers of choice, being careful not to splash the hot liquid on yourself. (When pouring into lip balm tubes, I like to use a small funnel for this process, or a medicine dropper that I can throw away).
Let your peppermint lip balm cool and solidify completely.
Not only does this peppermint lip balm have a nice scent, but it is a better healing solution for your chapped lips..
This make 2 ounces total – it makes 3-4 (1/2 ounce) jars for the price of 1 jar of store-bought balm
Use as needed to keep lips moisturized.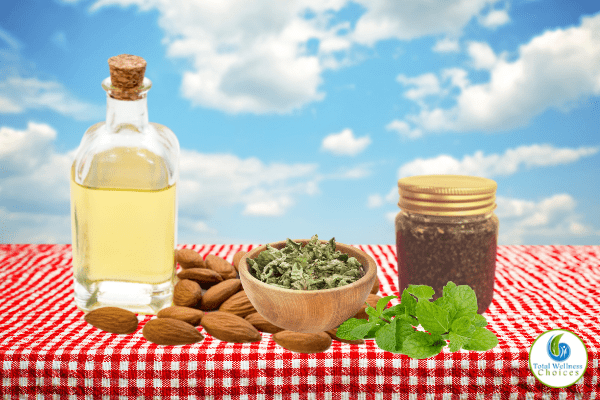 How to Infuse Dried Peppermint
What You Need

Fast Method Instructions

Using a double boiler with water filled approximately 2 inches in bottom, heat your dried peppermint leaves in the sweet almond oil on low heat stirring occasionally for 2 to 4 hours. (stronger peppermint scent if done for longer time).
Strain the oil from the peppermint and use as directed in above recipe. (I like to use a nut bag to finely filter).
Slow Method Instructions (for better results)
Crush your dried peppermint using pestle or your hands and put in an 8 ounce glass jar (I use a mason jar).
Pour oil over the dried peppermint making sure it completely covers the leaves – if not add more oil.
Seal the jar.
Place in a sunny window for 4 to 5 weeks (I did 5 weeks and the peppermint smell was wonderful!). Shake the contents occasionally.
Strain the oil from the peppermint and use as directed in above recipe.
Store left over peppermint infused oil for later uses.
Related Read: Homemade Hand Salve Recipe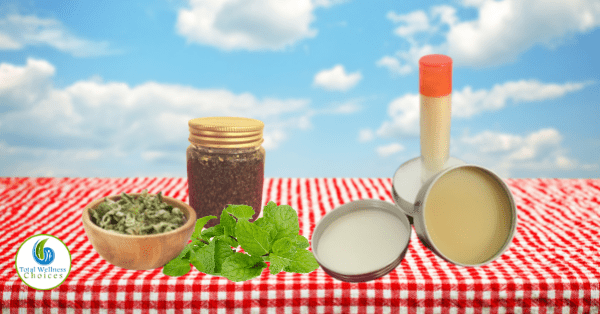 These statements have not been evaluated by the Food and Drug Administration. This article is for educational and informational purposes only and does not intend to diagnose, treat, cure, or prevent any disease or health condition. It is always recommended that you seek the advise of your private medical doctor.