This post may contain affiliate links. I may be compensated if you make a purchase through a link on this page.
DIY Foaming Body Wash Recipe without Castile Soap – With a Crisp Clean Essential Oil Blend!
This easy to make DIY foaming body wash is made using natural body wash liquid soap and a clean smelling tropical-citrus essential oil blend.
I love easy to put together recipes that are not only nourishing for my skin but smell great too! If you don't like castile soap, or want to try something different this is the recipe for you!
Okay – as much as I like castile soap there comes a time to try something new. I wanted something that was still nourishing for my skin and did a good job of cleaning. Plus I wanted it to have a crisp, clean scent.
I find this foaming body wash recipe meets all my requirements. It leaves my skin feeling moisturized, but without an oily film.
Also, it has a nice clean scent. The best part is that it is easy to put together with just a few ingredients!
Of course, like all good recipes, this one can be adapted to your likes – if you have very oily skin you can leave out the vitamin E and reduce the amount of vegetable glycerin.
If you don't like flowery-citrus type blends then use your own favorite essential oils instead. Don't like scents, or have allergies to many scents – leave out the essential oils!!
This is an easy recipe, and you can make a bottle in about 5 minutes for around $1 to $1.50 per bottle!
Ingredients for this DIY Foaming Body Wash Recipe
Body wash recipes made with liquid soaps are on the top of my homemade products list. I really like them because they are easier to put together than the traditional bar soap!
I like this body wash recipe not only because it is so easy to make, but because it smells great and leaves my skin feeling clean and moisturized.
It is important to chose the right ingredients to go into a body wash.
Natural Body Wash Base
The important part is choosing a natural body wash that does not have questionable ingredients in it.
Look for a product that stays away from parabens, artificial scents, Sodium Lauryl Sulfate (SLS), and formaldehyde. You will note that these are still being included in some skin care products.
You can read more about these ingredients and my concerns in the DIY Foaming Body Wash Recipe.
By the way, if you make your own liquid soap this is a great recipe to use it in.
Natural Scents
This recipe does not have artificial scents, but instead uses natural essential oils. The aroma from the essential oils chosen add a crisp, clean, tropical-citrus scent to this body wash. Plus they are soothing and nourishing for the skin.
Vegetable Glycerin
I have also added vegetable glycerin to my recipe as it acts both as a humectant, as well as, an emollient. This means it helps the skin to retain moisture, as well as, adds a protective, moisturizing layer to your skin!
Vitamin E Oil
In addition to the vegetable glycerin I added a small amount of Vitamin E oil. Not only is it nourishing to the skin, but it helps to keep the product from becoming rancid.
Preservatives
I have cut the amount of ingredients in the recipe so I can keep it preservative free. I like keeping my homemade products, that are made for just me and my family, as natural as possible.
Even natural preservatives can cause problems such as skin irritation. I generally use this recipe up within two to four weeks.
You can make a larger batch, but you may want to consider adding a preservative if it won't be used up within 4 weeks. (Yes, I changed this – mine has lasted a good month with no problem!)
If you make it for others, I recommend you consider adding a preservative.
Distilled Water
I always use distilled water, as tap water is known to have small amounts of bacteria and other microbes in it. Safe to drink, but not to mix into products that sit around for awhile!
Using Castile Liquid Soap Instead
If you prefer to use castile liquid soap in this recipe you absolutely can do so. Just substitute castile soap in place of the natural unscented body liquid soap.
Foaming Body Wash Recipe Without Castile Soap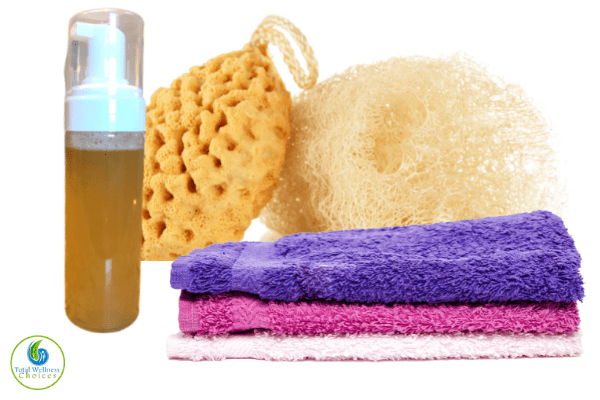 Preservative of your choice (if you want)
Directions
*Note: You can put up to 2 1/2 ounces of the natural body wash in this recipe. If the natural body wash you have chosen seems to have a thin consistency use more in the recipe. The one I used was fairly thick so 1 1/2 ounces was plenty.
Remember to make a fresh recipe at least every 4 weeks.
About the Essential Oils Chosen for this Blend
I chose the two essential oils in this blend because of their great skin improving properties. With oily, dry, or combination skin – choosing the appropriate essential oils for your skin is important.
Lemon EO
Lemon essential oil was chosen because it is great for skin problems including acne and dermatitis.
It has antibacterial and anti-inflammatory properties, is penetrating, improves circulation, firms the skin, and due to the Vitamin C in it can reduce dark skin spots. An added plus is lemon EO's tangy sweet, citrusy note.
Ylang Ylang EO
Ylang Ylang EO was chosen to also help with skin complexion concerns. It is used to balance and regulate oil production. Thus it keeps skin from being too dry or too oily.
Ylang Ylang essential oil is used traditionally to sooth acne prone skin. It's tropical floral scent works perfectly with the more tangy citrusy lemon scent.
Essential Oil Safety
Keep in mind that not all essential oils work well for everyone. If you have an allergy to certain essential oil, or the plant that it is distilled, or extracted from, do not use that essential oil.
You can leave the essential oils out, or chose a different essential oil, such as lavender, or make your own blend with essential oils that work well for you.
Always, do a skin patch test prior to using! See my sections on essential oil safety.
Related Essential Oil Articles: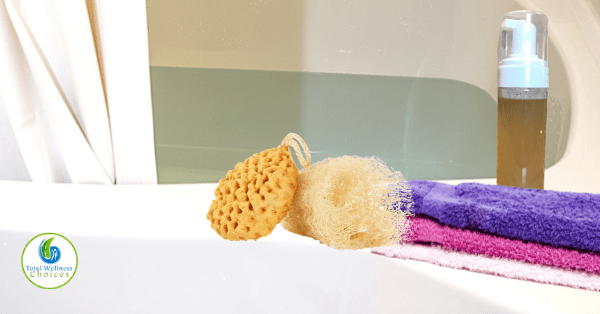 These statements have not been evaluated by the Food and Drug Administration. This article is for educational and informational purposes only and does not intend to diagnose or treat any disease. It is always recommended that you seek the advise of your private medical doctor.