This post may contain affiliate links. I may be compensated if you make a purchase through a link on this page.
DIY Foaming Sugar Body Wash Recipe with Essential Oils that is Great for Dry, Mature Skin!
Easy foaming sugar body wash recipe with essential oils. This easy recipe is extra moisturizing with Dr. Bronner's Organic Sugar Soap.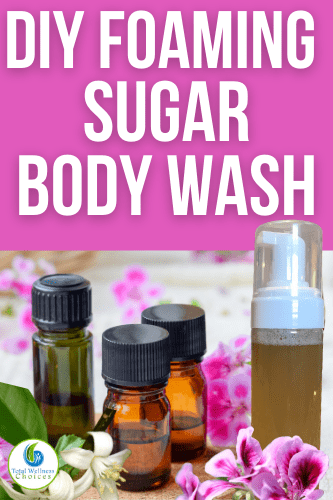 Winter. I don't mind the cooler temperatures, and snow that comes with it. But, my skin hates it!
As I have added candles to my birthday cake each year I have noticed more dryness to my skin. It is especially noticeable in the winter months.
I like this foaming sugar body wash recipe not only because it is extra moisturizing, but because it is so easy to make. Plus, it smells great with Sweet Orange, Rose Geranium and Roman Chamomile essential oils in the blend.
I use different essential oil combinations when I make this recipe, but this blend is one of my favorites. You can easily adapt the recipe by using your favorite essential oils.
Why I Like this Homemade Foaming Sugar Body Wash Recipe.
Liquid soaps made with castile soap are on the top of my homemade products list. I really like them because they are easier to make than the traditional bar soap!
I like this foaming sugar body wash recipe not only because it is so easy to make, but because it is extra moisturizing. Having a different base ingredient makes it is more moisturizing than recipes made with the original castile soap.
Plus, it does not have parabens, artificial scents, Sodium Lauryl Sulfate (SLS), or even formaldehyde that is included in some skin care products. You can read more about these ingredients and my concerns in the DIY Foaming Body Wash Recipe.
This recipe does not have artificial scents, but instead uses natural essential oils. The aroma from essential oils adds a nice fragrance, and a positive note to the body wash. Plus the essential oils I chose for this recipe are all nourishing for the skin.
I have also added Vegetable Glycerin to my recipe as it acts both as a humectant, as well as, an emollient. This means it helps the skin to retain moisture, as well as, adds a protective, moisturizing layer to your skin!
This is an easy recipe, and you can make a bottle in about 5 minutes for around $1 per bottle!
I have cut the amount of ingredients in the recipe so I can keep it preservative free. I like keeping my homemade products, that are made for just me and my family, as natural as possible. Even natural preservatives can cause problems such as skin irritation. I generally use this recipe up within one or two weeks.
You can make a larger batch, but you may want to consider adding a preservative if it won't be used up within 3 – 4 weeks. (Yes, I changed this – mine has lasted a good month with no problem!) If you make it for others, I recommend you consider adding a preservative.
I always use distilled water, as tap water is known to have small amounts of bacteria and other microbes in it. Safe to drink, but not to mix into products that sit around for awhile!
Why I use Dr. Bronner's Organic Sugar Soap
First of all – I have no affiliation with Dr. Bonner's! I happen to like this product of theirs, especially in body wash recipes!
I love the feel of Dr. Bronner's Organic Sugar soap. It is great by itself to use in a pump for multiple uses including: a hand cleanser, a body wash, and a shampoo.
It is similar to Dr. Bronner's original Pure Castile Liquid Soap that is made with a base of coconut, olive and other oils. How is it different? Dr. Bronner's Organic Sugar soap does not include water in this formula, but instead has added four extra organic ingredients that make it more moisturizing.
1) Organic White Grape Juice. This ingredient acts as a humectant; meaning that it helps the skin retain its own moisture.
2) Organic Sucrose. This is the sugar ingredient that also acts as a humectant. It is in a caramelized form which keeps this soap from clumping together and blocking the pumps.
3) Organic Shikakai Powder. Shikakai comes from a south Asian tree, the Acacia concinna. It has long been used in traditional Indian body care to moisturize and clean the body.
Some people prefer the original Castile liquid soap, while others prefer the more moisturizing Dr. Bronner's Organic Sugar soap. If your skin is more mature, or on the dry side like mine, I would recommend trying this sugar soap!
If you prefer the original Pure Castile Liquid Soap you can use my DIY Foaming Body Wash Recipe. You can always substitute the essential oils in this recipe with the ones in that recipe.
Foaming Sugar Body Wash Recipe
Directions
Add Dr. Bronner's Organic Sugar Soap and Glycerin to a 5 ounce (150 ML) foaming bottle
Add essential oils
Slowly top up with distilled water
Use 1-2 pumps on a bath puff or washcloth
Remember to make a fresh recipe every 3 – 4 weeks.
About the Essential Oils Chosen for this Blend
I chose all the essential oils in this blend because of their great skin healing properties. With dry, and/or mature skin – choosing the appropriate essential oils for your skin is even more important than ever.
Sweet Orange essential oil was chosen because it is great for all sorts of skin problems including acne and dermatitis. It improves circulation, and firms the skin, and due to the Vitamin C in it can reduce dark skin spots. An added plus is the sweet, fruity note which is uplifting.
Rose Geranium was chosen to help with skin complexion concerns. It can soothe skin irritation such as redness. This is a big help if you have skin blemishes. It has a "rosy", herbal, with a hint of a lemon note scent.
Roman Chamomile essential oil was chosen for it's skin regenerative properties. It helps to keep your skin healthy and youthful looking. (Who doesn't want that?) Plus it adds a sweet, fruity, floral, yet underlying earthy aroma to the mix.
Keep in mind that not all essential oils work well with everyone. If you have an allergy to an essential oil, or the plant that it is distilled, or extracted from do not use that essential oil. You can leave it out, or chose another essential oil, such as lavender, that works well for you.
Always, do a skin patch test prior to using! See my sections on essential oil safety.
Related Essential Oil Articles: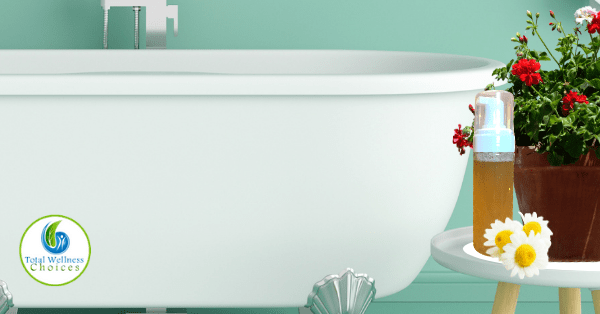 These statements have not been evaluated by the Food and Drug Administration. This article is for educational and informational purposes only and does not intend to diagnose or treat any disease. It is always recommended that you seek the advise of your private medical doctor.