This post may contain affiliate links. I may be compensated if you make a purchase through a link on this page.
Promise of Spring Essential Oil Diffuser Blend Recipes that Will Awaken You!



Here are seven diffuser blends that will put you in a positive and cheerful mood as you await the Spring Season with all its new wonders to behold!

These blends are easy to make and will brighten your day, no matter the time of year!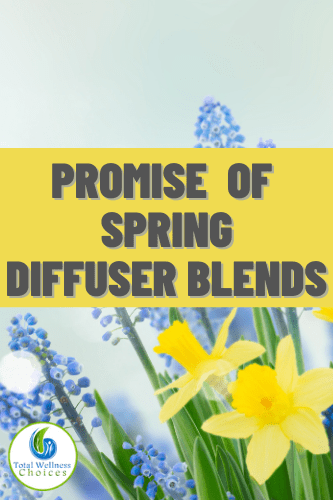 Spring is set to arrive here in the Northern Hemisphere near the end of March. (March 20th, this year) The winter has dragged on and on. Enough of it, I say!

My thoughts are turning to planting flowers and herbs, and seeing some green both in the trees and the ground!

To be able to go outside with just a light sweater! To sit on my patio deck in the morning and sip a cup of coffee as the sun comes up over the hills!

Yes, I am looking forward to the Spring Season, and the newness that will surround me! But meanwhile I don't despair as I say adieu to the Winter Season. Instead, I thank it for bringing the much needed water to make my Spring full of blossoming growth!

These blends that I have listed are wonderful at bringing to mind what Spring has in store, and to help remove some of the Winter gloom and replace it with positive thoughts of a new season that is just ahead!

There are several essential oils that lend themselves to Spring scents including: sweet, tangy, floral scents of citrus tree blossoms; rich, sweet and warm woody scents of a woodland after a Spring shower; warm, sweet, floral scents of many flowers that peek up from the ground, and the earthy, tangy, sweet herbal scents of freshly potted herbs.

Use the Promise of Spring Diffuser Blends to add a positive note, a cheerfulness to your home. To lift your mood. To celebrate the upcoming Spring Season with all the new wonders it promises!

Best Essential Oils for Spring Diffuser Blends
You can use the following list to create your own Spring Blends. They will add a positive, uplifting note to your home in preparation of, and during, the Spring Season.
Here are 15 Recommended Spring Season Essential Oils
Rose
Ylang Ylang
Geranium
Rhododendron
Magnolia
Neroli
Basil
Bergamot
Lavender
Sweet Orange
Lime
Lemon
Grapefruit
Roman Chamomile
Rosemary
Spearmint
How to Use a Diffuser
If you want to scent a large room, a diffuser is the best and easiest way to do so.

Essential oils are highly concentrated, so you'll only need to use a few drops of each of these essential oils.

The size of your diffuser will determine how many drops of oils that you'll use. For a 100 ml diffuser, add just 3 to 5 drops of oils. Use 6-10 drops for a 200 ml diffuser.

All of these recipes call for more drops than you should use with your diffuser. For these recipes, create a master blend in an empty glass bottle.

You can even double or triple the recipe in an empty bottle and then use that to add to your diffuser.

You should only use your diffuser for 30 to 60 minutes at a time. After that, turn it off and give yourself time to rest.

Too much exposure to essential oils can cause headaches, dizziness, eye irritation, or nausea.

You can use an essential oil diffuser two or three times a day in shorter intervals.

Essential Oil Safety
Essential oils are natural, but that does not mean that they are safe for everyone.

Some people can be allergic to oils. Some have respiratory problems, or other health issues, where an essential oil may be contraindicated.

Some oils can't be diffused around dogs, cats, birds, or other pets.

It's not recommended that you diffuse around children under age 2. Some oils can be diffused around children ages 2 to 10.

Be sure to check the recommended ages for each of the oils in the Spring essential oils listed above, and in the blends below!

Also, check to make sure that the oils are safe for pets and pregnant or nursing women if they will be in the home.

Related Essential Oil Articles:
7 Promise of Spring Diffuser Blends
#1. Sweet Spring Thoughts Diffuser Blend
This blend brings to mind the soon blossoming fruit trees and flowers. A new season for wonders to behold.
#2. The Promise of Spring Diffuser Blend
This blend incorporates the floral scents along with a citrus sweetness to give a positive note and reassurance that Spring is almost here.
#3. Spring in the Air Diffuser Blend
A blend that helps to remind you of a rainy spring day with the wonderous fresh earthy smells.
#4. Dreaming of Spring Diffuser Blend
When winter seems to be going on forever and ever, and you are dreaming of warmer weather, the blossoming magnolia trees are a welcome sight as they herald the arrival of warmer weather! This blend with it's hints of magnolia is perfect for when I am tired of winter.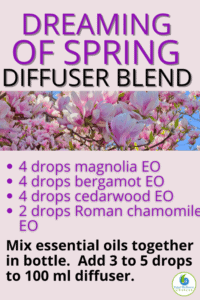 #5. Springtime At The Arboretum Diffuser Blend
Springtime is a perfect time to take a walk in an nearby Arboretum. Rhododendron and other bushes and trees are blooming. Tulips, daffodils, and other spring time bulbs are showing their beautiful blooms. This diffuser blend reminds me of springtime at the arboretum.
#6. Secret Garden Diffuser Blend
Springtime is the time of the year when garden plots are planned, or planted. I always wanted a garden enclosed by a stone wall, or fence. A place where I could plant both local and exotic flowers, plants, and trees. A place that would be perfect to sit and contemplate, or meander around as the plants come alive. A place for dreaming and planning…
#7. Spring Morning Dew Diffuser Blend
This blend brings to mind the morning dew that can be seen in the Spring. Waking up to a light fog with the morning dew dripping from plants and trees. There is still a crispness in the air along with the sweet scent of blooming trees and flowers.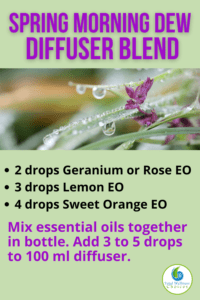 Which of these essential oil diffuser blends is your favorite?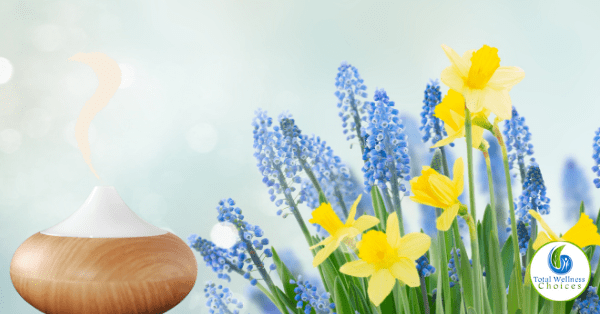 These statements have not been evaluated by the Food and Drug Administration. This article is for educational and informational purposes only and does not intend to diagnose, treat, cure, or prevent any disease or health condition. It is always recommended that you seek the advise of your private medical doctor.