This post may contain affiliate links. I may be compensated if you make a purchase through a link on this page.
DIY Foaming Body Wash Recipe with Essential Oils – Cleanses and Moisturizes!

Easy foaming body wash recipe with essential oils. This easy recipe is moisturizing with grapeseed oil and smells great with lemon and peppermint.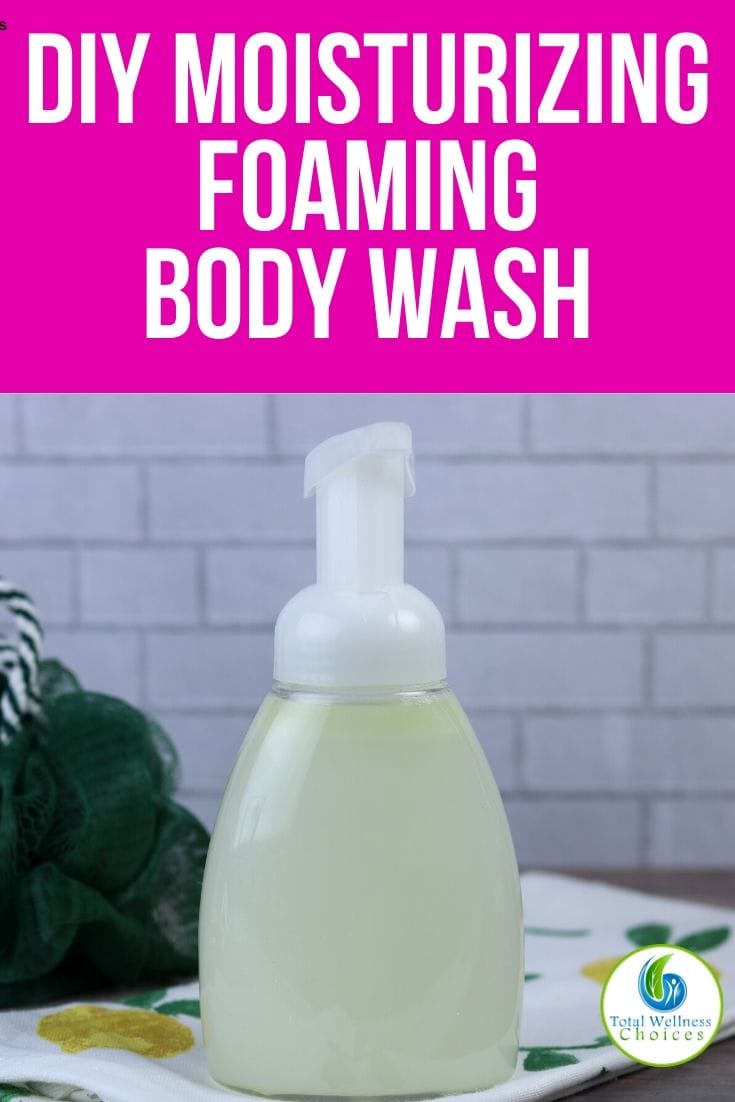 Have you read the ingredients on your body wash lately? I'm betting that you can't pronounce most of the ingredients and don't know why they are used.
I started making my own bath and beauty products, but I didn't try making my own body wash for a long time. Liquid soaps can be hard to make and use a different type of lye than bar soaps.
It just seemed like it was a lot of work and a big start up expense to make my own liquid soap for body wash. Then I discovered a new way to make a foaming body wash recipe at home.
This is easy, and you can make a bottle in about 5 minutes for less than $1 per bottle!
Related: Homemade Body Oil Recipe
Why I Like this Homemade Foaming Body Wash Recipe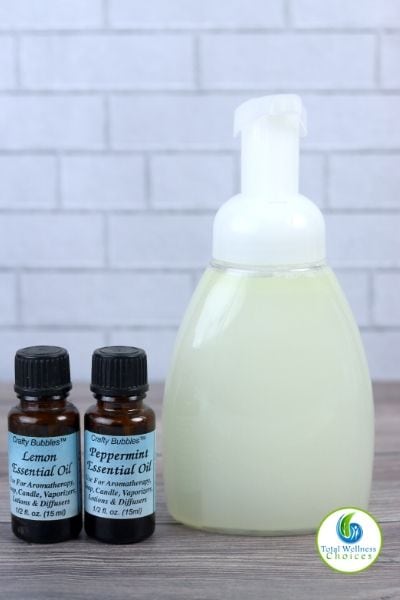 I like this foaming body wash recipe because it's so easy to make. I use different essential oil combinations when I make it, but this lemon and peppermint is one of my favorites.
It smells clean, and it's perfect for the mornings. If you regularly take showers at night, try using lavender or another calming essential oil.
I started making my own body wash for a few reasons. There were ingredients that I wanted to avoid, and I also wanted something more moisturizing for my skin.
I wanted to avoid parabens in my beauty products. Parabens are preservatives, and they can mimic estrogen in the body. Over time, they can disrupt your hormone balance and lead to fertility problems.
As much as I used to enjoy fun scented body washes, I now avoid artificial scents. They can cause skin irritation and even rashes.
Sodium Lauryl Sulfate (SLS) is in most commercial body washes. It can cause skin irritation and dry skin.
Some body washes even have formaldehyde. Yes, this is the same thing that's used to preserve dead animals. It is a neurotoxin and is linked to asthma and developmental issues in people.
Ingredients for this Foaming Body Wash Recipe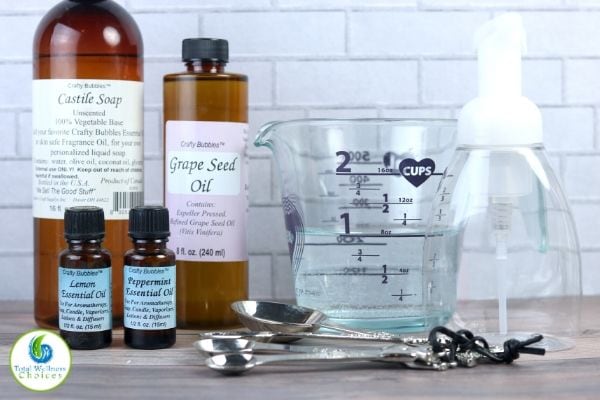 Liquid Castile Soap
Liquid castile soap is a very mild soap, so it's safe for most skin types and even children. Castile soap comes from Spain, specifically the Castile region.
Traditional Castile soap is made only with olive oil and no other oils. Olive oil is mild and makes a wonderful soap, but it doesn't lather very well.
Today, you can find liquid castile soap made with olive oil and other oils, usually coconut oil. The soap is still gentle and moisturizing for your skin, but it lathers better for this foaming body wash recipe.
Liquid castile soap is gentle on your skin, but it's still a great cleanser. One end of the castile soap molecule avoids water and the other end has a molecule that attracts it.
When the liquid castile soap gets wet, it creates atoms that have a charge that attracts dirt, grease, and oil.
This is why liquid castile soap is tough enough to clean up spilled kitchen messes and yet gentle enough to use as a body wash.
Liquid castile soap is also biodegradable and non-toxic. It's safe for septic systems, so if you have one, this is a great choice for a body wash.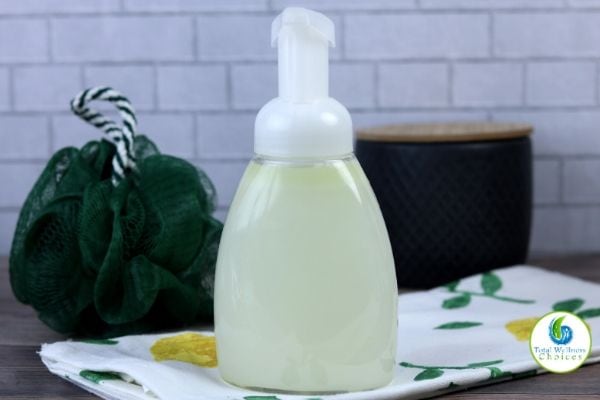 Grapeseed Oil
I added some grapeseed oil because it's moisturizing for your skin. It's a dry oil, so it soaks into the skin quickly and won't leave you feeling oily.
Grape seed oil is high in linoleic acid. This is an omega-6 fatty acid that not only moisturizes your skin, but it also helps unclog pores. If you suffer from body acne, it can help reduce acne with continued use.
Grapeseed oil has antioxidants to reduce damage from free radicals. Over time, it has some anti-aging properties and can reduce the signs of aging.
Distilled Water
It's best to use distilled water versus tap water for this foaming body wash. Tap water can have small amounts of bacteria and other microbes in it. It's safe to drink and won't make you sick.
However, this is contained in a small bottle and doesn't move and get aerated like tap water does. Since you don't use a preservative for this recipe, bacteria and other germs could grow.
The odds of this happening are small, but it's best to be safe and use distilled water.
Distilled water doesn't have any minerals or chemicals in it. If you have city water, your water could have fluoride or chlorine added.
Essential Oils
I used one of my favorite wake up blends with lemon and peppermint essential oils. This is a fun combination, and it smells very clean and refreshing.
Lemon essential oil is a natural astringent. It's also a natural antiseptic, so it can help reduce acne and promote clearer skin.
Peppermint is invigorating, which is why I paired it with lemon essential oil. It has menthol, so it's naturally cooling on your skin.
I use twice as much lemon as peppermint because the peppermint can tingle your skin. For some it can be irritating especially in mucous areas (sensitive areas) of the body.
You can substitute peppermint for a less skin irritant potential essential oil such as Roman Chamomile or Lavender.
I also like the smell of lemon and lavender together! Give it a try – you can adjust the drops for your own sense of smell. For this recipe, I would use 5 drops of lemon and 4 drops of lavender.
If you're making this foaming body wash recipe for children or if anyone pregnant or nursing is going to use it, be careful about the essential oils. Use only safe essential oils.
Use half as much essential oils if you are using this for children or omit them completely.
DIY Foaming Body Wash Recipe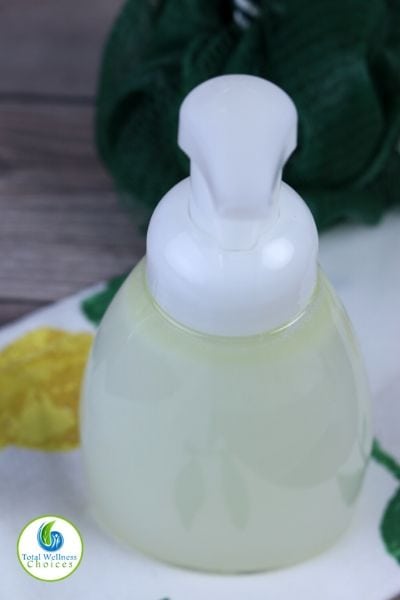 Ingredients
Directions
Add the liquid castile soap and grapeseed oil to the foaming bottle.
Yes, I know it has water as an ingredient in it. It is well known that water based products can breed bacteria, and other unwanted microbials!
If you wish, you can add a preservative.
After researching preservatives – even so called "natural ones" – I have elected to make smaller amounts of home products like this one without a preservative. I use my products up in 1-2 weeks, or I dump what remains and make a new batch.
If you are making products to sell or give away, I would highly recommend you look into preservatives and chose one that you feel is best for you and or your clients!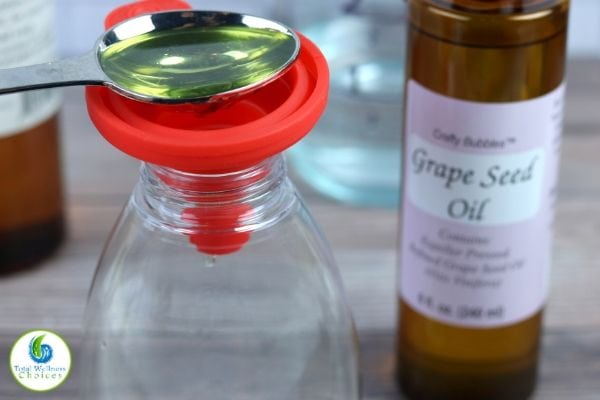 Add the essential oils.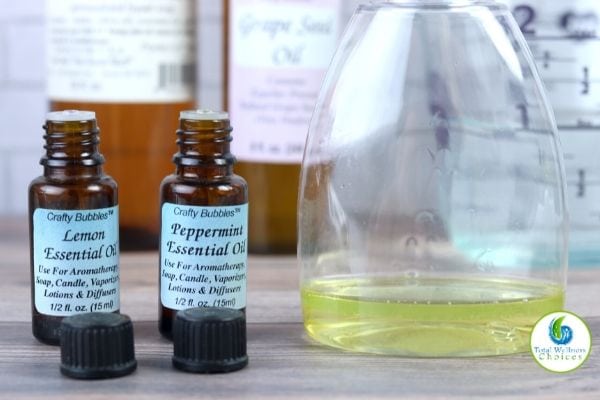 Slowly fill with distilled water.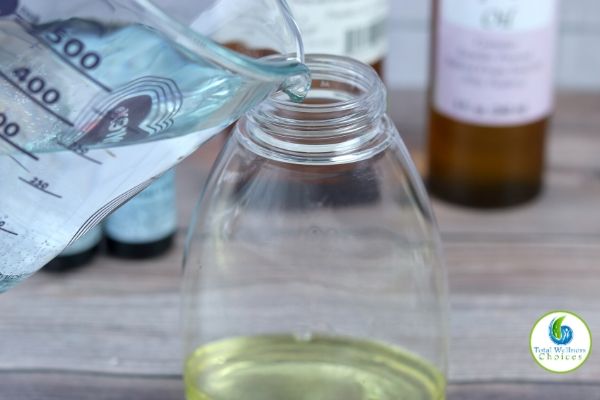 Use one or two pumps on a bath puff or washcloth.
This foaming body wash recipe also makes a great hand soap, so it serves dual purposes in the bathroom.
This recipe with half as much essential oil is safe to use on the face, but it may be too drying for your skin.
Materials
Tools
Instructions
Add essential oils
Slowly top up with distilled water
Use 1-2 pumps on a bath puff or washcloth
Notes
You can also use this foaming body wash recipe as hand soap (two products in one).
To use this recipe on the face, use half amount of the essential oils. However, it may still be too drying for your skin
Recommended Products
As an Amazon Associate and member of other affiliate programs, I earn from qualifying purchases.
Let us know if you like this DIY foaming body wash recipe.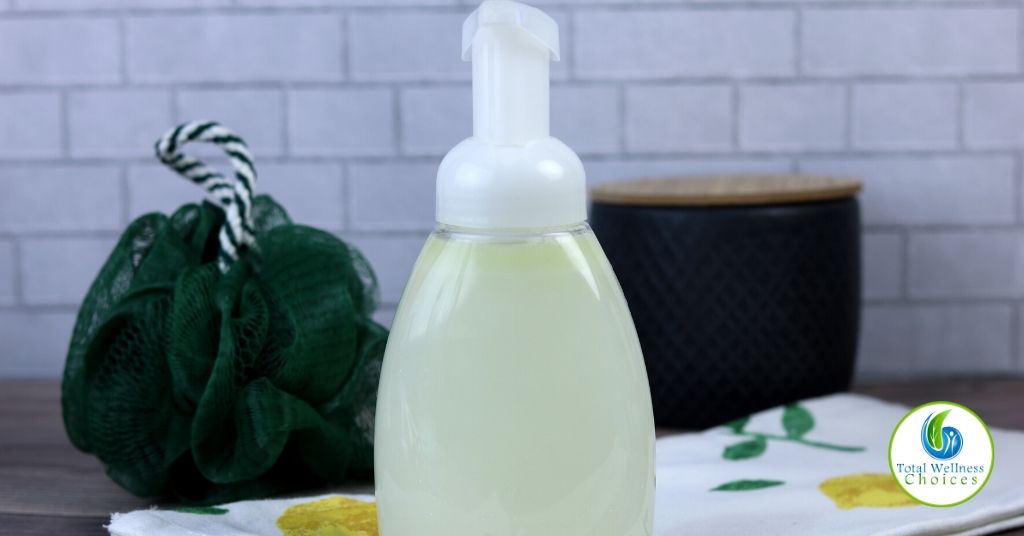 These statements have not been evaluated by the Food and Drug Administration. This article is for educational and informational purposes only and does not intend to diagnose or treat any disease. It is always recommended that you seek the advise of your private medical doctor.