This post may contain affiliate links. I may be compensated if you make a purchase through a link on this page.
---
Easy Homemade Natural Deodorant In A Jar Recipe – that is made with light kaolin clay, magnesium hydroxide and zinc oxide.
Learn how to make an easy, effective, natural jar deodorant at home with this easy to follow DIY recipe. If you are trying to stay away from the typical baking soda type homemade recipes then look no further.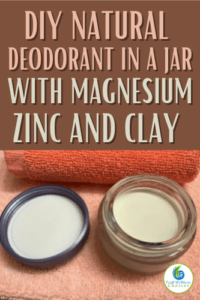 As an added plus this recipe uses candelilla wax which is plant-based (great for vegans) and a great substitute for those with bee allergies or sensitive skin!
Since I have already explained my reason for staying away from store bought deodorants, especially anti-perspirants, I won't repeat that part.
If you would like to read about my reasons for avoiding many store bought deodorants you can in my Easy Homemade Deodorant For Men and Women.
About Making a Homemade Deodorant
Making a homemade deodorant is an easy craft to learn. This jar deodorant recipe calls for some ingredients that you may need to find on line – such as the magnesium hydroxide powder – but once you have the ingredients putting it together takes just minutes!
I have used a scale as it is more accurate when making this recipe. Some things are measured out as I find it easier (2 drops of essential oil, for example, is not weighable on my scale).
You can even make adjustments in the formula of this deodorant if you like. You might change the dry ingredients. Instead of using light kaolin clay you can use bentonite clay instead. The zinc oxide can be exchanged for tapioca flour or arrowroot powder.
If you like baking soda you can use it instead of the magnesium hydroxide. (Not my preference as I am trying to stay away from baking soda in this recipe as some people find it irritating to their skin!)
If you like just one essential oil, or have a blend of your own that you like, you can use it instead of my suggested blends. (Just be sure and keep with skin friendly essential oils!) Want the deodorant unscented? Don't add any essential oil(s) to it!
There are different sizes of containers available for homemade products like this, so you can chose the size or type you prefer. The smaller sizes are great when travelling and the larger sizes might be perfect at home.
Related:
Homemade Deodorant Supplies

Homemade Deodorant Base
The base of this homemade deodorant includes seven easy to obtain ingredients.
Candelilla Wax
This is a natural vegetable wax extracted from the candelilla plant. It is a great substitute for beeswax and is used not only by vegans but by those allergic to bees. I find candelilla wax is great for sensitive skin also! (Option: Beeswax can be substituted for candelilla wax.)
Grapeseed Oil
I chose to use grapeseed oil as it is a light oil and one of the more gentle carrier oils to use. It is considered a good one for all skin types, which is especially nice if you have sensitive skin. Be sure to use a hexane-free, organic, or cold pressed type. (You can use a carrier oil of your choice in place of grapeseed oil!)
Shea Butter
Shea butter contains vitamins and other nutrients that nourish and moisturize the skin. It also has anti-inflammatory properties that soothe and heal skin.
Vitamin E Oil
I like adding vitamin E oil to my products not only because it has fat-soluble antioxidant benefits which help with inflammation and aging skin, but also because it helps protect the product from getting rancid.


Magnesium Hydroxide
Magnesium hydroxide is shown not to be absorbed into the skin unlike many other chemicals. If you are like me this is important when choosing what goes into a homemade deodorant.
This inorganic compound is used to counteract the odor-causing bacteria on the surface of the skin without penetrating into the layers of skin. There is less chance of skin breakout to the underarms as it does not clog the sweat glands.
Zinc Oxide
The antimicrobial properties in zinc oxide makes it a useful ingredient to add to deodorants. These properties help to fight odor that is caused by bacteria and sweat.
Some people do not like the white waxy appearance zinc oxide gives to the skin. I find it doesn't bother me unless I am wearing a sleeveless outfit or swimsuit. You can leave it out, or use arrowroot or tapioca powder in place of zinc oxide.
Light Kaolin Clay
Light kaolin clay has a pH of around 5 which makes it more acidic than that of baking soda or bentonite clay which runs around 8 to 9.5 pH. This means there is less chance of skin sensitivity as it helps to balance out the more alkaline substances in this deodorant. 5.5 is considered the best pH for skin care products.
Essential Oils
The combination I chose to use works well for both women and men. I like the natural, and fresh-crisp, earthy-woodsy scent that it gives.
Cypress, black spruce, and patchouli essential oils are ones that are less likely to cause a skin reaction in most people. However, it is still important to follow the safety recommendations below when using essential oils!
Safety When Using Essential Oils
Always, do a skin patch test prior to topically using an essential oil you have never used before! See my sections on essential oil safety: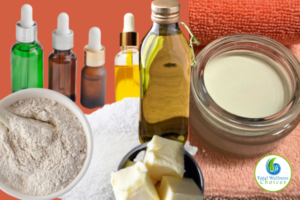 Ingredients/What You Need for this DIY Natural Deodorant
Directions
I hope you found this homemade jar deodorant recipe an easy addition to your natural homecare products. Leave your feedback below.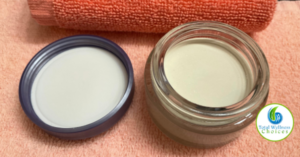 These statements have not been evaluated by the Food and Drug Administration. This article is for educational and informational purposes only and does not intend to diagnose, treat, cure, or prevent any disease or health condition. It is always recommended that you seek the advise of your private medical doctor.