This post may contain affiliate links. I may be compensated if you make a purchase through a link on this page.
Easy Calendula Lotion Bar DIY Recipe for Dry Skin!
This calendula lotion bar recipe is easy to make with only three ingredients. The carrier oils along with the mango butter and calendula promote healing and help nourish and moisturize dry skin.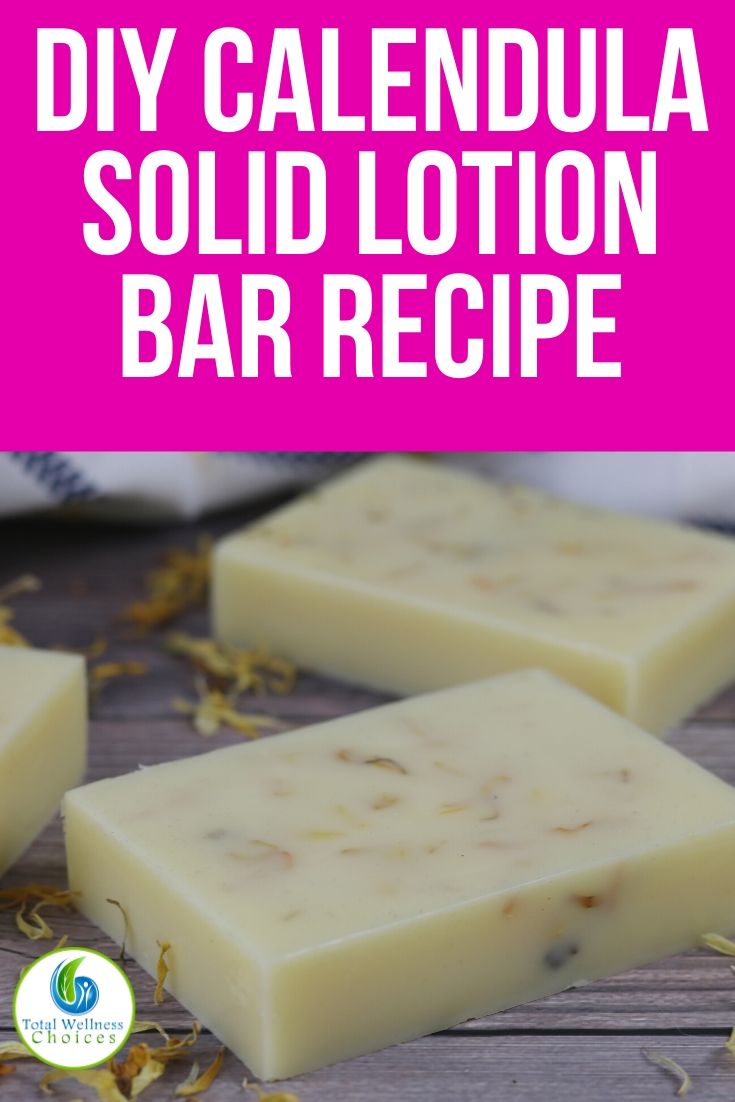 You've probably seen calendula or maybe even grown it in your garden without realizing it.
Its common name is the common marigold or pot marigold, and it's a popular plant in most home gardens for its lovely golden color.
The flower heads are picked after they dry and used in herbal remedies like this calendula solid lotion.
This easy hard lotion recipe uses a calendula infused oil, mango butter, and beeswax to make a wonderful lotion for dry or irritated skin.
Solid lotions are wonderful for dry skin because they don't have any water in them. They are highly concentrated with oils and butters that work to moisturize your skin.
The beeswax coats the skin, trapping the oils and butters on your skin so they work for hours after you use the lotion.
Solid lotions are convenient for on the go because they don't spill. I do recommend storing it in a container because they can get soft or melt in high heat.
Don't worry though; they are fine if they melt in the heat and don't lose any of their benefits.
Related:
Homemade Calendula Solid Lotion Ingredients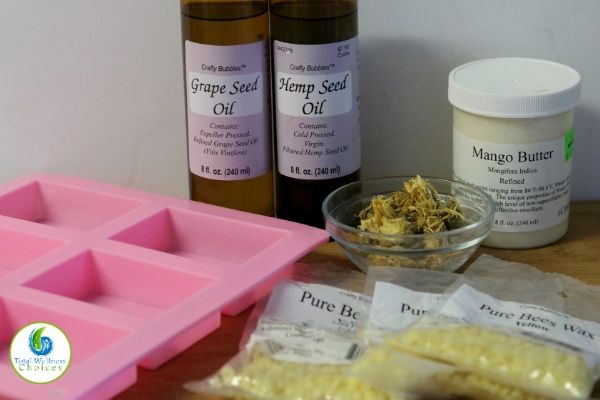 Calendula
Calendula oil is made by infusing the dried flowers in a carrier oil. This gives the oil the benefits of the calendula and makes the oil a beautiful deep golden yellow.
Calendula oil is naturally anti-inflammatory and has antibacterial and antifungal properties. It's often used for eczema, wounds, and dry skin.
The infused oil can be used alone, but it also makes a great addition for soap, salve, creams, and lotions.
Calendula and calendula oils are great for minor wounds because it can promote healing. It's a gentle oil and herb, so it won't irritate the skin while it heals. It's often used for burns instead of or in addition to aloe.
Since calendula is a natural antiseptic, it may help reduce body acne. The oils are too heavy to use on your face, so don't use it for facial acne.
Calendula is often used for dry skin, eczema, and contact dermatitis because it's soothing and promotes healing.
It can also help hydrate the skin and increase firmness.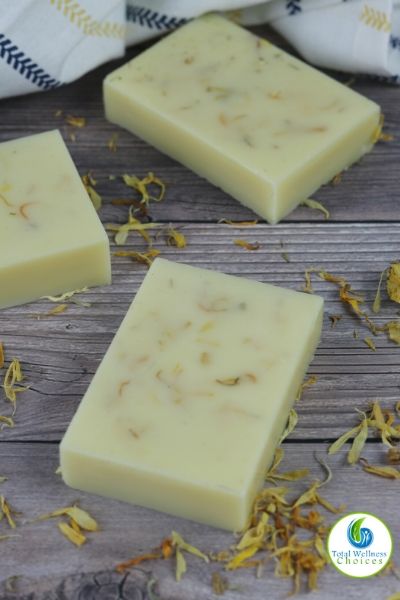 Carrier Oils
I infused the calendula with hemp seed oil and grapeseed oil. I really like hemp seed oil for dry skin, but it has a strong smell.
I usually mix it with other oils to get the benefits of hemp seed oil and another oil without the smell.
Hemp seed oil is high in omega-6 fatty acids. The gamma-linolenic acid is an anti-inflammatory and can also promote cellular turnover. This can help reduce inflammation from acne or psoriasis or eczema.
Hemp seed oil is also a wonderful oil to moisturize and nourish your skin. This helps prevent dry skin.
I also used grapeseed oil. Grapeseed oil is a dry oil, so it soaks into the skin quickly. Solid lotion bars are known to be oily, but the grapeseed won't leave you feeling as oily after you use it.
Grapeseed oil can help balance oil production. It also helps prevent fine lines and has antioxidants that attack free radicals. It's naturally anti-inflammatory to help reduce inflammation from dry skin.
Mango Butter
I used mango butter in this calendula solid lotion recipe because of its fatty acids. It is higher in vitamins A and C than other butters like shea butter or cocoa butter.
Vitamin C helps the skin heal and promotes cellular regeneration. It also helps brighten the skin. Vitamin A is said to help reduce fine lines.
Mango butter can help promote healing, but it is a rich butter. It doesn't soak into the skin as quickly as shea or cocoa butter. It stays on the skin longer, but it does help repair the skin and help it heal while it moisturizes.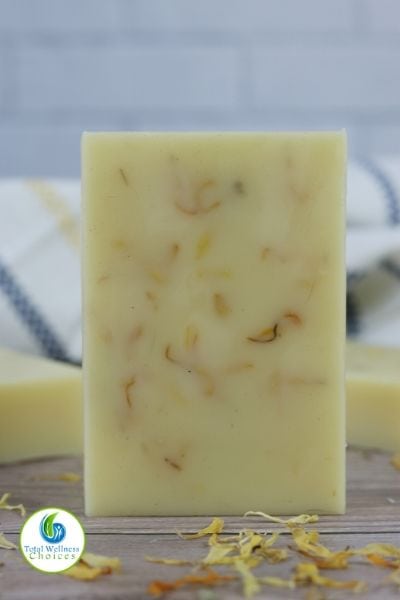 Beeswax
I added beeswax for two reasons. First, it's very hard at room temperature. This helps this solid lotion recipe stay solid.
Beeswax also coats the skin and forms a barrier on top. This helps trap the other ingredients to the skin so they can work longer and penetrate the skin deeper.
How to Infuse Oils with Herbs
Before you make this calendula solid lotion, you'll need to infuse the carrier oils with calendula. Do this by filling an 8-oz jelly jar about half full of dried calendula flowers.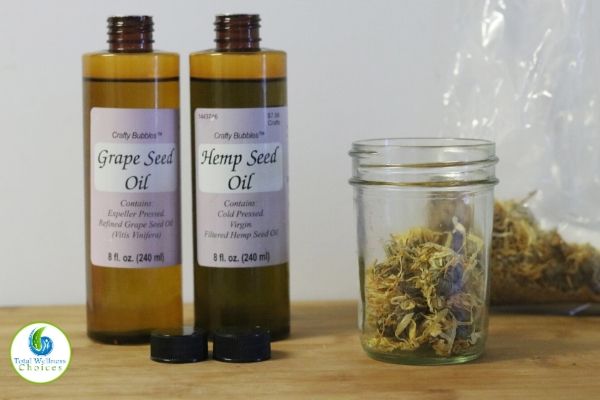 Then cover the oils with your carrier oils. I used a mixture of half hemp seed oil and half grapeseed oil.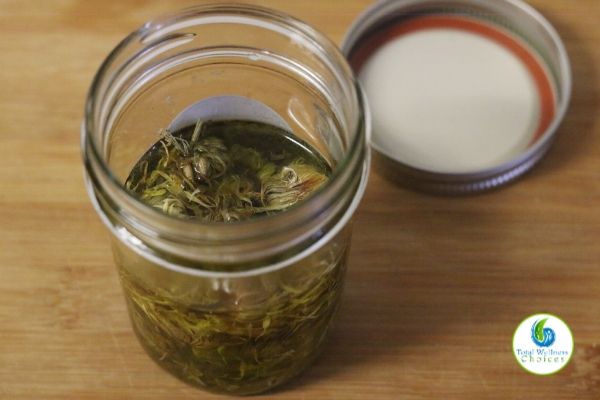 There are no exact measurements for the infusion. Just make sure that the oils completely cover the herbs so the air doesn't get to the herbs.
Cover the jar and let it sit for two weeks. I swirl around the oil every day so it infuses well.
Don't let your infusion sit for longer than two weeks. Even though you started with dried herbs, there is a chance that mold and bacteria can grow in the infusion.
After two weeks, the oil should be a deep golden color. Strain the herbs out using a fine mesh sieve or cheesecloth.
Discard the herbs because they have lost their therapeutic benefits. You can also add them to your compost pile if you have one.
The oil will now have the benefits of the carrier oils and the calendula after the infusion.
How to Make Calendula Lotion Bars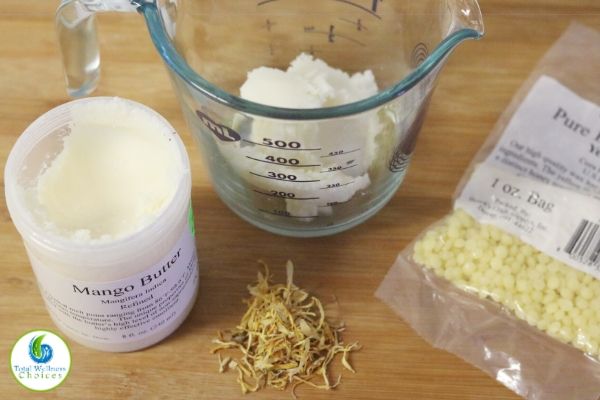 Ingredients
Tools
Directions
Weigh the calendula infused oil, mango butter, and beeswax and place in a double boiler. I set my 2 cup Pyrex measuring cup inside a pan of water.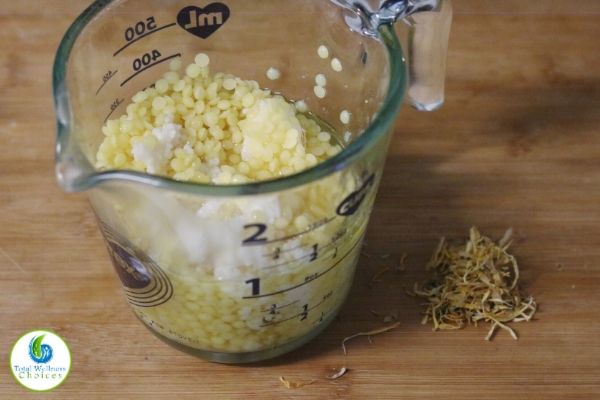 I set the measuring cup on a canning jar ring so it's lifted from the bottom of the pan. Do not heat oils over direct heat; always use a double boiler. Heat until melted.
Carefully remove the measuring cup from the pan and set on a heat proof surface. Use hot pads because the cup will be hot.
Stir well for one minute. Then add the dried calendula.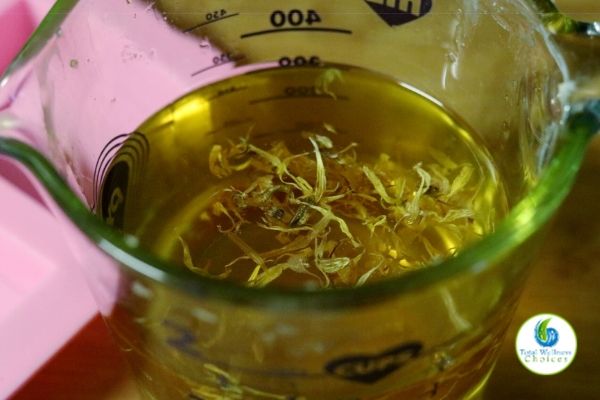 Carefully pour into the molds. This makes 10 ounces. The mold I used has 4 ounce cavities, so I didn't fill each cavity completely to make four solid lotion bars that are about the same size.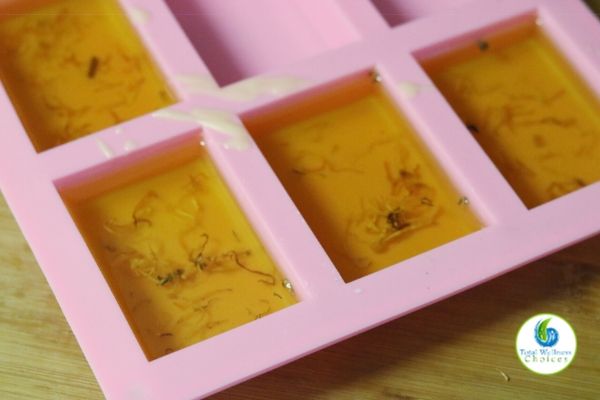 Let cool completely. This will take about two hours. Unmold them and they are ready to use.
I put my solid lotion bars in a tin or in a soap dish so they don't get oils on surfaces. You can wrap extras or put them in a jar like this one to keep them from getting dusty.
Materials
3.5 oz calendula infused oil
Instructions
Weigh the calendula infused oil, mango butter, and beeswax and place in a double boiler.
Heat until melted.
Remove the measuring cup from the pan and set on a heat proof surface.
Stir well for one minute. Then add the dried calendula.
Pour into the molds.
Let cool completely. Unmold them and they are ready to use.
Recommended Products
As an Amazon Associate and member of other affiliate programs, I earn from qualifying purchases.
Now, try making this DIY calendula lotion bar recipe and let us know how it goes.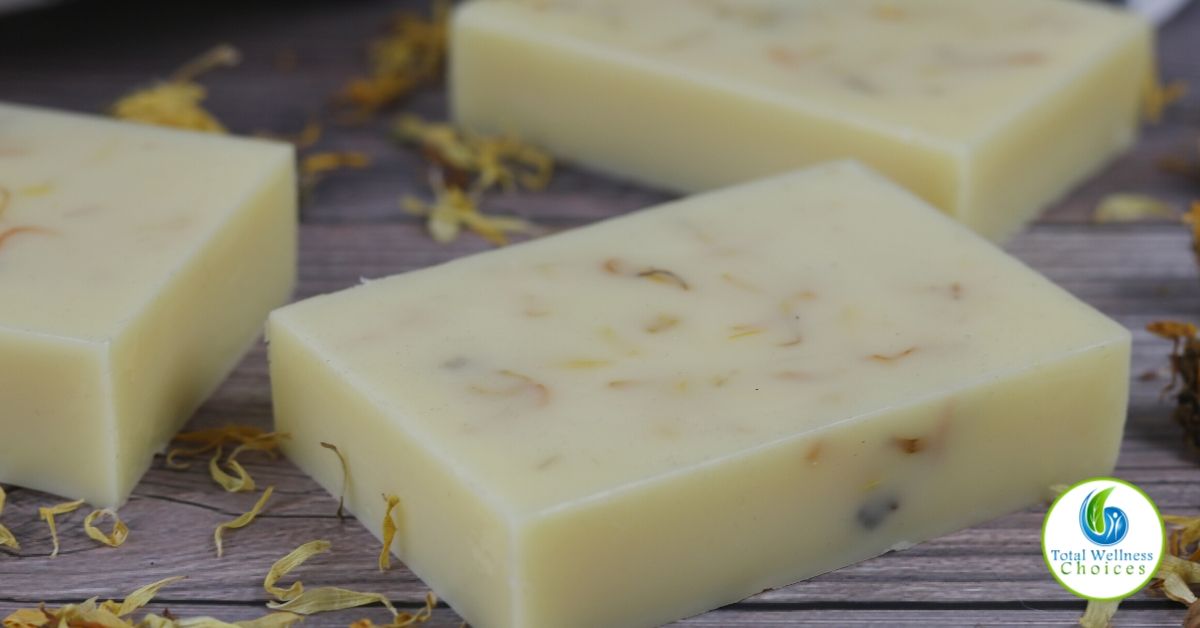 These statements have not been evaluated by the Food and Drug Administration. This article is for educational and informational purposes only and does not intend to diagnose or treat any disease. It is always recommended that you seek the advise of your private medical doctor.