This post may contain affiliate links. I may be compensated if you make a purchase through a link on this page.
DIY Candy Cane Emulsified Sugar Scrub Recipe!
This emulsified sugar scrub exfoliates your skin and then turns into a lotion when you rinse it off. The candy cane scent is perfect for winter, but you can use it all year.
Sugar scrubs are an easy and inexpensive DIY recipe to start with. You just need some sugar, a carrier oil, and some essential oils for scent and you have a body scrub that will exfoliate your skin to help make your skin glow.
This candy cane sugar scrub recipe takes sugar scrubs to the next level. It has a carrier oil, coconut oil, and shea butter to moisturize and nourish your skin while the sugar scrubs away dead skin cells.
I also added an emulsifier. When you rinse off this candy cane sugar scrub, the oils mix with the water and create a lotion. Rub the lotion into your skin for soft skin for hours after you use this scrub.
Related:
Ingredients for Candy Cane Emulsified Sugar Scrub Recipe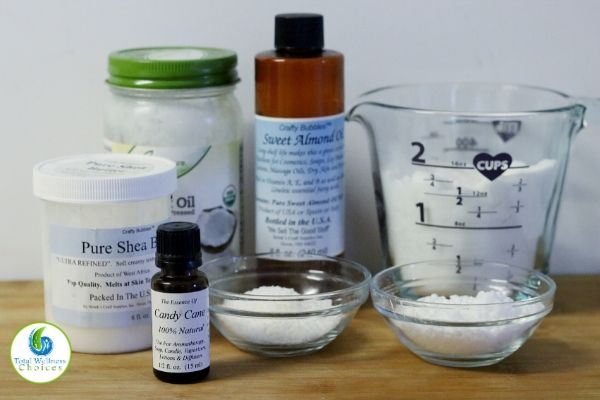 This is an excellent DIY bath and body recipe for dry skin. When skin cells die, they rise to the top of your skin and naturally shed.
If they accumulate on top and don't fall off, your skin will look dull and feel itchy. This candy cane scrub helps your skin in two ways.
First, the white sugar is a gentle abrasive that helps remove dead skin cells on the surface of your skin. This helps your skin look and feel better right away.
The oils and butters in this emulsified sugar scrub have fatty acids, vitamins, and minerals that help nourish and moisturize your skin.
They help your skin for hours after you rinse, so your skin gets more nourishment and moisturization than from using a regular sugar scrub.
White Sugar
I used regular table sugar for this sugar scrub recipe. You can also use candy sugar for larger particles.
White sugar is an excellent exfoliant for your body, hands, and feet. It's too harsh for your facial skin, so don't use it there.
Sweet Almond Oil
Sweet almond oil is a medium weight oil, so it won't leave your skin feeling oily. It has vitamin E, an antioxidant, to keep your skin cells healthy and protect them from damage from UV rays.
It has essential fatty acids that moisturize the skin and nourish it. It helps the skin retain more moisture to treat and prevent dry skin.
Emulsifying Wax
I added emulsifying wax to this sugar scrub recipe. An emulsifier binds to both oil and water, which makes this oily scrub turn into a lotion when you rinse it off of your skin.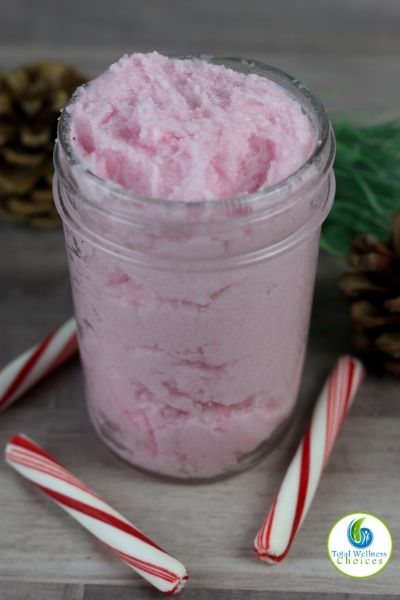 Cetyl Alcohol
Cetyl Alcohol is a fatty alcohol. It's an effective emollient that helps keep moisture in your skin. It also helps to protect the skin from bacteria and allergens. Another plus is that it helps to keep oil and water from separating. (Perfect for a recipe like this!)
Note: Cetyl alcohol can cause allergic skin reactions in those with very sensitive skin. It you are in this group, this ingredient may not be for you. Do a patch skin test using a small amount of the finished product above an elbow area and wait 15 to 20 minutes to see if you have a skin reaction prior to applying all over your body.
Shea Butter
Shea butter is an excellent natural butter to use on dry skin. It won't leave your skin oily, but it is a powerful moisturizer.
It has vitamins A, E, and F for your skin as well as fatty acids to moisturize.
Since it's solid at room temperature, it helps make this candy cane sugar scrub recipe thicker.
Coconut Oil
I also added coconut oil because it's solid at room temperature and helps make this light and fluffy when you whip it.
Coconut oil is great for dry skin. It's naturally antibacterial, so it can kill germs from scratching at dry skin.
Coconut oil penetrates deep into the skin. It has essential fatty acids to moisturize the skin and help heal dry skin.
Candy Cane Essential Oil Blend
I used the Right Note Candy Cane essential oil blend.
(This brand is no longer available – the Now Foods Candy Cane essential oil blend can be used in it's place, or you can make your own blend by following one of the recommendations below.)
There are several ways to make a candy cane essential oil blend, so you can try one that uses the oils that you have on hand.
5 peppermint, 3 sweet orange, and 2 spearmint
6 peppermint and 2 ylang ylang
4 peppermint, 3 cinnamon, 2 sweet orange
4 peppermint, 4 vanilla, 2 ylang ylang
3 peppermint and 2 vanilla
You can also just use peppermint essential oil, but it can be irritating. I tend to use less peppermint than I would other oils, especially since this will stay on the skin for several hours.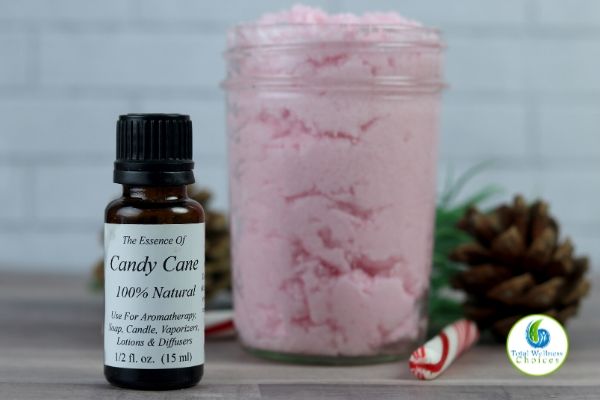 Preservative
Sugar scrubs don't always need a preservative since they don't have water in them. However, you can get bacteria or other microbes into the sugar scrub when you dip your hands in it.
If you are using this for personal use, you do not need to use a preservative. If you are giving it as a gift, I do advise that you add one so your recipient won't get mold or bacteria growing in the scrub if they use their fingers to scoop it out.
I didn't use any preservative in this recipe because I made it for personal use.
You can use Optiphen, which is a great paraben and formaldehyde-free preservative for DIY bath and body recipes that have a lot of oil in them. It protects against mold, bacteria, and fungus.
Safety Reminders When Using Essential Oils
If you have never used a certain essential oil it is important to do a skin patch test prior to topically using! See my sections on topical use and other essential oil safety concerns:
How to Make Emulsified Sugar Scrub
Ingredients
Tools
Directions
Weigh the emulsifying wax, cetyl alcohol, shea butter, and coconut oil. Melt them in a double boiler until just melted.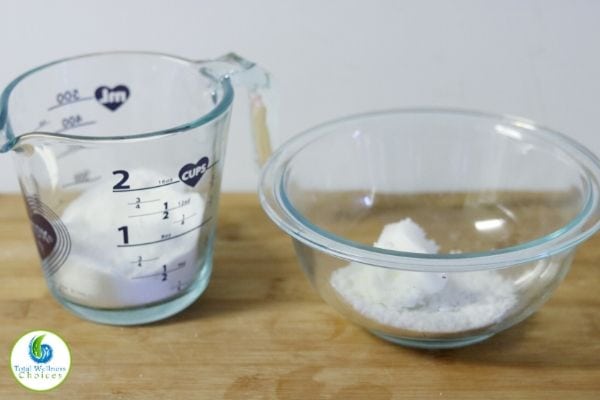 When it's melted, remove from heat and add the sweet almond oil. Stir to bring the temperature down.
Add the Candy Cane essential oil blend, preservative, and colorant if you're using them. Stir well.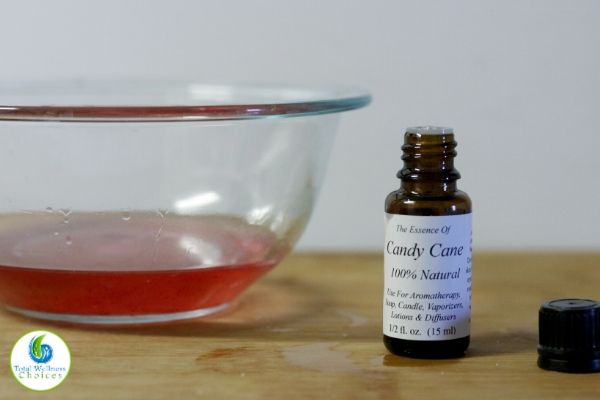 Place in a glass bowl and put in the freezer for 10 minutes.
Use the whisk attachment on a hand mixer to fluff it. Spoon into a jar.
This candy cane emulsified sugar scrub recipe is a fun treat for yourself. It also makes a great gift. If you spoon into an 8-ounce mason jar, add a ribbon to the top for a quick and easy gift that your recipient is sure to love.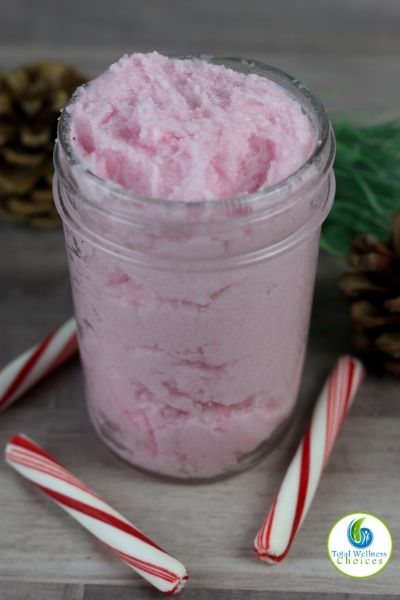 There you go – candy cane emulsified sugar scrub recipe! Give it a try and let us know if you like it.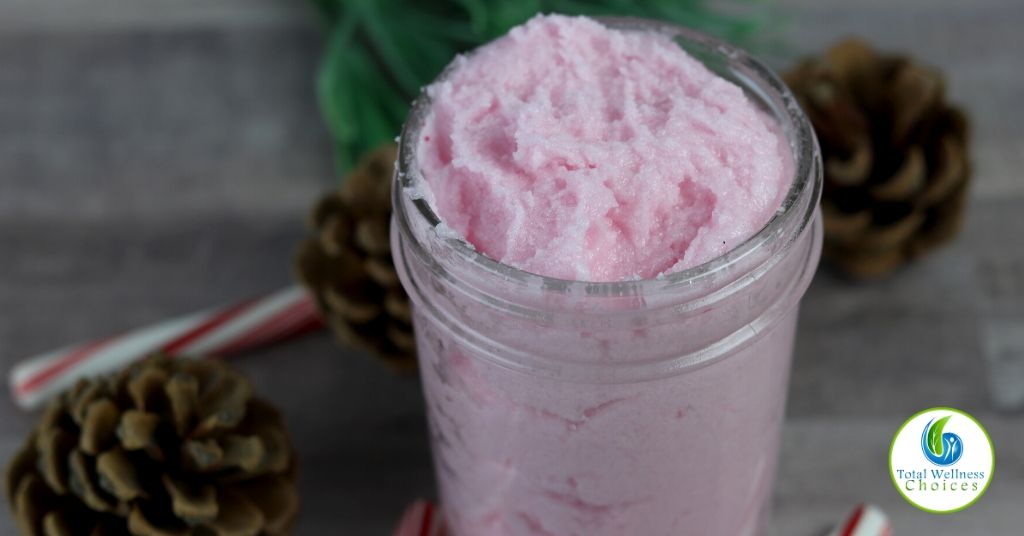 These statements have not been evaluated by the Food and Drug Administration. This article is for educational and informational purposes only and does not intend to diagnose, treat, cure, or prevent any disease or health condition. It is always recommended that you seek the advise of your private medical doctor.