This post may contain affiliate links. I may be compensated if you make a purchase through a link on this page.
Best Essential Oils for Varicose Veins and How to Use them Effectively!

We are going to take a look at the best essential oils for varicose veins today!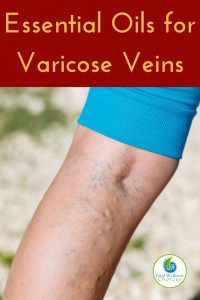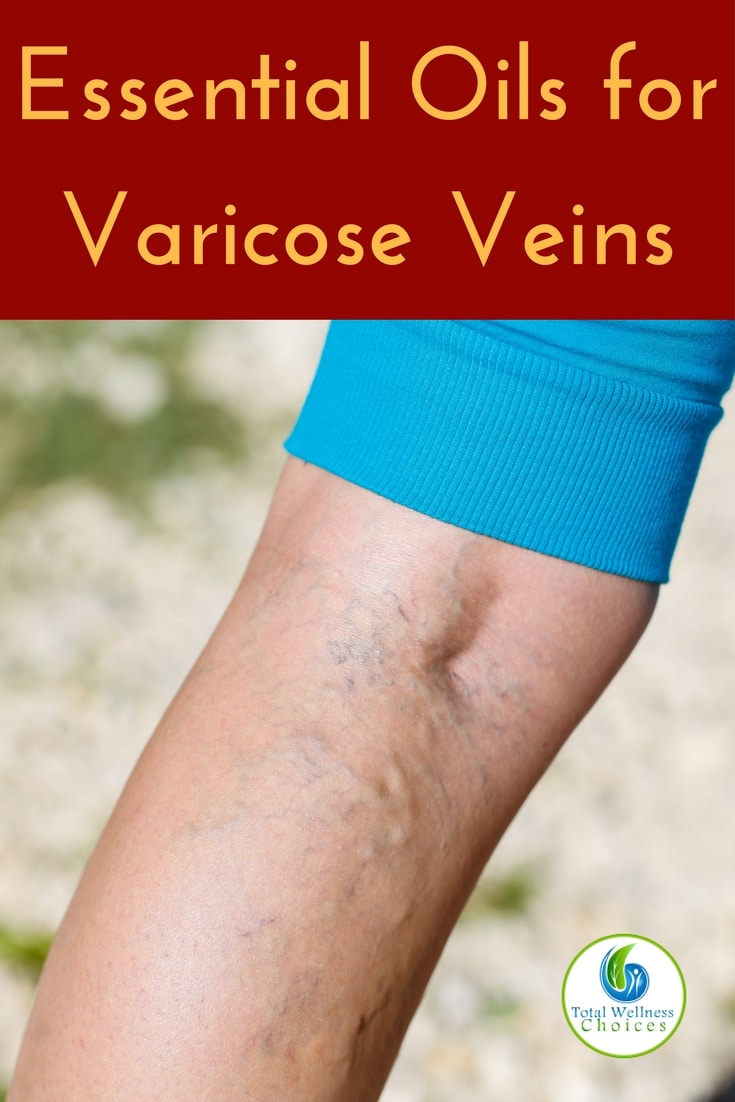 Varicose veins painful and unsightly! Even though I do not have them, I had a friend who did have them and they apparently got worse when she got pregnant.
She always complained about them a lot – the pain, itching and unsightliness.
Varicose veins are bulging twisted veins that appear under the surface of skin most often in the legs and feet.
So why do the vein become enlarged and twisted in the first? The fact is, the veins are supposed to carry blood from your body to the heart and not the reverse.
However, there could be a malfunction in the one-way valve that prevents blood from going back into the veins. This malfunction is often caused by the weakening of the valve!
If that happens, the blood that is supposed to go the heart often finds its way back to the veins where it pools, causing the veins to get bigger.
Varicose veins may not be dangerous, but they can cause a lot of pain, discomfort, inflammation and general fatigue. They are also prone to bruising (especially in elderly people) and can cause swelling in the legs.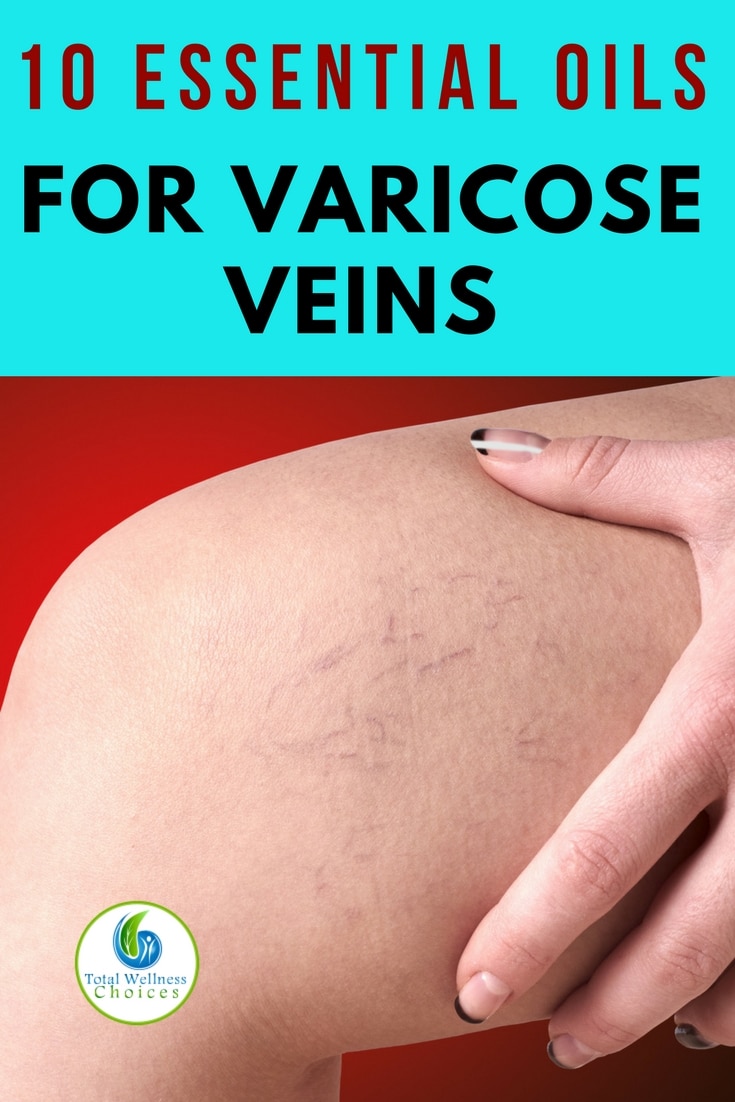 10 Best Essential Oils for Varicose Veins
Geranium – Soothes irritated skin, relieves inflammation, eases pain and reduces swelling.
Cypress – Relieves inflammation, boosts blood circulation, reduces pain and swelling.
Rosemary – Has anti-inflammatory effects, relieves pain and reduces swelling.
Peppermint – Calms inflammation, soothes sore muscles, improves circulation, relieves pain and reduces swelling.
Roman chamomile – Calming and assuring EO that helps to calm inflammation reduce pain and soothe irritated skin.
German chamomile – Has anti-inflammatory effects, soothes skin irritation, relieves pain and helps to reduce swelling
Helichrysum Italicum – Great oil for the skin, calms inflammation, soothes irritation and reduces scars
Patchouli – Calms inflammation, rejuvenates damaged skin, soothes irritated skin and relaxes nervous system
Black pepper – Calms inflammation, reduces swelling and relieves pain
Lemon – Nourishes the skin, increases circulation and reduces swelling.
Although there are other essential oils that can be used for varicose veins, the above are the top ten in my list.
And it is important to note that you don't need all the ten EOs, you only need a few to make an effective blend.
Read on on to learn how to use the oils the safely, the right way and effectively!
Safety First When Using Essential Oils
If you have never used a certain essential oil it is important to do a skin patch test prior to topically using! See my sections on topical use and other essential oil safety concerns:
How to Use Essential Oils for Varicose Veins
The best way to use essential oils to shrink varicose veins is massage! However, it is important to note that regular massage method is NOT ideal for varicose veins.
This is because the pressure of traditional massage may cause damage to tiny capillaries in those who are weak or frail especially the elderly.
That is why using essential oil for this condition is ideal and quite helpful. Because essential oils are very potent you do NOT need to apply pressure for it to work!
Add a small portion of the blend into your palm, rub your palms together.
Hold your ankle gently; use one palm to sweep through your leg smoothly and gently and in upward directly. Avoid pressing on the varicose veins.
Daytime Massage Blend for Varicose Veins
Remember that you can use any carrier oil for this – fractionated coconut oil, olive oil or sweet almond oil.
Direction
Blend the carrier oil and essential oils together in a glass bottle. Use a small portion of the blend to massage your leg using the massage technique mentioned above.
Massage Blend for Nighttime
Direction
Pour the carrier oil into a glass bottle, add the essential oils and shake very well. Use a portion to massage your leg.
Other Natural treatments for Varicose Veins
Garlic – Garlic helps to reduce inflammation, flush out toxins from the blood and increase circulation, which are all helpful for treating varicose veins. You can use garlic topically or take the supplements.
Rutin – A bioflavonoid that helps to strengthen the walls of the veins. It may also help to relieve pain and swelling associated with varicose veins.
Gotu Kola – This may help improve circulation and reduce swelling (you should not take Gotu kola if you have heart disease or any pre-existing health condition).
Fiber – Eat fiber rich foods to avoid constipation because constipation increases pressure on the veins
Exercise – This helps to improve circulation, Walking is the best exercise for varicose veins.
Compression Socks – These help to increase circulation and relieve varicose veins.
Compression Socks for Men & Women, L/XL
7 Pairs Compression Socks For Women and Men, Small / Medium
Risk Factors
Some of the factors that can make you prone to varicose veins include:
Essential oils are just one of the many natural ways to help the symptoms of varicose veins! Find out the other natural ways to help with varicose veins.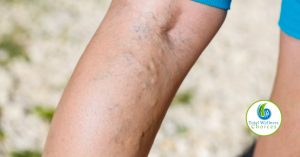 These statements have not been evaluated by the Food and Drug Administration. This article is for educational and informational purposes only and does not intend to diagnose or treat any disease. It is always recommended that you seek the advise of your private medical doctor.