This post may contain affiliate links. I may be compensated if you make a purchase through a link on this page.
The Best Essential Oils for Rheumatoid Arthritis to Help Reduce Inflammation, Pain and Stiffness!
Finding the best essential oils for rheumatoid arthritis can help you relieve arthritis pain naturally!
Rheumatoid arthritis is an auto-immune disease caused by inflammation that damages the joints. Symptoms include stiffness and pain in the joints, swelling, redness and limited range of motion.
This painful condition affects millions of people across the globe.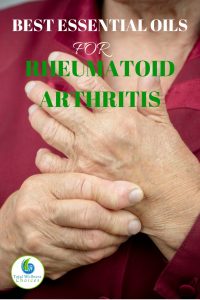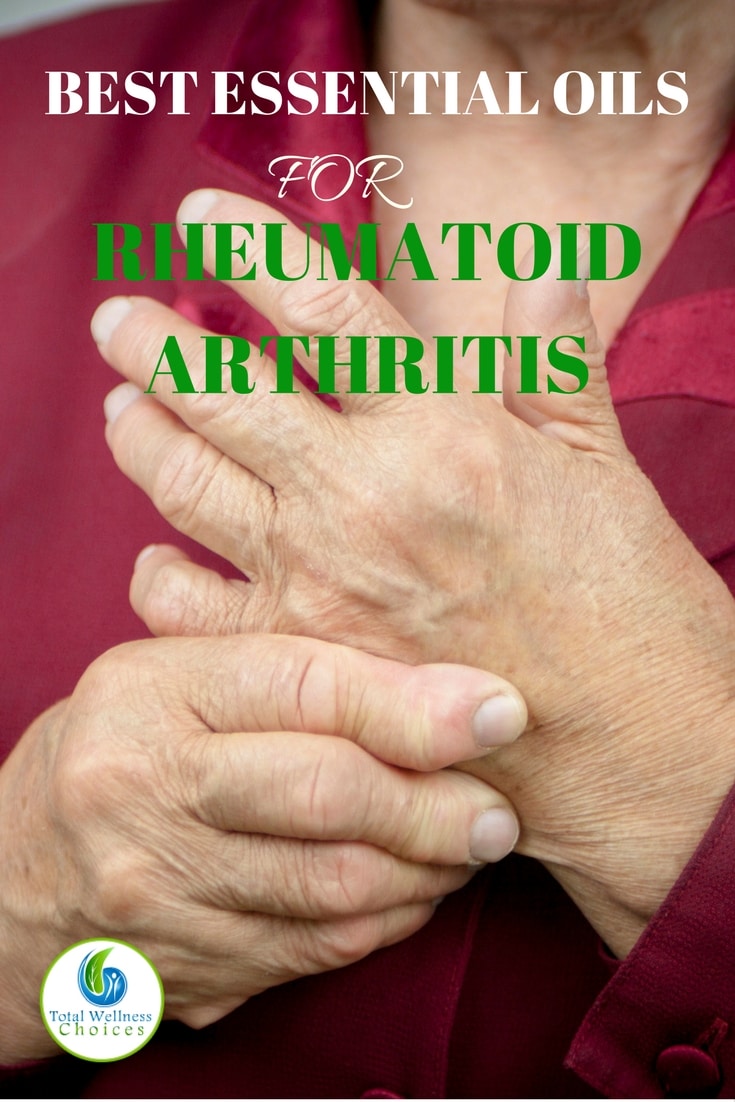 Severe arthritis pain interferes with your life and it can prevent you from doing the things you enjoy doing. It may keep you from playing with your kids or holding down a job. The pain can be overbearing at times so that all you want is a little relief.
One of my family friends suffers from severe rheumatoid arthritis, so I know how debilitating the pains can be!
However, the good news is, you can use essential oils to help relieve arthritis pain. Some oils contain anti-inflammatory properties believed to reduce inflammation and swelling. And some have analgesic properties that help ease the pain associated with this condition.
In a Hurry, Check Out this Essential Oil Blend for Arthritis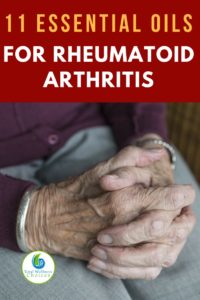 If you have arthritis and you haven't tried essential oils yet, why not give it a go and see if helps? Even a little relief from pain or inflammation would definitely make it worth it.
First you need to begin with knowing which oils to use. Also, if you've never used EO before, then it's important that you take some time to learn how to use them correctly.
Some of these oils are very potent and they need to be used correctly to be safe.
Some of the Best Essential Oils for Rheumatoid Arthritis include:
1) Birch EO – One of the best essential oils for RA, birch has anti-inflammatory and anti-spasmodic properties that help to reduce joints and muscle pain. It also contains methyl salicylate and salicylic acids, which may also be helpful in reducing pain in the joints and muscles.
Not recommended for children or teenagers (up to age 19) due to the salicylate/salicylic acids and potential to cause REYE'S SYNDROME!
2) Peppermint – Peppermint oil is rich in anti-inflammatory and analgesic properties that help to reduce inflammation and pains associated with rheumatoid arthritis.
3) Ginger – Not only is ginger widely used as spice for culinary purposes, but ginger EO is also used for therapeutic purposes for several health conditions including arthritis. This is because of its anti-inflammatory properties.
4) Turmeric – The main active ingredient in turmeric is called curcumin. It is proven to have potent anti-inflammatory effects that can help people manage rheumatoid arthritis.
Ginger 100% Pure Essential Oil by Edens Garden- 5 ml
NOW 100% Peppermint Essential Oil, 1-Ounce
Turmeric 100% Pure Essential Oil by Edens Garden- 10 ml
5) Orange – This is one of the best essential oils for rheumatoid arthritis as it is rich in potent anti-oxidants and anti-inflammatory properties that help to fight pain.
6) Lemongrass – It has astringent and diuretic effects, thus it reduces swelling by drawing away fluid from the body. Little wonder it is effective at relieving arthritis pain. It is a great option for those allergic to aspirin or taking blood thinners as its anti-inflammatory properties are not derived from salicylates.
7) Frankincense – Helps to block the production of inflammation in the body, thus preventing damage to the cartilage. It is also rich in monoterpenes and sesquiterpenes, which have healing effects.
8) Myrrh – Reduces swelling in the joints, there by reducing the associated pains
9) Eucalyptus – Has strong anti-inflammatory effects that can produce quick relief from pain
10) Rosemary – Rosemary oil contains rosmarinic acid, which has anti-inflammatory and anesthetic effects and help in reducing arthritis pains as well as inhibits arthritis progression.

11) Lavender Oil – Lavender has anti-inflammatory and pain relieving properties that make it effective for arthritis pain. Its relaxing and soothing effects are also very helpful for joint pain and stiffness.
These oils are popular because they have therapeutic properties believed to naturally reduce inflammation and promote healing while easing the joint stiffness and pain associated with arthritis.
Some of these rheumatoid arthritis essential oils also promote good circulation, which may help with this condition.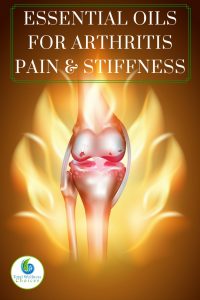 How to Use Essential Oils for Rheumatoid Arthritis
You can use these oils topically. Simply add a couple of drops to your favorite carrier oil and massage into the skin around the affected area.
It should help to reduce inflammation and relieve the pain.
If you prefer, you can add a few drops of your mixture to warm bathwater and allow the oils to soak into your skin as you relax in the tub.
Blend Essential Oils for RA to Increase their Effectiveness
Blending oils together increases their effectiveness so you get better results.
Blending is easy but you do want to choose oils that work well together. For example, when blending oils to treat arthritis, you would want one that contains anti-inflammatory properties and one that has a pain killer.
Essential Oil Recipe for Arthritis Pain Relief

Use the essential oil recipe for arthritis as a reference to make your own blend.
Blend in a separate small amber glass bottle.
For acute pain you might use the 5% dilution. (Up to 1 or 2 weeks.)
For moderate pain you might use the 3% dilution. (Up to 3 or 4 weeks.)
For chronic pain most essential oil experts recommend using 1% to 2% (or even less) dilution. (For long term.)
The above are suggestions only! I always recommend that one use the lowest percentage of essential oil that is needed and for the shortest time frame possible.
Please take into consideration age. For the elderly with delicate skin I would cut the dilution rate even more and not go above the 2 to 3% dilution for acute pain.
This recipe is closer to 15% dilution and should only be used once or twice, in a VERY ACUTE PAIN situation for a healthy individual.
Blend the essential oils listed above and add to bottle using the following recommendations:
1) For a 2% dilution – use 3 – 4 drops of the blend
2) For a 3% dilution – use 5 – 6 drops of the blend
3) For a 5% dilution – use 8 – 10 drops of the blend
Put into a 10 ml roller bottle and fill up with a carrier oil of choice. Use to massage the affected area!
Always mix with carrier oil before applying to the skin or adding to bath water to prevent skin irritation.
Plant Therapy Coconut (Fractionated) Carrier Oil 4 oz
100% Pure Carrier Oil VARIETY-4 PACK- 4 Ounce
Essenzia Essential Oil Tools & Accessories – Carrier Oil Kit
Thousands of people use essential oils everyday to help ease their rheumatoid arthritis pain. Since essential oils are natural, they're believed to be healthier and safer to use.
Are you ready to give them a try? Just choose from the best essential oils for rheumatoid arthritis mentioned above!
Truth be told, essential oils may be exactly what you need to relieve arthritis pain naturally.
You should consult your doctor before using essential oils if you are pregnant or nursing a baby!
Always, do a skin patch test prior to topically using an essential oil you have never used before! See my sections on essential oil safety: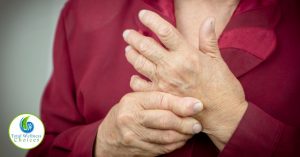 These statements have not been evaluated by the Food and Drug Administration. This article is for educational and informational purposes only and does not intend to diagnose, treat, cure, or prevent any disease or health condition. It is always recommended that you seek the advise of your private medical doctor.