This post may contain affiliate links. I may be compensated if you make a purchase through a link on this page.
.Discover 15 Best Essential Oils for Constipation to Help Your Bowel Movement!
I have suffered from constipation on and off, so I'm always looking for natural ways to relieve constipation.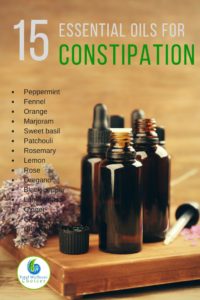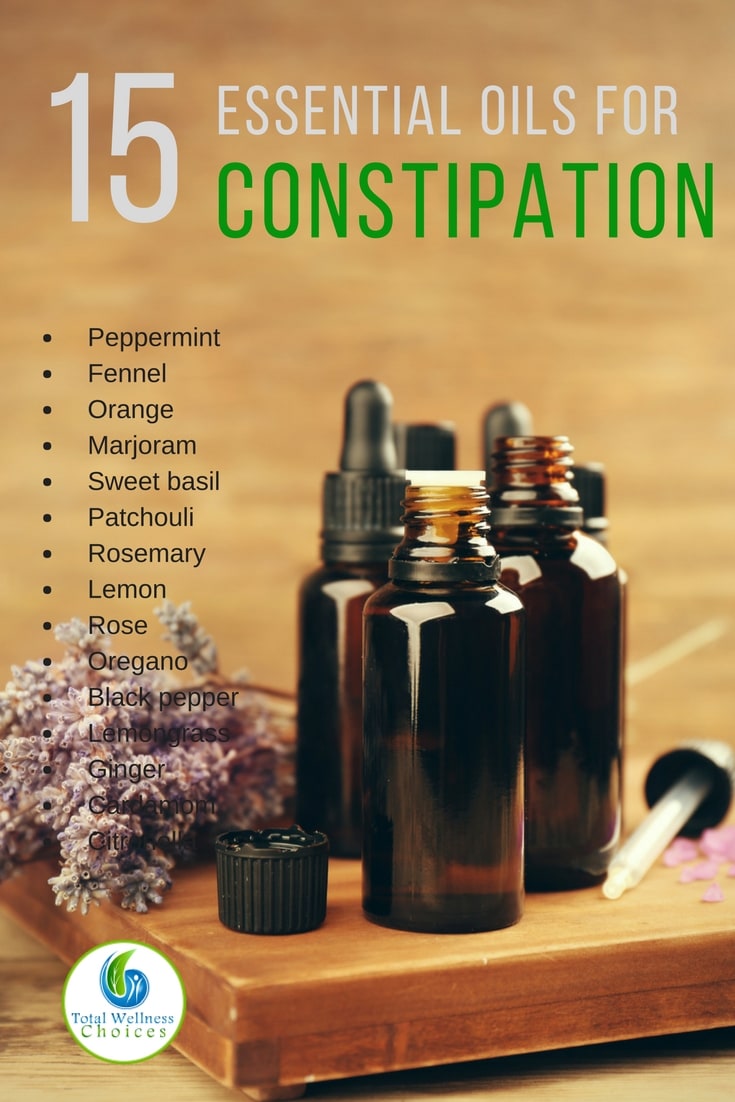 And I have discovered that finding the best essential oils for constipation can help me alleviate this digestive problem.
Essential oils are so versatile that people use them for all types of health issues, including constipation.
Certain oils have therapeutic properties that can help ease digestive issues.
Therefore people use them for Irritable bowel syndrome (IBS) and other digestive problems such as heartburn, indigestion and bloating.
Simply choose the aroma you personally like best and you're ready to get some relief from your problem naturally.
And this is without all the cramps and other side effects many medications cause.
The Best Essential Oils for Constipation
Orange
Marjoram
Sweet basil
Patchouli
Rosemary
Lemon
Rose
Oregano
Black pepper
Lemongrass
Ginger
Cardamom
These are considered some of the best essential oils used for constipation because they help to promote overall good digestive health.
How to Use Essential Oils for Constipation
Here are some of the various ways to use essential oils for constipation relief:
Massage with Essential Oil to Relax Your Abdomen
The most popular way to use essential oils for constipation is to gently massage your abdomen with it. Before applying to your skin, dilute the essential oil with carrier oil (coconut oil or sweet almond oil).
You can also learn how to use coconut oil for constipation here.
The carrier oil makes it safe to use the essential oil on your skin without reducing the oils effectiveness. You can use a single EO or a blend.
Safety When Using Essential Oils
Always, do a skin patch test prior to topically using an essential oil you have never used before! See my sections on essential oil safety:
Ingredients:
Direction:
Use your fingertips to massage the oil into your skin using circular motions. Then, start at the top of your stomach and move your hands downward as you massage in the oil.
NOW Foods Peppermint Oil, 100% Pure Essential Oil 1 oz.
Plant Therapy Black Pepper Essential Oil. 100% Pure 1/3 oz.
Viva Naturals Sweet Almond Oil, Hexane Free for Skin & Hair 16 oz.
Essential Oil Infused Bath
Another option is to add 6-8 drops of EO blend plus some Epsom salt into warm bath water and soak for 20 or 30 minutes.
The oil will soak into your skin to help relieve symptoms of bloating and constipation. Breathing in the aroma will help you relax, which may also help.
Essential Oil Infused Hot Compress
Microwaveable Heating Pad (Red Plaid w/Bag)
Add a few drops of essential oil blend (essential oil (s) mixed with carrier oil) to a hot compress pad and place the warm compress on your abdomen. This will help to stimulate your digestive system.
Don't have a hot compress? No worries! You can use a towel to achieve the same result. Just soak the towel in hot water, add your essential oil blend (essential oils mixed with carrier oil) and apply on your abdomen.
Essential Oil Blends for Constipation

Blending different oils together will increase their effectiveness and it's easy to do. Generally, you'll blend oils that have similar scents.
This way, the scents will complement each other or you can blend oils that have similar therapeutic properties. For example, fennel and peppermint oil is a great blend for constipation.
When mixing your essential oils with carrier oil, you don't need a lot.
This should be enough for one use. When using a combination of essential oils to create a blend, adding 1-2 drops of each to the carrier oil will usually be sufficient.
In case you don't want to create the blend yourself, there are already made essential oil blends for digestion you can use.
Plant Therapy Gut Aid (formerly DiGiZen) Essential Oil Blend 1/3 oz
doTERRA DigestZen Digestive Blend Essential Oil 15 ml
Constipation is more than just uncomfortable. If left untreated it can cause a wide variety of other health issues.
However, essential oils provide you with a safe and natural way to ease your symptoms and eliminate the cause so you feel better, faster. Combining essential oils with foods that help digestion can help relieve your constipation.
They may also provide other health benefits that you won't get with prescription or over-the-counter medicines and it's much gentler to use.
These statements have not been evaluated by the Food and Drug Administration. This article is for educational and informational purposes only and does not intend to diagnose, treat, cure, or prevent any disease or health condition. It is always recommended that you seek the advise of your private medical doctor.