This post may contain affiliate links. I may be compensated if you make a purchase through a link on this page.
Constipated? Learn about the Best Natural Laxatives for Constipation!
Constipation is a pain, but it is a problem that affects many people….Just know you are not alone!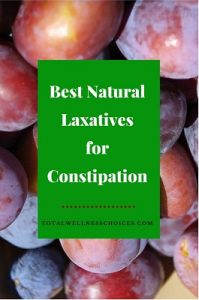 So in this article, I will share the best natural laxatives for constipation.
These natural home remedies are inexpensive and for most people do not have adverse side effects.
If you have any health problems, have chronic bowel or constipation issues, see blood in your stools, have black or tarry stools, have severe abdominal pain, or vomiting with constipation you need to consult with a physician!
Before trying any natural or home remedy I always recommend consulting first with your primary care physician!
What is constipation?
Medically a person is constipated when he has less than 3 stools per week.
Many people think that performing a bowel movement every 3 days is natural.
But since on average we eat three meals a day, we should be emptying the bowel at least once a day.
Why Use Natural Laxatives for Constipation
Most of the medications for constipation are choked full of chemicals that do more harm than good to your body. Why choose something that has adverse side effects when there better natural alternatives that REALLY work?
So, if you want to know how to relieve constipation without medicine, you will find the natural laxatives featured here very helpful.
Prunes and Prune Juice – Classic Natural Laxatives for Constipation
Prunes are a classic natural cure for constipation for adults as well as children.
They are high in fiber. One cup of pitted prunes contains 12g of fiber, and the recommended daily intake of fiber is 25 to 30g.
Prunes are not only high in fiber but they also contain sorbitol. Sorbitol is a carbohydrate which draws lots of water as it passes through the intestine. It also adds bulk to the stool.
I love the Sunsweet brand because it always tastes fresh and delicious!
Drink one glass of prune juice in the morning and one in the evening. Let the one glass pass through the intestine before drinking the next glass of prune.
Prune juice does not have the fiber content as the dried fruit as it has been filtered. So for best results eat the whole prune.
​Blackstrap Molasses – Great Natural Laxative for Constipation
This is one of the best natural remedies for constipation. Blackstrap molasses is made by boiling down cane sugar or beet sugar to a syrup. The sugar crystals are removed and the dark colored liquid that remains is the molasses.
Molasses contains lots of minerals and vitamins. like magnesium which helps to overcome constipation. The magnesium is good for constipation as it helps to hydrate the intestine.
Take a tablespoon of blackstrap molasses at night and you will see results in the morning.
Do not take blackstrap molasses every day without consulting with your doctor.
Blackstrap molasses is affordable, so go for unsulphured and organic one to avoid ingesting any chemicals and unpleasant taste of sulphur.
Relieve Constipation Fast Naturally with the Good Old Castor Oil
Castor oil has been used for years as a natural remedy for constipation. All you need is 1 to 2 teaspoons of castor oil on an empty stomach. This will work quickly and you should see results within 8 hours. So, if you want to relieve constipation fast naturally, then you should try castor oil. Do not consume castor oil if you are pregnant as it can cause contraction of the womb.
Coconut Oil for Constipation
You can also use coconut oil to relieve constipation. However, you need to make sure that you don't overdo it because consuming too much coconut oil can lead to diarrhea.
The Miraculous Apple Cider Vinegar
If you have read about apple cider vinegar you know that it has many wonderful properties. Apple cider vinegar also helps to relieve constipation. Though there are no official studies supporting these claims.
It is best to use an organic unfiltered apple cider vinegar. Mix a tablespoon of apple cider vinegar in warm water and drink it every morning on an empty stomach. Wait for 10 minutes before you have your breakfast.
Apple cider vinegar also acts as a natural probiotic, nourishing the gut flora.
Use preferably organic raw apple cider vinegar. If you can not drink it because of the smell, then you can always use these supplements.
Baking Soda – The Versatile Natural Laxative for Constipation
Baking soda is versatile and can help to relieve constipation the natural way.
The bicarbonate is thought to help by letting air come out and relieving pain. It also pulls water into the digestive tract and that helps with muscle contractions.
It might not taste good, but it works most of the time. Before trying this remedy, especially if you are on prescription medications, or have any medical problem, I recommend consulting with your physician!
Take one teaspoon of baking soda in 1/4 cup of warm water. Drink it all. You will experience results quite quickly.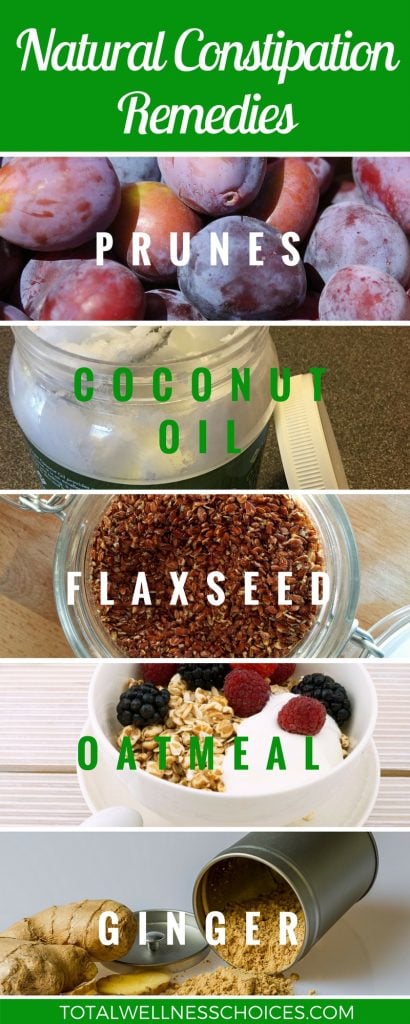 Epsom Salts are Great Natural Laxatives for Constipation

Epsoak Epsom Salt (Magnesium Sulfate USP) with Resealable Bag, 10 Pound
Epsom salts have different uses, and one of the great uses is, as a natural laxative. Epsom salt contains magnesium, which helps with the contraction of the bowel muscles.
Epsom salt also draws water making the stool softer and easier to pass.
But before consuming Epsom Salts consult with your doctor as some people cannot take it and it may interfere with certain medication.
Dilute 2 teaspoons of Epsom salt in a warm cup of water and drink it.
For children use only 1/2 teaspoon. You should see results within 4 hours. If not, repeat once more.
But don't over-do it, I used too much once and it caused me diarrhea….it wasn't a pleasant experience.
Use the right dosage and you will be all fine!
Essential Oils for Constipation
Essential oils are among the best natural remedies for constipation. In fact, these essential oils are known in the natural community to help relieve constipation without the adverse side effects of prescription or OTC laxatives.
Seeds are Natural Laxatives for Constipation
Some seeds are natural remedies for constipation. You probably already have them in your kitchen cabinet.
Ground Flax Seeds
Flax seeds are known as one of the best natural laxatives for constipation. Flax Seeds are high in fiber and they also contain mucilage.
Mucilage is a thick gluey substance that coats the digestive tract. This makes the stool soft and bulky easing the bowel movement.
It is best to use ground flax seed. You can buy already ground seeds or grind them yourself.
Mix 1.5 tablespoons of ground flax seeds in 5 oz of water, and drink it.
If you prefer you can mix the ground flaxseeds with your food.
Drink lots of water when having flaxseeds as it requires water to get best results.
Viva Naturals Organic Ground Flax Seed, 15 oz – Specially Cold-milled Using Proprietary Technology for Optimal Smoothness and Freshness
Chia Seeds
Chia seeds are also high in fiber. Add chia seeds to your food, or soak it in water. When soaking the seeds, the water will take on a gel-like consistency.
This gel substance will help with forming a soft stool and easing constipation. Drink the gel or mix it with your food.
You can also add whole chia seeds to your porridge, cereal, salads and smoothies.
You do not need to grind the chia seeds, just soak the whole seed in water and drink or eat the seeds like that.
Due to a possible choking hazard for some people because of how the chia seeds expand, consult with your physician before using chia seeds if you have a history of any choking or swallowing problem!
Fennel Seed Powder – One of the Best Natural Laxatives for Constipation

Fennel Seed powder is very effective for constipation. Take about half a teaspoon of fennel powder in a glass of room temperature water. Repeat 2 to 3 times a day
Kiva Organic Chia Seeds – PREMIUM GRADE – Raw, Non-GMO and Vegan (1 Pound Bag)
Starwest Botanicals Organic Fennel Seed Powder, 1 Pound
Water: Natural Cure for Chronic Constipation
Prodyne Fruit Infusion Flavor Pitcher
Water is one of the best cures for constipation without using medication.
Water is essential to have a soft and easy bowel movement. The intestine needs water to allow the stool to pass through.
If it is not hydrated it will look for water from other parts of the body, but then that will cause another problem. You will end up dehydrated.
Water also helps the stool to become soft resulting in a pain-free trip to the bathroom.
Drink a large glass of water as soon as you wake up. Then drink 6 to 8 glasses of water during the day. It has never been easier to have water available wherever you go.
Add some cucumber oranges or any other fruit you like to the water to make the water more palatable.
Do not buy already infused water as that is not the same as preparing your own infused water.
Nalgene Tritan Wide Mouth BPA-Free Water Bottle, Spring Green, 1 Quart
Infusion Water Bottle Leak Proof Flip-top Sport Water Bottle BPA-Free Tritan 25 Oz (Purple)
Best Sports Water Bottle – 32oz Large – Fast Flow, Flip Top Leak Proof Lid w/ One Click Open
Exercise – A Natural Way to Relieve Constipation
Exercise is a natural way to relieve constipation because movement stimulates bowel activity. It doesn't have to be strenuous exercise. A simple 10 minutes walk, or some yoga or stretching could get the colon moving.
Exercise also helps to strengthen the muscles of the colon which helps with the bowel movement.
Squatting Stool for Bowel Movement

Squatty Potty The Original Bathroom Toilet Stool 7
Squatting is a natural position that tells our body it is time to perform a bowel movement.
It provides a clearer and wider passage for the stools. Thus, making the bowel movement process easier and less strenuous.
Squatting also reduces the risk of tearing the anal lining.
Fiber Rich Foods – Efficient Natural Way to Cure Constipation
The Western diet increases the risk of suffering from constipation. The Western diet is based on animal protein and very little fiber.
But our bodies need fiber to help our digestive system function correctly.
A natural cure for constipation you should really try is to increase the amount of fiber you consume. There are different ways to increase the amount of fiber.
Fruit and vegetables have a large amount of fiber. If you want to solve the constipation problem forever, switch to a whole food plant based diet. This diet is based on unprocessed foods rich in fiber.
If you eat more fruits and vegetables, which are not only rich in fiber, but also in minerals and vitamins, then you can kiss goodbye to your constipation.
Forks Over Knives – The Cookbook: Over 300 Recipes for Plant-Based Eating All Through the Year
The China Study: Revised and Expanded Edition: The Most Comprehensive Study of Nutrition
The Plant-Based Journey: A Step-by-Step Guide for Transitioning to a Healthy Lifestyle
Some of the best fruit and vegetables to consume are:
Pears
Apples
Oranges
Sweet Potatoes
Broccoli
Spinach
Try to eat fruit and veggies with the peel, as the peel is high in fiber.
Broccoli, spinach and other green leafy vegetables are also a high source of magnesium, which helps with constipation.
The above mentioned home cures for constipation are not for everyone. If you are not prepared to change your lifestyle you can try these fiber capsules.
Now Foods Fiber Powder, Organic Acacia, 12-Ounce
Kirkland Signature Kirkland Fiber Capsules, 2 pack
Metamucil Daily Fiber Supplement, 100% Natural Psyllium Husk
The best natural laxatives for constipation mentioned above are not the only ones available. There are many safe and natural ways to deal with constipation.
Always try natural ways before opting for medications. And remember, medications most often have adverse side effects!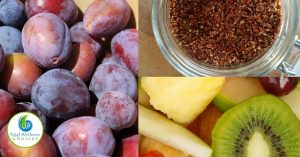 These statements have not been evaluated by the Food and Drug Administration. This article is for educational and informational purposes only and does not intend to diagnose, treat, cure, or prevent any disease or health condition. It is always recommended that you seek the advise of your private medical doctor.