This post may contain affiliate links. I may be compensated if you make a purchase through a link on this page.
Sensitive to Lactose? Here are the Best Dairy Free Probiotics You can Use!

If you are lactose intolerant, finding the best dairy free probiotics to use to balance your digestive system is definitely important.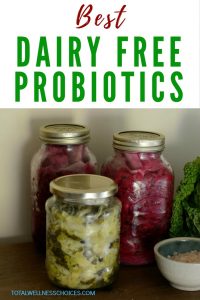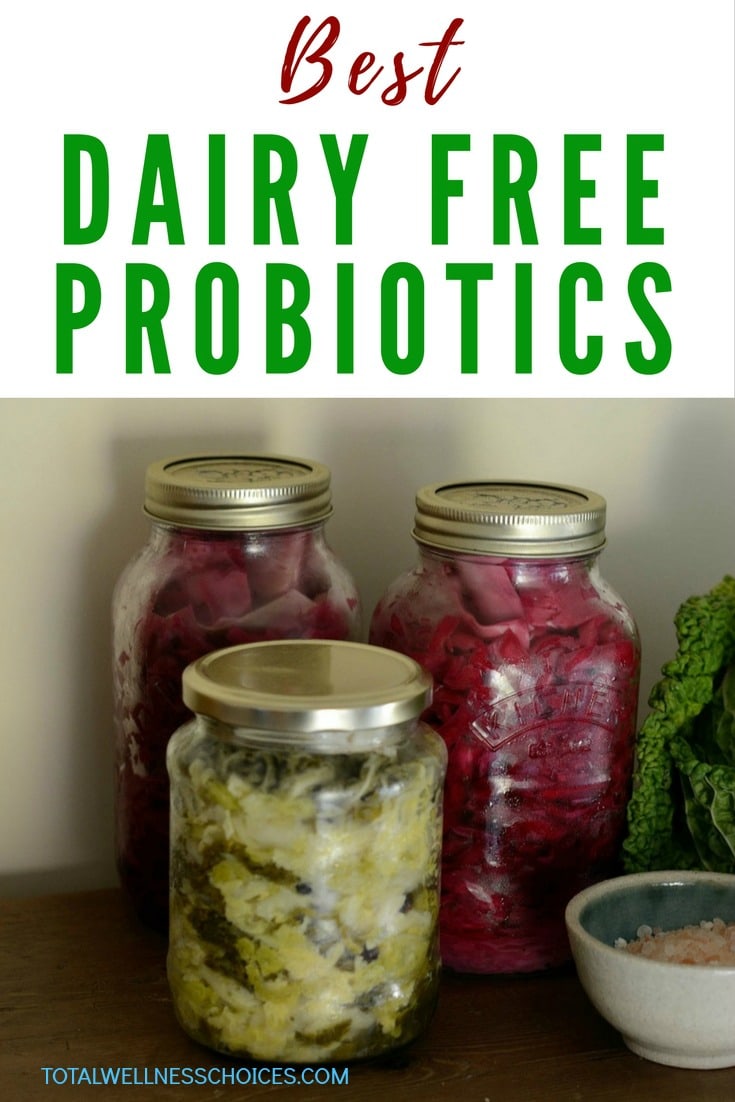 The human body is filled with all kinds of bacteria. In fact, the human body provides a home for more than 500 different kinds of bacteria.
Some of these bacteria are harmful and cause illnesses and diseases, while others known as the "good bacteria" are actually necessary to keep you healthy.
Probiotics are good bacteria that help you digest food and absorb nutrients. They also fight yeast infections, keep the intestines healthy and contributes to the health of the immune system.
However, certain illnesses occur when the balance between the bad bacteria and good ones is disrupted.
This may occur due to a variety of different situations including the use of antibiotics and other medicines This imbalance may also be caused bu various types of illnesses as well as some changes in diet.
When level of the good bacteria falls, it is important to replenish this it as soon as possible. Luckily, you can replace those "good guys" by consuming probiotic foods or supplements.
NOW Foods Probiotic-10 25 Billion, 10 Probiotic Strains 50 Veg Capsules
Pure Encapsulations Probiotic 5 – Dairy and Soy Free Probiotic Blend 60 Capsules
BIOPRO-50 Ultimate Probiotic Supplement – 50 Billion CFUs & 11 Strains – Vegan, Gluten, Dairy Free
Dairy Free Probiotic Yogurt

When most people think of probiotics they think of yogurt. And in fact yogurt is a wonderful source of about 7 different strains of probiotics. It is also easy to find in your grocery store.
However, the majority of yogurt available on the market is made with dairy. And there are many people today who who are lactose intolerant, making them unable to consume dairy at all.
Which leaves people wondering if there are dairy free yogurts available. And the answer is yes, there are some good non dairy yogurt choices out there on the market.
Or you can even make your own yogurt with ingredients of your choice.
It is not difficult to make, the machines are inexpensive and you can use this Vegan Yogurt Starter Culture.
Naturally Fermented Sauerkraut – One of the Best Non Dairy Probiotic Foods
Naturally fermented sauerkraut (not the kind canned in vinegar) is also a good source of probiotics. And it tastes good as well.
Other Fermented Vegetables
You can also get probiotics from a variety of other naturally fermented vegetables such as cucumbers and beets. Remember not to buy vinegar based products as vinegar is naturally antibacterial.
Fermented vegetables can be used in a variety of salads and other dishes providing you with a healthy and good tasting meal.
Cleveland Kraut Sauerkraut 4-pack (Beet Red Sauerkraut)
Golden Beets with Carrot & Ginger, Raw, Fermented, Probiotic, Organic, 16 Oz
Miso and Other Fermented Soy Bean Foods – Great Non Dairy Probiotic Foods

Miso and other soy based foods that are fermented like other fermented vegetables also provide a wealth of probiotics for those wishing to eat dairy free.
You do need to keep in mind that Miso does contain high level of sodium.
So even though Miso is one of the best dairy free probiotics, it may not be a good choice for people with heart disease or edema.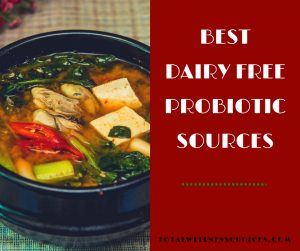 Coconut or Almond Milk Kefir – Non Dairy Probiotic Drinks

Traditional Kefir is made from cows or goat milk but you can buy coconut or almond kefir, which is a fermented drink.
The great thing about Kefir is that it contains 36 to 46 strains of different probiotics as opposed to the 7 strains found in yogurt.
You can either make your own Kefir or buy it in the store.

Water Kefir Grains
Non Dairy Probiotic Supplement
The best dairy free probiotics also come in the form of dietary supplements. These supplements usually come in capsule form and they are convenient and easy to take any time of the day.
For people who need to remain gluten free some of these supplements also come free of gluten as well dairy.
When taking a supplement of any kind, look for a supplement made with all natural ingredients that do not contain fillers.
Try to avoid those supplements that have artificial coloring or flavors. This is important because people have allergies to artificial colors and flavors and may not even know it.
Remember that in the end you are the person who has the most to lose if your health isn't as good as it could or should be. You are also the most to gain by making the best choices for your health.
Take the time to really understand the role probiotics play in keeping you healthy. Then choose the best way to ensure that your probiotic levels stay balanced and healthy.
PRO45: #1 CLINICAL GRADE Probiotic Formula, 45 billion CFU, 11 patented strains. Dairy Free.
BIOPRO-50 Ultimate Probiotic Supplement 50 Billion CFUs & 11 Strains, Vegan & Dairy Free.
Kyolic Kyo-Dophilus Digestion and Immune Health Probiotic Supplement (90-Capsules)
These statements have not been evaluated by the Food and Drug Administration. This article is for educational and informational purposes only and does not intend to diagnose, treat, cure, or prevent any disease or health condition. It is always recommended that you seek the advise of your private medical doctor.