This post may contain affiliate links. I may be compensated if you make a purchase through a link on this page.
Discover How to Use Coconut Oil for Joint Pain Relief and Learn How to Make Your Own Salve!
Did you know that you can use coconut oil for joint pain relief? Joint pain can be quite debilitating. When you try to get out of bed in the morning and everything cracks and creaks, it does damage to your morale.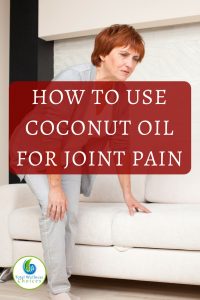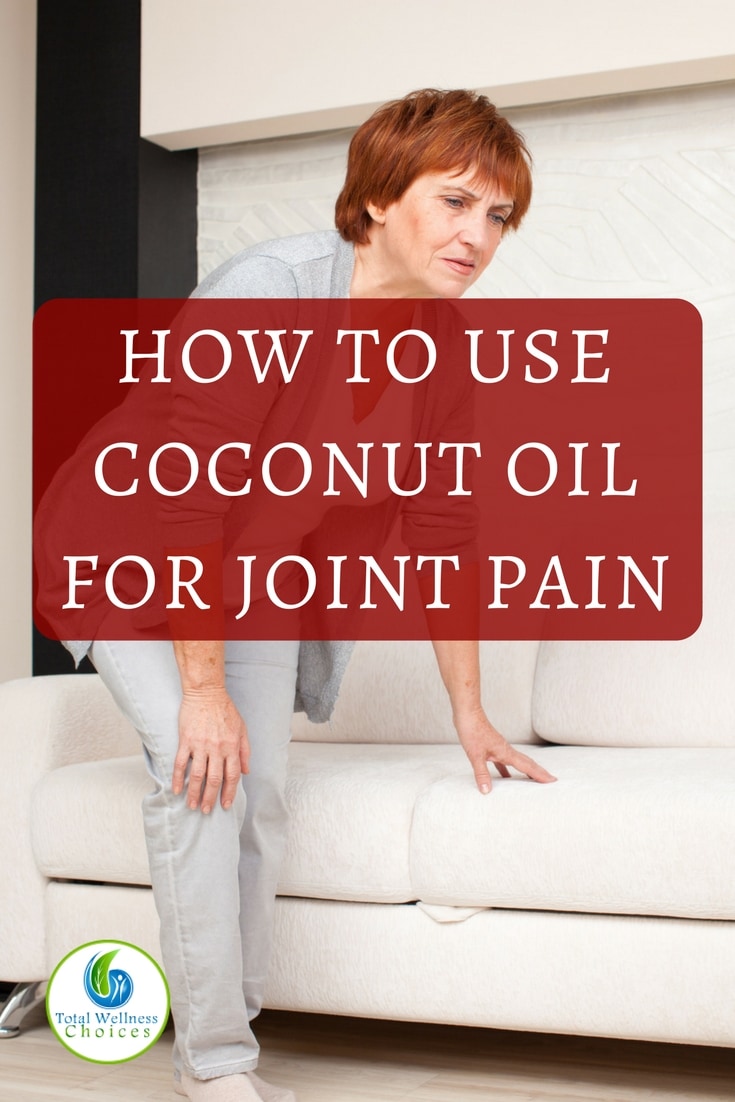 In fact, it appears that your joints are moaning their protests. That is why you should be interested in learning about how to use coconut oil for joint pain.
We all want a more natural method of approaching the things that ail us. And, there has been some significant research suggesting that coconut oil can aid in fighting that joint pain we despise.
Research shows that the antioxidants found in virgin coconut oil helps to reduce arthritic inflammation successfully.
Since arthritis is a huge contributor to joint pain, this is a radical discovery. Of course, this information is only valid when virgin coconut oils are used.
The Benefits of Coconut Oil for Joint Pain
When recognizing the benefits of coconut oil in reducing joint pain, there is no doubt that you are wondering exactly how that pain reduction occurs.
Coconut oil is rife with properties that are known to directly fight pain. It is anti-inflammatory and that aids in reducing the pain specifically associated with arthritis.
In truth, arthritis is kind of a catch all phrase that is applied to more than 100 different conditions associated with joints and pain.
It is probably the unique composition of fatty acids within coconut oil that make it so valuable in this fight against joint pain.
These fatty acids act as both lubricants and anti-inflammatory agents when ingested.
However, you can utilize coconut oil in topical applications as well. When applied to the painful joint, it has been shown to initiate the increase of blood supply to the area which ultimately reduces the localized swelling and pain being experienced.
Promoting circulation, as well as flexibility, can offer significant relief to people enduring arthritic and fibromyalgia pain.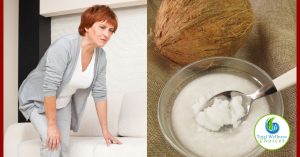 Recipes for Using Coconut Oil for Pain
Creating a rub for the pain you are enduring is probably a good idea. However, you might not be prepared to generate your own recipes without some serious assistance.
Therefore, I would like to offer you this recipe for a rub that works very well on stiff knees, shoulder pain, and even backaches.
Infused Herbs Coconut Oil Joint Pain Salve (Recipe #1):
To infuse the herbs the fast way, you can use a small crock-pot, set at low for roughly four hours. Just add the oils and herbs together.
Once you've completed the preparation time, strain it with cheesecloth to remove the herb pieces, then reserve that oil.
To make the salve, using a double boiler saucepan with water in the bottom saucepan, add the beeswax and herb infused oil. On low heat, stir the oil and beeswax until the wax has all melted. Whisk it and then place it in a clean glass container with a tight-fitting lid. Don't use it until it has cooled and solidified.
NOW Foods Lavender Oil, 2 ounce
NOW Foods Peppermint Oil, 1-Ounce
Beesworks® BEESWAX PELLETS 1lb
Essential Oils Coconut Oil Joint Pain Relief Salve (Recipe #2):
If you are still looking for another great pain relieving salve, we suggest you try the following recipe as well.
It adds some great pain relieving essential oils to the mix that should boost the positive effects of the coconut oil as well.
25 drops each of lavender and peppermint essential oils
½ oz beeswax (granules or beads are preferable)
2 cups coconut oil
If you don't have a crock pot for this recipe you can always utilize a double boiler or make one yourself. Allow the beeswax and coconut oil to melt over low heat in your double boiler or crock-pot.
When everything has melted, you can add the essential oils and then pour the mixture into a clean container with a good lid. Again, allow the salve to cool and solidify prior to attempting to use it.
You can use the rub or the salve as needed. Gently rub it into the aching or painful joint area and allow it to sink in and do its job.
The salve will offer some additional benefits because the peppermint will provide you with a cooling effect on the area in which it is applied. And then you will be well on your way to benefiting from coconut oil's pain reducing properties.
NOTE: Peppermint EO is not recommended to be used in children under the age of five. Because it can be neurotoxic to a young child do not apply around, or near the face!
NOW Foods Lavender Oil, 2 ounce
NOW Foods Peppermint Oil, 1-Ounce
Beesworks® BEESWAX PELLETS 1lb
Safety First When Using Essential Oils
If you have never used a certain essential oil it is important to do a skin patch test prior to topically using! See my sections on topical use and other essential oil safety concerns:
These statements have not been evaluated by the Food and Drug Administration. This article is for educational and informational purposes only and does not intend to diagnose, treat, cure, or prevent any disease or health condition. It is always recommended that you seek the advise of your private medical doctor.