This post may contain affiliate links. I may be compensated if you make a purchase through a link on this page.
Best Essential Oils for Restless Leg Syndrome May Give You the Relief You've Been Looking for!
Did you know that you can use essential oils for restless leg syndrome? Millions of people worldwide are affected by restless leg syndrome.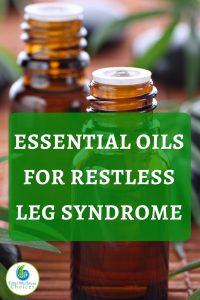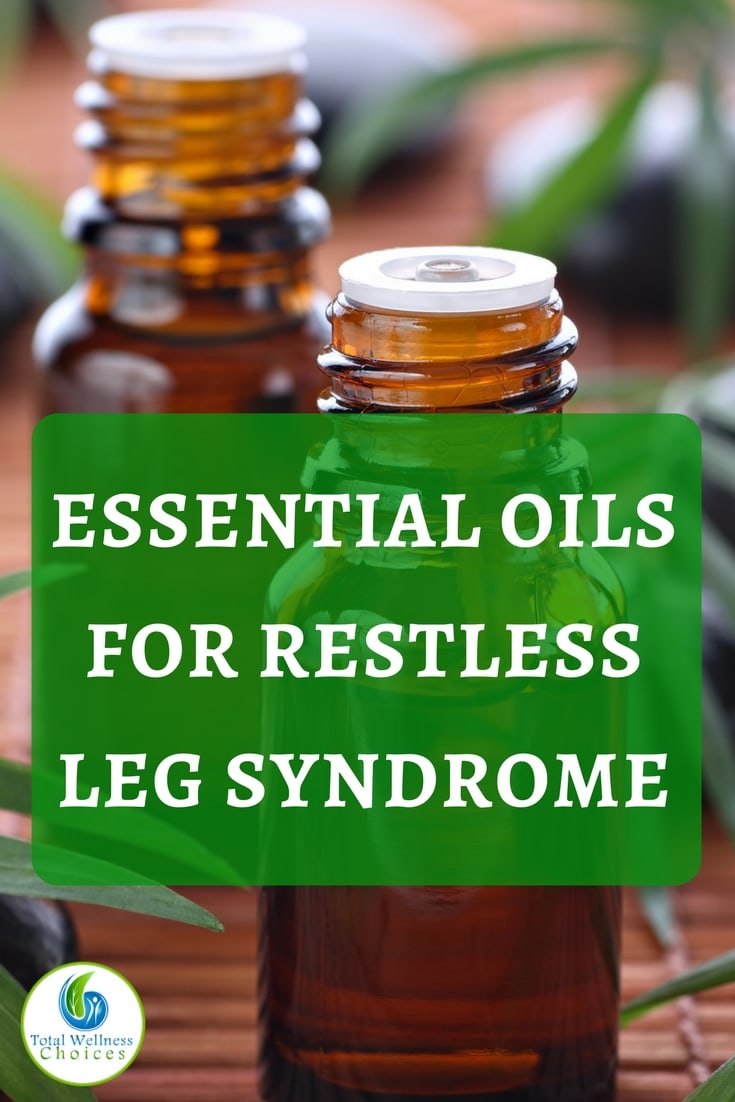 Many treatments have been employed to help with this malady. These include muscle relaxers and even special bars of soap.
However, not many people know about using essential oils for restless leg syndrome.
Essential oils can help relieve the irritation and sleep deprivation that often is the result of restless leg syndrome.
Natural relief can play a significant factor in helping you rest easier and go to sleep faster.
Besides, essential oils won't create the potential for addiction like many other pharmaceutical suggestions can.
As you go through this list of suggestions, it is important that I offer this disclaimer: I don't claim that essential oils will cure illnesses or other maladies.
However, it is my belief that they are an excellent home remedy and alternative for sleepless nights caused by restless leg syndrome.
Top 6 Essential Oils for Restless Leg Syndrome (RLS)

Because RLS is a huge contributor to insomnia, perhaps even the lead cause, it is easy to see why essential oils that provide relaxing factors would be employed for this purpose.
#1. Lavender
When used in aromatherapy, studies reveal that lavender can work as a mild sleep aid. In fact, there are scientists who suggest that it can decrease heart rate and blood pressure.
And, this will enable it to contribute to your ability to find a relaxed state mentally and physically.
#2. Vetiver

This oil has been shown to be beneficial for those with arthritis and rheumatism.
Vetiver promotes tranquility, stimulates circulation and soothes feelings of anxiety, irritability and restlessness. It can also be warming and sedative at the same time.
Its anti-inflammatory and antispasmodic properties make vetiver quite beneficial for calming your restless legs.
Being on the rather thick side, I don't recommend diffusing with vetiver as it can clog electric diffusers!
Radha Beauty Lavender Essential Oil 4 Oz – 100% Pure & Natural Therapeutic Grade
Plant Therapy Vetiver Essential Oil, 100% Pure, Undiluted, Therapeutic Grade 1/3 Oz.
#3. Frankincense
Frankincense offers some sedative qualities. It is useful for all areas of the body's nervous, respiratory, and excretory systems.
Most importantly though, it induces peace and relaxation and can lower stress and anxiety.
#4. Bergamot

Bergamot is also deemed a sedative and antidepressant. That means it can aid in the alleviation of insomnia and high blood pressure, which are frequently associated with restless leg syndrome.
Because it is also an analgesic, it can help reduce the pain associated with RLS.
Living Pure Frankincense Essential Oil 0.5 Ounce
NOW Foods 100% Pure Bergamot Oil, 1-Ounce
#5. Cypress
Cypress is useful in RLS blends because of its anti-inflammatory and analgesic properties.
This is due to the presence of a chemical component, α-pinene. It is highly thought of, and used, for its antispasmodic ability.
Another plus for cypress is that it is a soothing, calming oil. Important if one is trying to relax and get some sleep.
Plant Therapy Cypress Essential Oil. 100% Pure, Undiluted, Therapeutic Grade. 10 ml (1/3 oz).
#6. Roman Chamomile
Another great essential oils that is useful for its antispasmodic, anti-inflammatory and analgesic actions is roman chamomile.
It also has a calming, sedating effect which makes it very useful when one is trying to get some rest!
Methods for Getting the Most out of these Essential Oils for Restless Leg Syndrome
I suggest that you try two different methods when attempting to use the essential oils on our list for the purpose of alleviating your RLS symptoms and discomforts.
The first is via aromatherapy for restless leg syndrome. You will use a diffuser for this.
Just add 2-4 drops of the oil you desire. It should diffuse throughout whatever room you are in to help you relax and sleep better.
Of course, the best way to use these essential oils is topical application.
Use a carrier oil to dilute the essential oils before use to avoid skin irritation.
Essential Massage Blend for Restless Leg Syndrome
Directions
Mix the essential oils and carrier oil together and use to massage your leg before bed or as needed.
100% Pure Carrier Oil VARIETY-4 PK- 4 Oz Bottles
URPOWER 2nd Version Essential Oil Diffuser, 100ml
What Causes Restless Leg Syndrome & What Does it Look Like?
There are a lot of people dealing with this problem. You are not alone. But, you might be wondering if you are actually suffering from restless leg syndrome (RLS) and why it happens.
So, here are some answers for you:
RLS affects as many as 10% of the population in the United States.
Moderate to severe symptomology is exhibited by upwards of 5 million people.
Kids suffer from RLS too, about a million of them actually.
Severe cases will appear more than twice a week, while moderate cases only happen once or twice in that time frame.
Limbs will have an irresistible urge to be moved, generally your legs.
Tugging and pulling are the typically described feelings that precede the urge.
These issues usually present at night and can affect sleep.
Genetically, about half of those with RLS have family members who suffer with it as well.
It is attached to specific ailments like: Diabetes, Parkinson's, and kidney failure.
Symptoms can worsen when using antidepressants, allergy medications, or antipsychotics.
Pregnant women have a tendency to experience RLS during the third trimester.
Excessive alcohol consumption can contribute to the severity of the issue, or trigger its symptoms.
Safety First When Using Essential Oils
If you have never used a certain essential oil it is important to do a skin patch test prior to topically using! See my sections on topical use and other essential oil safety concerns:
Hopefully the essential oils for restless legs syndrome I recommended here will help you dispel the complications associated with restless leg syndrome.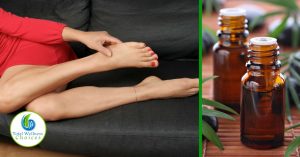 These statements have not been evaluated by the Food and Drug Administration. This article is for educational and informational purposes only and does not intend to diagnose or treat any disease. It is always recommended that you seek the advise of your private medical doctor.