This post may contain affiliate links. I may be compensated if you make a purchase through a link on this page.
Get the Relief You Need with the Best Essential Oils for Nausea and Vomiting!
If you've ever felt a wave of nausea hit at just the wrong time, you know having essential oils for nausea on hand is a must.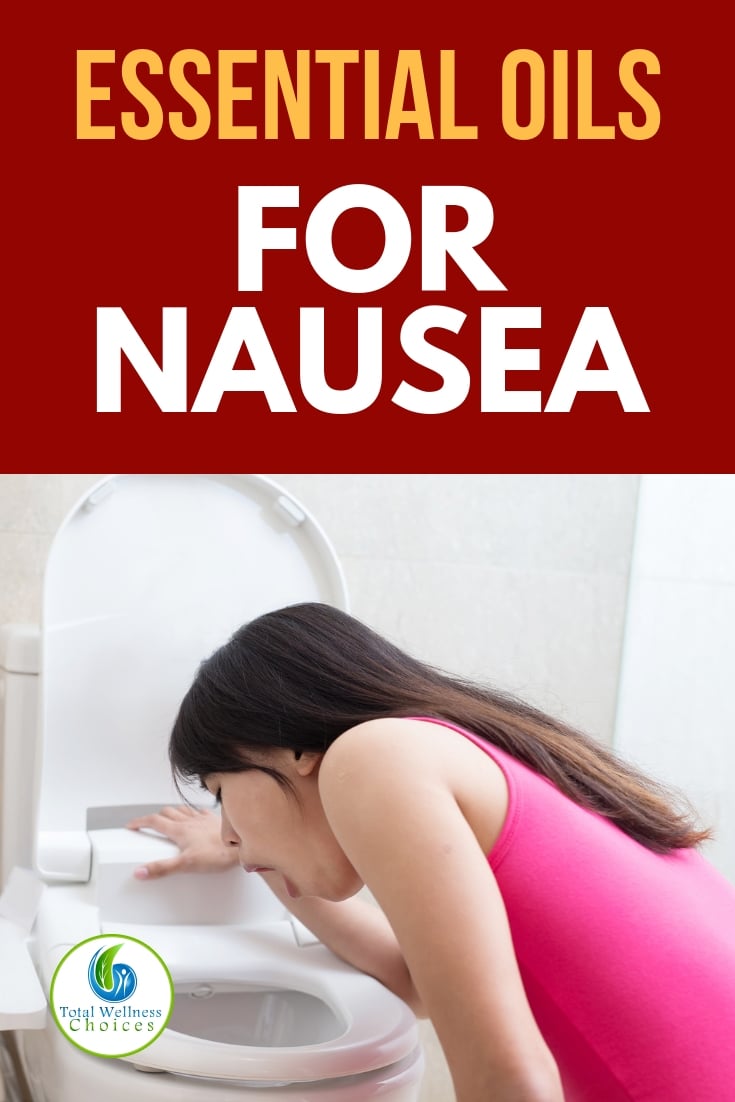 I love using essential oils in my everyday life instead of always reaching for the medications.
Nausea is one ailment that can happen for many reasons, which include pregnancy (morning sickness) and motion sickness, emotional stress, intense pain, food poisoning etc., and sometimes taking a tablet just isn't feasible.
That's why I love using these essential oils for nausea symptoms.
Top 5 Essential Oils for Nausea
Using essential oils for nausea is a great alternative treatment of nausea symptoms when you cannot stomach swallowing medications.
For safety reasons, I always recommend using a carrier oil when topically applying any essential oil. You'll want to use my tips for how to dilute essential oils for topical use for safety. Typically, I use fractionated coconut oil to dilute essential oils. You may use whatever carrier oil you prefer.
Don't miss our essential oils accessories and supplies guide to help you navigate the best items to have on hand.
Using essential oils is all about safety, and these help you achieve that goal with ease. Always seek medical attention for symptoms that persist or are accompanied by pain and fever.
#1. Peppermint Essential Oil for Nausea
My personal favorite option for nausea is peppermint EO. It is a light smell that I can wear out and about in an essential oil diffuser necklace and it isn't off-putting to those around me.
Peppermint has long been used for nausea and this study shows that it can help alleviate nausea and vomiting symptoms.
It is soothing and cooling, so it makes it a great topical application when you are ill. With things like a stomach virus or flu that is causing nausea, it often helps with the cooling properties on your skin.
Peppermint essential oil is a natural antiemetic and antispasmodic. This helps reduce nausea, vomiting, and the worrisome motion sickness that comes when travelling. It is also included in my list of essential oils for heartburn.
#2. Ginger Essential Oil for Nausea
Everyone knows that ginger is one of the key choices for nausea relief. From ginger ale when you are feeling ill, to ginger pops during pregnancy, it is a popular choice. Ginger EO offers relief that is fast and easily tolerated by most.
Using ginger essential oil in an essential oil diffuser, diffuser necklace, or topically is best. Rubbing a few drops of ginger essential oil along with your choice of carrier oil on your stomach is ideal for helping with nausea or digestion struggles.
RoyAroma 2PCS Aromatherapy Essential Oil Diffuser Necklace Two Patterns Pendant Locket Jewelry,23.6
Maromalife Essential Oil Diffuser Necklace Lava Stone Diffuser Necklace with Adjustable 24
#2. Lavender Essential Oil for Nausea
While typically used for relaxation and sleep, lavender is also great for nausea symptoms. The relaxation it provides can often soothe not just tummy upset, but allow you to rest when you aren't feeling well.
While this isn't my go-to for nausea, it is often used in conjunction with ginger or peppermint essential oils.
Lavender is ideal for placing on a cloth or cotton ball and putting under your pillow to help you relax for sleep.
It is also ideal for rubbing on your neck or shoulders with a carrier oil to help with dizziness and to create calm which can often settle motion sickness.
I have even more tips for how to use lavender essential oil for sleep that you may want to look into for nausea relief.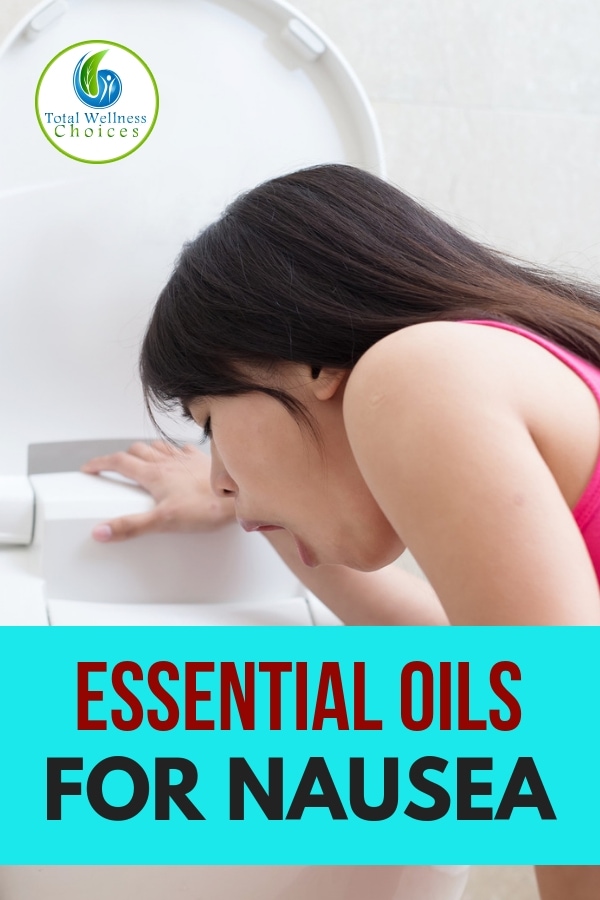 #3. Nutmeg Essential Oil for Nausea
When I think of nutmeg, I instinctively think about holiday baking. This isn't all that nutmeg is great for in your life. Nutmeg is a wonderful digestive aid and is often used for nausea or stomach discomfort.
A few drops of nutmeg EO in a diffuser necklace or diffuser in the room can help relieve nausea, and add a pleasant smell to your home.
Another popular option for nausea is to add a few drops to a warm cloth and press to your forehead. Nutmeg can be very soothing when nausea hits.
#4. Cardamom Essential Oil for Nausea
Cardamom is part of the ginger family. It is another spice that I like adding to my holiday baking because of its sweet and spicy taste!
Cardamom EO has a distinct warm, spice aroma and like ginger is considered a warming and hot oil.
Used for centuries in India as a digestive aid, cardamom not only is used for nausea but for heartburn, gas, and diarrhea.
Why is it thought to be helpful for digestive issues like nausea? It is because of the chemical family esters that it contains. Esters are well known for having antispasmodic and gas relieving effects.
#5. Lemon Essential Oil for Nausea
While lemon is not on most lists for nausea, it has become one of my go-to essential oils. There is something about citrus that helps me personally when I am feeling unsettled.
Lemon is almost always in my essential oil diffuser necklace. The light pleasant smell can block out other unsavory smells and just adds to the better feeling.
Essential Oil Blend Recipes for Nausea
Ingredients for Use with Tissue
4 drops peppermint
3 drops ginger
2 drops lavender
Directions
Blend the essential oils together in a glass bottle. Put 1 drop on a tissue and place under your pillow. You can also carry the blend and tissue in your purse, so you can use it anytime and anywhere the need arises. Just put 1 drop on a tissue and sniff any moment nausea creeps up.
You can also put these essential oils in a personal inhaler and use when needed.
Ingredients for Use with Personal Inhaler
6 drops peppermint
5 drops ginger
4 drops lavender
Directions
Add the above essential oils to the cotton wick part of a blank inhaler. Snap the end cap on, and unscrew cover to inhale. Inhale when experiencing nausea.
Another Personal Inhaler Blend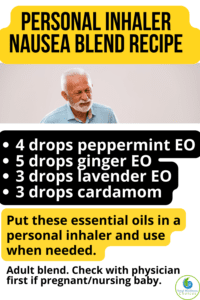 These recipes are for adults only.
Essential Oils for Nausea Safety
Many who come looking for the right essential oils for nausea are experiencing morning sickness related to pregnancy.
For the right safety protocol regarding use during pregnancy, check out my essential oils for pregnancy guide. There are many benefits to treating symptoms safely with essential oils, but you do need to follow safety protocols.
As you deal with the pesky symptoms of nausea, you don't have to suffer in silence. Reach out for your favorite essential oils for nausea and find immediate relief from many symptoms.
While not a replacement for medical care, essential oils are a great way to safely treat symptoms until illness dissipates.
Always consult with your physician before trying any home or natural remedies, especially if you have any medical problems. Remember to always test an essential oil you are unfamiliar with first before using!
Related Essential Oil Articles:
Give these essential oils a try and let us know how it goes!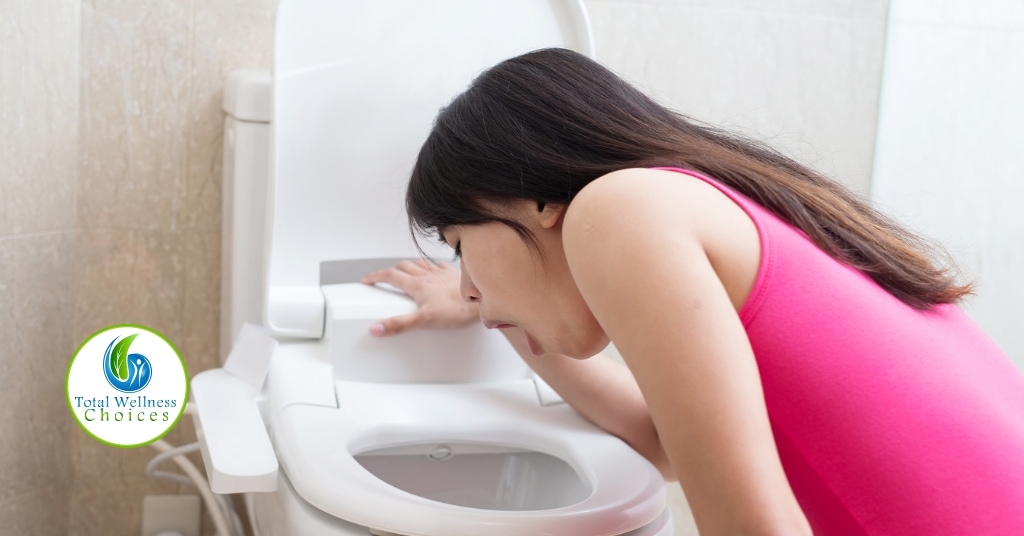 These statements have not been evaluated by the Food and Drug Administration. This article is for educational and informational purposes only and does not intend to diagnose, treat or cure any disease or illness. It is always recommended that you seek the advise of your private medical doctor.