This post may contain affiliate links. I may be compensated if you make a purchase through a link on this page.
Must Have Essential Oil Accessories, Tools and Supplies!
There are several essential oil accessories, tools and supplies you need as an EO user. So today we are going to feature some of them in this blog post.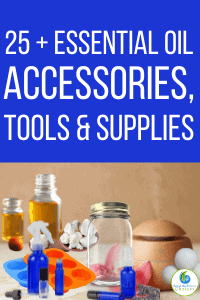 You may need just a couple or all of them. It all depends on how you want to use your essential oils and what you want to make with them.
The more you want to explore essential oils, the more tools and accessories you will need. These tools are ideal for beginner essential oil users and veterans alike.
However, beginners may find this post more helpful because we tend to feel more overwhelmed when starting something new.
So, if you are one of those overwhelmed newbies, you don't need to worry.
I am here to help you by showcasing some of the vital essential oil accessories, tools and supplies you need. Keep reading to find out!
25+ Essential Oil Accessories, Tools and Supplies
Diffusers
Yes, I know, I mentioned it before – the only one I thought I needed. Diffusers are arguably the most popular essential oil accessories.
There are different types of diffusers available out there on the market, so you have a variety to choose from depending on your budget.
Check out 2 of my favorites below:
URPOWER 2nd Version Essential Oil Diffuser Aroma Cool Mist Humidifier
InnoGear Aromatherapy Essential Oil Diffuser Ultrasonic Cool Mist Diffusers with 7 Color LED Lights Waterless Auto Shut-off, Wood Grain, 200 mL
Car Diffusers
You will also find this car diffuser handy for on the go. Add a few drops of oil to the pads and attach to the car vent.
Essential Oil Diffuser Necklace

Essential oil diffuser necklace is another accessory you can use to diffuse your oils on the go. I really like that there are beautiful diffuser necklaces and bracelets that will make you look fashionable while enjoying the benefits of essential oils.
RoyAroma 2PCS Aromatherapy Essential Oil Diffuser Necklace Two Patterns Pendant Locket Jewelry,23.6
Essential Oil Containers
Roller Bottles – You need these for your diy roller blends. Fortunately, there are different sizes you can choose from.
Spray Bottles –  I use these mini fine mist spray bottles for diy perfume sprays (easy to slip in my purse) and the large spray bottles for cleaning blends.
Lip Balm Containers – There are basically two types of lip balm containers, tubes and jars.
(Check out this easy to make natural lip balm recipe)
Salve and Balm Containers – You will also need these, if you plan to make salves and balms such as headache balms and pain salves.
Deodorant Containers – Making your own deodorants will save you a lot of money because good all natural deodorants can be quite pricey. And you may want to stay away from those chemical laden deodorants out there.
(Check out this easy to make homemade deodorant for men and women recipe)
Mason Jars – These can be used to put moisturizers, bath salts and scrubs.
Essential Oil Labels
Labeling your essential oil blend bottles and diy products helps you avoid any mix up. Every bottle and container needs a label so you know exactly what each contains.
Hand printing your labels may work fine for you, but if you want a more finished look to your homemade products maybe a thermal wireless printer like this one would suit you better.
Essential Oil Storage
It is important to properly store and organize your essential oils. Proper storage is needed if you want to prevent breakage and spills. Check out these!
Large Essential Oil Box – Holds 37 Bottles – Real Wood Storage Organizer
Personalized Engraved Essential Oil Storage Wood Shelf Wall Rack
Essential Oil Carrying Cases
Carrying cases are great for carrying your oils on the go. You don't want to just throw your oils into your purse, they could break or spill.
Moreover, putting them in a carrying case means that you wouldn't have to turn your purse inside out trying to look for your EO bottle.
Carrier Oils and Butters
Carrier oils and butters are used for diluting essential oils. Never apply essential oils topically without dilution. (Here is how to dilute essential oils for tropical use).
Fractionated Coconut Oil (FCO) – This is my favorite because of of its immense healing properties.
Jojoba Oil – Great for the skin, but a bit more expensive than the other carrier oils.
Shea Butter – Natural skin moisturizer used for making body butters , moisturizers, salves and balms
Beeswax – You also need this for deodorants, balms and body butters to help make the consistency a bit solid
Essential Oil Key Tool
This is a must have essential oil tool. Have you ever tried to remove the roller ball top or an essential oil dropper cap and found yourself struggling to do so successfully? This little tool is what you need!
It makes removing the roller ball top and essential oil dropper caps a breeze. And it's affordable, so there is no reason to get frustrated with the roller ball top or dropper cap anymore. Your nails will also thank you for it.
SOLIGT 3-Pack Multi-color Metal Essential Oil Key Tool, Universal Opener and Remover for Roller Balls and Caps on Most Bottles
Silicone Molds
Silicone molds are essential for making bath bombs, shower melts, soaps and lotion bars. They come in different sizes and shapes, so go ahead and experiment with the different shapes.
Measuring Tools
You will also need measuring cups and spoons, plastic pippettes and mini funnel to measure out your diy ingredients.
Wool Dryer Balls
I love wool dryer balls – they help to shorten drying time, helping you save money on energy bills. They also help reduce wrinkles. Simply add a few drops on one of the balls before use to give your clothes a fresh scent (one ball for each dryer load).
Essential Oil Tools and Accessories Kit by Essenzia
This kit contains almost all the tools and accessories you need for diluting and blending your oils for topical use. It contains, a bottle of carrier oil (FCO), 6 roller bottles, 2 spray bottles, a mini funnel, plastic pippettes and an essential oil tool opener.
Essential Oil Tools & Accessories by Essenzia – Aromatherapy Carrier Oil Kit with 4oz Fractionated Coconut Oil, Glass Spray Bottles & Metal Roller Bottles, Bottle Opener Tool, Droppers, Mini Funnel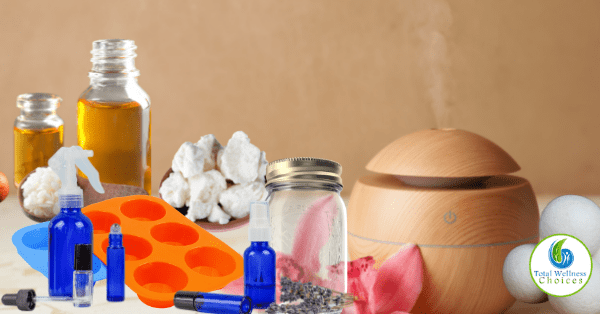 These statements have not been evaluated by the Food and Drug Administration. This article is for educational and informational purposes only and does not intend to diagnose or treat any disease. It is always recommended that you seek the advise of your private medical doctor.