This post may contain affiliate links. I may be compensated if you make a purchase through a link on this page.
Learn How to Use Lavender Essential Oil for Sleep and Find out Why and How it Works!
Let's face it, we have all had nights where sleep just wouldn't come. For some of us, those nights are more frequent and that can lead to a host of additional struggles.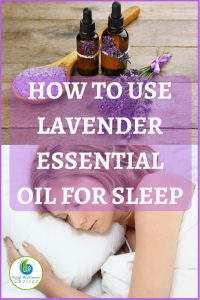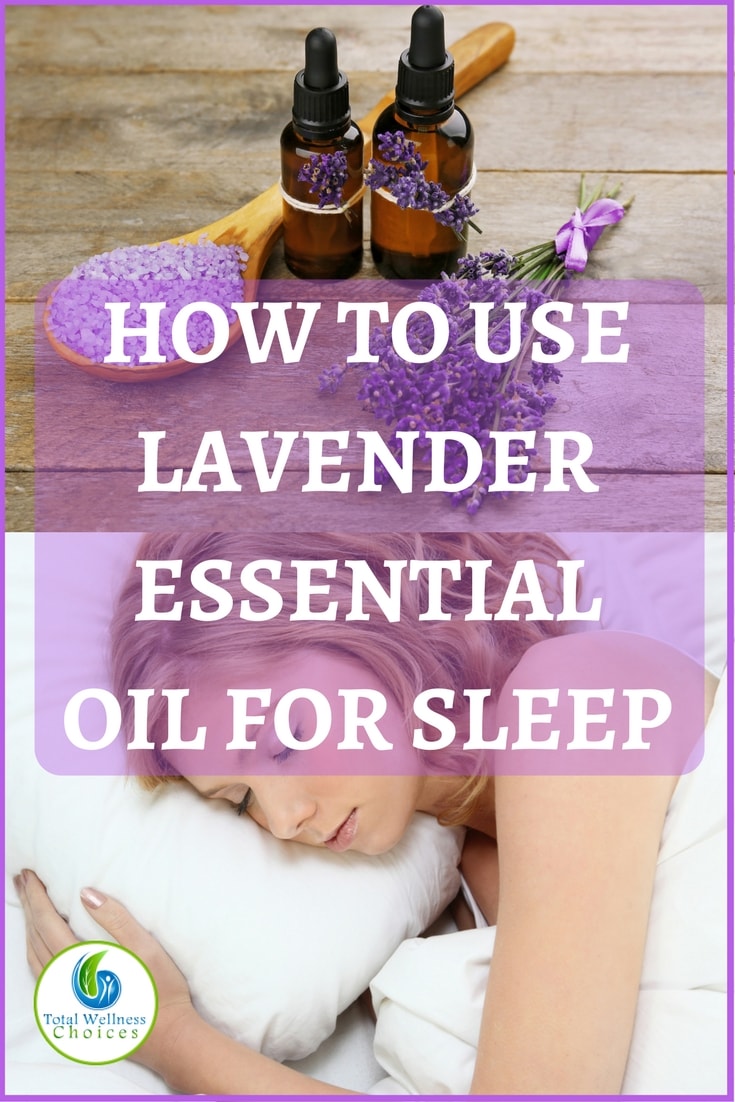 Sleep is necessary for good health and productivity.
So, what if we employed lavender essential oil for sleep? Would things in our world of rest, or unrest, be drastically altered?
Would we wake renewed and refreshed like we're supposed to?
While I can't guarantee that lavender essential oil will cure all your sleep disturbance issues, I can provide you with enough information to make the decision to try it for yourself.
I personally have been using essential oils for sleep, and lavender is definitely my favorite! But, how can lavender help?
Using Lavender Oil for Sleep – How Does it Work?
Well, that one's easy. Lavender essential oil is believed to aid sleep due to its calming and soothing qualities that produce sedative effects.
It increases slow wave sleep, which helps to reduce heart rate and relax the muscles.
So lavender helps you enjoy a deep restful sleep that makes you wake up the next morning refreshed and full of energy.
Better sleep is just one of the many lavender essential oil benefits. Medicine of old reveals that lavender was thought to be, and used as, an aphrodisiac. 
It is also great for pain relief and calming anxiety. Even more ancient history reveals that Romans and Egyptians utilized lavender in their baths, perfumes, and recipes.
They valued it for its myriad benefits, particularly its calming and relaxing qualities. Though we are sure the aphrodisiac aspect wasn't lost on them either.
Radha Beauty Lavender Essential Oil 4 Oz – 100% Pure
NOW Foods Lavender Essential Oil 100% Pure, 2 ounce
Majestic Pure Lavender Essential Oil, Therapeutic Grade, 4 fl. Oz
Using Lavender Essential Oil for Sleep – Clinical Studies!
Studies on using lavender oil for sleep show that it has the ability to ease insomnia and anxiety.
One study involved 67 midlife women who suffered from insomnia. One group received lavender aromatherapy 20 minutes at a time, twice a week for 2 weeks, while the control group received sleep hygiene education.
The result showed that the aromatherapy group experienced improved overall score of sleep quality, while the control group did not experience any improvement.
Another study involved 158 women in their postpartum period. The aromatherapy group inhaled lavender oil that was dropped on cotton balls. The control group inhaled a placebo. This was done 4 times a week for 8 weeks.
The result again revealed that the aromatherapy group experienced improved sleep quality, while the control group didn't.
Lavender oil aromatherapy has also been found to significantly reduce insomnia in female college students and to improve sleep quality in hospitalized adult patients.
How to Use Lavender Essential Oil for Sleep?
There are different ways you can use lavender essential oil for sleep and they include: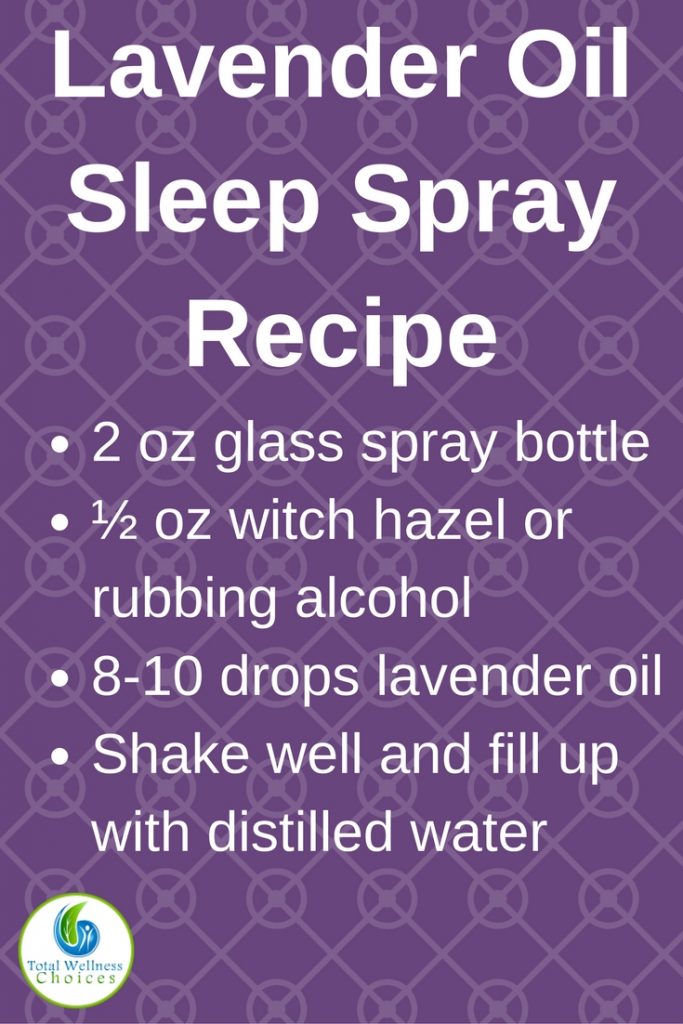 Lavender Oil Sleep Spay: You can make your own lavender essential oil sleep spray and use on your pillow going to bed. Add ½ oz of witch hazel or rubbing alcohol into a 2 oz glass spray bottle. Then add 8-10 drops lavender oil, shake well and fill up with distilled water and shake again and voila! You have your sleep aid!!
Diffuser: You can use a diffuser to diffuse the oil in your room to help you sleep. Diffuser recipe:
Cotton Balls: If you don't have a diffuser, you can utilize lavender essential oil for sleep by adding a few drops on cotton balls. Then place the cotton balls near your bed.
Tissue: You can also drop a few drops on tissue and place under your pillow or near your bed
Add to Pillow: Adding a few drops to your pillow, can have wonderfully soothing effects on your sleep patterns
Lavender Infused Bath: Add a few drops of lavender oil to a carrier oil, then add to a warm bath, and soak for about 30 minutes before you go to bed.
Sleep Balm – You can also use lavender oil to make a sleep balm.
You can also use it in massage oils, sachets, sleep masks, candles, and bath salts.  You can even infuse your pillows with dried lavender flowers.
Safety First When Using Essential Oils
Even though lavender essential oil is considered one of the safest essential oils when properly used and diluted there is still a chance of being allergic to it. Always do a skin test prior to using any new essential oil including lavender.
See my sections on topical use and other essential oil safety concerns:
Radha Beauty Lavender Essential Oil 4 Oz – 100% Pure
NOW Foods Lavender Essential Oil 100% Pure, 2 ounce
Majestic Pure Lavender Essential Oil, Therapeutic Grade, 4 fl. Oz
Why is Sleep So Important?
Lack of sleep can actually be quite detrimental, even dangerous. Those who struggle to get enough sleep each night will find that a number of problematic situations arise.
The following are the things that can be attributed to a lack of sleep:
Frequent illnesses – Your immune system's functionality is directly linked to proper sleep. When that sleep is negated, the immune system suffers. You will struggle with fighting off a common cold, and that compromised immunity can invite many far worse health conditions.
Impaired cognition – Your ability to think at optimal levels is also attached to proper sleep. Your brain becomes sluggish when it lacks sleep. You'll find that you are more forgetful and struggle to pay attention when listening or reading. Your intellectual performance will be seriously hindered.
Weight gain – Lack of sleep can decrease metabolism speed. Studies show that people who sleep less than 5 hours each night are more likely to become obese due to weight gain. Seven to eight hours is the ideal amount of sleep for your body, and its metabolism, to function at peak.
Diabetes risks – Sleep helps regulate blood sugar. More than ten studies have shown that sleep deprived people are at an increased risk for the development of Type II diabetes as compared to people that get the recommended 7-8 hours.
Believe it or not, poor sleep has also been linked to the loss of libido, an increased risk of cancer and accidents, as well as accelerated aging.
It's easy to see, now, why sleep is so important. So you can start enjoying better sleep with lavender essential oil.
If you have other ideas for the best uses of lavender for sleep, don't hesitate to leave a comment below.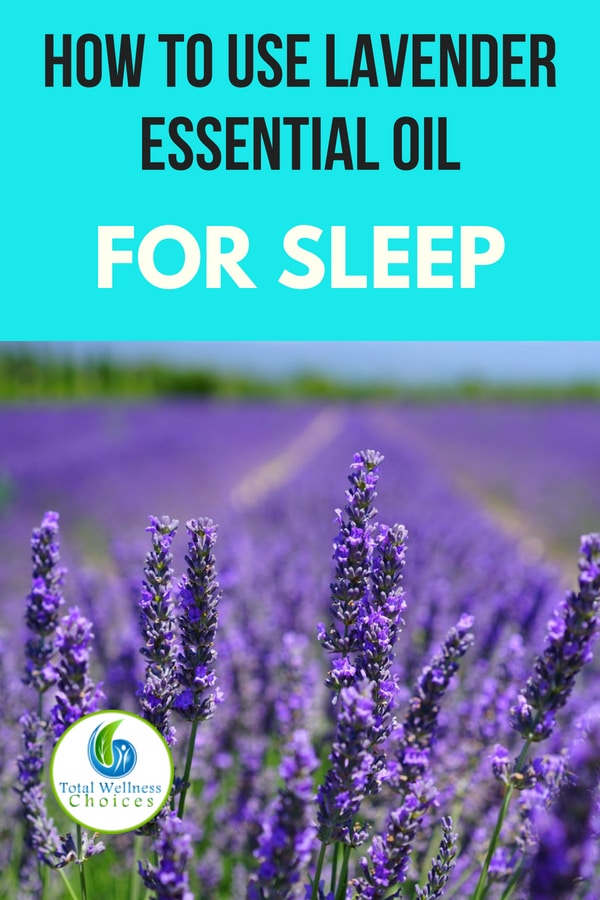 These statements have not been evaluated by the Food and Drug Administration. This article is for educational and informational purposes only and does not intend to diagnose or treat any disease. It is always recommended that you seek the advise of your private medical doctor.