This post may contain affiliate links. I may be compensated if you make a purchase through a link on this page.
Tea Tree Essential Oil Uses and Benefits You Should Be Enjoying!

Tea tree essential oil is a popular essential oil for many people. It is naturally antifungal, antibacterial, and anti-inflammatory. It's used both in skin care and natural household products to kill germs.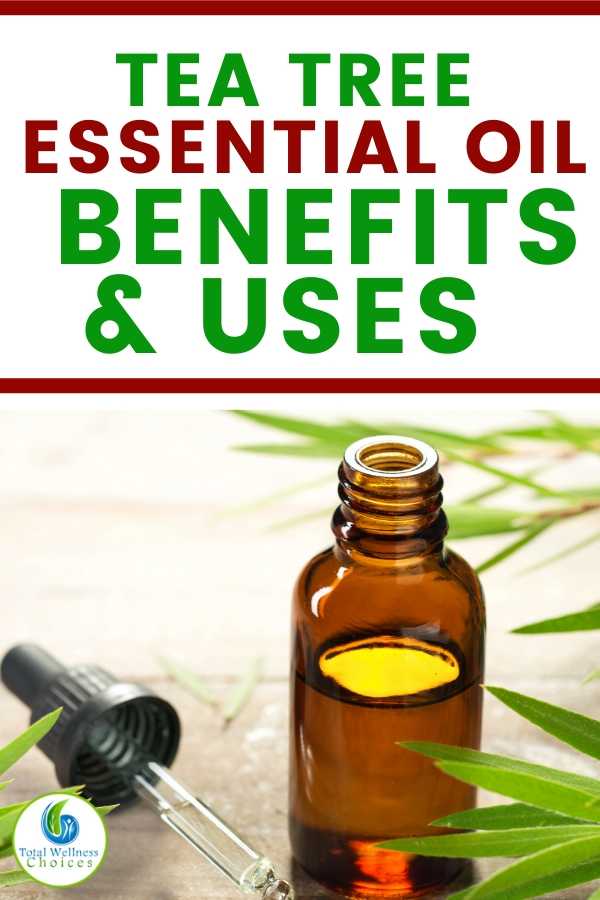 You've probably seen tea tree essential oil in shampoos, lotions, bath products, and other products in the health and beauty section of your favorite department store.
Tea tree essential oil is also called Melaleuca essential oil because it's distilled from the leaves of the Melaleuca alternifolia plant from Australia.
Although it has tea in the name, it has no relation to the oolong, black, or green tea that you drink.
The Aborigines in Australia would crush the leaves to obtain the oil. They would then use it topically for healing the skin or inhale it as a natural treatment for cough or cold.
Related:
Tea Tree Essential Oil Benefits and Uses
Tea tree essential oil is a popular oil, mainly because of its antiseptic properties.
Tea tree essential oil is often used in facial cleansers as a natural solution for acne and in shampoos to kill germs that can cause flakes. It's also used in natural cleaning products to kill germs on surfaces.
Antimicrobial
Tea tree essential oils benefits and uses include using it as a natural antibacterial and antifungal product.
Tea tree oil exhibits broad-spectrum antimicrobial activity, and it works on some types of both gram-positive and gram-negative bacteria.
Antifungal
Tea tree oil can naturally kill a variety of fungi and yeast. Although it hasn't been tested on many species of fungus or yeast, it has been studied on Candida albicans.
Candida albicans typically affects the skin, mouth, throat, and genitals.
Anti-Inflammatory
Tea tree essential oil has a high concentration of terpinen-4-ol. Terpinen-4-ol has shown to be anti-inflammatory in animal studies, so it could help reduce inflammation in humans too.
In a study, tea tree oil showed that it could reduce skin inflammation caused by histamines, so it can be used topically for allergic reactions.
Acne Remedy

Tea tree essential oil is commonly used in acne treatments. It can kill the bacteria that causes acne, so it can be an effective treatment to reduce the number and severity of acne blemishes.
Athlete's Foot
Tea tree essential oil is a natural antifungal, and it can also kill the fungus that causes athlete's foot. In a study, a 10 tea tree essential oil cream reduced the symptoms of athlete's foot as effective as tolnaftate.
However, it wasn't effective in eliminating athlete's foot until it reached a 50 percent dilution.
Dandruff
Mild dandruff caused by the yeast Pityrosporum ovale can be effectively treated with a 5 percent tea tree oil shampoo. In the study, participants used a tea tree essential oil shampoo every day for four weeks.
Tea Tree Essential Oil Uses
Hand Sanitizer
Both the rubbing alcohol and the tea tree oil in this easy hand sanitizer kill germs.
Ingredients
3 oz 91 or 99 percent rubbing alcohol
1 oz pure aloe vera gel
30 drops tea tree EO
5 drops lavender EO
Directions
Combine the rubbing alcohol and essential oils in a small container. Add the aloe vera gel and stir well.
Antiseptic Cream
For minor cuts and scrapes, mix coconut oil and tea tree essential oil to make an antiseptic cream. Use 6 drops of tea tree for a 1 percent solution and 30 drops for a 5 percent solution.
Ingredients
1 oz coconut oil
6 to 30 drops tea tree EO
Directions
Combine the coconut oil and essential oil. Use 6 drops for children and 30 drops for adults.
Dandruff Treatment
If your flakes are caused by Pityrosporum ovale, add tea tree essential oil to your favorite shampoo. Wash your hair daily for 4 weeks.
Ingredients
1 oz shampoo
6 to 30 drops tea tree EO
Directions
Add the tea tree essential oil to the shampoo. You can make one ounce or an entire bottle of shampoo, depending on how much you need.
Athlete's Foot Soak
Both the salt and the tea tree oil work to kill germs, and the baking soda softens and deodorizes the skin.
Ingredients
¼ cup sea salt
½ oz sweet almond oil or grapeseed oil
5 drops tea tree
Warm water
Directions
Fill a basin with warm water. Add the sea salt. Combine the carrier oil and the tea tree essential oil. Add to the water and salt. Soak your feet for 20 minutes.
Acne Toner
Help heal and prevent acne with this easy homemade toner.
Ingredients
2 oz witch hazel
3 drops tea tree EO
Directions
Combine the witch hazel and tea tree essential oil in a small bottle. Shake well to disperse the oil. Apply to the face with a cotton pad. You can also use this on the body for body acne.
Homemade Mouthwash
Ingredients
1 cup of warm water
1 drop tea tree
Directions
Add the oil to one cup of water and use as mouthwash. Do not swallow as tea tree oil is toxic if taken internally. Spit it out and rinse with water afterwards. Not recommended for children!
Household Cleaner
Ingredients
1 cup of water
1/2 cup of white vinegar
20 drops tea tree
Directions
Mix 20 drops of tea tree oil with a cup of water and a half cup of white vinegar. Pour the mixture into a spray bottle and use as an all-purpose antimicrobial cleaner.
Wound Dressing
Ingredients
2 drops tea tree oil
12 drops carrier oil
Directions
Clean the wound properly with soap and water. Add the tea tree oil to the carrier oil, mix very well. Apply onto fresh wound dressing to kill bacteria that cause infection and reduce inflammation.
There are numerous other uses for tea tree essential oil including psoriasis and toenail fungus.
Tea Tree Essential Oil Warnings
It is possible to be allergic to tea tree essential oil. So, do a patch test on your forearm before using the oil topically.
Always dilute tea tree oil before using it. It can cause irritation if you apply it to the skin without diluting it.
Tea tree oil is also toxic if ingested. So, keep out of the reach of children to avoid accidental poisoning.
Safety First When Using Essential Oils
If you have never used a certain essential oil it is important to do a skin patch test prior to topically using! See my sections on topical use and other essential oil safety concerns:
Feel free to add to this list of tea tree uses and benefits in the comment section below.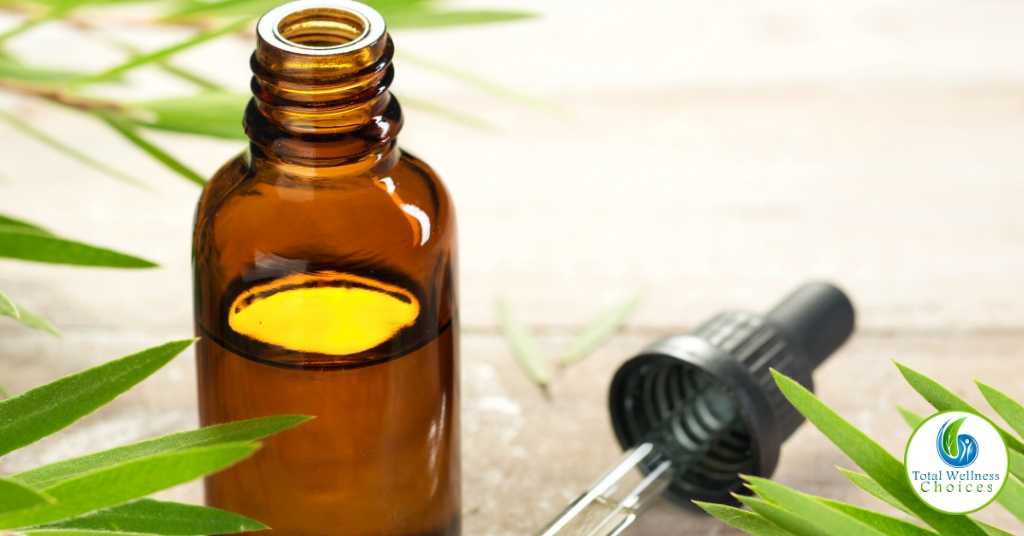 These statements have not been evaluated by the Food and Drug Administration. This article is for educational and informational purposes only and does not intend to diagnose, treat, cure, or prevent any disease or health condition. It is always recommended that you seek the advise of your private medical doctor.