This post may contain affiliate links. I may be compensated if you make a purchase through a link on this page.
7 Essential Oils that are Good for Psoriasis!
Psoriasis can make your life miserable. The scaling and itching can be very discomforting. However, you can get relief with the essential oils for psoriasis we are going to feature here today.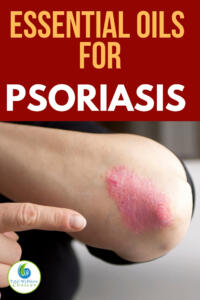 Psoriasis is a skin condition that is caused by overactive immune system. It occurs when the body's natural T cell, which is supposed to protect the body from diseases start attacking skin cells instead of harmful cells, thereby killing the skin cells.
When this happens, the natural reaction of the body is to start producing new skin cells to replace the dead old cells. The problem is that the new skin cells are produced at a very fast rate – about 5 times faster.
And instead of the old skin cells falling out, they pile up to form thick red patches that are flaky and itchy.
There are different types of psoriasis and they include plaque psoriasis, guttate psoriasis and inverse psoriasis.
Factors that contribute to psoriasis flare-up include:
Genes
Stress
Hormone changes (such as during puberty, pregnancy or menopause)
Alcohol
Smoking
Medications such as beta-blockers (for blood pressure and heart disease), lithium (for bi-polar), hydroxyquinine (for malaria) and Indocin (for inflammation)
Infections such as Strep
Weather (it can get worse in winter)
Sunburn
Symptoms of Psoriasis
Some of the symptoms of psoriasis are:
Skin inflammation
Red patches on the skin
Flaking
Itching
Now, let's get back to the best essential oils for psoriasis.
7 Best Essential Oils for Psoriasis
#1. Helichrysum
Helichrysum is great for skin issues such as sunburns, bruises, wounds, insect bites and scars. It reduces inflammation, moisturizes and soothes skin irritation, and repairs damaged skin, making it the perfect essential oil for psoriasis.
Plant Therapy Helichrysum Italicum Essential Oil | 100% Pure, Undiluted, Natural Aromatherapy, Therapeutic Grade | 5 milliliter (1/6 ounce)
#2. Patchouli
Patchouli is a well known essential oil commonly used for skin care and relaxation. It soothes inflammation, relieves skin irritation and rejuvenates the skin. Patchouli is also used for natural perfumes and deodorants.
#3. Myrrh
Myrrh is great for psoriasis because it helps to soothe inflammation and skin irritation. It is also a good moisturizer that helps to repair damaged skin.
#4. Frankincense
Frankincense calms inflammation, soothes skin irritation and rejuvenates damaged skin. Not only is it ideal for daily skin care, but it is also rich in skin-healing and nourishing properties that are helpful for reducing scars.
Plant Therapy Frankincense Serrata Organic Essential Oil | 100% Pure, USDA Certified Organic, Undiluted, Therapeutic Grade | 10 milliliter (⅓ ounce)
#5. Geranium
Geranium is one of the best essential oils for skin care. It relieves inflammation and calms skin irritation, thereby helping to reduce redness. Geranium nourishes and moisturizes dry skin, reduces acne and rejuvenates damaged skin.
#6. Lavender
Lavender is one of the most popular essential oils because of its versatility. It's helpful for psoriasis because of its ability to soothe skin irritation and inflammation. It is also ideal for daily skin care and is great for soothing burns, bruises, cuts as well as insect bites and stings.
#7. Tea Tree
Tea tree is also helpful for psoriasis because of its anti-inflammatory properties. It is also a good moisturizer and ideal for daily skin care use.
However, for some people, tea tree can be a skin irritant. So be sure to do a patch test before using this EO.
Plant Therapy Tea Tree Organic Essential Oil | 100% Pure, USDA Certified Organic, Undiluted, Therapeutic Grade | 10 milliliter (⅓ ounce)
Other essential oils for psoriasis include sandalwood, vetiver, palmarosa and chamomile (German).
How to Use Essential Oils for Psoriasis
The best way to use essential oils to relieve psoriasis is by topical application on the affected areas. Simply add the essential oils to a carrier oil or cream/lotion. You can even make your own body butter.
Choosing the right carrier oil is very important too. Even though a lot of people swear by coconut oil, for some people coconut oil is drying. For such people, shea butter may be an ideal option.
It's also important to note that psoriasis is very tricky and what may work for some, may not work for others. In fact, this is also true for any other issue. So, you need to do some trial and error to find what works for you.
Essential Oil Body Butter Recipe for Psoriasis
Ingredients
Directions
Put the shea butter into a glass bowl and heat in a microwave till it melts completely. Add the olive or coconut oil and allow to cool a bit. Add the essential oils, turn with a glass rod to mix the oils together and store in a jar.
8 Oz BLUE Glass Jar Straight Sided with Black Lid – Pack of 6 (8 OZ, Blue)
Clear PET Plastic (BPA Free) Refillable Low Profile Jar – 8 oz (6 Pack) + Spatulas and Labels
Other Natural Ways to Fight Psoriasis
Address the Underlying Issues
Psoriasis is an indication of an internal issue. It is a sign that something is not right inside. And you need to address the underlying cause if you want to get rid of the problem for good.
You could have a leaky gut problem or food sensitivities. So, consult with a certified nutritionist or naturopath for a likely cause of issues.
Diet
Addressing your diet can make a huge difference especially if your psoriasis is triggered by food sensitivities. Eat anti-oxidant and anti-inflammatory foods like leafy greens, veggies and berries and eliminate sugar, carbs and dairy.
You can start off with a 7-day vegetable juice detox. Then follow up with a healthy diet. A lot of people find the GAPS diet helpful for leaky gut. You can also try the Whole30 diet.
You can also use probiotics, digestive enzymes, colostrum and herbs to work on your gut.
Reduce Your Stress Level
As mentioned earlier, stress is one of the triggers of psoriasis. So, managing your stress effectively is vital if you want to get rid of psoriasis. You can use essential oils for stress or other natural ways to reduce your stress.
Get Enough Sleep
Lack of sleep causes stress, which in turn can trigger psoriasis flare up. So be sure to always get enough sleep – at least 7-8 hours a day.
Using Essential Oils for Psoriasis – Final Thoughts!
Even though essential oils are good for psoriasis, it is important to note that psoriasis is only a symptom of something else going on in your body.
Yes, essential oils can help relieve the symptoms, but they don't address the underlying issues.
So, taking a holistic approach, which includes using essential oils and taking steps to address the underlying problems as well as the triggers will yield better and lasting results.
Have you used essential oils for psoriasis before? If yes, which ones? Please share your feedback in the comment section.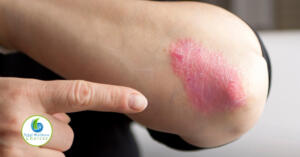 These statements have not been evaluated by the Food and Drug Administration. This article is for educational and informational purposes only and does not intend to diagnose, treat, cure, or prevent any disease or health condition. It is always recommended that you seek the advise of your private medical doctor.