This post may contain affiliate links. I may be compensated if you make a purchase through a link on this page.
Best Essential Oils for Ringworm – 7 EOs that Kill Ringworm!

Do you or your loved one have ringworm? And are you looking for an effective natural remedy for ringworm? If yes, then you've come to the right place because, today, we will be discussing the best essential oils for ringworm.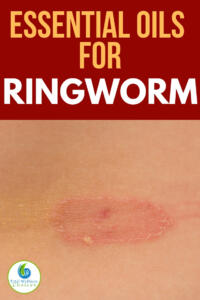 Don't let the name deceive you, ringworm has nothing to do with worms. Rather it is a fungal infection that can be transmitted from one person to the other through skin contact.
This is the reason why individuals who play contact sports are at more risk of being infected.
This skin infection has a ring in its name because of the fact that it grows outward in a circular manner, forming an itchy red ring on the skin. And the ring gets larger as the infection spreads.
Ringworm can also appear on the scalp, and if it does, can lead to temporary loss of hair on the affected spots.
An allergic reaction to the fungus can also cause small blisters to form on other parts of the body far from the ringworm infected areas.
Top 7 Essential Oils for Ringworm
Because ringworm is caused by a fungus, the essential oils for ringworm are those that contain high amounts of antifungal properties.
#1. Tea Tree
Tea tree has potent antifungal and antiseptic properties, making it not only one of the best essential oils for ringworm but also effective for fighting off other infections. It is also a great moisturizer that nourishes and heals the skin. It is also effective for other skin conditions such as athlete's foot, acne and psoriasis.
#2. Thyme Linalool
Not only does thyme linalool help fight infections, but it also calms inflammation and nourishes the skin, making it an ideal essential oil to use in topical blends. It is milder than thyme thymol, which can be very harsh on the skin.
Plant Therapy Thyme Linalool Essential Oil 10 mL (1/3 oz) 100% Pure, Undiluted, Therapeutic Grade
#3. Manuka
Like tea tree, manuka contains antimicrobial properties that inhibit the growth of the fungus that causes ringworm, making it one of the best essential oils that kill ringworm.
#4. Geranium

Geranium is a great essential oil for ringworm because it has antimicrobial properties that inhibit the growth of microorganisms such as bacteria and fungi.
It is also rich in anti-inflammatory properties that help to soothe inflammation and calm skin irritation. In addition, it boosts skin health, helping to rejuvenate damaged skin.
Plant Therapy Geranium Egyptian Essential Oil | 100% Pure, Undiluted, Natural Aromatherapy, Therapeutic Grade | 5 milliliter (1/6 ounce)
#5. Oregano
Oregano is a potent antimicrobial essential oil. It contains antibiotic, antifungal and antibacterial properties. It is rich in thymol, an antifungal agent that helps to boost the immune system and fight off infections.
That being said, it is important to note that oregano is very hot, and some people can react to it. So be sure to do a patch test before use. And dilute properly to avoid skin irritation or burn.
#6. Palmarosa
Palmarosa helps to reduce redness, irritation and inflammation, making it ideal for ringworm. And most importantly, it is antibacterial, antiviral and antifungal, helping to kill and inhibit the growth of these microorganisms and clearing infections.
Plant Therapy Palmarosa Essential Oil | 100% Pure, Undiluted, Natural Aromatherapy, Therapeutic Grade | 10 milliliter (⅓ ounce)
#7. Lavender
Lavender is one of the most popular essential oils and its versatility is quite amazing. It's great for daily skin care, soothes skin irritation and inflammation and helps the skin heal. It also has antimicrobial properties that help fight infections.
How to Use Essential Oils for Ringworm
The best way to use essential oils for ringworm is by topical application. However, be sure to dilute properly before use (You can read this post to learn how to dilute essential oils for topical use).
Essential Oil Recipe for Ringworm
Directions
Put the coconut oil into a container, add the essential oils and mix very well. Apply a small amount on the affected area 2-3 times a day.
Safety First When Using Essential Oils
If you have never used a certain essential oil it is important to do a skin patch test prior to topically using! See my sections on topical use and other essential oil safety concerns:
Have you ever used essential oils for ringworm? If yes, which one/ones? Share your experience in the comment section below.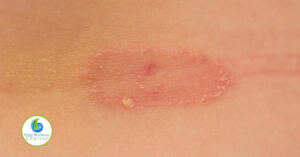 These statements have not been evaluated by the Food and Drug Administration. This article is for educational and informational purposes only and does not intend to diagnose, treat, cure, or prevent any disease or health condition. It is always recommended that you seek the advise of your private medical doctor.