This post may contain affiliate links. I may be compensated if you make a purchase through a link on this page.
Best Anti Aging Essential Oils to Help Keep Your Skin Healthy and Youthful!
Adding anti aging essential oils to your skin care can help keep your skin looking youthful and beautiful.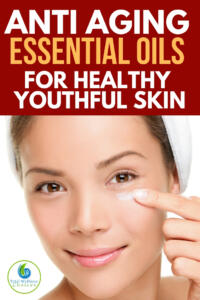 There are so many anti aging skin care products out there on the market, but unfortunately, most of them contain harsh ingredients that are not only harmful to your skin but also to your health.
This is why I'm all for natural skin care. Anything you put on your skin is ultimately absorbed into your bloodstream. So, beware of all those chemical laden products.
I have been using skin care products made with all natural ingredients since the past 7 years or more.
However, natural products are more expensive than those made with synthetic ingredients.
So, I started making my own DIY skincare products, such as homemade whipped body butter and diy body oil, which are so simple and easy to whip up.
Top 8 Anti Aging Essential Oils for a Youthful Beautiful Skin
#1. Frankincense
Frankincense is one of the best essential oils for the skin! It's a powerful antioxidant, meaning it helps to protect the skin from free radicals as well as help regenerate skin cells.
It's often used to even out skin tone by reducing the appearance of sunspots, age spots, and large pores. You can also use it to tone areas that appear saggy such as under the eyes and neck.
Plant Therapy Frankincense Serrata Organic Essential Oil | 100% Pure, USDA Certified Organic, Undiluted, Therapeutic Grade | 10 milliliter (⅓ ounce)
#2. Lavender
Lavender is well known for its ability to heal cuts, burns, scrapes and other skin conditions. It has anti-inflammatory, antimicrobial, anti-fungal and anti-aging properties.
Lavender helps your body produce 3 of your body's most powerful antioxidant and may help delay fine lines, age spots, wrinkles and sunspots.
#3. Ylang Ylang
Ylang Ylang means flower of flowers. It is a great moisturizer for skin and is effective in balancing moisture and skin sebum, a natural oil produced by the skin, which keeps the skin hydrated, soft and young looking.
It's also well known for its anti-aging effects on the skin as it is rich in antioxidants, which inhibits free radicals that cause visible signs of aging such as fine lines and wrinkles.
It helps in regenerating the skin cells and improves the elasticity of the skin.
Ylang Ylang is also effective in reducing stress. It has a flowery scent that helps in alleviating the feeling of stress and anxiety. It also has antiseptic properties which reduce skin itching, irritation, rashes, and even bug bite
#4. Geranium
Geranium is one of the most popular essential oils for the skin. It was used by the ancient Egyptians for promoting healthy and glowing skin.
Geranium oil is great for aging skin. It has astringent properties which allow skin tissues to tighten and contract, helping to reduce the appearance of fine lines and wrinkles.
It is also rich in antioxidant properties, which protect the skin cells from the harmful effects of free radicals, helping you look younger.
Geranium also promotes new cell growth, which helps to improve the complexion and elasticity of your skin.
It contains anti-inflammatory properties, great for oily skin and is ideal to use for skin conditions like acne, dermatitis and eczema. Geranium oil also possesses antiseptic properties which help in healing wounds.
Plant Therapy Geranium Egyptian Essential Oil | 100% Pure, Undiluted, Natural Aromatherapy, Therapeutic Grade | 5 milliliter (1/6 ounce)
#5. Sandalwood
Sandalwood has natural cleansing, purifying and anti-redness properties due to its potent amount of sesquiterpene compounds.
The astringent properties can help tighten, firm and tone aging skin.
It's high in antioxidants, which can help reduce the damaging and aging effects of free radicals.
Sandalwood is very similar to frankincense in action and can be beneficial for acne, skin infections and skin regeneration.
#6. Carrot Seed
Carrot seed EO is well known for its ability to rejuvenate the skin. It is high in carrot, a component found in carrot seed essential oil which helps in rejuvenating skin cells.
It's chocked full of antioxidants that prevent cell damage and wrinkle-causing free radicals. It helps with the regeneration of skin cells, making the skin soft, smooth and youthful.
Carrot seed essential oil is also very effective in balancing sebum (oil) production in the skin which makes it perfect oil for both dry and oily skin.
#7. Rose
Rose is considered to be very good for the skin. It increases blood flow in the skin, which helps to improve the complexion of the skin.
Rose is a rich source of vitamin A and C, which help in inhibiting the appearance of signs of aging. Vitamin A promotes cells regeneration and makes your skin softer, smoother and firmer.
Aside from being a powerful antioxidant, vitamin C helps to even your skin tone. It also boosts collagen, which improves the elasticity of the skin and helps reduce wrinkles.
Rose essential oil is also effective for treating acne. It is loaded with antiseptic and anti-inflammatory properties that help in treating pimples and acne.
Plant Therapy Rose Absolute Essential Oil | 100% Pure, Undiluted, Natural Aromatherapy, Therapeutic Grade | 5 milliliter (1/6 ounce)
#8. Helichrysum

Although helichrysum is also named immortelle for its long-lasting blooms, the name bodes well for its ability to combat aging and turn back the the hand of the clock.
True to expectations, helichrysum essential oil is widely used in skin care preparations, usually for anti-aging purposes.
The beneficial effects of helichrysum occur at a cellular level, restoring and strengthening the cell structures that spread and thin with age. It's a precious oil and can be quite pricey, but it's all worth the price.
Safety First When Using Essential Oils
If you have never used a certain essential oil it is important to do a skin patch test prior to topically using! See my sections on topical use and other essential oil safety concerns:
How to Use Anti Aging Essential Oils
You can use these anti aging essential oils in a couple of ways, including:
Add to your cream
Make your own skin cream with them
make an anti aging face serum with them
DIY Anti Aging Serum with Essential Oils
Ingredients
Directions
Add the essential oils into a 2 oz dropper bottle. Top off with the jojoba oil, leaving some space to accommodate shaking. Shake to mix the oils. Use the dropper to place a dime-size of the blend in your palm and apply to your face and neck.
Anti Aging Essential Oils – Conclusion!
Truth is, you don't need expensive store-bought anti-aging skin care products to keep your skin looking youthful and beautiful. You can easily whip up an anti aging cream or serum in the comfort of your home with the essential oils featured in this article. By so doing you are getting something that works, is SAFE and at a fraction of the store price.
Do you know of any other anti aging essential oils not mentioned here? Feel free to add to the list in the comment section!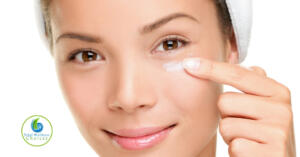 These statements have not been evaluated by the Food and Drug Administration. This article is for educational and informational purposes only and does not intend to diagnose or treat any disease. It is always recommended that you seek the advise of your private medical doctor.