This post may contain affiliate links. I may be compensated if you make a purchase through a link on this page.
Best Essential Oils for Cellulite, How to Use them + Recipes!

Do you have cellulite and are looking for the best essential oils for cellulite reduction? If yes, then, you are in the right place.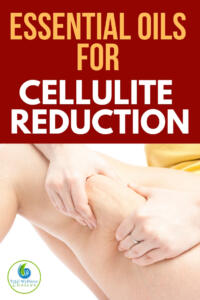 Truth be told, cellulite is unsightly and can be irritating – I know because I have had my own fair share of it.
However, there are things you can do to help reduce the appearance of cellulite and that is why I'm sharing with you some of the best essential oils for cellulite in this post today.
Cellulite is a fat deposit under the skin that is characterized by the appearance of dimple-like formations in the skin. They are mostly found on the buttocks, thighs and arms.
So, what causes cellulite? Before discussing the best essential oils for cellulite reduction, we are first of all going to take a look at some of the culprits behind this problem.
What Causes Cellulite?
There are various things that can cause cellulite and they include:
Genetics
Circulation and lymphatic problems
Hormonal issues
Diet
Environmental toxins
Now that you know some of the culprits behind cellulite, let's get back to the essential oils for cellulite.
Safety First When Using Essential Oils
If you have never used a certain essential oil it is important to do a skin patch test prior to topically using! See my sections on topical use and other essential oil safety concerns:
Top 7 Essential Oils for Cellulite Reduction
#1. Juniper Berry
Juniper Berry contains alpha-pinene, sabinene and juniperene, which can help reduce the appearance of cellulite. It is also good for skin conditions such as eczema and acne.
Plant Therapy Juniper Berry Organic Essential Oil 10 mL (1/3 oz)100% Pure, Undiluted, Therapeutic Grade
#2. Cypress
Cypress helps with cellulite by increasing blood flow and removing excess water and toxins from your body. It is also one of the best essential oils for varicose veins.
#3. Ginger
Ginger helps to reduce cellulite by boosting warmth and circulation. Other benefits of ginger include reduction of inflammation and muscle spasm relief.
#4. Black Pepper
Black pepper is another hot essential oil that boosts circulation and increases blood flow. It also detoxifies the body and helps to break down fat cells.
#5. Grapefruit
Grapefruit EO boosts circulation, stimulates the lymphatic system, cleanses the body of toxins, reduces water retention, melts fat cells and helps with weight loss. All of which, helps in decreasing the appearance of cellulite.
Grapefruit (Pink) Essential Oil. 30 ml (1 oz). 100% Pure, Undiluted, Therapeutic Grade.
#6. Geranium
Geranium is a great essential oil for skin care as it brings a radiant glow to the skin. It is also rich in astringent properties and helps to improve circulation.
#7. Lemon
Lemon has a tonic effect on the lymphatic system, which is helpful for circulation and reduction of cellulite.
How to Use Essential Oils for Cellulite Reduction

Bath soak – Add to your bath water and soak for 15-20 minutes
Massage oil – Use in massage oil to massage the affected areas
Bath Oil Recipe for Cellulite
Ingredients
Directions
Run the bath water (warm), put the Epsom salt in the water, dilute the essential oils in the carrier oil and add to the bath water. Swirl the water to disperse the oil. Soak in the bath for 15-10 minutes.
Anti-Cellulite Massage Oil Blend
Ingredients
Directions
Blend all the carrier oils together, and then add the essential oils. Shake well to mix the oils together. Use the blend to massage the affected areas before sleep and/or exercise.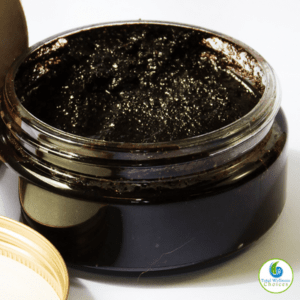 Coffee Grounds Cellulite Scrub Blend
Ingredients
Directions
Mix the essential oil in with the melted and cooled extra virgin coconut oil. Then blend all the ingredients together. Store in airtight container.
To Use
Massage a large amount, using a circular motion, to your more cellulite prone areas (hips, thighs and bottom). Allow to sit on skin for 5 to 10 minutes. Rinse with mild soap and warm water. (I advise doing in the shower as it can be very messy!)
Other Ways to Reduce the Appearance of Cellulite Naturally
It's important to note that getting rid of cellulite completely can feel daunting because it can return if you are predisposed to it. That being said, you can still reduce the appearance of cellulite if you do the right things and use the right methods.
Here are some of the ways you can reduce the appearance of cellulite:
Exercise – Exercise helps to increase circulation and melts the fat deposits that cause the dimple referred to as cellulite.
Diet – Cut off processed and canned foods, refined sugar and anything that contains corn syrup or artificial sugar. Cut down on dairy, wheat, yeast, soy and fermented foods. Go for organic foods and eat raw vegetables and fruits as often as possible. Use fresh dark green veggies (such as kale) and fruits to make smoothie and juice.
Mineral Water – Drink mineral water instead of tap water.
Ginger and Peppermint Teas – Drinking ginger and peppermint teas can help reduce cellulite. So, not only will you be enjoying an uplifting cup of tea, but you will also be helping fight cellulite.
Vitamins and Minerals – Increase your intake of vitamins B and C, and ensure you are getting enough zinc.
Dry Skin Brushing – This helps to increase circulation. Be sure to use a brush that is made with real bristles like this one. Brush your whole body in upward movements.
Stress Relief and Relaxation – Stress can inhibit the reduction of cellulite. So, it is important for you to relax and reduce your stress levels. Getting enough sleep, meditation and yoga are some of the ways to beat stress. You can also use stress-relieving essential oils and other natural ways to manage your stress levels effectively.
Conclusion – Using Essential Oils for Cellulite!
Cellulite reduction may not be easy, but taking a holistic approach could help make it easier. So, if you really want to effectively reduce cellulite, then a combination of essential oils and the other natural methods mentioned above may be the right option for you.
Have you tried using essential oils for cellulite before? If yes, which one (s)? Share your experience in the comment form below.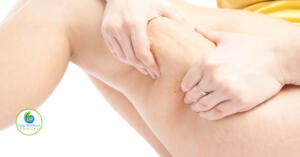 These statements have not been evaluated by the Food and Drug Administration. This article is for educational and informational purposes only and does not intend to diagnose, treat, cure, or prevent any disease or health condition. It is always recommended that you seek the advise of your private medical doctor.