This post may contain affiliate links. I may be compensated if you make a purchase through a link on this page.
Best Essential Oils for Burns to Relieve  Pain, Heal Faster and Reduce Scarring!

Having these essential oils for burns on hand could be a lifesaver! This is because burns are one of the most common injuries that occur in the home.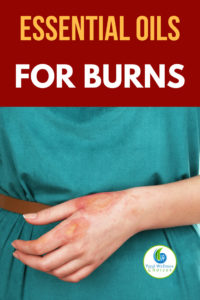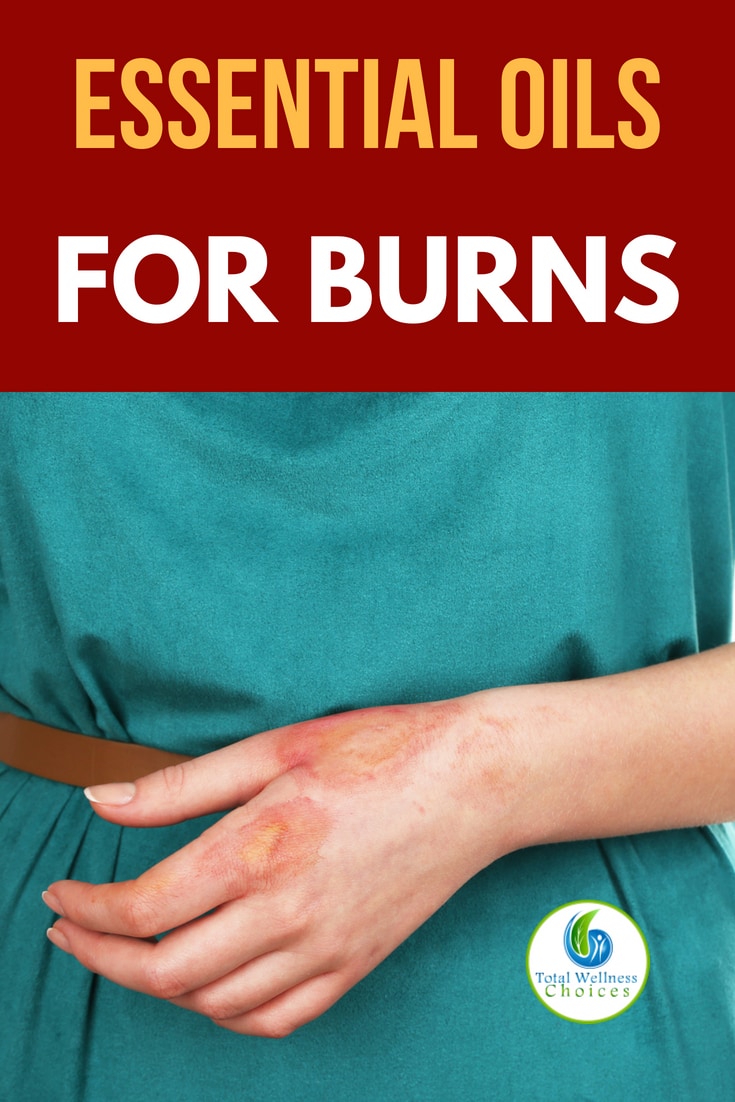 A burn is caused by heat. It could be heat from a hot pot, pan, oven, coffee/tea, electricity, radiation or sunburn.
And they can cause blisters, infections, scarring and even death depending on how deep it is and the percentage of the body it covers.
Types of Burns
There are basically three types of burns and they are:
First Degree Burns    
These are mild and superficial. They affect the outer layer of the skin (epidermis). They don't go deep, so they do less damage and heal faster.
Symptoms
Second Degree Burns
These are known as partial thickness burns. They affect the epidermis and the dermis (lower layer of the skin).
Symptoms
Redness
Blisters
Swelling
Pain
Third Degree Burns
These are the most severe (full thickness burns). They affect the epidermis, dermis and deeper tissues such as the nerves.
Symptoms
White or blackened charred skin
Pain
Possible numbness because of nerve damage
How to Treat Burns
There are different treatments for burns, but I always prefer natural remedies. Having said that, I also know that there are instances where one may need orthodox medical treatments.
When to Treat Burns at Home
You can treat first degree burns at home because they affect just the outer layer of the skin and do not go deep. This means that they are more likely to heal faster without further complications.
But bear in mind that burns are prone to infections. So care must be taken to keep the burn area clean and disinfected to prevent infections.
Some mild second degree burns can also be treated at home depending on how deep they are and how much of the body they cover.
Be sure to seek professional medical help if you find out that the home remedy is not helping the burns to heal. Better to be SAFE than sorry!
When to NOT Treat a Burn at Home
Third degree burns should NOT be treated at home. The sooner you seek medical help the better.
Top 5 Essential Oils for Burns
Research shows that essential oils can help accelerate wound healing process in burn victims. So below are the top 5 essential oils for burns you should try:
#1. Lavender – The Most Popular Essential Oil for Burns
Lavender is one of the most commonly used essential oils for burns. It is versatile and powerful – a healing oil that is helpful for various health issues.
Not only is lavender great for minor burns, but it is also used for relaxation, stress relief, insomnia, insect bit, headache and pain relief.
Why Use lavender for Burns?
It soothes inflamed skin
Relieves pain
Helps the skin to heal
Reduces scars
Safety First When Using Essential Oils
If you have never used a certain essential oil it is important to do a skin patch test prior to topically using! See my sections on topical use and other essential oil safety concerns:
How to Use Lavender Essential Oil for Burns
10 drops lavender
1 tablespoon aloe vera gel
Mix the lavender oil and aloe vera get together
Clean the affected area with clean cool water
Apply directly on the affected area
#2. German Chamomile
German chamomile is another good essential oils for burns. It is particularly effective for sunburns, especially when blended with lavender and helichrysum essential oils.
Why German Chamomile Works for Burns
It soothes irritated and inflamed skin
Relieves pain
Reduces swelling
Rejuvenates damaged skin
#3. Helichrysum
Helichrysum is an amazing healing oil that helps with burns, bruises, scrapes and cuts. It is also a good essential oil for general skin care.
Why Use Helichrysum Oil for Burns
It calms inflammation
Soothes skin irritation
Soothes burns
Reduces scars
#4. Geranium
Geranium has rosy aroma that is very inspiring and uplifting. It nourishes and rejuvenates the skin, making it helpful for treating burns.
Why Use Geranium Essential Oil for a Burn
It soothes skin irritation and inflammation
Relieves pain (including nerve pain)
Reduces redness
Reduces swelling
Repairs damaged skin
#5. Frankincense
Another amazing skin healer that heals from the inside, frankincense is one of my favorite essential oils. I love using it in my skin creams.
Why Use Frankincense for Treating Burns?
It calms inflammation
Soothes skin irritation
Rejuvenates damaged skin
Reduces scars
How to Use Essential Oils for a Burn
The best way to use essential oils for burns is topical application. So here are some of the recipes you can try:
Burn Oil Recipe
Ingredients
Directions
Pour the carrier oil into a 1 oz (30 ml) glass bottle, add the essential oils and shake well. Apply a small amount of the blend on the affected area as often as needed.
Homemade Burn Salve
Ingredients
Directions
Put the beeswax and coconut oil in a glass bowl and heat in a microwave till completely melted. All to cool a bit, then add the essential oils and vitamin E oil. Stir very well and pour into a glass or metal container.
Amber Glass Straight Sided Jar – 4 oz (4 Pack) + Spatulas and Labels
CTKcom Screw Top Round Steel Tins,Aluminum Tin Jars, 4 oz (Pack of 6)
Essential Oil Aloe Vera Sunburn Spray Recipe
1 oz aloe vera gel
5 drops lavender
4 drops chamomile (German)
3 drops helichrysum
Directions
Pour the aloe vera into a spray bottle, add the essential oils and shake well to mix the ingredients together. Spray over the affected area couple of times a day.
Other Natural Remedies for Burns
Cool Water – Pour cool water (not cold – cold water can irritate the burn and make it worse) over the affected area immediately you get a burn. It helps to stop the burning process and soothe the inflamed skin.
Cool Compress – Place a cool compress (again NOT cold) or a wet clean towel over the burn area to relieve inflammation and pain.
Honey – Honey has anti-microbial, anti-inflammatory and healing properties that help to prevent infections and speed up the healing process. Simply apply a small amount of honey on the burn area after cleaning with water.
Aloe Vera – This is one of the best natural remedies for burns. It soothes inflammation, prevents infections and promotes healing. You can buy aloe vera leaves from the grocery or get a packaged one here. Apply the aloe vera gel on the affected area.
Black Tea – Black tea contains tannic acid, which draws heat out of the burn, helping to reduce pain. Soak 1-2 tea bags in cool water, then place the tea bags on the burn area.
White Vinegar – White vinegar acts as an astringent and antiseptic, helping to prevent the burn area from getting infected. The acetic acid (the pain relieving agent found in aspirin) in vinegar also helps to relieve pain. Soak a clean napkin in diluted vinegar (2 parts of water to 1 part of vinegar) and use as a compress.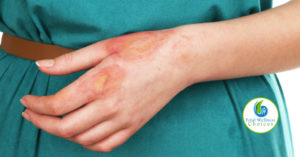 These statements have not been evaluated by the Food and Drug Administration. This article is for educational and informational purposes only and does not intend to diagnose or treat any disease. It is always recommended that you seek the advise of your private medical doctor.