This post may contain affiliate links. I may be compensated if you make a purchase through a link on this page.
Best Essential Oils for Dandruff and Itchy Scalp!

So, I have decided to write about the best essential oils for dandruff today. Why? Because I suffer from dandruff and even though it is a harmless condition, I absolutely hate it.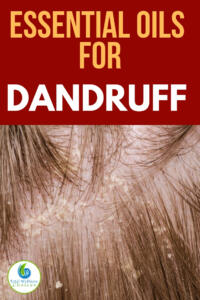 I have tried several things in my bid to get rid of this irritating condition and essential oils are one of the things I find very helpful.
Moreover, essential oils are natural and as a natural remedies advocate, I always prefer taking a natural approach to solving my health problems.
The itchy scalp, flakes and all the uncomfortable feeling that comes with dandruff can be very frustrating.
The one thing I hate the most about dandruff apart for the itching is when the flakes fall out and decorate my dress. It is especially very embarrassing when someone else sees them and try to help me brush them off.
However I know I'm not alone and YOU are not either, because about 50% of the world population suffers from dandruff.
Before delving into the best essential oils for dandruff, let's take a look at what causes dandruff.
What Causes Dandruff?
The scalp produces new skin cells on a regular basis. Old or dead skin cells are shed as new ones are produced.
This is a normal process and does not create any problem. However, the problem arises when the old skin cells are shed at a faster rate than normal. Oil from the scalp causes the dead skin cells to lump together to form flakes.
Another thing that causes dandruff is the overgrowth of a fungus called malassezia.
Other causes include sensitivity to harsh hair products, dry skin and other skin conditions like eczema, dermatitis and seborrheic.
Now let's get back to our discussion about the essential oils that are good for dandruff.
Top 9 Essential Oils for Dandruff
#1. Tea Tree
Tea tree is my favorite essential oil for dandruff. In fact, it works like magic in getting rid of dandruff.
With its antiseptic, antibacterial and antimicrobial properties, tea tree can powerfully mop out bacteria and the yeast that causes dandruff.
According to studies, shampoo containing five per cent of tea tree oil helps to eliminate dandruff on the scalp.
If your scalp is inflamed, apply tea tree oil (diluted) and enjoy the soothing sensation that it offers your skin.
You may experience a burning feeling if your skin is sensitive when using this essential oil. Learn how to dilute essential oils for topical application here.
You can also apply the diluted tea tree oil on your scalp before bed, let it stay on overnight for and wash off in the morning using warm water.
Plant Therapy Tea Tree Organic Essential Oil | 100% Pure, USDA Certified Organic, Undiluted, Therapeutic Grade | 10 milliliter (⅓ ounce)
#2. Rosemary
Rosemary is one of the best essential oils for dandruff because it's choked full of antifungal and anti-bacterial properties. It also helps brings balance in your scalp as it increases blood flow, making it one of the best essential oils for hair loss.
#3. Chamomile(Roman)
Chamomile is another essential oil that is good for dandruff as well as itchy and flaky scalp.
If you have an itchy scalp, it soothes it. It can also reduce inflammation caused by the itchiness. With its ability to regulate the sebum, it controls the fungus that causes dandruff.
It keeps your skin moisturized by balancing moisture and natural oils.
You can use eight to ten drops of chamomile essential oil by mixing it with carrier oil then apply it on your skin. You can also use it to rinse your hair by adding seven drops of it on distilled water and use the mixture.
#4. Eucalyptus
Eucalyptus is an excellent remedy for issues related to your hair, scalp and skin. It is good for dandruff because of its anti-inflammatory, anti-fungal and anti-bacterial properties.
Plant Therapy Eucalyptus Globulus Organic Essential Oil | 100% Pure, USDA Certified Organic, Undiluted, Therapeutic Grade | 10 milliliter (1/3 ounce)
#5. Lavender
Like the other essential oils, lavender also has antifungal, anti-inflammatory and anti-bacterial properties. It also has regenerative characteristics that promote a healthy and germ-free scalp.
These properties are crucial for inhibiting the fungus that stimulates the production of dandruff.
It soothes your scalp, easing redness and itchiness. You can apply it on diluted lavender essential oil on your scalp at night and leave on overnight, then rinse off in the morning. Its soothing properties will help you have a good night's sleep.
#6. Thyme
Thyme EO fights germs and fungi which are the root cause of dandruff. It has anti-fungal and antiseptic properties that make it possible to get rid of dandruff.
Aside from that, thyme oil soothes your scalp and promotes blood circulation.
#7. Peppermint
Peppermint essential oil can help get rid of dandruff even as it leaves a soothing and cooling sensation on your scalp. Apart from eliminating dandruff, it also enhances hair growth.
Plant Therapy Peppermint Organic Essential Oil | 100% Pure, USDA Certified Organic, Undiluted, Therapeutic Grade | 10 milliliter (1/3 ounce)
#8. Patchouli
Patchouli helps with dandruff because it has excellent antifungal and antibacterial properties. These properties work together to fight bacteria and the yeast that causes dandruff.
#9. Lemon
Lemon increases blood circulation and helps to cleanse the scalp, thereby helping to fight dandruff.
Plant Therapy Lemon Organic Essential Oil | 100% Pure, USDA Certified Organic, Undiluted, Therapeutic Grade | 10 milliliter (1/3 ounce)
Safety First When Using Essential Oils
If you have never used a certain essential oil it is important to do a skin patch test prior to topically using! See my sections on topical use and other essential oil safety concerns:
How to Use Essential Oils for Dandruff

One of the ways to use essential oils for dandruff is to add them to your shampoo. You can also make scalp oil blend or anti-dandruff spray with them.
Essential Oil Recipe for Dandruff
Directions
Pour the FCO into a glass bottle, add the essential oils and shake well to mix everything together. Use a small amount to massage your scalp before bed. Leave on overnight and wash off in the morning.
To use in your shampoo, simply add the essential oils to 6 oz of your favorite shampoo (ensure that the shampoo is sulfate and paraben free). Massage the shampoo into your scalp, leave on for about 5-10 minutes and wash off.
Anti-Dandruff Hair Spray DIY Recipe
Mix the essential oils and FCO together. Pour the distilled water into a spray bottle, then add the witch hazel and the oil blend. Shake very well to disperse the oil. Spray on your scalp twice a day. Shake before each use.
Other Natural Remedies for Dandruff
Apart from using essential oils for dandruff, you can use other remedies such as:
Baking Soda – Baking soda fights dandruff by inhibiting the growth of fungi. Mix a small quantity of baking soda with water, apply to your scalp. Leave on for about 20 minutes and rinse off with warm water.
Apple Cider Vinegar – Apply apple cider on your scalp, leave on for about 15 minutes and rinse off.
Conclusion
Yes, dandruff can be irritating and embarrassing, but you can also do something about it. You can get the relief you need by using the essential oils mentioned above.
Have you used essential oils for dandruff before? If yes, which ones? Feel free to share in the comment section.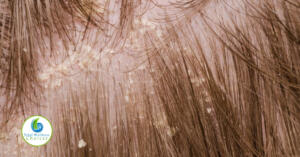 These statements have not been evaluated by the Food and Drug Administration. This article is for educational and informational purposes only and does not intend to diagnose, treat, cure, or prevent any disease or health condition. It is always recommended that you seek the advise of your private medical doctor.