This post may contain affiliate links. I may be compensated if you make a purchase through a link on this page.
Mature Skin Oils and Recipes to Make Your Aging Skin Nourished and Gorgeous!
Having a great skin care routine is vital to mature skin. These are my favorite anti aging recipes and best mature skin essential and carrier oils. They are a must to have on hand if you want healthy, hydrated and gorgeous skin!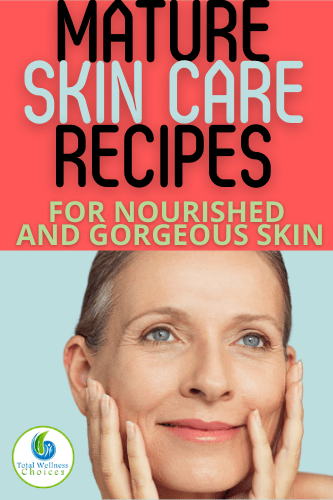 I decided to expand on the previous articles: Essential Oils for Skin Care and Top 8 Anti Aging Essential Oils for Youthful Skin. Both include information regarding best essential oils for aging skin, and have great recipes.
For this article I am sharing my personal preferences for carrier oils and essential oil combinations. Being over 55 I can definitely relate to changing skin.
I first noticed changes in my skin when I turned 50. In the humid summer months my skin still retained moisture, but during the winter my skin was much dryer. Turning 55 I saw even more changes in my skin. I noticed more dryness to my skin even during the humid summers!
I have always been good about moisturizing my skin and staying with products that were made for sensitive skin. However, it was not until three years ago, that I took note of all those extra ingredients in my products, with names I could not pronounce.
That is when I started to use more natural products. These included plain carrier oils and moisturizers made by reputable companies that believe in using only truly natural ingredients in their products!
Now for the last eight months I have gone a step further and have been making my own moisturizers and other skin care products for both body and face. They work well, and smell great, and are much cheaper than the store bought kind. I also know what is in my homemade products which is very reassuring to me.
I make small amounts of my personal products each time. They last me approximately one month. I don't add preservatives. You are welcome to add preservatives, but with my sensitive skin I shy away from as many additives as possible.
I am happy to say my skin has remained subtle, has retained elasticity, and is more moisturized than it was a year ago.
First let me share some information regarding the best essential oils and carrier oils I use for my mature skin. You can add these essential oils to your own lotion/cream, or even make your own skincare products with them like I have.
Safety Information When Using Essential Oils
Always, do a skin patch test prior to topically using an essential oil you have never used before! See my sections on essential oil safety:
Best Essential Oils for Mature Skin Care

As we get older, more fine lines and wrinkles appear. I can attest that there is no magic fix for aging skin, but I have found by using the right ingredients you can help them look a bit less harsh.
Using essential and carrier oils in your skincare routine is one of the best ways to revitalize mature skin naturally.
The essential oils listed below are great for mixing into your favorite carrier oil to apply topically.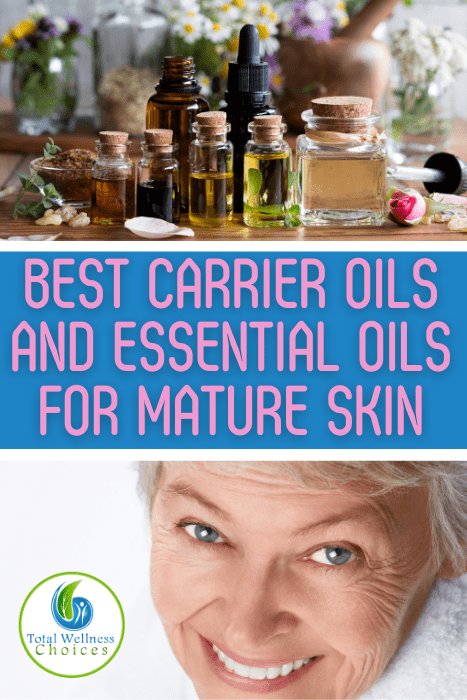 My Four Favorite Carrier Oils for Mature Skin
This oil comes the seeds of the Camellia japonica flower. It is thought of as the beauty secret of the Japanese Geisha. It penetrates into the skin without clogging pores.
It is known for its anti-aging properties. It is both nourishing and moisturizing for skin, as well as, hair. Also it works for all skin types. It is especially rich in Vitamin E. Studies have shown it increases collagen within the skin.
This oil has a very light scent which I like! I also like it because it is fast absorbing and does not leave a greasy feel. My skin is very sensitive and I have never had a problem with this oil causing redness or any breakout!
Rich in antioxidants, fatty acids; as well as, Vitamins A & C. This oil is hydrating to skin or hair. Known to have a light, non greasy feel that is fast absorbing and gentle even for sensitive skin. It works well for all skin types.
It's anti-aging properties are that it helps skin regain elasticity and reduces wrinkles. It brightens the skin and helps even out the complexion. In other words, your skin should become softer, firmer, tighter, brighter and thus more youthful looking!
I like it for how it makes my skin feel and look. The only drawback is it's very distinct scent. Definitely earthy. For some people this is a big negative especially when mixing with essential oils.
This cold pressed oil comes from the kernels of the Moroccan argan tree (Argania spinosa). It is high in Vitamin E. Great for mature skin and wrinkles. It is moisturizing and nourishing to the skin. One thing to note: Make sure its the real deal – it should say it is from Morocco!
I used this oil years ago – before it even became popular. I liked how moisturizing it felt then, and I still like it today. I especially like it now that I have learned to mix some essential oils with it to give me even better results!
Unless it has gone bad (rancid), it's odor is neutral – a slight nutty scent. I honestly have never found it overwhelming and essential oils have mixed well with it. Make sure you buy quality!
Known for its nourishing benefits this oil softens and moisturizes dry skin. It contains high amounts of the Omegas 3, 6, and 9. Also, Vitamins A, B, D, E, K, as well as other nutrients. It is considered moderately absorbent, does not clog pores, and is gentle for most any skin type.
I like the feel of the oil. It leaves a nice, soft feel to the skin. The negative is its strong, nutty scent. It can be overpowering when adding essential oils. I have found that combining with another oil which has virtually no scent works well for me. I like it combined with jojoba oil. When I use it, I combine it at a 50% ratio for each of the two oils.
Recommendations When Using Carrier Oils
When buying carrier oils make sure you look for quality, cold pressed and unrefined carrier oils. They are considered superior in their properties and quality to a refined carrier oil! If possible go a step further and get organic.
Another important thing to note about carrier oils is that they are great just by themselves. If you have a problem with essential oils, or just do not care to use them, guess what? You can use the carrier oils in combinations, or by themselves and still get great benefits from them!
Remember though, that like all oils, whether carrier or essential, there is a possibility of you being allergic to it. Do research. If you have allergies say to nuts you will probably want to stay away from sweet almond oil, etc. Always do a skin patch test first before putting anything new on your face or body!!
DIY Mature Body Recipes
Exfoliating the Mature Body
Exfoliating mature skin once weekly to remove the dead skin cells is important to help your skin look gorgeous. Exfoliating gently is recommended. A great sugar body scrub recipe that can be adapted is this diy sugar scrub recipe.
I recommend using a sugar scrub like the above, or cutting a salt scrub recipe such as this homemade salt scrub recipe 50% sugar and 50% salt.
Using just salt on mature skin can be too abrasive. To make it less abrasive, yet still affective use a finely ground salt with sugar. Next put both the salt and sugar in a food processor and grind into a finer consistency.
Exchange the essential oils in the diy sugar scrub recipe for one or more of the "Best Essential Oils for Mature Skin Care" listed above and decrease the drops used to a total of 5 to 12. This would make the recipe between 0.5% and 1% dilution which I find is safer for the more mature skin.
Ylang Ylang, Jasmine, or Rose essential oils are best used in small amounts. I would use only 2 to 3 drops of one of these essential oils mixed with another essential oil.
For everyday body wash I recommend my easy diy foaming sugar body wash recipe. It is easy to make, cost effective, and very moisturizing. Plus, it smells wonderful. It can be made without the essential oils and is just as effective!
If you have chronic health issues, especially an autoimmune disease, you should always talk with your physician first!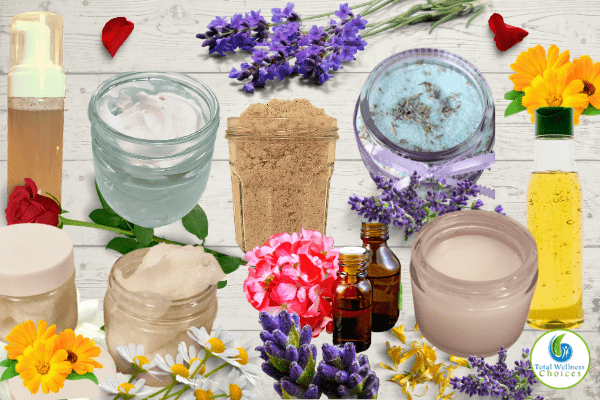 Moisturizing the Mature Body
Dry skin is most often a major complaint of mature skin, even though it can be caused by a multitude of conditions or elements. Winter weather is often dryer and leaves your skin chapped. Another struggle with skin comes from genetics. Some of us have skin that tends to be naturally dry no matter our age.
Simple and natural products are important to me. Especially when it comes to use on face and neck. Because the mature skin is more fragile and thin, I tend to stick with around 0.5% dilutions when putting essential oils in my skin care recipes.
To make sure there is no sensitivity to the essential oils used in a recipe, a skin patch test is always recommended when using a new essential oil on the body.
It is possible to develop a sensitivity to an essential oil used over time, so rotating between different essential oils can be good also!
No matter the season, my skin requires more moisturizing than it used to. Winter is especially brutal to my already dry skin. Here are some of the ingredients and recipes I use to keep my skin moisturized, soft, smooth and healthy looking.
This diy body oil recipe is a perfect daily use option for dry skin. It is hydrating, has great oils for dry, mature skin, and smells great. It's also cost effective!
Here is another diy skin body oil recipe that uses carrier oils and essential oils that are great for mature skin.
DIY Mature Body Oil Recipe
Ingredients

Directions
Add the jojoba oil and sweet almond oil into a mixing cup
Next, add the Vitamin E oil to the jojoba and sweet almond oil mix.
Add in the essential oils and stir well till all the oils are combined
Pour oil into a clean flip cap bottle and place lid.
If you have a small amount left over that is a perfect excuse to indulge yourself right away!
And this homemade whipped body butter:as well as, a homemade whipped body mousse are both great options that can be adjusted with these essential oils to use as full body moisturizers.
Exfoliating the Mature Face
Removing dead skin from the face can be good for all skin types even for the mature skin. As we age our skin becomes thinner and more fragile. It is important to take care when exfoliating the more delicate areas such as the face.
Use gentle exfoliants. This can be as simple as finely ground oatmeal mixed with distilled water, or hydrosol and a little carrier oil.
I like the following exfoliant for my skin. I exfoliate with this recipe only once or twice a week. For a variety I will switch out essential oils using the ones listed above.
DIY Mature Face Exfoliant Recipe
Ingredients
Directions
Melt the coconut oil in double boiler over low heat until melted.
Remove from heat and add in the remaining ingredients.
Stir the ingredients well together.
Pour into 2 oz amber glass container with lid.
Shake every few minutes while it is cooling and solidifying to disperse all the ingredients well, especially the baking soda.
To Use: Moisten your face with lukewarm water and apply using circular motions on your face (avoiding your eye and mouth areas).
Rinse well with lukewarm tap water and remove with a moistened washcloth.
Your skin should feel clean and hydrated.
To keep contaminants out of this and all homemade products, don't use your fingers to scoop inside of the jar. Use a clean spoon, or scoop!
Note: I only use steam distilled Lemon EO in all my products so I do not have to worry about avoiding the sun. It is considered phototoxic at 2% and higher dilutions. (More than 12 drops per ounce). This recipe does not have enough drops to warrant a concern.
As a side though: If you use the cold pressed Lemon EO at 2% or more dilution in a recipe you need to wait at least 12 hours after using this recipe before going into the sun!
For an everyday face cleaner I recommend the following face wash recipe.
DIY Mature Face Wash Recipe
Ingredients
Directions
Add the essential oils into a 2 oz dropper bottle. Add the Sweet Almond oil and Aloe Vera Gel and shake to mix well. Add the Dr. Bronner's Sugar Soap, or the Unscented Liquid Castile soap. Gently swirl the ingredients in the bottle until mixed well together.
Use the dropper to place a small amount of the blend in your palm and after mixing with a little lukewarm water apply to your face and neck. Gently wash your face using circular movements and avoiding the eye area. Rinse well with lukewarm water and pat dry.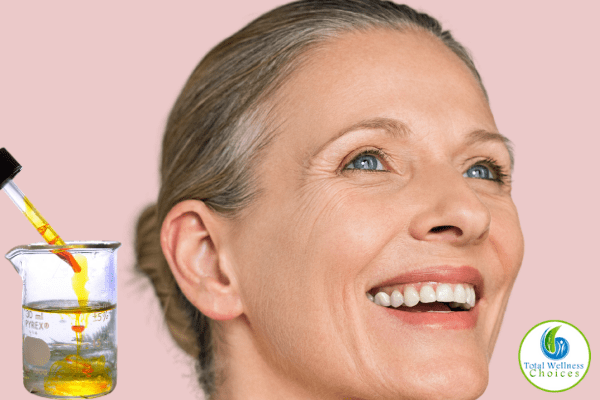 DIY Mature Face Serum Recipes with Essential Oils
Face Serum Recipe # 1 Ingredients
Directions
Add the essential oils into a 2 oz dropper bottle. Top off with 1/2 (1 oz) Sweet almond oil and 1/2 (1 oz) Jojoba oil, leaving some space to accommodate shaking. Shake to mix the oils. Use the dropper to place a dime-size of the blend in your palm and apply to your face and neck.
Face Serum Recipe # 2 Ingredients
Directions
Add the essential oils into a 2 oz dropper bottle. Top off with the Argan and Camellia seed oils, leaving some space to accommodate shaking. Shake to mix the oils. Use the dropper to place a dime-size of the blend in your palm and apply to your face and neck.
Always take care when applying any cleaning or moisturizing product to your face. Avoid your eye area!
Homemade Whipped Face & Body Butter Recipe for Mature Skin

Ingredients
Directions
Apply to dry skin on face and body. A small amount goes a long way.
Make a fresh batch every 3 to 4 weeks. Enjoy!
Let me know your thoughts on these mature skin care recipes. Leave a comment below.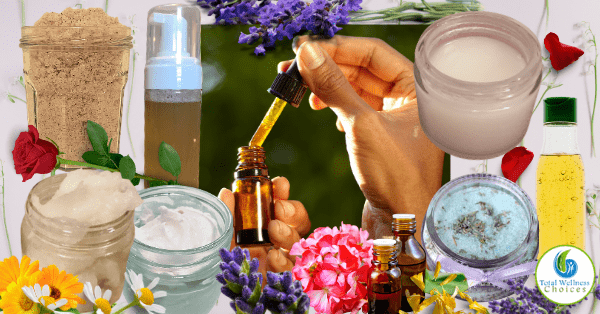 These statements have not been evaluated by the Food and Drug Administration. This article is for educational and informational purposes only and does not intend to diagnose, treat, cure, or prevent any disease or health condition. It is always recommended that you seek the advise of your private medical doctor.