This post may contain affiliate links. I may be compensated if you make a purchase through a link on this page.
An Easy to Make Moisturizing Homemade Whipped Body Mousse Recipe that is Great for Dry Skin!

If you are looking to make an easy whipped mousse-like moisturizing body butter, then you will find this homemade whipped body mousse recipe very helpful. It is made with rose bud infused oil and a few other ingredients, and because it is whipped up cold it doesn't take much time either!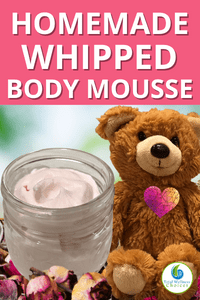 Winter is definitely here, and along with it is comes dry skin. You may not only suffer from dry skin in the winter, but have it year-round. No matter which it is, this recipe could be perfect for you!

Dry, scaly, and sometimes itchy skin is unpleasant, and can leave one miserable. Thankfully, no matter the season, there is a solution in the form of moisturizing homemade whipped body butters and mousses!

The best part about homemade body products like this one – you can ensure that it is made only of all natural ingredients. You know it contains no harmful, or harsh ingredients.

This body mousse is a moisturizer made by combining oils (liquid) with a butter (solid).

Unlike certain lotions, body butters and mousses work by penetrating into the layers of your skin providing a hydrating solution for your skin with healing agents from both the butter and the oils.

Mango butter has a soft and creamy texture. It is easy to work with and absorbs well into the skin. It has little to no scent of its own, making it great in recipes where you want to add essential oils.

Being non-comedogenic, which means it won't clog pores, Mango butter is great for acne-prone skin. It works well with almost any skin type. It is very moisturizing which is great for dry skin. In its pure form without additives it works well for even those with sensitive skin.

Related Read: DIY Salve for Dry Hands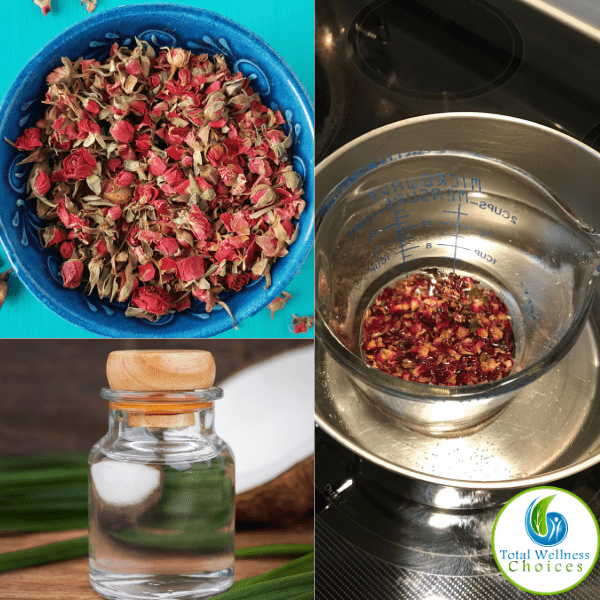 Do You Need Rose Infused Fractionated Coconut Oil in this Homemade Whipped Body Mousse Recipe?

Adding fractionated coconut oil helps make the consistency of the body mousse softer and more moisturizing. Making it easier to whip up cold. Infusing it with dry rose buds adds hydration and moisture to the skin. It is soothing, and adds a pleasant odor of its own.

You can add Vitamin E oil. It is not compulsory, but I'm using it because it has cell regenerating properties that are helpful for fighting visible signs of aging.

You can use any essential oils of your choice in this body butter. I have included the essential oils I like in this recipe – both for how they add a nice scent, as well as, because they have skin nourishing properties!

If you prefer an unscented product it is easy to do. Don't add the essential oils and use plain fractionated coconut oil instead of rose bud infused fractionated coconut oil.

Always remember to do a skin patch test if using any new essential oil. Also, remember to only use recommended essential oils for children, or pregnant, or breast feeding women! Not sure? Read the following:

Related Essential Oil Articles:
How to Infuse Dried Rose Buds and Oil
When you infuse oils and flowers, it's important to start with dried flowers. If there is any moisture in the flowers, mold and bacteria can grow.

In a 2 cup (16 ounce) heat proof glass measuring cup, add 1/2 cup dried rose buds (petals). Pour in 2/3 cup fractionated coconut oil to cover the dried rose buds (petals).

Fill a medium sized saucepan (best to use an old one that you don't use for cooking any longer) with approximately 2 – 3 inches of water. If the pan is tall enough, the glass measuring cup can sit anchored on the side of pan with the handle part over the outside of the pan. The water in the pan should come up the sides of the glass measuring cup at least 1″. Be careful that no water gets into the oil mix.

If the saucepan is not deep enough you can place the metal rim part of a canning lid on the bottom of the pan and set the heat proof glass measuring cup on top (again with the handle part on the outside of the pan).

Heat slowly for at least 2 hours. If you have time, you can heat up to 4 hours. Start on low-medium and once the water is warm turn the heat down as low as it will go. It should only be simmering.

After it has infused for 2 to 4 hours remove the pan from the heat source. Carefully remove the glass measuring cup from the pan. Using a fine strainer, strain and separate the dried rose buds (petals) from the oil. This should measure close to the amount you need for the recipe. If it is not enough, you just add a little extra of the plain fractionated coconut oil. If it is too much, you can save it to use in another recipe.

Now, that the rose bud infused oil is ready, it is time to put together this skin nourishing recipe. First, gather all the ingredients listed below. You will also need to have an electric mixer available. I use my hand held mixer for this recipe, but you can use a table top model if you like.


Homemade Whipped Body Mousse Recipe – All Natural Ingredients
Ingredients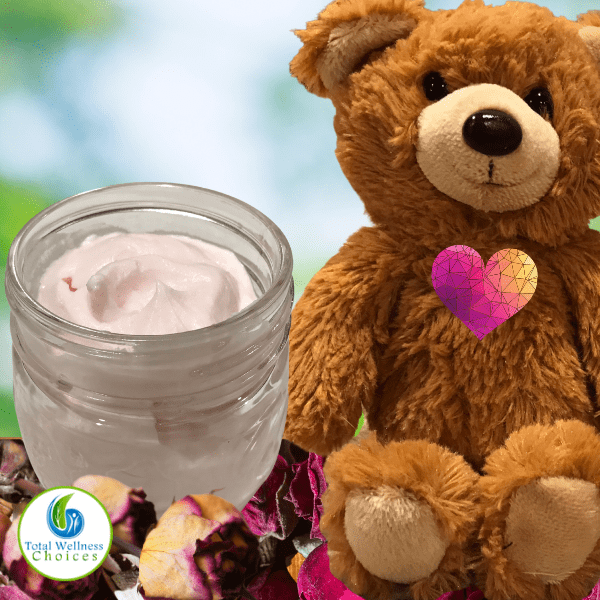 Directions


Put the mango butter and infused rose fractionated coconut oil in a glass or stainless mixing bowl.
Smash it well with a fork until only very small pieces of mango butter are seen (pea size or less). Stir the mango butter and oil well together.
Using a hand or table top electric mixer start to blend it. Start on slow speed and continue to blend until very little of the solid butter is seen. You should be about 1/2 way through.
At this 1/2 way point, stop and add the essential oils and Vitamin E oil (if using).
Using the electric mixer continue to blend. It will now start to look more like an air infused mixture. Continue to blend/whip longer at medium to medium high speed for at least another five minutes until it takes on a more mousse-like, fluffy consistency and the butter is well incorporated.
Stir in 1/8 tsp Mica powder, or rose or pink clay, if you are using (I used a light pink color) and add more if you like a more intense color.
Once the color has been mixed well by hand, again use your electric mixer to whip it until well blended together.
Next, spoon out your mixture into a container.

Body butters and mousses gradually penetrate deep into your skin. So, your skin may feel a little bit oily immediately after application. But, give it a few minutes and your skin will feel incredibly different, almost velvety!

You don't have to suffer from dry skin anymore. Use this homemade whipped body mousse recipe to whip up a nourishing body mousse that will keep your skin moisturized all year round.


Let me know your thoughts on this body mousse blend recipe. Leave a comment below.
Related Read: How to Make Homemade Whipped Body Butter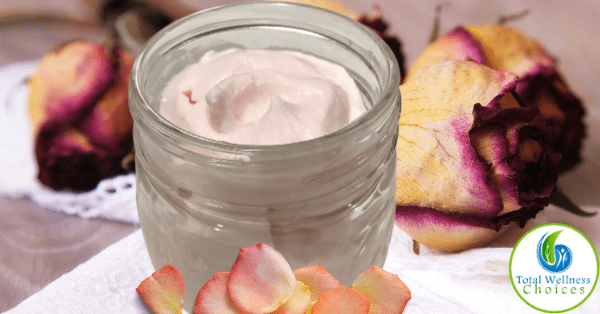 These statements have not been evaluated by the Food and Drug Administration. This article is for educational and informational purposes only and does not intend to diagnose, treat, cure, or prevent any disease or health condition. It is always recommended that you seek the advise of your private medical doctor.