This post may contain affiliate links. I may be compensated if you make a purchase through a link on this page.
Awesome Thyme Essential Oils Benefits and Uses!
Discover the various thyme essential oil benefits and uses; learn about the different types of thyme EO, plus some blend recipes to get you started.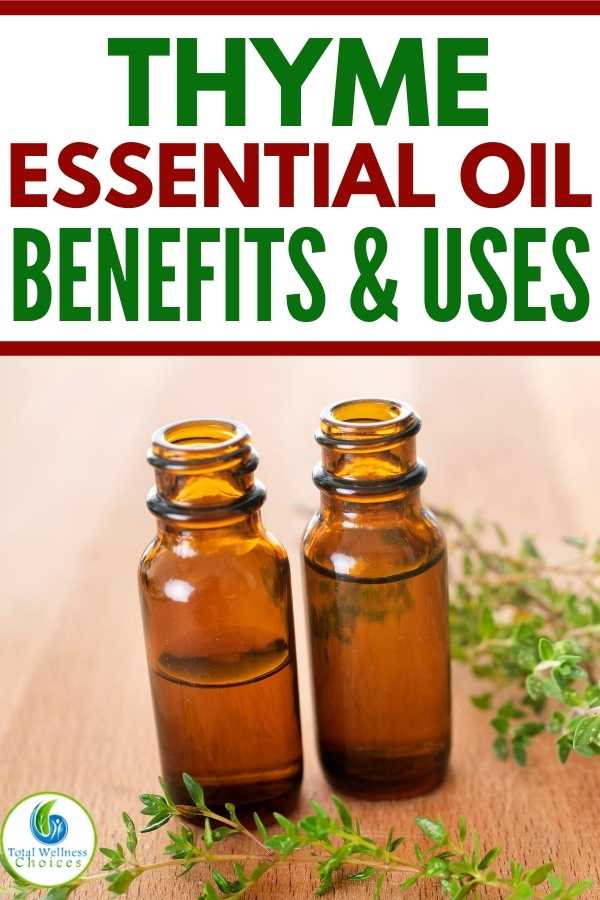 You probably have thyme in your spice cabinet for seasoning chicken and other savory dishes. You might even drink a tea made with this herb.
Thyme isn't a commonly used essential oil, but it does have several benefits that make it worth adding to your collection of oils.
There are a few different types of thyme essential oil. While they are similar in their benefits, they do have some differences.
Choose the one that's best for your needs, but you can generally interchange them in recipes.
Related Articles:
Benefits of Thyme Essential Oil – Important Information

Thyme is a common herb that's native to Spain and other mountainous parts of Europe. The plant had since spread to other areas.
The chemotype of the plant changes slightly due to different amounts of sunlight, rain, humidity, and even how much wind is in the area in which it grows.
These variations change the chemotype of the plant, which means that the essential oils have different properties.
Types of Thyme Essential Oil (Thymus Vulgaris)
Thymus Vulgaris is the scientific name of the plant. It refers to an essential oil made from that plant, but there are two types of thyme essential oil.
Thyme Linalool
Thyme Linalool is the gentler of the thyme essential oils. If you are using thyme essential oil topically, you might want to buy this version.
Thyme Linalool is used in recipes to cleanse the skin. It also helps combat blemishes and acne for clearer skin.
Plant Therapy Thyme Linalool Essential Oil 10 mL (1/3 oz) 100% Pure, Undiluted
Thyme Thymol
Thyme Thymol, however, is often used for immune support in aromatherapy. It has components that are said to stimulate and boost the circulatory system.
It's also said to promote emotional balance. When you diffuse it, it's uplifting and provides peace and clarity.
Plant Therapy Thyme Thymol Organic Essential Oil 10 mL (1/3 oz) 100% Pure
Extracting Thyme Essential Oil
In addition to having different chemotypes, thyme essential oil can differ based on the extraction method.
This essential oil is extracted from the dried flowers and leaves of the thyme plant using steam or water distillation.
The oil has a red-orange almost brown color. This is known as red thyme essential oil.
When the oil is distilled again, it reduces the levels of thymol and carvacrol. This also removes the red color and leaves the oil colorless. This is known as white thyme essential oil.
Thyme Essential Oil Benefits and Uses

#1. Antimicrobial
Perhaps the most common use of thyme essential oil is for its antimicrobial properties.
In a study, thyme essential oil was tested on several strains of germs. It was effective at killing a variety of germs at varying concentrations.
#2. Repelling Insects
Thyme is often used in a blend to repel mosquitoes and other bugs.
Essential oil bug repellents typically work for short periods of time, but a study found that thyme can repel mosquitoes for up to three hours.
#3. Skin Conditions
Thyme can be used to promote skin healing. It's been proven to be an effective remedy for Candida albicans, which is a common yeast that can cause skin problems.
In addition, thyme can also be used for eczema for adults. In a study, lavender and thyme helped reduce eczema in mice.
#4. Coughs
Thyme essential oil can be used in a diffuser for aromatherapy to reduce coughs caused by respiratory tract infections. When used with primrose, thyme was effective at reducing coughs.
#5. Acne Remedy

Some bacteria that cause acne are becoming resistant to antibiotics, so they are hard to treat. In a study, certain essential oils, including thyme, showed promising results and reduced acne.
#6. Hair Care
Thyme EO is said to promote hair growth. It stimulates the scalp to promote growth and is said to reduce fall out. (You may also want to read this article on the best essential oils for hair loss)
Using Thyme Essential Oil – A Word of Caution
Thyme essential oil is considered a hot essential oil. It must be diluted before using topically.
Thyme Linalool can be diluted to a maximum of 4.5% for topical use. Thyme Thymol should be diluted to a maximum of 1.3% for topical use.
Even when used in a diffuser, use small amounts of thyme because it is a strong and powerful essential oil.
What Blends Well with Thyme?
Thyme generally blends well with the following essential oils:
Grapefruit
Bergamot
Lavender
Lemon
Tea Tree
Rosemary
Pine
Melissa
Orange
Thyme Essential Oil Blend Recipes
Purify Essential Oil Diffuser Blend
Purify the air with this blend. It will help reduce odors in the air for a fresh smelling home.
Ingredients
Directions
Diffuse for 30 minutes at a time. This works best in a 100 ml diffuser. Double or triple the drops for larger diffusers.
Thyme and Tea Tree Surface Cleaner
Use this easy surface cleaner to clean counters and surfaces in your home. This also helps eliminate odors while it kills germs.
Ingredients
Directions
Combine all ingredients in a spray bottle. Shake well before using because the oils and water will separate.
Tummy Massage
Many people say that a thyme roller bottle can reduce stomach pain. For women, this can also be used for menstrual cramping.
Ingredients
Directions
Combine jojoba oil and 1 drop thyme essential oil. Massage gently in a clockwise circle on your abdomen.
Cough and Cold Steam
Use this steam when you have a cough or cold. This helps loosen congestion and helps you feel better.
Ingredients
Directions
Bring the water to a boil. Remove from heat and place on a hot pad or any other surface to protect the counter or table. Put the essential oils in the water.
Drape a towel over your head to make a tent. Lean over the steaming water. Keep your face far enough from the water so you do not get burnt or too warm.
Breathe in the vapors for 10 to 20 minutes. If the aroma is too much or it is too hot, take breaks to get fresh air.
Thyme Essential Oils Benefits and Uses – Final Thoughts
There are many benefits of thyme essential oil you can take advantage of to boost your health. However, it is important to note that it is a very hot oil. So be sure to use it with caution and dilute properly before using topically.
If you have never used a certain essential oil it is important to do a skin patch test prior to topically using! See my sections on topical use and other essential oil safety concerns:
Plant Therapy Thyme Linalool Essential Oil 10 mL (1/3 oz) 100% Pure, Undiluted
Plant Therapy Thyme Thymol Organic Essential Oil 10 mL (1/3 oz) 100% Pure
Do you have other thyme essential oil benefits and uses to add to the list? Feel free to do so in the comment section.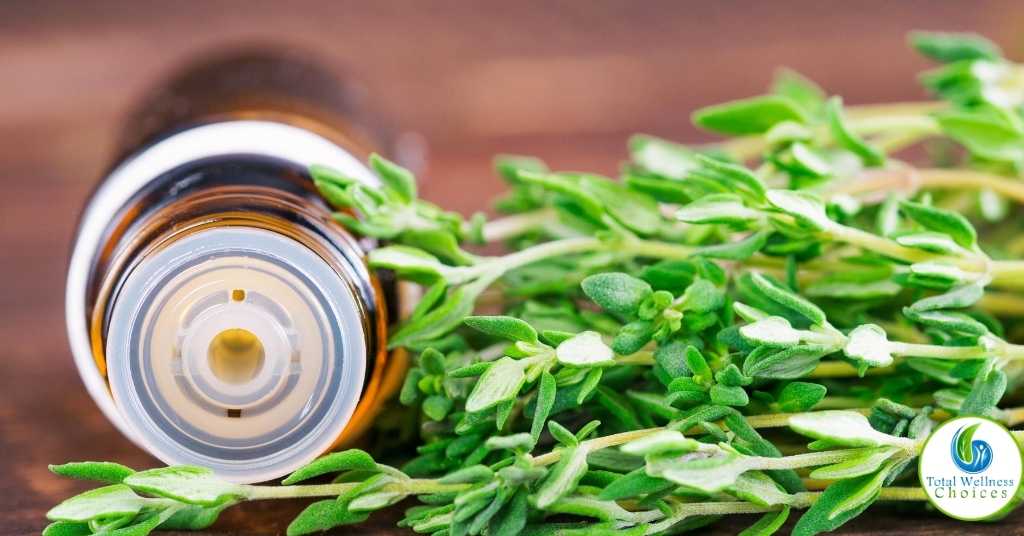 These statements have not been evaluated by the Food and Drug Administration. This article is for educational and informational purposes only and does not intend to diagnose, treat, cure, or prevent any disease or health condition. It is always recommended that you seek the advise of your private medical doctor.