This post may contain affiliate links. I may be compensated if you make a purchase through a link on this page.
Essential Oil Christmas Diffuser Blend Recipes that Will Make Your Home Smell Like Christmas!

Here are amazing essential oil Christmas diffuser blends you can easily whip up to make your home smell like the holiday season.
Holiday smells can bring back treasured memories of holidays past. During Christmas, smells of food baking, pine, and cinnamon fill many homes as families gather to celebrate the season.
Although the best Christmas scents come from freshly made baked goods, using essential oils in a diffuser is a suitable replacement to make your home smell like the holiday season.
There are several essential oils that lend themselves to Christmas scents, including bakery scents, pine and other tree scents, and even citrus scents.
Use these essential oil Christmas diffuser blends to create an inviting atmosphere for your home, whether it's family at home for the evening or you are entertaining guests.
Best Essential Oils for Christmas Diffuser Blends
You can use either single oils or create blends to make your home smell like Christmas naturally.
Here are some popular Christmas essential oils:
Frankincense
Myrrh
Pine
Cypress
Fir
Orange
Lemon
Clove
Cinnamon
Nutmeg
Peppermint
How to Use a Diffuser
If you want to scent a large room, a diffuser is the best and easiest way to do so.
Essential oils are highly concentrated, so you'll only need to use a few drops of each of these essential oils for Christmas.
The size of your diffuser will determine how many drops of oils that you'll use. For a 100 ml diffuser, add just 3 to 5 drops of oils. Use 6-10 drops for a 200 ml diffuser.
Some of these recipes call for more drops than you should use with your diffuser. For these recipes, create a master blend in an empty glass bottle.
You can double or triple the recipe in an empty bottle and then use that to add to your diffuser.
You should only use your diffuser for 30 to 60 minutes at a time. After that, turn it off and give yourself time to rest.
Too much exposure to essential oils can cause headaches, dizziness, eye irritation, or nausea.
You can use an essential oil diffuser two or three times a day in shorter intervals.
Essential Oil Safety
Essential oils are natural, but that does not mean that they are safe for everyone.
Some people can be allergic to oils. Some oils can't be diffused around dogs, cats, birds, or other pets.
It's not recommended that you diffuse around children under 2. Some oils can be diffused around children ages 2 to 10.
Be sure to check the recommended ages for each of the oils in the Christmas essential oils listed above.
Also, check to make sure that the oils are safe for pets and pregnant or nursing women if they will be in the home.
Related Essential Oil Articles:
Other Ways to Use Christmas Essential Oil Blends
The easiest way to use these Christmas blends is in a diffuser. However, if you can't diffuse them because there are oils that can't be used around your pets or children, you can still use these essential oil Christmas blends in some other ways.
You can make a roller ball to use them on your body. These are generally tolerated by pets and children in the room, but be careful not to hold your child or pet while using a roller ball.
You can also make a master blend and add a drop or two of that to an essential oil necklace or bracelet.
You'll get the fragrance, but it won't affect others in the room. Again, do not hold small children or pets if they are sensitive to the oils.
Another way you can use these Christmas blends is to make your own DIY bath and body products with them. These can be used in soaps, lotions, bath salts, and other recipes.
11 Christmas Essential Oil Diffuser Blend Recipes
#1. Christmas Tree Diffuser Blend
Whether your tree is real or fake, your home can smell like a fresh cut Christmas tree with this blend.
3 drops cedarwood
3 drops douglas fir
#2. Citrus Christmas Tree Diffuser Blend
This blend incorporates cinnamon and orange for some depth to the scent.
3 drops white fir
2 drops cinnamon
2 drops orange
#3. Three Wise Men Diffuser Blend
The three wise men brought gifts to baby Jesus. Remember those gifts with this traditional blend. The orange represents gold.
2 drops wild orange
2 drops myrrh
2 drops frankincense
#4. Sugar Plum Fairy Diffuser Blend
This is a fun blend that's uplifting and smells wonderful.
4 drops peppermint
4 drops sweet orange
2 drops cinnamon bark
#5. Spiced Chai Tea Diffuser Blend
This blend is a spiced chai tea in a warm winter treat. Use the essential oils of the spices for a warm and spicy scent.
3 drops wild orange
1 drop cinnamon
1 drop clove
1 drops cardamom
1 drop nutmeg
#6. Candy Diffuser Blend
Christmas is a time of wintergreen and cinnamon candies.
4 drops wintergreen
2 drops cinnamon
#7. Candy Cane Essential Oil Blend
You can use just peppermint, but this blend adds some depth to the scent for a wonderfully sweet smell.
2 drops peppermint
2 drops vanilla
1 drop sweet orange
1 drop bergamot
1 drop ylang ylang
1 drop lavender
#8. Apple Cider Diffuser Blend
Although apple cider is more of a fall thing, many families reserve some cider to make for Christmas parties. This uses the spices commonly found in spiced cider for a warm and inviting scent.
3 drops wild orange
2 drops ginger
2 drops cinnamon
#9. Gingerbread Diffuser Blend
Gingerbread is a holiday staple for many families.
3 drops ginger
2 drops clove
2 drops cinnamon
1 drop clove
#10. Christmas Cookies Diffuser Blend
This blend will make your home smell like freshly baked cookies when you're expecting company.
3 drops lemon
2 drops cinnamon
1 drop bergamot
#11. Winter Stroll Diffuser Blend
This blend will remind you of that winter stroll you took during the holiday season when the fresh holiday scents are stiff lingering.
3 drops balsam fir
3 drops mandarin
2 drops cardamom
2 drops cinnamon leaf
1 drop vetiver
Which of these essential oil Christmas diffuser blends is your favorite?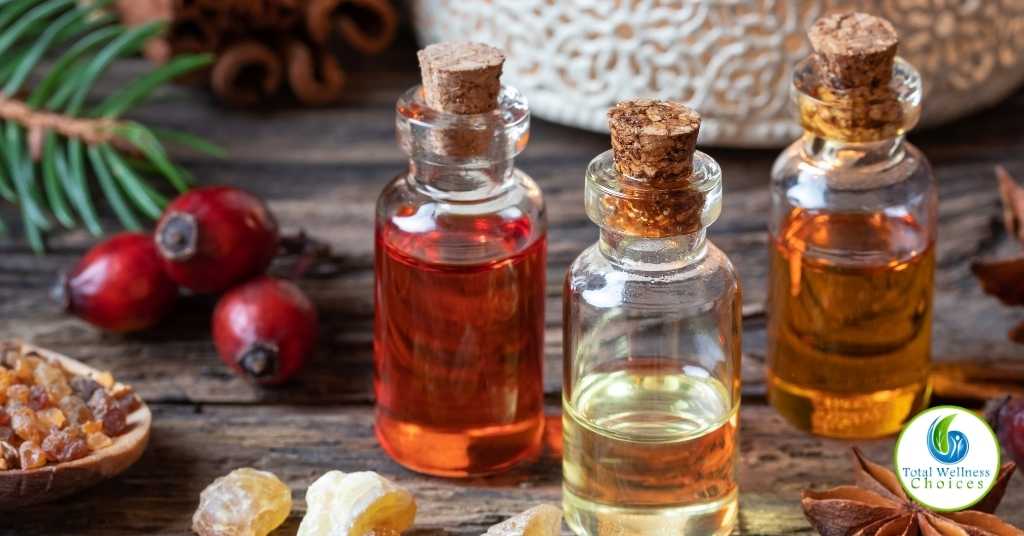 These statements have not been evaluated by the Food and Drug Administration. This article is for educational and informational purposes only and does not intend to diagnose, treat, cure, or prevent any disease or health condition. It is always recommended that you seek the advise of your private medical doctor.