This post may contain affiliate links. I may be compensated if you make a purchase through a link on this page.
Learn How to Use Peppermint Oil for Pain Relief Plus DIY Blend Recipes!
Truth is, using peppermint oil for pain relief can be very effective in fighting pain? In fact peppermint oil has been known to be a very potent natural pain killer.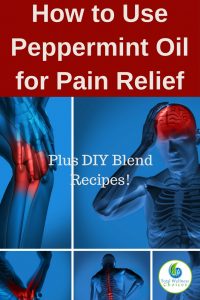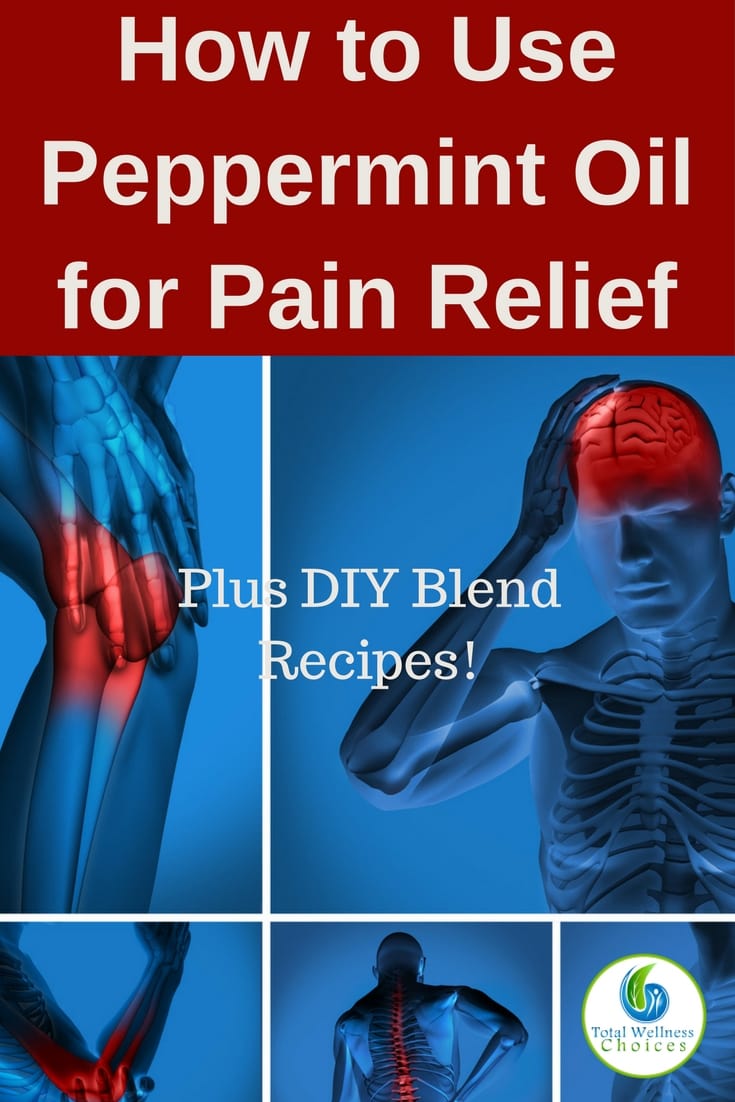 Peppermint is a refrigerant. This means that it has a cooling effect (cold sensation) on the body. Thus it absorbs heat, thereby reducing inflammation and the pain that comes with it.
So whether your pain is a result of a headache, back pain, sore muscles, and strain, you can trust peppermint to give you some relief naturally and SAFELY. It is also one of the best essential oils for arthritis pain relief.
It is true that there are several painkillers out there on the market. But a lot of the OTC and prescription options contain a lot of harmful chemicals that are NOT good for your health.
I don't know about you, but I would rather treat my pain with natural remedies because they are SAFER to use.
Always, do a skin patch test prior to topically using an essential oil you have never used before! See my sections on essential oil safety:
Safety Considerations with Peppermint EO
It can cause skin or mucous membrane irritation. Thus it is important to keep the percentage only between 1% to 2% for an adult. (0.5% to 1% for a child ages five and above)
Avoid using in children under the age of five.
Can be neurotoxic for a young child (cause an adverse effect on the central and/or peripheral nervous system) when applied on, or near the face.
Should not be use by those with a history of G6PD deficiency.
Should not be used by those with a history of cardiac fibrillation.
Should not be used by those with allergies to the mint family plants.
How to Use Peppermint Oil for Pain Relief
When it comes to treating pain with natural ingredients, sometimes it is hard to know the best recipes for the process. Thankfully, I am hereto help YOU in that regard.
So, here is a couple of pain relieving recipes you can try out :
DIY Peppermint Oil Roller Bottle Blend
This is a simple oil blend with just two ingredients:
Since this is a roller bottle blend, it is better to use fractionated coconut oil because the normal coconut oil solidifies at room temperature.
On the other hand, fractionated coconut oil stays liquid at room temperature.
Moreover, it is very light, odorless and does not stain your clothes. Yet it still retains the healing powers of coconut oil.
Viva Naturals Fractionated Coconut Oil, 16 oz – Ultra Hydrating Massage & Aromatherapy Oil, Hexane-Free
Majestic Pure Fractionated Coconut Oil, 16 fl. oz. Carrier Oil for Diluting Essential Oil
Pure Body Naturals Premium Fractionated Fine Coconut Oil for Hair, Skin & Nails, 16 Fl. Oz.
Direction:
Simply add 30 drops of peppermint oil in the roller bottle and fill up with coconut oil. Shake well and apply to the affected area of pain (temple, hand, knee, neck, shoulder, back etc.).
Peppermint Oil Headache Salve Relief Recipe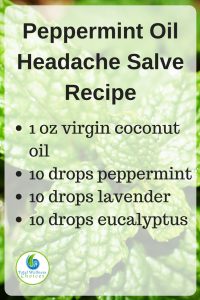 If you're plagued with headaches, you know full well how awful and even debilitating they can be. No doubt you have tried over the counter options to no, or little, avail.
So, while you're thinking about ways to treat this problem, take some time to create this invaluable headache salve. This will convince you that peppermint oil is good for headache!
Ingredients
Directions
Fill a pan with hot water. Add the coconut oil in a small bowl, and place the bowl in the pan to melt the oil.
Once the oil has melted, add ten drops of each essential oil previously listed.
Mix it thoroughly and allow it to cool and solidify.
Then rub some on your temples and forehead for relief from bothersome stress and tension headaches.
Related Reading: 4 Essential Oils for Sinus Headache Relief
Sprain Rub
The older we get the more we run the risk of spraining an ankle or wrist. Besides, this is a frequent injury for kids too.
But, devising a method of relieving the pain associated with the sprain might have hitherto proven challenging. Thankfully, I've got just the oil rub for you.
This one is super easy to make. All you need is virgin olive oil, and peppermint and lavender essential oils. (Read more about lavender essential oil benefits here)
Ingredients
Direction
You can heat the olive oil over a low heat and then add 10 drops of each oil. While it's still warm, rub it on the sprain. And, whenever you feel the pain return, just make another appropriately sized batch.
I do want to advise you, however, not to apply salves, balms, or rubs on any area with broken skin.
Making a batch of salve or balm to keep in a natural first aid kit whenever you travel is a great idea. Be sure to monitor the time-frame though as some carrier oils can get rancid when kept for too long.
Now that you know how to use peppermint oil for pain relief, feel free to share your natural pain-relieving options with us in the comments section.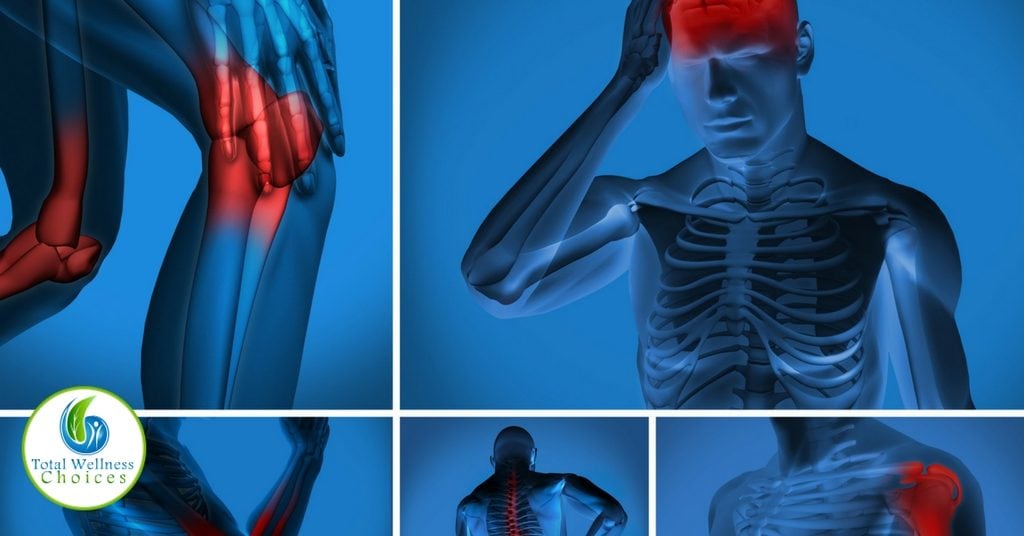 These statements have not been evaluated by the Food and Drug Administration. This article is for educational and informational purposes only and does not intend to diagnose or treat any disease. It is always recommended that you seek the advise of your private medical doctor.