This post may contain affiliate links. I may be compensated if you make a purchase through a link on this page.
Essential Oils for Beginners – A Beginner's Guide to Get You Started!

If you are new to EOS, then you will find this guide on essential oils for beginners helpful.
Essential oils are gaining in popularity, but they aren't new. They've been used for thousands of years all over the world. In fact, humans have been using essential oils for over 5,000 years.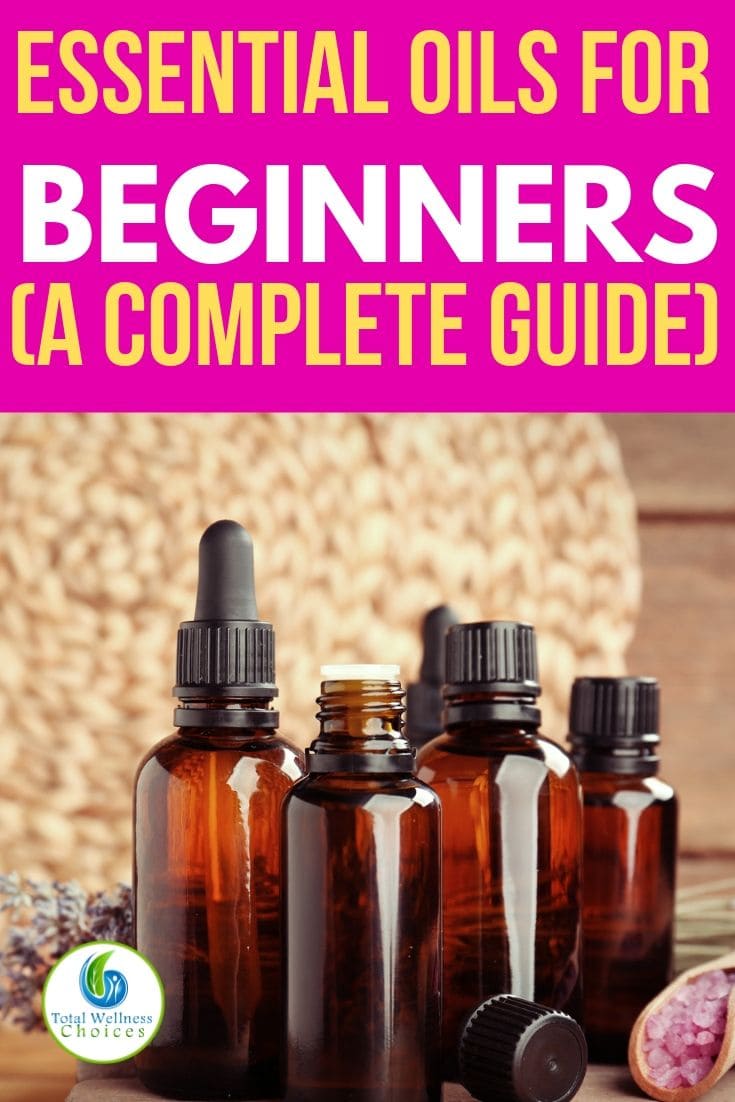 Today, essential oils are gaining popularity again. While essential oils can be part of your overall wellness plan, they do need to be used properly for your safety.
Essential oils are highly concentrated. So, using them without diluting them or using them in too high of a concentration can cause more harm than good.
Getting started with essential oils can be overwhelming. There are so many brands and types of oils, how do you know where to start?
Learn more about essential oil safety in this essential oils for beginners guide. You'll be able to choose the best oils and use them properly in order to get the full benefit from each oil.
What are Essential Oils?
Essential oils are compounds that are extracted from different plant parts. They are so named because they contain the essence of the plant.
The bud, flower, leaf, twig, bark, wood, bulbs, fruits, seeds, resins, or rhizomes of the plant could be used to make an essential oil. Each plant has its own unique compounds and scent.
Essential oils are generally distilled with water or steam, but sometimes they are extracted manually or chemically.
Generally, you'll want to avoid essential oils that are chemically extracted using solvents. Look for oils that are distilled for the highest quality.
Like I mentioned earlier, essential oils are very concentrated. As many as 50 roses are used to make one drop of rose essential oil.
Because of their concentration, it's important to dilute them properly and use them with respect and care.
How to Use Essential Oils
Aromatherapy 
Aromatherapy is probably the most popular way to use essential oils. Typically, you'll use a diffuser and add a few drops of one or more oils in the water. The diffuser will put off the scent of the oils in the air for several hours.
Aromatherapy is nice because everyone in the room gets the benefits of the oils. Be careful to only use oils that are safe for kids and pets if they will be in the home while you are diffusing.
There are some oils that aren't safe to diffuse around pets, young children, or pregnant women, so always research the oils if you're diffusing around any of these groups.
Topical Application
Essential oils can also be absorbed through the skin since they are oil based. Each oil has its own unique properties that can help with one or more conditions, so choose the best oil for your needs.
It's important to always dilute essential oils before applying them to the skin. Children need a lower dilution rate than adults do.
Related: A Complete Guide on How to Dilute Essential Oils for Topical Use
Ingesting
Ingesting essential oils is a very controversial topic. Some say it's safe to ingest and recommend it, while some say it's not. I personally do not recommend ingesting essential oils. However, I suggest talking to a certified aromatherapist if you want to ingest your oils or use them in baking or cooking,
Essential Oil Dilution
Since essential oils are so concentrated, it's important to dilute them before using them topically. If you use an oil neat, without diluting it, you could have a reaction.
This reaction may not be where you apply the oil, so it's hard to tell which oil caused it. Symptoms can include itching, a red rash, bumps on the skin, and even shortness of breath.
Once you experience a reaction to an oil, you'll likely always have a reaction. You may not be able to use that oil again, so always treat oils with care and dilute them properly.
Diluting your oils also helps them last longer. Bottles of oils are expensive, so this will help your budget as well as your skin.
One Percent Dilution
Use a 1 percent dilution for children ages 2 and older. Also, use this on facial skin or daily use.
This equals:
3 drops per 10 ml
4 drops per tablespoon
9 drops per ounce
Two Percent Dilution
For children over 10-years-old and adults for daily use, use a 2 percent dilution.
This equals:
6 drops per 10 ml
8 drops per tablespoon
18 drops per ounce
Three Percent Dilution
Use a 3 percent dilution for localized use.
This equals:
9 drops per 10 ml
13 drops per tablespoon
27 drops per ounce
Five Percent Dilution
Use a 5 percent dilution for specific conditions. Do not use for more than two weeks.
This equals:
30 drops per 10 ml
22 drops per tablespoon
45 drops per ounce
Carrier Oils
Use carrier oils to dilute your essential oils. Carrier oils are liquid oils, except for coconut oil (however, fractionated coconut oil is also liquid), that have their own properties for your hair and skin.
Use one or more of them in your desired dilution rate as mentioned above. The easiest way to use a carrier oil and essential oil is to make a roller bottle.
You can also mix the carrier oil and essential oil in a small container and apply it that way or use this mixture in a DIY bath and body recipe or in a bath.
Any carrier oil will allow you to safely use your essential oils topically, but they do each have their own properties.
Learn more about carrier oils here.
Essential Oil Brands
There are so many essential oil brands, so how do you choose one?  Some people are loyal to one brand, but others use two or more brands. When choosing a brand, there are some things to look for before you buy an essential oil.
Labels
Look for the following information on the label:
The Latin name of the plant from which the oil came
The country of origin
Date of manufacture or expiration date
Which oils are in the bottle if it's a blend
Testing
Essential oil brands will usually get purity and verification testing from a third party. These verifications might be on their website. If they aren't, don't be afraid to email and ask for a copy.
You can ask which tests were run, how often the oils are tested, and if each batch is tested.
Where the Plants Grow
Some plants can be grown all over the world, but certain climates and conditions make better environments for plants. Helichrysum, for example, is generally better when it's grown in Italy. Frankincense grows best in parts of Africa.
The plants grown in other areas aren't necessarily bad, but they may not be the best available either.
Ethics
You may also want to consider the ethics of the company. Do they donate a portion of proceeds to a charity? Are they buying from ethical suppliers?
Plant Therapy – Why It's My Favorite Brand
Personally, I like Plant Therapy's essential oils. They have single oils and several blends available and an entire line of oils that are safe for kids.
They are transparent on their website about quality and their certifications. They also donate to charities to give back.
Click here to buy Plant Therapy products on Amazon.
Other essential oil brands I like and use include Edens Garden and NOW.
Must Have Essential Oils for Beginners to Start With
There are more than 90 essential oils available today. Each has its own unique properties and benefits.
Choosing the best essential oils for your needs is often overwhelming because of the number of options.
Essential oils also have a shelf life of about three years, but you should always check with the manufacturer for each oil, because that can change by brand or type of oil.
Considering that oils cost anywhere from $10 to over $100 per bottle, it's just not practical to buy every single one.  
The benefits of essential oils overlap greatly, too. If you're looking for an oil for one purpose, there may be five different oils that you can use. One might work better than another one for you, but you can make substitutions for most oils.
If you're new to essential oils, these are the best essential oils to start with because they are versatile, blend well with other oils, and are cost effective.
Lavender Essential Oil
Lavender essential oil is one of the most used oils. It can help promote calming and is said to help improve sleep by relaxing you.
It's also naturally antibacterial, so it can help improve the skin when used topically.
Plant Therapy Lavender Essential Oil 100% Pure, Undiluted, Therapeutic Grade 30 ml
Frankincense Essential Oil
Frankincense can be used in aromatherapy and topically as well. It's good for balance when used in a diffuser. Topically, it can help reduce acne and acts like a natural astringent.
Peppermint Essential Oil
Peppermint can help boost the mood. It's also good for pain relief because of its menthol content.
Lemon Essential Oil
Lemon essential oil is used to boost the mood. It's also a degreaser, so you can use it is one of the best essential oils for cleaning. It blends well with several other oils.
Plant Therapy Lemon Organic Essential Oil 100% Pure, USDA Certified Organic, Undiluted, Therapeutic Grade 10 mL (1/3 oz)
Tea Tree Oil
Tea tree oil is a natural antiseptic. It kills bacteria and fungi, so it can be used topically on the skin, diffused, or in homemade natural cleaners.
Chamomile Essential Oil
Chamomile EO is relaxing. It's a good oil to use for sensitive skin.
Bergamot Essential Oil
Bergamot can promote stress relief. It's also good for the skin when used topically.
Eucalyptus Essential Oil
Eucalyptus is often used for asthma or to clear congestion.  It's also a natural antiseptic when used topically.
Essential Oils for Beginners Starter Kit
If you don't want to buy the oils individually, you can always get a starter kit like this one. It contains 7 of the top single essential oils (lavender, peppermint, tea tree, lemon, orange, eucalyptus and cinnamon) and 7 powerful synergy blends to get you started.
Plant Therapy 7 & 7 Essential Oilss Set 7 Single Oils: Lavender, Peppermint & More, 7 Synergy Blends
Best Essential Oil Books for Beginners
The Complete Book of Essential Oils and Aromatherapy by Valerie Ann Worwood
This book lists over 800 ways to use essential oils in both recipes and in aromatherapy. You can search by oil or by condition.
The Complete Book of Essential Oils and Aromatherapy, Revised and Expanded
The Healing Power of Essential Oils by Eric Zielinski D. C.
This book is a great resource for anyone from beginner to advanced essential oil user. It offers science backed advice and more than 150 essential oil recipes.
The Healing Power of Essential Oils: Soothe Inflammation, Boost Mood, Prevent Autoimmunity, and Feel Great in Every Way
Essential Oils Natural Remedies: The Complete A-Z Reference of Essential Oils for Health and Healing by Althea Press 
This book has the history of essential oils and how to use 75 ones. It also has 100s of remedies for common ailments.
Essential Oils Natural Remedies: The Complete A-Z Reference of Essential Oils for Health and Healing
Essential Oils: Ancient Medicine Paperback by Dr. Josh Axe 
Learn more about 50 of the most popular essential oils and how to use them. Also find 70 easy DIY recipes for your home, body, and pets.
Essential Oils: Ancient Medicine
Use This for That by Kathy Heshelow
This is an easy to use guide for the most common essential oils. You can search by oil or by condition you'd like to treat.
USE THIS FOR THAT: Your Easy Essential Oil Guidebook
Essential Oil Accessories for Beginners

Diffuser
Use a diffuser for aromatherapy. Add a few drops of essential oils in water and get the benefits of the oils diffused throughout the room.
Storage Box
Keep your essential oils organized with a storage case or storage box. Once you get a collection of oils, you'll want a safe space to keep them so the bottles don't break or leak.
Soligt 25 Slot Extra High Essential Oil Storage, Holds 25 5-15ml Essential Oils Bottle & 10ml Roller Bottles
Essential Oil Box – Wooden Storage Case With Handle. Holds 75 Bottles & Roller Balls
Roller Bottles
The easiest way to use your essential oils topically is with a roller bottle. Since they are already diluted with a carrier oil, you can just apply the oil and get back to life when needed.
Opening Tool
If you make a lot of recipes, you may want to open your essential oil bottles to measure with a teaspoon instead of the dropper. This handy tool makes it easier to open bottles.
Essential Oil Necklace
You can diffuse your oils on the go with a diffuser necklace. Just put a drop of oil on one, and you can take your oils anywhere with you.
RoyAroma 2PCS Aromatherapy Essential Oil Diffuser Necklace Two Patterns Pendant Locket Jewelry
HooAMI Essential Oil Diffuser Necklace Locket Pendant,Alphabet Letter M Initial Necklace
Click here for more accessories and tools
Essential Oils for Beginners – Conclusion
Essential oils are quite beneficial and have many uses. However, they are also very potent and should always be used the right way and safely. Being new to essential oils can be overwhelming, which is why you need a good guide like this one to put your through.
I really hope you found the information in this essential oils for beginner guide helpful.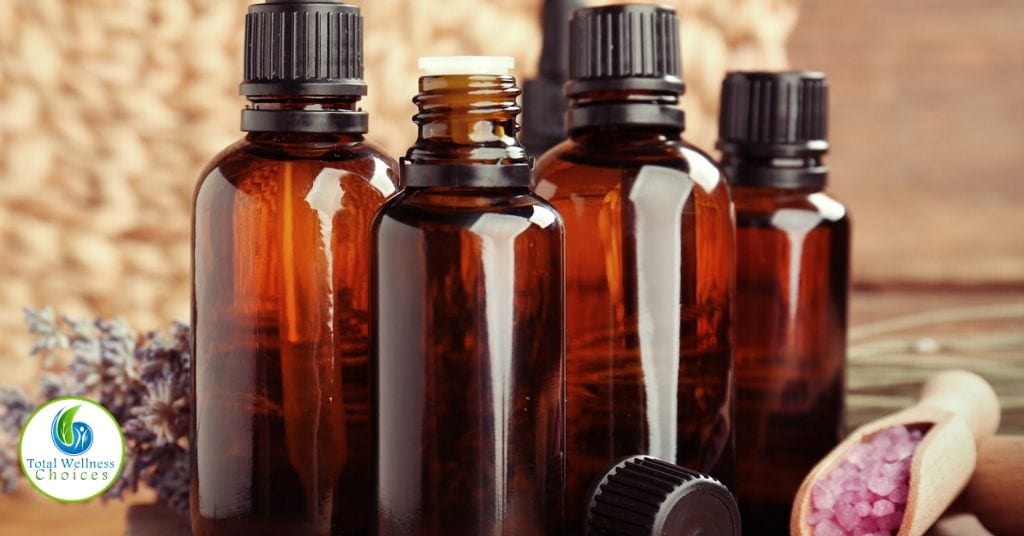 This post is for educational and informational purposes only and does not intend to diagnose or treat any disease.